Company Description
Listed on the Malaysian Bursa and traded over the US OTC markets (stock - OTCPK:GMALF, ADR - OTCPK:GMALY), Genting Malaysia (GENM) is the sole legal casino resort operator in Malaysia. Besides holding the casino monopoly in Malaysia, GENM also has operations in the UK (Genting UK - GENUK), US (Resorts World in New York - RWNY) and the Bahamas (Resorts World Bimini - RWB).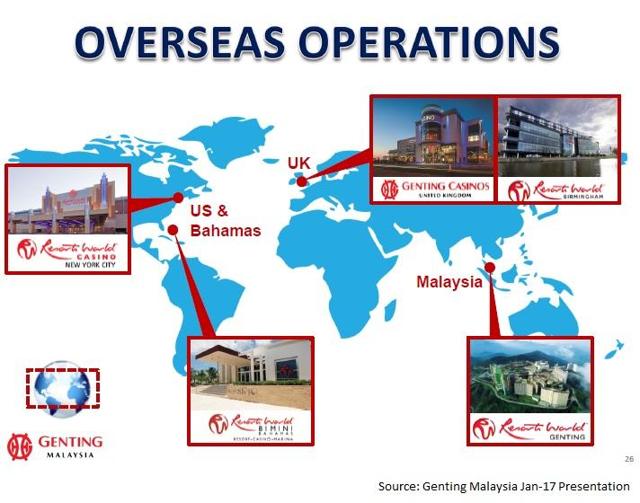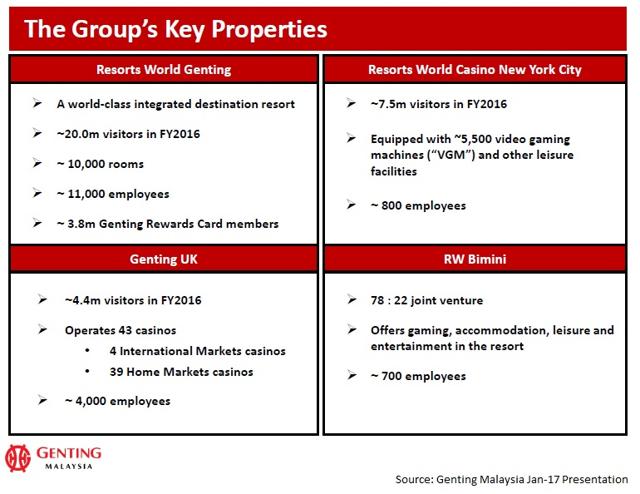 Resorts World Genting (RWG) is a high-altitude integrated entertainment resort located in the Malaysian state of Pahang, which is only about a 45-minute drive from the country's capital, Kuala Lumpur. Developed since the 1960s, the resort site has hotels (capacity of 10,000 rooms with 90% occupancy in 2015), shopping malls, F&B outlets and most significantly, the only legal casino in Malaysia. The resort is accessible by buses, private vehicles and also the newly launched cable car terminal, which allows visitors to reach the hilltop in only 10 minutes (from the initial cable car boarding station).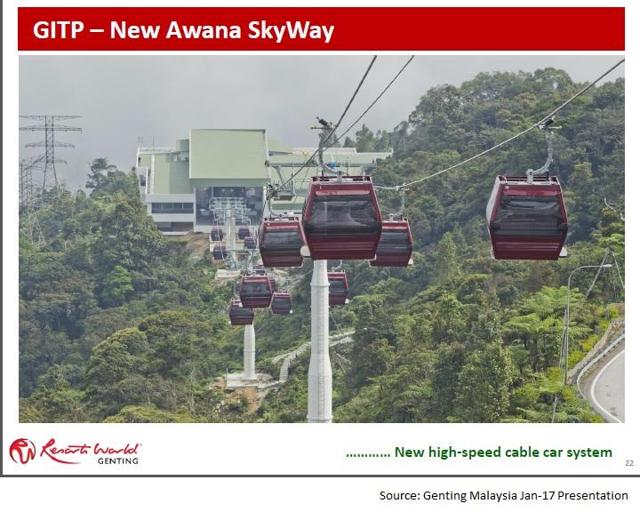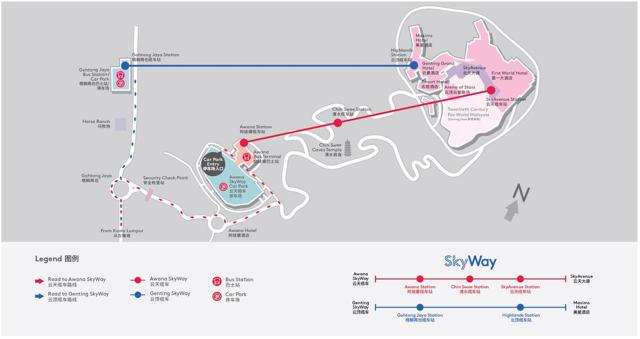 Source: GENM's company website
RWG remains GENM's key revenue and earnings contributor, accounting for 63% and 82% of the company's 9M16 revenue and EBITDA respectively. With the progressive completion of the Genting Integrated Tourism Plan (GITP), contributions from the segment is likely to continue generating the bulk of revenues and earnings.
Besides RWG, GENM also owns and operates two small-scale seaside resorts in Malaysia, namely Resorts World Kijal (47% occupancy rate in 2015) and Resorts World Langkawi (65%). Revenue contribution from these resorts are likely to remain insignificant in the near to mid term.
RWNY commenced operations in 2011 and is currently the highest grossing Video Game Gambling Machine (VGM) facility (by gaming revenue) in Northeast US, with a capacity of 5,500 VGMs. The business has increased its presence over the years and remain a market that GENM is keen to grow further.
RWB commenced operations in Jul-13 and its newest hotel (Hilton at Resorts World Bimini) was fully launched in June 2016 (Phase 1 in April 2015). With a total project cost of US$240m, the hotel has 305 rooms/suites and complements RWB's other facilities (both gaming/non-gaming). The segment has been a laggard (with an occupancy rate of 45% for Hilton in 2015) and has been loss-making (in terms of EBITDA) since its commencement in 2013.
In the UK, GENUK has more than a decade of operating experience and currently operates 43 casinos across the regions. GENM's latest property, Resorts World Birmingham (RWB), was opened in Oct-15. The segment was loss-making in FY15 but the management has since adjusted the strategy for the UK market, shifting the focus from VIPs to growing the volumes of the premium-mass segment as well as its online gaming operations. In addition, we believe that the operations of RWB has ramped up since its opening in Oct-15.
We have seen visible progress in the segment, evident from the turnaround in the segment EBITDA, from a loss of GBP26m in 9M15 to net earnings of GBP43m in 9M16. 9M16 EBITDA margins of GENUK is also the highest in the last 5 years.
Company Highlights
Continued successful execution of Genting Integrated Tourism Plan (GITP) to drive growth going forward
RWG is currently executing a major 10-year master plan (GITP) to reinvigorate and transform the resorts into a holistic tourism destination. This includes the construction of numerous entertainment and hospitality facilities, including the world's first Twentieth Century Fox World theme park.
Visible progress have been made, including:
New First World Hotel Tower 3, which was fully opened in Jun-15.
New cable car service, Awana SkyWay, which started operations in Dec-16. The gondolas provide passengers bird's eye views of the key attractions during their ride to the hilltop, from the heritage-rich Chin Swee Temple to the future Twentieth Century Fox World Malaysia. Furthermore, 4,500 parking lots have been made available at the Awana SkyWay Car Park, allowing visitors to minimize traveling times to the peak.
Opening of new F&B and retail outlets to the public.
Premium outlets (which have been fully tenanted) and new gaming areas are expected to start by 1H17.
We believe that the launch of the new cable car service as well as the opening of new F&B and retail outlets will strengthen visitor arrivals going forward.
In the medium term, Phase 1 of the 20th Century Fox World theme park is scheduled to open in 4Q17. This will likely be another catalyst driving visitors' arrivals. Furthermore, the holistic appeal of Genting Malaysia (post commencement of the theme park) improves the resort's appeal to the premium mass crowd, which comes with higher spending per visitation.
Launch of Genting Highlands Premium Outlet (GHPO) expected to catalyze visitors arrivals further
GHPO is expected to start operations in 2Q17. This hilltop premium outlet center will have 150 designer and brand name stores, offering discounts of 25% to 65% for branded goods. Although GENM does not own a stake in GHPO, we believe that GHPO will be instrumental in driving visitor (local and overseas) volumes to RWG.
Beneficiary of the weakening Malaysian Ringgit (MYR) and favorable visa policies
In 2016, 2.2m entry passes from Chinese tourists were recorded, an 83% increase from 2015. This is partly attributed to visa waiver programs, the weakening MYR and the increasing propensity of outbound travel by the Chinese population. In addition, an article from The Edge in Jan-17 reported that more Singaporeans had also visited Malaysia to capitalize on the weak MYR.
Going forward, the Malaysian Tourism and Culture Ministry plans to work with other stakeholders (e.g. retailers, public agencies) to attract more Asian tourists into the country via various initiatives. The notable initiatives include extending the e-visa scheme to other South Asian and Balkan countries as well as gazetting 4 standard sales periods for the joint collaboration between retailers and tour agencies to attract tourists. Plans to increase flights frequency from major Chinese cities to Malaysia are also in place.
In 2017, travel intelligence company Forwardkeys noted that outbound travels by Chinese tourists into Malaysia increased 46% YoY within the period 18th Jan 2017 to 1st Feb 2017, which is near the Chinese New Year period. We opine that Genting Malaysia, being the sole casino resort in Malaysia, will be a key beneficiary of the increased Chinese visitors' (who are known to be avid gamblers) footprint in the country.
Moreover, the weak MYR makes overseas travel more expensive (in local currency terms) for the Malaysians and could potentially deter the locals from doing so during festive seasons. This partially contributes to direct local visitors to GENM's facilities.
Turnaround in GENM's overseas operations
GENM's management has engaged in various initiatives to turn around the group's UK operations, which has dragged overall profitability down in the last few years. The segment has shifted its focus from VIPs to premium-mass players (which the firm does not have to provide credit for and generally gives higher win rate). The firm has adopted a new strategy, which provides for premium-mass players to visit their VIP clubs. There has been visible progress in the firm's initiatives, with GENUK becoming EBITDA-positive in 9M16 from a loss in 2015.
Select Risks
Weak consumer sentiment
Weakening consumer sentiment in Malaysia would affect RWG's gaming operations in the form of lower visitors' numbers and lower spending per visitors. However, we believe that the government's efforts to attract overseas visitors into the country partially mitigate the effects of weak domestic consumer sentiment.
Deterioration in GENM's overseas ventures
As discussed above, GENM is currently turning around its overseas operations. In terms of profitability, its overseas ventures remain inferior to RWG. In particular, RWB has been loss-making since inception and no significant progress have been made thus far. Adverse developments (e.g. increasing competition) in GENM's overseas operations could drag down the overall Group's profitability.
Potential provision to be made on US$274m investment in the integrated resort in Massachusetts
GENM has invested US$274m in interest-bearing promissory notes by the Mashpee Wampanoag Tribal Gaming Authority for the development of an integrated resort in Massachusetts. Currently, there is a dispute between the tribe and the local government. If the project fails to take off, GENM may have to impair its investment in the future.
Competition from regional casinos
The development of the gaming industry in Southeast Asia has been rapid, particularly in the Philippines. Should GENM's regional competitors face slowing growth in their domestic markets, they could potentially intensify their efforts to attract more visitors, affecting GENM's adversely.
Conclusion
In the midterm, GENM is poised to benefit from the implementation of GITP, in the form of increasing visitors' arrival. Moreover, being the sole holder of the casino monopoly in Malaysia, GENM is in pole position to benefit from the rising visitors' arrivals into Malaysia, especially the Chinese who are known to be avid gamblers.
However, GENM is expected to incur further CAPEX in the next 2 to 3 years as the GITP plans are executed. Furthermore, GENM could potentially make provisions for its US$274m investment (in interest-bearing promissory notes) to fund the initial development of an integrated resort in Massachusetts, which could potentially fail to take off. The project currently faces headwinds, as there has been a dispute between the Mashpee Wampanoag Tribe (which is building the resort) and the local government, which remains unresolved.
GENM's share price has increased by approximately 10% since the start of the year and has remained relatively stagnant and currently trades at MYR5.05 per share (as of 15th Feb 2017), which is approximately 5% from the consensus target price of MYR5.285. We believe that the share price surge could be attributed partially to positive news such as the 83% increase in Chinese visitors' arrival as well as the upcoming launch of its new facilities in 1H17. Considering the above factors, we believe that the current risk-reward profile may not be satisfactory and would look for entry opportunities during share price correction.
This article is part of Seeking Alpha PRO. PRO members receive exclusive access to Seeking Alpha's best ideas and professional tools to fully leverage the platform.
Disclosure: I/we have no positions in any stocks mentioned, and no plans to initiate any positions within the next 72 hours.
I wrote this article myself, and it expresses my own opinions. I am not receiving compensation for it (other than from Seeking Alpha). I have no business relationship with any company whose stock is mentioned in this article.
Additional disclosure: Thank you for your time in reading the above article. I write on a wide range of companies on a regular basis. If you are interested in obtaining the latest updates, you could do so by following me on a real-time basis by clicking "Follow" button near the title. This article is intended to provide information to readers and does not constitute investment advice. As I have no knowledge of individual reader's circumstances, goals, and/or portfolio concentration or diversification, readers are expected to complete their own due diligence before purchasing any stocks or other securities mentioned. This post is illustrative and educational and is not a specific recommendation or an offer of investment product or services. Past performance is not an indicator of future performance.
Editor's Note: This article discusses one or more securities that do not trade on a major U.S. exchange. Please be aware of the risks associated with these stocks.