Farmland has been a terrific investment over the last years. Returns have been great and now retail investors are piling in as well. Brad Thomas writes great articles in general especially if you are interested in REITS. One of his latest articles however is about Farmland Partners (NYSE:FPI) and its competitor Gladstone (NASDAQ:LAND). This article will use a broader scope. Which leads me to a different conclusion about investing in Farmland in general.
In this article I want to strike a cautious note since in my opinion Farmland is currently very expensive because of its run up and its future returns are mediocre.
Attractive characteristics
Land and farmland is of limited supply which is perfectly described in this famous quote of Mark Twain,
Buy land, they're not making it anymore.
The amount of farmland will not increase while demand for food increases. Maintenance on farmland is close to zero which means that all the rent received for lending it falls directly to the bottom line and is pure profit. Land can be lend for long periods of time creating a stable and predictable income stream. Because of efficiency gains farmland can be used more productively which means that the rent can be increased regularly and income from rent can be a hedge against inflation since it is rent is more dependent on the profitability of farming.
Past returns
The returns of farmland in the recent past have been terrific beating the returns of almost all other asset classes. The main reason for this has not been rental income but capital appreciation.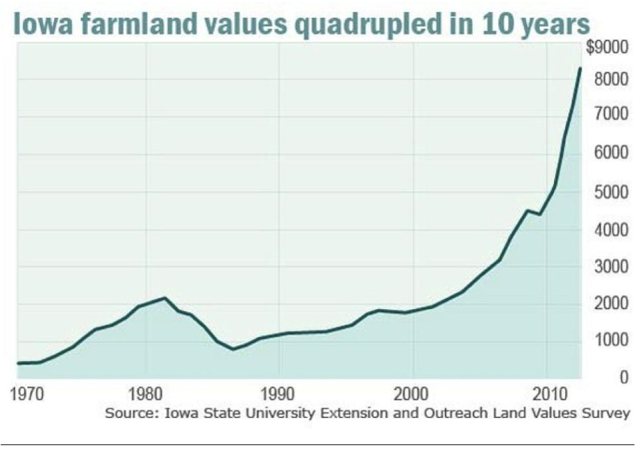 Source: Forbes
Cash rent has not increased with land values which leads to a lower yield. It declined from an average of 5.9% in 2000 to only 3% currently. Farmland Partners has a yield of only 4.6% while having a payout ratio above 100% which does not seem very sustainable let alone allow for additional acquisition of farmland without diluting current shareholders.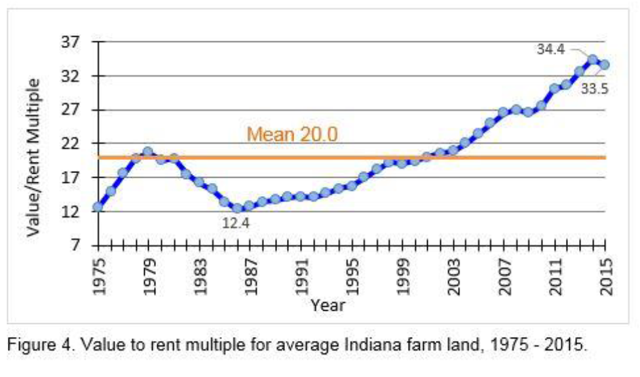 Source: Purdue
Prices of commodities like Corn and Soybean have declined lowering income for farmers which harms their ability to pay increasing rents. Lower prices already had negative effects on the investments in equipment which caused lower sales at companies like Deere (NYSE:DE). This is probably also one of the reasons why Warren Buffett decided to sell his stake in the fourth quarter.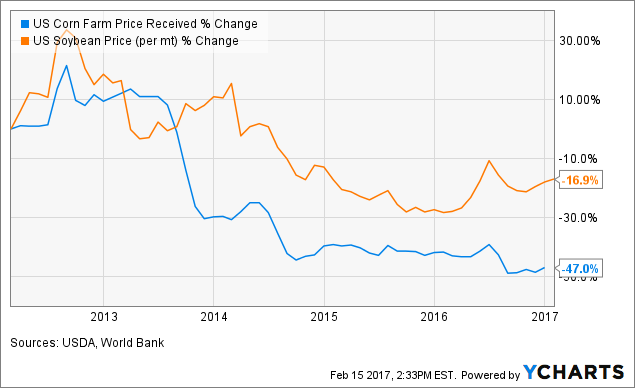 US Corn Farm Price Received data by YCharts
More land needed?
In the last decades malnutrition has declined sharply while a significant portion of US farmland has used for the production of biofuels. Investors in farmland are in my opinion focusing too much on increased demand while not allowing for increased supply per acre because of technological advancements.
Valuation
Prices have come up and yield has come down but this is the case for many investments. The following graph however clearly shows that farmland is expensive compared to stocks using the Shiller multiple.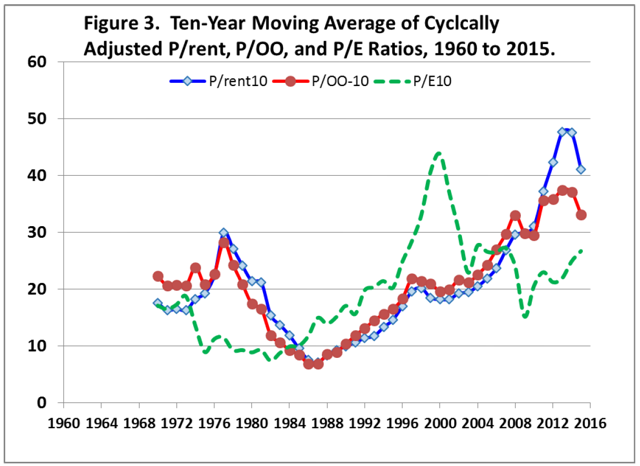 Source: Purdue
While stocks had a higher P/E ratio than the P/rent and P/OO (owner operator) ratings for farmland from 1984 till 2007 the ratios are a lot higher for farmland currently making stocks look like relative bargains.
Alternatives
Hard assets have some favorable characteristics like predictable income streams and an inflation hedge. Farmland however has become expensive but their are alternatives which are more promising. One alternative is investing in a timber company like Weyerheauser (NYSE:WY) which can be attractive because of a recovering housing market while giving a decent yield while you wait. For more information about Weyerheauser and the timber market click here.
Conclusion
While hard assets can be an attractive asset to own the price that you pay for these assets is very important. The strong increases in the value of farmland because of its popularity as an investment makes future returns more likely to be mediocre.
Disclosure: I/we have no positions in any stocks mentioned, and no plans to initiate any positions within the next 72 hours.
I wrote this article myself, and it expresses my own opinions. I am not receiving compensation for it (other than from Seeking Alpha). I have no business relationship with any company whose stock is mentioned in this article.