After reviewing Cloud Peak's (NYSE:CLD) Q4 2016 earnings release and conference call, at yesterday's closing stock price of $5.66, I would avoid shares at current valuations. Depending on how you think about Cloud's leverage given its approximately $400 million in reclamation obligations, which are now pledged with letters of credit, at the midpoint of CLD's 2017 Adjusted EBITDA guidance, CLD is trading at 8.3X Enterprise Value ($830 million excluding reclamation)/ $100 million EBITDA. I will review the quarter and 2017 guidance and discuss key points from the Q4 conference call.
Valuation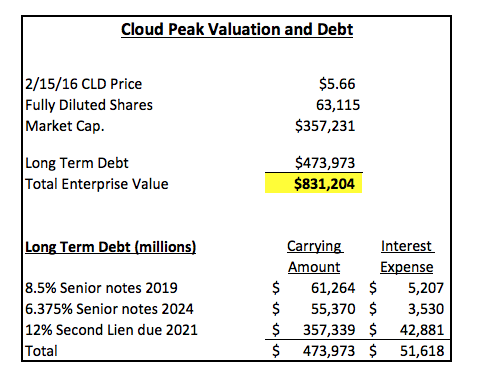 Reclamation obligations from the conference call - per CFO Heath Hill, Cloud's reclamation obligations are $392 million as of Q1 2017. These are supported by a 15% collateral pledge in the form of letters of credit.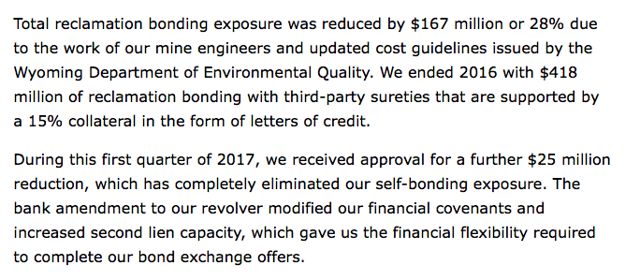 Yet, on Cloud's balance sheet, the liability figure is stated at $103 million (see page 11 of CLD's Q3 2016 10-Q).

Enclosed below is Cloud's 2017 guidance. The midpoint of the range is Adjusted EBITDA of $100 million. From the conference call, we learned that $25 million of this Adjusted EBITDA implies 5 million of seaborne export volumes, 1.9 million of which are contracted. So with cash interest expenses of $50 million and $25 million in CAPEX, we are looking at pretty modest free cash flow relative to CLD's $830 million enterprise value.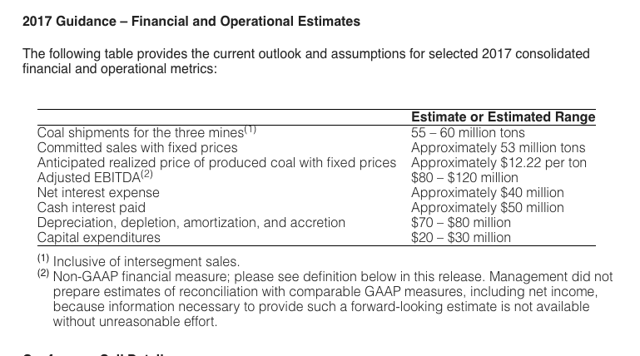 Cloud also faces a number of headwinds that make its shares unattractive.
1) Natural gas prices are now under $3 MM/Btu in the front month as 2016/17 winter has been mild and natural gas inventories are set to enter the injection season (the first week of April 2017) at 1.8 - 1.9 Tcf - certainly plenty of supply despite the current well chronicled natural gas supply/demand structural deficit.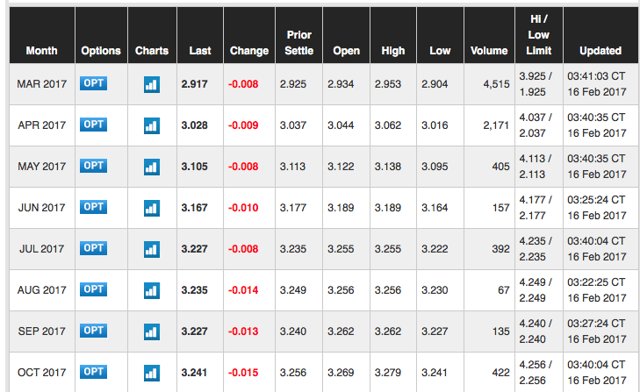 Source: CME Group
2) The next issue is that despite Powder River Basin Coal production declining significantly (22%) in 2016 to 317 million short tons from 405 million in 2015, PRB inventories are still too high to help improving pricing power, at least in the short term.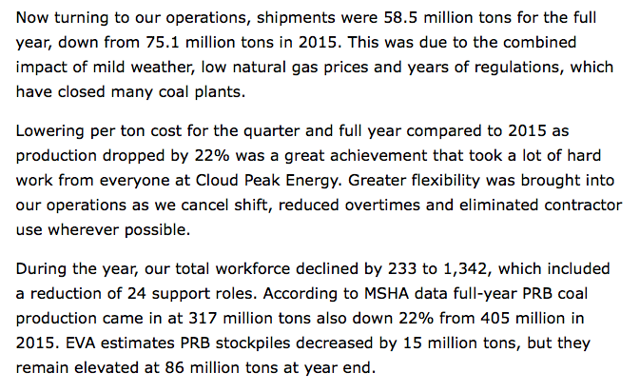 3) The next issue is that Arch Coal (NYSE:ARCH) and Contura Energy (OTCPK:CNTE) vaporized its former stockholders, and most of its unsecured debt holders, so they re-emerged from their bankruptcy with better balance sheets than Cloud Peak. Also, Peabody Energy (BTUUQ) is in the process of shafting its unsecured creditors and will also re-emerge much leaner and meaner. Based on publicly available guidance, I estimate that the big four can easily produce 300 million tons of Powder River Basin coal. That is the problem for future PRB prices, because despite former stakeholders getting crushed from the bankruptcies there are ample reserves and plenty of low prices competitive production. This is a major negative.

4) Let's face it, coal is in secular decline as more and more combined cycle natural gas plants get built and more solar and wind capacity comes online. Unless natural gas prices spike, at the margin, coal is becoming more dispatch power than base load.
Highlights from Cloud Peak's Q4 2016 conference call
Management did a good job of reducing its take or pay obligations for exports, at the Westshore Terminal, which now stand at $52 million for 2017 and 2018 with no other current future commitments beyond 2018, at least not yet. However, given the shipping costs and competition from Indonesia, management was pretty guarded.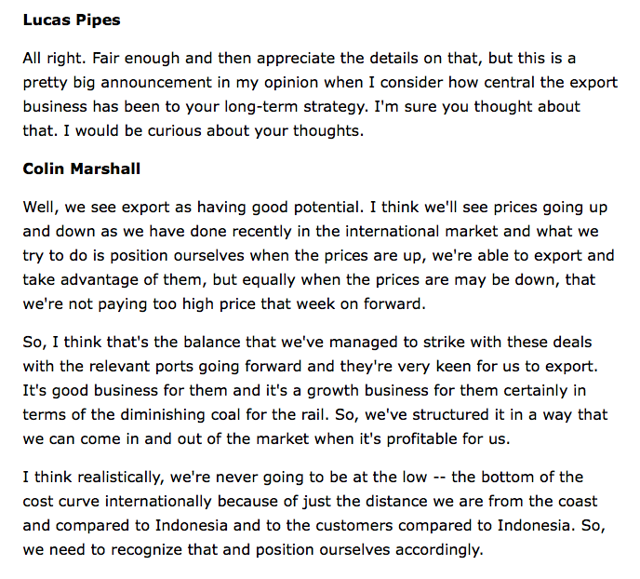 Heath Hill commenting on a lack of RFP demand for 2017 volumes from utilities, as explanation for 2017 tepid coal volume guidance.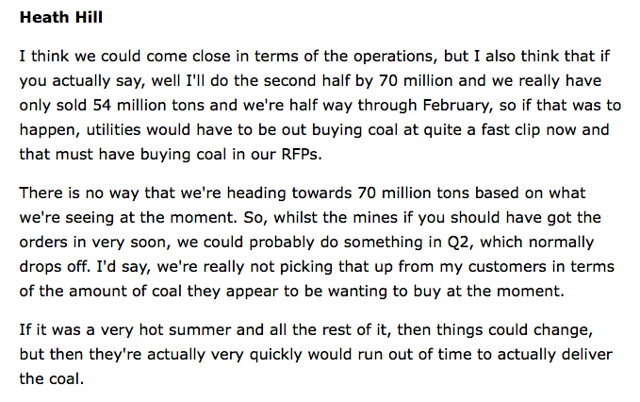 Newcastle thermal prices have declined and are well off the $100 per ton high watermark. Cloud Peak prices its exports based on Kalimantan prices not Newcastle benchmarks. As of last night's call, only 1.9 million export tons were contracted, with the remaining 3.1 million left to finalize.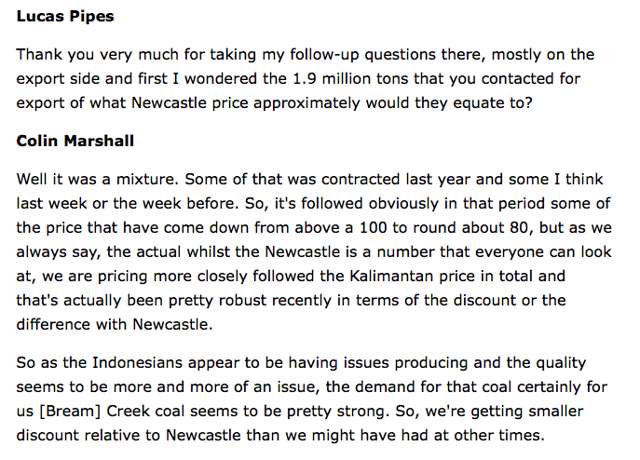 The strong U.S. dollar, the threat of China increasing domestic production and Indonesian competition are risks.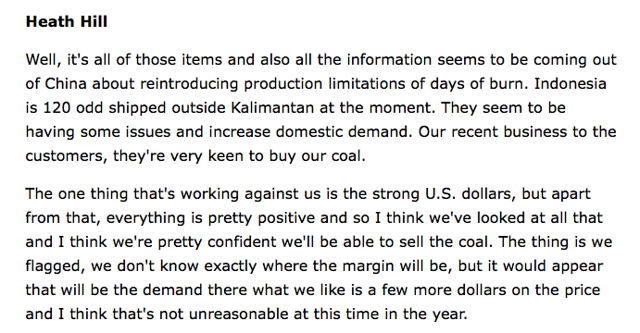 The wide Adjusted EBITDA guidance stems from uncertainty on export pricing for 3 million tons.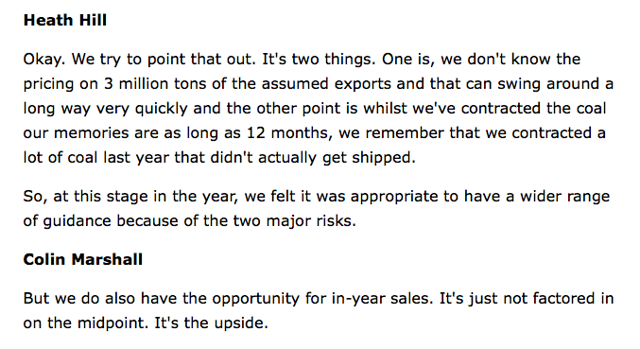 Further explanation, in response to JP Morgan's (NYSE:JPM) question, about hedging the 3-million export volumes.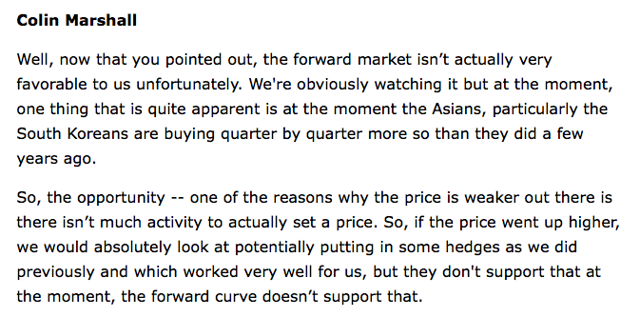 Discussion on Spring Creek's valuation proposition.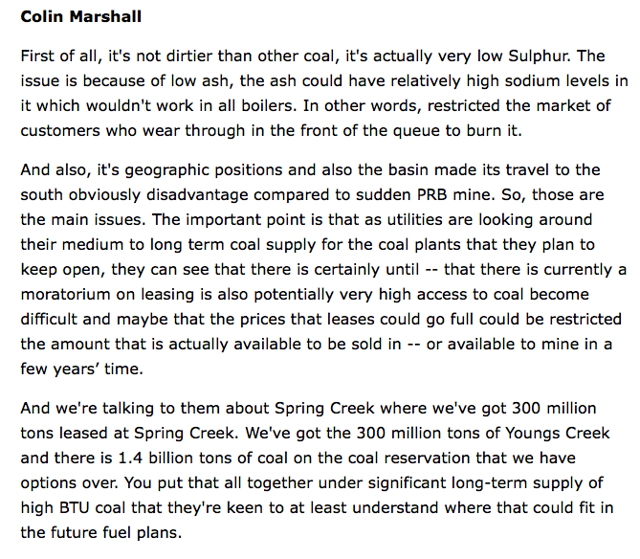 Takeaway
I would avoid shares of Cloud Peak in the mid $5s. That said, I am not sure I would short the stock here. To management's credit, in 2016, it did a great job lowering cash costs, getting ahead of the self-bonding issue, reducing the face value of long-term debt (and extending the most of the 2019s), and renegotiating its take or pay agreement at the Westshore Terminal. However, at the midpoint of 2017 Adjusted EBITDA, an 8.3X TEV/EBITDA is too rich for me. Given Cloud's high annualized cash interest expenses and the fierce PRB competition, Cloud has limited pricing power. With natural gas prices capped, notwithstanding a super hot summer, the outlook for coal is lousy, especially given the elevated existing utility inventories.
Disclosure: I/we have no positions in any stocks mentioned, and no plans to initiate any positions within the next 72 hours.
I wrote this article myself, and it expresses my own opinions. I am not receiving compensation for it (other than from Seeking Alpha). I have no business relationship with any company whose stock is mentioned in this article.
Editor's Note: This article covers one or more stocks trading at less than $1 per share and/or with less than a $100 million market cap. Please be aware of the risks associated with these stocks.