Introduction
Just a few weeks ago, New Gold (NYSEMKT:NGD) poured some more cold water on its shareholders as it had to confess it identified yet another cost overrun at its Rainy River gold project which is currently being built in Ontario, Canada. To make things even worse, New Gold didn't even have the cash to fund the additional expenses. A first step to sell the El Morro stream for $65M to Goldcorp (NYSE:GG) was recently completed, but New Gold will have to find more cash within the next few months as the internal free cash flow won't be sufficient.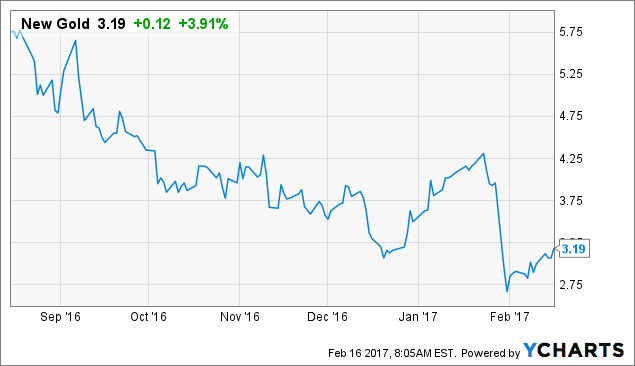 NGD data by YCharts
The Q4 financials were actually better than expected
In the fourth quarter of last year, New Gold produced almost 96,000 ounces of gold and 26 million pounds of copper thanks to an excellent performance at its New Afton copper-gold mine. Thanks to the higher copper price and the relatively high copper production, the all-in cost per produced ounce of gold came in really low at just $619/oz. That's much lower than in the first three quarters of the year, and this also caused the full-year average AISC to fall below $700/oz.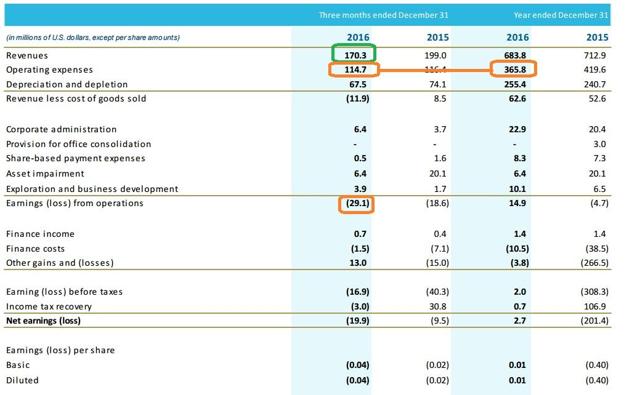 Source: press release
The ultra-low cash costs are what attracted investors to New Gold in the first place, the past several years. Thanks to this high operating (and total) margin, New Gold's mission was to deliver outsized returns for its shareholders as well. In the fourth quarter of 2016, the total revenue came in at $170M but this wasn't sufficient to post a positive operating income. New Gold's operating loss was approximately $29M caused by a small impairment charge, the traditional depreciation and depletion charges and a relatively higher operating expense (in the final quarter, New Gold spent almost 1/3rd of its full-year operating expense which was caused by the company's annual impairment charge on the assets and inventory). The net loss was approximately $20M or 4 cents per share.
This sounds bad, but in the mining sector you should never base your investment decisions on a company's net income. Not the paper income (or loss, in this case) but the real cash flow results are what really matter.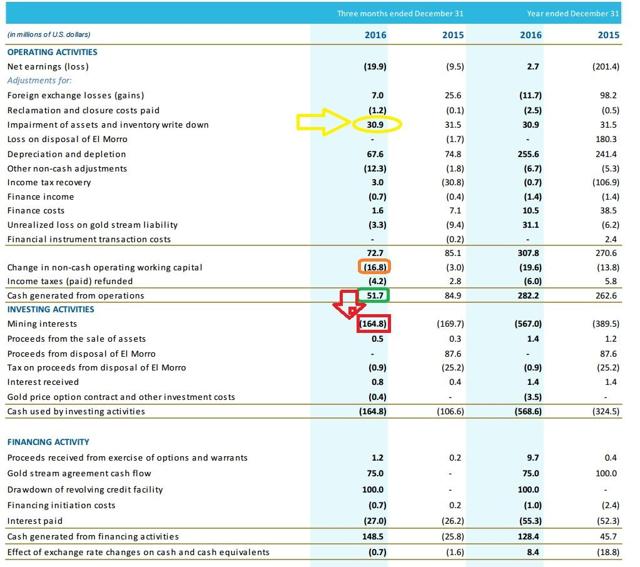 Source: press release
On an after-tax basis, the company's operating cash flow came in at $52M in Q4 2016, but after taking the working capital changes into consideration, the adjusted operating cash flow was approximately $69M.
This definitely wasn't sufficient to cover the $165M in capital expenditures, but it's really important to note the vast majority of this capex was related to the construction of the Rainy River project which means New Gold spent a lot on growth. Only a minimal part of the total capital expenditures could and should be considered to be sustaining capex. According to the press release, New Gold spent $146M at Rainy River in Q4, which means the total capex on the other assets was just $19M.
This basically means the adjusted free cash flow was approximately $50M in the final quarter of last year, and that really is an excellent result.
The guidance for 2017 has been reduced after the Rainy River debacle
For 2017, New Gold now expects to produce 380,000-430,000 ounces of gold at an AISC of $825-865/oz. Most of the company's mines will still be high-cost mines (Peak Mines and Cerro San Pedro will have all-in costs well in excess of $1000/oz), and I stick with my original point it's the New Afton mine which is by far the best mine in NGD's portfolio.

Source: press release
Based on a rough back-of-the-envelope calculation based on a gold production of 75,000 ounces of gold and a negative (!) AISC of -$250/oz (thanks to the higher copper production rate), I would expect New Afton to contribute half of the adjusted free cash flow.
New Gold is also expecting 50,000-60,000 ounces to be produced at Rainy River, but the project very likely won't contribute any free cash flow in 2017 as the AISC is expected to be just over $1200/oz. This AISC will obviously start to fall in 2018 as Rainy River will reach its nameplate production rate, but New Gold shareholders should be prepared for one more painful year, trying to make ends meet on a consolidated basis.
New Gold will also spend $17M on exploration, but this will be completely expensed (rather than capitalizing these exploration expenses which is a strategy I completely disagree with), and this has already been included in the all-in sustaining cost of the company on a consolidated basis. Also keep in mind New Gold has used a copper price of $2.50 per pound to calculate the value and revenue of its by-product credits, and every 10 cent change in the copper price will have an impact of $20/oz on the AISC. So should the copper price average $2.80 in 2017, the AISC will very likely fall below $800/oz, despite the high AISC at Rainy River during its ramp up phase.
Investment thesis
New Gold would have realized a full-year free cash flow of approximately $200M if you'd exclude the growth capex associated with the construction phase of the Rainy River gold project. That's an excellent result and based on an enterprise value of less than $2.3B, New Gold is trading at a free cash flow yield of 9% (and even 13% based on just the market capitalization rather than the enterprise value).
This strengthens my original thesis the acquisition and construction of the Rainy River project will destroy a lot of value for the company's shareholders as the added value at $1250 gold will be minimal - at best. Should New Gold have been able to avoid the Rainy River sword of Damocles, I'm convinced New Gold would be trading at $5+.
But Alas, that's not the case, and the market is still waiting on how New Gold plans to pay for the final construction phase of Rainy River. Based on the current cash burn rate, I would expect New Gold has enough cash on 'time' a next capital raise which might be delayed for another few months until the dust will be settled. Goldcorp provided a first life line, but it's clear Goldcorp got the better deal at the El Morro transaction.
Disclosure: I/we have no positions in any stocks mentioned, and no plans to initiate any positions within the next 72 hours.
I wrote this article myself, and it expresses my own opinions. I am not receiving compensation for it (other than from Seeking Alpha). I have no business relationship with any company whose stock is mentioned in this article.