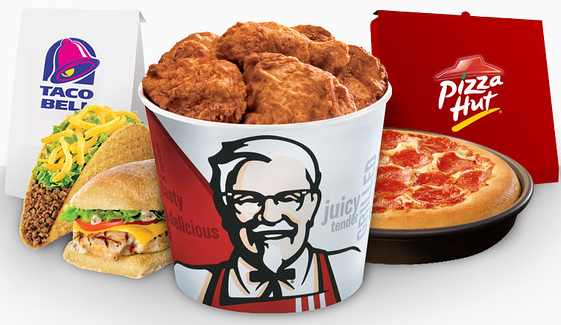 Yum! Brands (NYSE:YUM) has been on fire of late, bucking weak industry trends and producing terrific results. The stock is showing it as well as shares have hit new highs off of what was a really nice Q4 report, its first after spinning off its China business late last year. Relative weakness at Pizza Hut is more than compensated for by strength at its other two brands and YUM is proving an outlier in the industry in a good way. But at 25 times 2017 earnings, how much is left in the tank?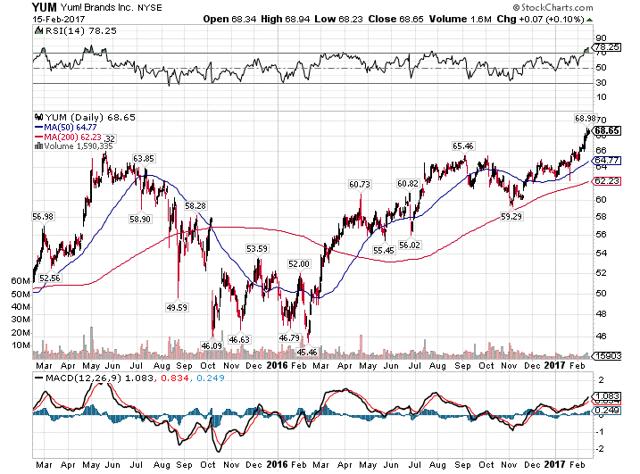 This table from the press release really tells you all you need to know about YUM's Q4 from a revenue perspective: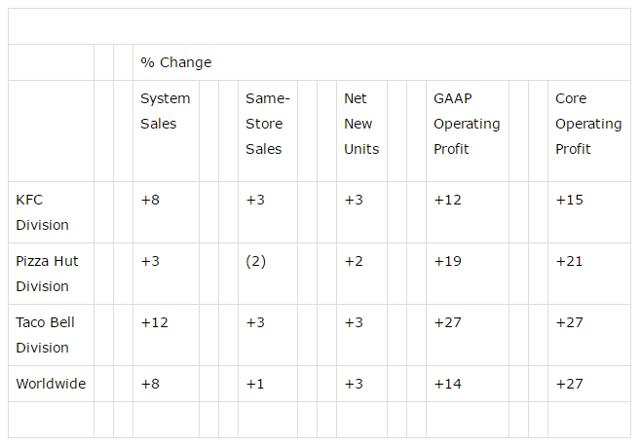 System sales were up 8% as Taco Bell in particular shined. Almost 1,200 new stores were opened so that is the main driver of revenue growth but comps were decent as well, with Pizza Hut being the obvious outlier. YUM has continued to do a nice job growing sales despite the fact that the environment for fast food and restaurants in general has been very tough. Many formerly strong operators are struggling with traffic and comp sales but YUM is doing very well. That momentum and strength carries into 2017 and that's certainly a huge advantage it has over its competitors.
The operating profit numbers to the right of the table are gaudy as well as YUM's margins are exploding higher. The impact of store growth, lower G&A costs and a higher mix of franchised units continue to boost YUM's operating margins, despite the fact that currency translation continues to negatively impact its results. YUM's business is particularly global among fast food operators and forex has been a headwind for some time at this point. And with the dollar's strength in the past few months, it looks to be perhaps an even stronger headwind going forward. Still, as YUM continues its refranchising effort and opens new units, the reasons for its operating margin improvements should hang around and that means gains here should be recurring. That's the story right now as revenue is going to be weak while YUM goes through its transformation.
YUM's buyback was absolutely epic in the past year, driving the diluted share count down 15% against last year's Q4. YUM spent $5.5B on buybacks last year - most of which was done before the spinoff - and obviously that rate is unsustainable. YUM will produce higher than normal buyback numbers while its refranchising effort is ongoing but expecting a repeat of 2016 is unreasonable. Still, if it gets through its $1.9B in remaining authorization for this year, that would remove another 7% of the float or so, providing a powerful tailwind for EPS growth over and above what the business is producing.
And speaking of EPS growth, analysts have YUM doing just over 11% in EPS growth this year on -11% sales growth. Obviously, the transformation YUM is going through is going to make revenue look pretty ugly for the foreseeable future. But the gains made elsewhere certainly seem to be making up for it as it buys back a bunch of stock and its margins shoot skyward.
If we assume revenue will be -11%, that leaves 22% of EPS growth needed from the buyback and margin expansion. We know the buyback should be around 7% - depending on what the stock price does this year - so that leaves 15% in earnings growth that needs to come from margin expansion. That sounds like a lot and it is, but Q4 showed just how good YUM can be on that front with its new, capital-light model.
Operating margin was up 7.5% at KFC, 33% at Pizza Hut and 18% at Taco Bell. Also keep in mind that these numbers are even better when currency losses are excluded but even ignoring that point, YUM is doing all the right things when it comes to boosting profitability. Expectations are obviously very high but these are reasonable estimates for YUM, meaning that if it can get some upside lift from any of the components we just talked about - sales, margins or the buyback - YUM could easily beat analyst estimates for this year.
That said, YUM is expensive here. At 25 times earnings, it is going for more than double its EPS growth rate. The transformation is going extremely well - much better than rival Wendy's, which is trying to do the same thing - and I'm impressed. But the stock looks like it is pricing in more than what analysts are expecting and that scares me a bit. Everything is going right for YUM right now but I'm afraid sentiment may be a little too good. For that reason, I'm going to stick to the sidelines on this one until it consolidates or pulls back some. If it keeps going up, so be it. But for me, a lot is priced in right now and I think it's a bit too much to chase.
Disclosure: I/we have no positions in any stocks mentioned, and no plans to initiate any positions within the next 72 hours.
I wrote this article myself, and it expresses my own opinions. I am not receiving compensation for it (other than from Seeking Alpha). I have no business relationship with any company whose stock is mentioned in this article.