Technology business briefs for the morning of February 16, 2017
Microsoft Outgrows the Cloud Competition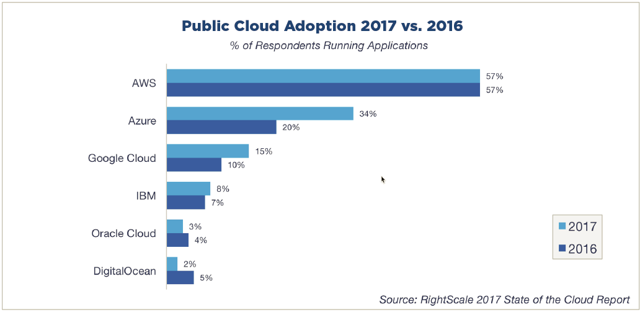 RightScale has issued a report, the RightScale 2017 State of the Cloud Survey. RightScale makes cloud management software, and drew upon its customers for the survey.
The survey contains a lot of interesting data, but a few areas are worth highlighting. Although we hear constantly about the explosion of cloud usage, according to RightScale's survey, cloud adoption didn't really grow that much compared to previous years. As shown below, most cloud users adopt a hybrid approach combining public and private cloud services.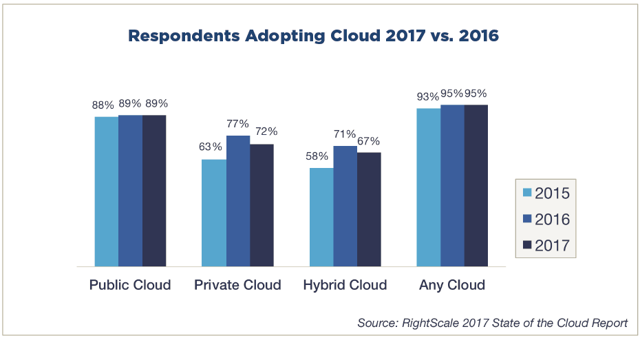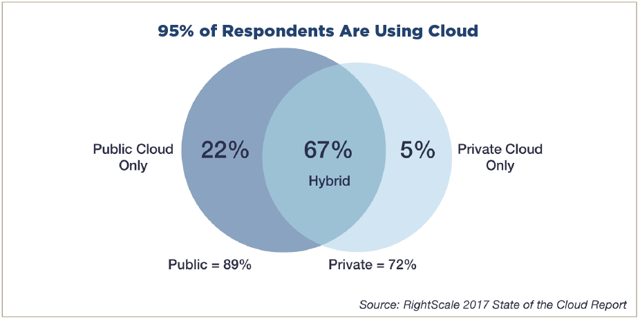 According to RightScale, Microsoft (NASDAQ:MSFT) grew the fastest in Public Cloud adoption as of the 2017 survey, as shown in the lead graphic. Adoption of Azure was also strong among small businesses between 2017 and 2016: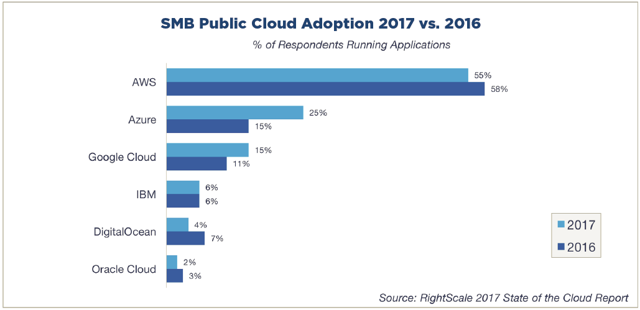 Certainly, Google (NASDAQ:GOOG) (NASDAQ:GOOGL) was growing as well, and Amazon (NASDAQ:AMZN) Web Services remains the front runner, but at the rate Microsoft's cloud business is growing, I wonder how long AWS will be on top.
Yahoo: Putting a Price Tag on the Data Breaches
When Yahoo (YHOO) revealed in September 2016 a data breach that compromised a half a billion user accounts, I stated that the sale of Yahoo to Verizon (NYSE:VZ) for $4.8 billion would probably still go through, though at a reduced price.
We now have some estimates of that discount. Bloomberg is reporting that the price will be reduced by $250 million, but with the proviso that ongoing legal responsibilities will be shared by Verizon and the part of Yahoo left over after the sale, to be named Altaba. Altaba, will retain Yahoo's stakes in Alibaba (NYSE:BABA) and Yahoo Japan.
Meanwhile Reuters claims that the discount could be as much as $350 million.
The agreement for shared responsibility, combined with the discounts, implies that the expected liability from the data breaches is somewhere between $500-700 million. This assumes that the discount will be about the same as Verizon's share of the liability.
Considering that in December, Yahoo disclosed that a separate "incident" compromised a billion user accounts, the estimated liability seems rather modest, doesn't it? Somewhere in the range of $0.50 average per compromised account.
Then on February 15, Yahoo began sending out notices of a data breach involving forged cookies. It is thought, however, that these notices pertain to the December disclosure. What a relief.
My suspicion is that the eventual cost of the data breach for Verizon is going to be much larger than the $250-$350 million discount.
Cisco: Getting Hurt by Software?
Cisco Systems (NASDAQ:CSCO) reported results for its fiscal 2017 Q2 (ending January 28) yesterday. Revenue declined a modest 2% y/y to $11.6 billion. GAAP net income declined 25% y/y to $2.3 billion.
Cisco's switching and Next Generation Network (NGN) routing hardware products bore the brunt of the revenue declines, down 5% and 10% respectively. Data Center was also down 4% y/y.
Following Intel's (NASDAQ:INTC) Investor Meeting, I have to wonder if Intel's Software Defined Network (SDN) strategy has encroached on Cisco's business. Diane Bryant, head of Data Center Group has touted the virtues of SDNs for years. For the February 2017 Investor Meeting, Bryant declared victory: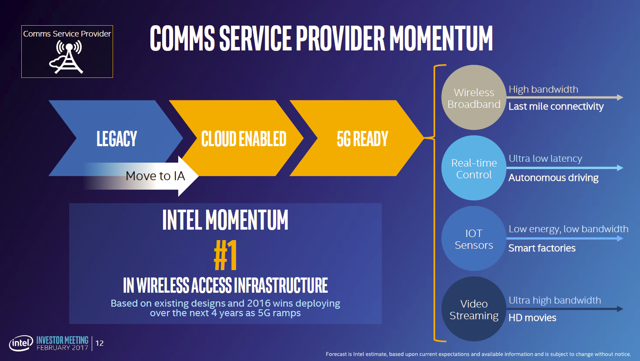 It remains to be seen if Intel's claims turn out to be realized as 5G deploys, and whether this will impact Cisco.
Disclosure: I/we have no positions in any stocks mentioned, and no plans to initiate any positions within the next 72 hours.
I wrote this article myself, and it expresses my own opinions. I am not receiving compensation for it (other than from Seeking Alpha). I have no business relationship with any company whose stock is mentioned in this article.