Fifth Street Finance Corp. (FSC) closed on February 14th at 65% Price to 2016 year-end NAV after showing poor Q1 results a few days before. The valuation of this BDC has ranged since 2008 from 42% to 134% with the current valuation clocking in at a 12th percentile.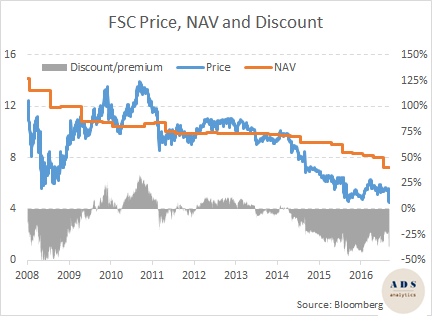 Key takeaways from the disappointing Q1 are:
Sharp decline in NAV of 8%
Watch list investments and non-accruals rose to 10% of the total portfolio
Rise in non-accrual loans by 1.6% of total portfolio
On the positive side of the ledger are:
A new CEO, Patrick Dalton - an experienced commercial finance executive
A new strategic plan to reduce overly concentrated positions in industries with high regulatory risk e.g. healthcare and education
A plan to reduce leverage below its maximum target of 0.8%
Increasing joint-venture activities with Kemper and SBIC
A fee structure more favorable to shareholders
The current market environment is supportive of FSC deleveraging and repositioning its asset focus, so we do not expect this to be a significant tailwind to NAV performance.
The average price-to-book ratio of the 42 BDCs in the Wells Fargo Index is just over 1, so the current 35% discount for FSC is quite attractive, although we do expect NAV to deteriorate somewhat in the coming months before stabilizing. The current dividend yield of 10.6% is also attractive at 1.1% higher than the average BDC.
Our view is that while FSC is cheap at current levels, we do expect NAV volatility to continue this year as the company derisks and rotates assets. We think, at these levels, FSC has more upside than downside and that the company has finally turned the corner on building out its infrastructure and control environment.
Good Luck!
If you would like to receive this and other analysis, please follow us above by clicking on the Follow label next to our name.
Disclosure: I/we have no positions in any stocks mentioned, and no plans to initiate any positions within the next 72 hours.
I wrote this article myself, and it expresses my own opinions. I am not receiving compensation for it (other than from Seeking Alpha). I have no business relationship with any company whose stock is mentioned in this article.