Many investors have forgotten what a normal interest rate environment feels and acts like. Remember that 5% money market rate in 2006? (I know... it's a near forgotten memory.) The collective investing mindset seems to be stuck due to the 7-year near zero interest rate fed policy and further by a 35-year bond bull market. Investors have understandably been reaching for yield. Bonds and bond-proxy "dividend" stocks have enjoyed their attention. The investing psychology of masses of baby boomers seems to be, "All I want is my 3% dividend. I don't care what the share price does as long as it pays my dividend."
Below is an actual comment quote from a boomer from an article I recently wrote,
"Are you kidding? Sell GIS (General Mills)? Look at its performance during the 2007/8 crash. Virtually went untouched then started rising. This old guy who lives off dividends would never ever sell this one. What a foolish move it would be. Just hold and if you can buy on dips. Trading these kind of blue chips is a losing game. When I was young been there done that. GIS is a keeper."
I would add a couple of observations here. The sector that holds up the best in one bear market can be the sector that performs the worst in the next. Case in point, the financials and housing stocks performed relatively well during the 2000 crash, and led the way down in the next bust. Investors are always fearful of the stock sectors that last crashed. This also explains why housing and financials are two of the best value sectors today.
Reaching for Yield
Data from the U.S. Census Bureau show that there are currently 76 million baby boomers born from 1946 to 1964. As a person ages, they generally should take less risk with their investment portfolio, although there are a variety of ways to accomplish this. With little to no yield available on bank deposits, dividend stocks have been drawing too much of their attention.
During a recent investor presentation, well-respected CEO of Liberty Media (LMCA) (LMCB) Greg Morielli stated that, "current market premiums for dividend paying stocks," are one of the possible reasons behind the underperformance of some of Liberty's tracking stocks relative to NAV (net asset value). He named it as one reason he started paying a dividend on Liberty's Sirius tracking stock to appeal to this investor group.
Further with my anecdotal experience, my neighbor is a boomer and she invests in, and is very fond of, dividend stocks. When she lists the stocks she owns, she can probably tell you the yield of every one of them. My friend Tom is a boomer and retiring real estate agent. He called recently to ask me if he should put his extra cash in utilities like Duke Energy (NYSE:DUK) and Southern Co. (NYSE:SO) due to their stable dividend yield. "No," I said. "I do not think that would be a good investment due to the fact that there are mobs of baby boomers just like you reaching for yield. It's been a crowded trade for years."
I would venture to guess, judging by comments and author followers, that the Dividends section of Seeking Alpha is one of the most popular, if not the most popular category of the site. Then there are articles and comments, lots of them, which elaborate on why you should own one stock over another with a central reason given that it pays a 2.7% dividend and the other doesn't pay a dividend. There is article content that actually splits dividend hairs when comparing one airline's 1.45% dividend to another's 1.25% dividend - as if that could actually make a difference in your investment decision.
Though dividends are a fine form of capital return to shareholders, I think we can all agree that the dividend does not determine what you receive when purchasing a stock. Hopefully, my analysis of the companies below will shed some light on this, if you doubt it.
The graph below shows the Fed Funds rate since 1955. I know this is obvious but the three points I would make about the graph are: 1) interest rates are still at historical lows, 2) rates can change quickly, 3) just because rates have not changed much in the past few years does not mean they cannot change quickly in the future. All it would take is a spike in inflation, which I believe is very possible this year with such a low current unemployment rate. And when inflation and rates go up, dividend bond-proxy stocks will immediately grow less appealing.

Regarding the chart above, a 2-5% Fed Funds rate is considered the ongoing target. We're now in a range of .5% to .75%.
Over 100 years, the S&P 500 has returned 9.5% average annualized. Dividends have provided the richest rewards. Since 1871, the S&P dividend yield has averaged 4.9%, though it has been lower in recent decades. The fact that dividends have accounted for over half of the returns of the S&P 500 over time is not lost on the populace and shows up in an elevated price for stability and dividends. However, comparing that average 4.9% to today's 2% yield proves a pricey environment for those yields.
Many "stable" dividend-paying stocks look like terrible investments to me from a valuation perspective. Let's take a look at a few randomly chosen S&P 500 Dividend Aristocrats. The ETF representing the 50 S&P Dividend Aristocrats stocks is the ProShares S&P 500 Dividend Aristocrats ETF (BATS:NOBL).
Sell McDonald's (NYSE: MCD) ~3% Dividend
First, let's take a look at a Price/Sales comparison, which will provide a quick view of how the dividend aristocrat is priced compared to lower dividend faster growing companies.
Price/Sales Ratio

McDonald's

Buffalo Wild Wings

Panera Bread Company

Yum Brands

Wendy's

Sonic

MCD

4.14x

1.44x

1.8x

2.27x

2.33x

2.0x
To be fair, MCD may receive a higher percentage of revenues from franchise fees than some of the other restaurants in the comparison. But my point is still that McDonald's pays the highest dividend and trades at far and away the highest Price/Sales ratio. Digging deeper, MCD has a projected 1-year growth rate of 7.2%, and 3-5 year growth rate of 8.6%. Compare that with Panera's projected growth rates of 17.8% and 15.7% or Sonic's 11.9% and 15% and one would think they should trade at a higher price/sales ratio than the slower growing McDonald's, but that's not the case.
McDonald's trades at a Price/Earnings ratio of 22.8X vs. its 5-year average of 19.7X. The Fast Graph chart below shows that it is trading above its long-term average P/E (the black line above the blue line). It also shows that the P/E for MCD has been expanding in relation to its growth rate especially since 2006 (the blue line in relation to the dark green shaded area). The wider the separation of the blue line above the dark green shaded area, the rosier the consensus view of the stock.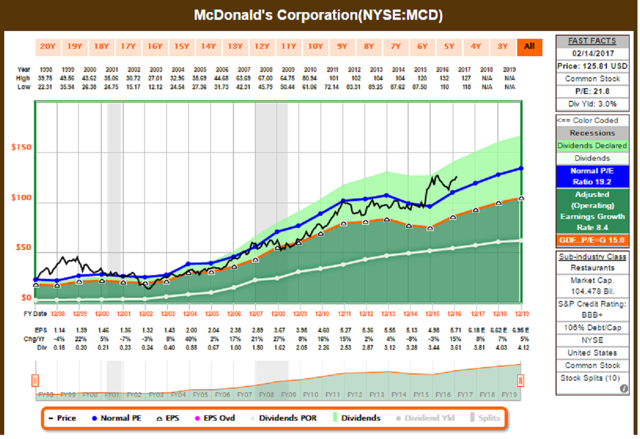 The Balance Sheet
As of the last 10-Q filing, the current ratio (ratio of current assets/current liabilities) is .96 indicating that current assets do not cover current liabilities. There is $26B in long-term debt and $4.3B in current assets so Ben Graham would not approve of this as an investment with a decent margin of safety. The balance sheet for MCD lists a negative shareholders' equity. But the real estate they have depreciated is likely worth as much as when purchased, so after adding back accumulated depreciation, I come up with an NAV of $13B or so which puts the company's market cap of $103B at 12.6X that figure. Super expensive on that measure too.
Earnings/Cash Flow
Earnings and cash flow for MCD are similar with capital expenditures about level with depreciation and amortization. Earnings and free cash flow should be around $4.6B for the year putting the current P/E for 2016 at 22.5X or a 4.4% owner earnings yield. The P/E and the growth rate should be roughly similar for a fairly valued stock says legendary investor Peter Lynch in One up on Wall Street and Beating the Street. A 4.4% owner earnings yield is not an adequate risk compensation for a stock with earnings growing at 7 to 8% and that growth rate is doubtful to me.
Risks
I know how stable Mickie D's is in our minds. But in order to convince us that MCD is actually a stock and not a bond here are a few risks.
Foreign currency, specifically a stronger dollar hurts MCD since the company gets more revenue abroad than it does in the U.S. MCD uses hedges to attempt to mitigate some of this risk. While MCD receives around 37% of its revenues from overseas, almost half of its operating income comes from the U.S.
Another risk that comes to mind immediately here in the U.S. are higher labor costs, partly due to a lower unemployment rate and partly due to higher minimum wages passed in 15 states this last election cycle.
The biggest risk, however, in my mind is the increasing competitive landscape, particularly the growth of fast casual restaurants like Chipotle (NYSE:CMG), Panera (NASDAQ:PNRA), Zoe's (NYSE:ZOES), Shake Shack (NYSE:SHAK), Blaze Pizza and droves of others. As U.S. taste trend toward healthier foods, this could present challenges for McDonald's.
Positives
On the plus side, McDonald's pays a hefty tax bill of 31% to 33% so a reduced corporate tax rate would be a big positive. The company is expecting 400 net additional stores and expects to re-franchise around 4,000 stores by 2018, which is expected to save $500M of G&A.
Next Sell Caterpillar (NYSE: CAT) Dividend Yield ~3.28%
Cash Flow/Earnings/Revenues
Over the past year, Caterpillar shares have risen 47%. Revenues fell 18% in 2016. CAT produced a narrow gain in GAAP pretax income in 2016 on "unexpectedly" high restructuring costs. The big restructuring charge was $1.9B. If we add that back, we get roughly $2B in earnings (but I would add that when these restructuring charges are ongoing and frequent, I begin to include at least a portion of them as normal). At a $55B market cap, we get an owners earnings yield just covering the dividend of 3.6%.
Regarding cash flow, my calculations when adding back depreciation, a goodwill impairment charge, and equipment sales, and deducting Capex comes to $1.6B for the year. If we further add back that restructuring charge in the most optimistic scenario, we get cash flow of $3.5B, very similar to our adjusted earnings calculation.
Taking a look at the Fast Graph display below. The company's stock price (black line) has risen far above the normal P/E (blue line) and earnings growth rate (dark green shaded area).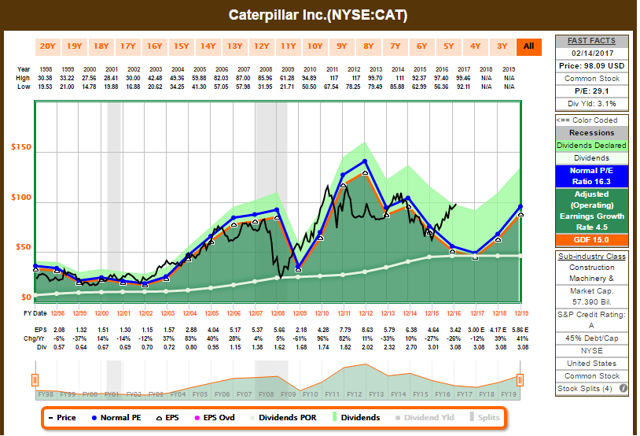 Balance Sheet
CAT's Tangible Book Value is around $4.8B, so a market cap around $54B puts the Price/Tangible Book at ~11.4X. I get no margin of safety comfort there. The Current Ratio is 1.2X. CAT has long-term liabilities of $35B and Current Assets of $31B. The Debt/Equity ratio is 278%.
Negative Concerns
Sales in North America and EAME (Europe, Africa, Middle East) are concerns for CAT due to an ample supply of used equipment available in those markets. The company expects continued sales declines in 2017. Short-term compensation is expected to eat into profits by around $600m. And lower profits from the company's finance division is also expected.
Here is how the new CEO summarizes the sales environment: "We continue to execute in a challenging economic environment and are focused on improving operating margins, profitability and shareholder returns. While we see signs of positive activity in some of our key end markets, the overall economic environment remains challenging," added Umpleby.
Positive Drivers
Obviously, the stock has enjoyed a run of late. This began due to commodity prices rebounding from the lows in late 2015 and early 2016, and continued with the Trump rally, particularly on promises of increased infrastructure spending. I believe much of that enthusiasm is premature, and that fiscal conservatives could reduce that planned infrastructure build.
Caterpillar still gets around 42% of its revenue from North America so a big infrastructure build, and corporate tax decrease would be very positive. Commodity prices continuing higher would also be positive for CAT. The problem is, I believe all of these variables are already priced into the share price.
Summary
In the most optimistic scenario, is a 3.6% owner earnings yield enough to compensate me for the risk of owning a company with a self-professed poor or challenging year ahead? Not in my opinion. Especially not when it's rallied so strong on hope.
Sell Consolidated Edison (NYSE: ED) ~3.7% Dividend Yield
Cash Flow/Earnings/Revenue
Revenue declined 4.8% for the first 9 months of 2016. Operating income increased by 3.4%. Net income and diluted EPS were almost exactly the same as 2015 and should be around 3.94 for the year. That puts the stock trading at 18.8X earnings or a 5.2% owner yield. That doesn't sound so bad right?
Here is where our cash flow calculations show a more accurate picture. The free cash flow yield is typically negative for utility companies. My free cash flow calculations for the first 9 months of 2016 shows a negative $113M as the company spent $2B on utility construction. It was about the same in 2015. In fact, over the past 6 years, the company has had no free cash flow generation. So how do they fund the dividend if they have no free cash flow? Primarily through debt issuance, which has grown by around $2B over the past 5 years.
Below is the Fast Graphs chart for ConEd. The first chart shows a very elevated price level (black line) compared to the past 20 years historical earnings growth rate (green dark shaded area) and normal P/E (blue line). This level is alarming.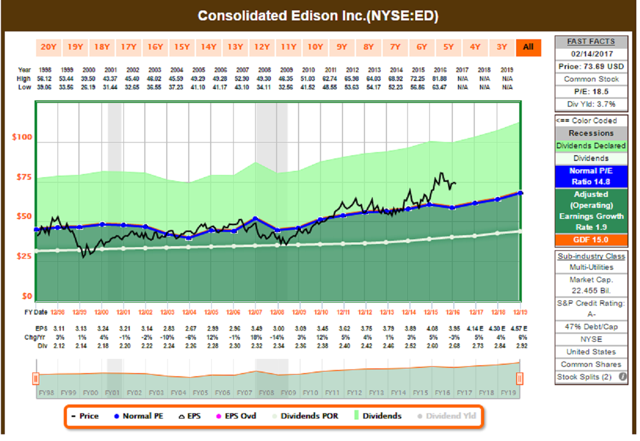 This second chart shows how infrequently ConEd generates free cash flow, which is indicated by the dark green shaded areas.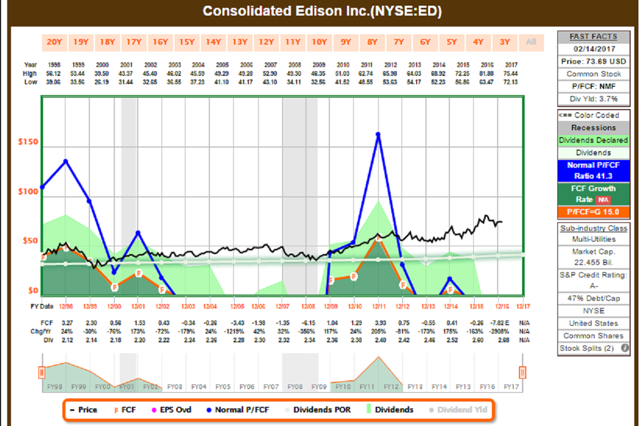 Balance Sheet
The current ratio was .88 as of the end of the third quarter, so current assets do not cover current payables. Long-term debt when adding pension obligations (some companies still have those huh?) and deferred income taxes total $22.7B. This compares with 2.6B in current assets. Shareholders' equity is $11.8B, which puts the stock trading at around 1.9X book value.
Positive Drivers
There is one very significant potential driver for ED that I notice. The company pays around 35% in taxes over the past two years. A lower tax rate would be huge for ED. The other positives for the stock are obvious, geographic monopoly and government regulation. Though it might seem like government regulation would be a drawback and not a positive, the barrier of entry to potential competition outweighs being regulated.
Negative Drivers
Aside from a lofty price and little to no cash flow, a spike in inflation and/or interest rates could be detrimental for ED. ED spends a couple of billion dollars a year on projects. Inflation could increase faster than ED can get approval to raise utility rates. Higher interest rates make an investment in ED's yield less appealing.
Summary
ConEd has paid a cash dividend to shareholders every year since 1885 and has increased its dividend payments for 43 consecutive years, an admirable record.
However, what do you really receive as an owner of this enterprise? No free cash flow growth. Diluted Earnings growth rate of 1.8% and a 20-year adjusted earnings growth rate of 1.9%, all three seriously lagging the 3.7% dividend. This means that ED must either continue to take on debt or sell stock to pay the dividend (over time). An investor is not compensated adequately for the risk of owning the shares.
Sell Grainger (NYSE: GWW) ~1.9% Dividend Yield
Grainger is an excellent distributor of industrial products. A stronger U.S. economy will benefit the company. Lower corporate taxes would also be a boost as the company's 2016 tax rate was around 37%.
Cash Flow/Earnings/Revenues
2016 results were less than inspiring. Sales grew at 2% and earnings were down 11% on a GAAP basis and 3% on an adjusted basis due to a "challenging demand environment." The company made a poor acquisition of Fabory, which has impacted recent results negatively by way of a Goodwill impairment. Even after taking this out, net earnings were down 10% from 2015.
The company is projecting earnings per share of around $12 for 2017, which puts the stock (priced at $255) at around 21.2X 2017 P/E or an earnings yield of 4.7%. My simple calculation for free cash flow (net income + depreciation - capital expenditures) comes in at $597M in 2016. GWW's market capitalization is $14.8B, so that puts the stock at 24.8X trailing free cash flow.
Looking at the Fast Graphs chart below, we again see the stock price above the normalized P/E (blue line), and the earnings growth line (dark green shaded area).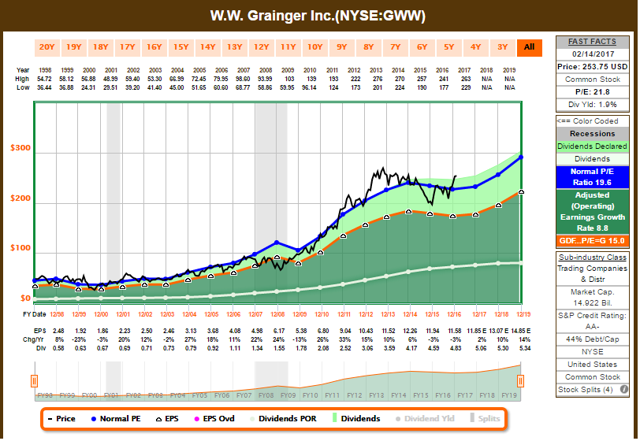 While the stock trades spot on the normalized free cash flow multiple (blue line), the multiple has expanded quite a lot in recent years,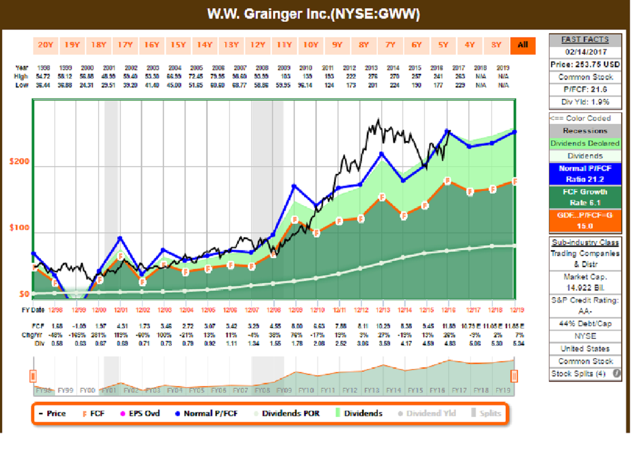 Positive Drivers
On the most recent earnings call, the CEO mentioned that Grainger will not need to spend as much on Capital Expenditures in 2017 and going forward. This could cause free cash flow to increase to $1B in 2017. Lower taxes would also be a big plus.
Negative Drivers
Price is the main problem. The stock really should have been down significantly based on the performance in 2016. Instead, it's up 21% over the past 12 months.
Summary
Grainger has a great growth history, but maybe the infrastructure is built out. It seems to have stalled. The company is projecting renewed sales growth of 2% to 6% in 2017, but lower margins. With little growth ahead, a P/E of 21X is too much for me. The dividend yield is 1.9%.
Consider Instead
Following are 4 replacement options that in my opinion compensate the shareholder for the risk taken.
Bank Money Market Account
A money market account yielding 1%. There are a few banks out there offering this rate. A money market account will likely be able to grow the payout much faster than a stock like Grainger, especially if the Fed raises rates 3 times this year. The long-term average for a money market is around 2.75%.
Bank 5-Year CD
If all you want is a little yield, this is a good option for a portion of your capital. Create a CD ladder so you can roll into higher rates. The yield is around 2.2% at many banks. You can always break the CD with a penalty (usually a few months interest) if you need your capital sooner.
Toll Brothers (NYSE: TOL)
If you like a strong brand like McDonald's consider Toll Brothers. The company has favorable supply and demand dynamics working for it in the housing industry, but the stock price of this well-respected company with a strong position in the market has been left behind from the rally of the last couple of years. The shares are reasonably priced with a Price/Sales ratio of 1X, a forward P/E of 9.9X and a Price/Book Value of 1.2X.
Not only is the valuation more reasonable, but the stock has far better growth prospects than the stocks listed above, with a conservative projected one-year growth rate of 8.8% and longer term estimated at 13%. The stock does not pay a dividend, but rewards shareholders with share buybacks.
TOL has a new initiative called T-Select to build lower price homes to capture some Millennial buyers - an increasingly important segment due to demographic trends. The Fast Graphs chart below shows the price (black line), below both the normal P/E line (blue line) and the normal earnings growth rate (dark green shaded area). This can point to an undervalued stock.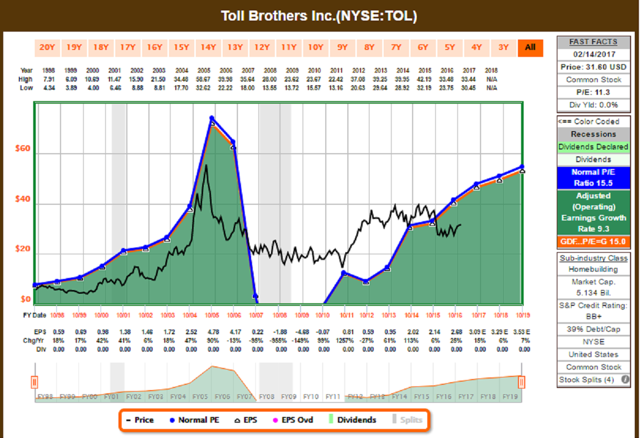 Negative Drivers
While increasing interest rates are considered a negative, they do not impact home sales as much as the consensus believes, particularly at these historically low levels. Sometimes slight increases in rates lights a fire under folks to get moving before rates go up further. A tighter labor market works against homebuilders through higher costs, but TOL has more padding than most with its higher average home price.
Lennar (NYSE: LEN)
Lennar is another good homebuilder option with many similar valuation characteristics to Toll Brothers.
BlackRock Muni 2020 Term Trust (NYSE:BKK)
The annual yield is 3.43% on this tax free muni fund, which matures at the end of 2020. It trades at a slight premium to Net Asset Value (NAV), so the yield to maturity currently is 2.97%. One warning about this security is that it seeks to return $15 per common share to holders as of December 31, 2020. The Net Asset Value is currently $15.53 so the NAV could theoretically drop 3.4% and still fulfill the original goal of $15.
Article Conclusion
Overpriced stock markets are all about leadership. There is a sector or two that rallies more than others and pulls the rest of the market along behind. All will remember the housing and finance sectors leading the way into the 2007/2008 downturn. Most will remember the skyrocketing tech sector boom of the late 90s leading to the bust in 2000. The stable dividend payer/grower could be the sector leader in this market cycle bubble. As a manager of unconstrained investment strategies (a generalist), I am ever peering across sectors, geographies, and countries to find value. In the low-risk stable dividend world, you will be hard pressed to find any.
Sources for Charts: Federal Reserve St. Louis, F.A.S.T. Graphs
If you enjoyed this article and would like to be notified when I write future articles please click the "follow" button at the top of the page.
Disclosure: I am/we are long TOL, LEN, BKK.
I wrote this article myself, and it expresses my own opinions. I am not receiving compensation for it (other than from Seeking Alpha). I have no business relationship with any company whose stock is mentioned in this article.
Additional disclosure: I am/we are short CAT