Last month, I wrote an article explaining my bullish case for Infosys (NYSE: INFY). Since then, a lot has happened. The company's revenues of $2.5 billion missed the analysts' consensus by $20 million. Then, management issued a warning of challenging times ahead as a result of Trump's American First policy on jobs.
Trump has promised to review the H1-B visa program to limit the level of outsourcing currently going on. Infosys is a major beneficiary of the program. Then, there were problems at the board after the company's founders questioned the payments of top executives. The board battle has already ended without drama with one of the founders calling the chairman a 'man of the highest integrity'.
The shares, which slightly fell in January are now recovering.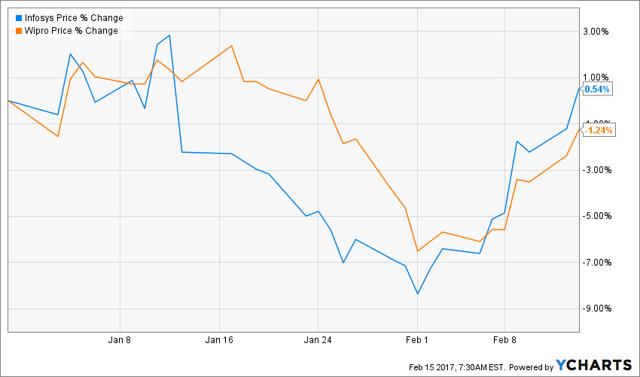 YTD Chart for INFY and WIT. Source, YCharts
The Problem
The H1-B visa program allows American companies to hire professionals from the United States or overseas. The program's goal is to enable companies to find talent that would otherwise be impossible to get in the United States. As I will highlight below, American universities do not produce enough graduates in Science, Technology, Engineering, and Mathematics to satisfy the demand. This program gives companies an opportunity to hire foreigners to take these jobs. For instance, when you call your cable company, chances are that the customer service agent that serves you is in India.
While the program has merit, labor unions and politicians accuse companies of misusing the program and undercutting American workers. A 2015 report by New York Times detailed how companies such as INFY were gaming the visa system. In the program, companies such as Infosys, Wipro (NYSE: WIT), and Cognizant Technologies (NASDAQ:CTSH) aided American companies in obtaining qualified foreign employees. The chart below shows the distribution of the H1-B program among different companies in 2014.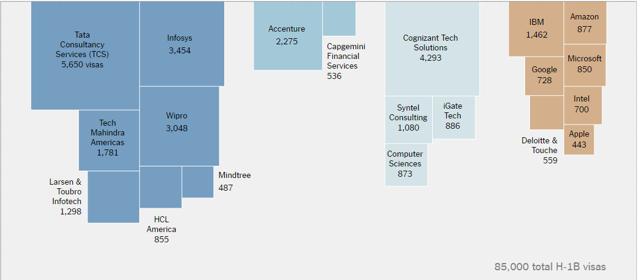 Source. NYT
In his campaign, Donald Trump promised to bring jobs back to Americans. His America First policy aims to repeal the program and incentivize companies to give back the same jobs to Americans. A repeal of this program would pose a major challenge to the companies mentioned above. First, their current projects would be interrupted. Second, they would have to find Americans to replace the foreign workers. Finally, they may be forced to pay more money to American employees.
H1-B Visa Issue is Overblown
The president of the United States has powers to stop the visa program especially since he has the backing of congress and the senate. However, Trump is also a successful entrepreneur who has used the visa program in his own projects. He understands the importance of the visa program. In a presidential debate, he explained why his hotels brought in foreign employees at the expense of Americans. He responded saying that 'Americans didn't want temporary jobs'.
In addition, Trump has surrounded himself with highly successful entrepreneurs. His trade secretary, Wilbur Ross is a respected entrepreneur who has helped restructure many companies, which use these programs. His informal advisor, Peter Thiel serves on the board of Facebook (NASDAQ:FB), which also enjoys the opportunities provided by the program. His economic council is made up of managers and entrepreneurs such as Steve Shwarzman and Mary Barra who lead big organizations that take advantage of the visa program.
Trump has signaled that he is flexible in some of his policies. This past weekend, Stephen Miller, the senior policy advisor said this about the program.
The President has made clear he believes that (there) should be a merit-based system where individuals coming into the country bring the kinds of benefits economically that will grow our economy and help lift up wages for everybody.
In terms of merit, a complete overhaul of the H1-B would lead to crisis in the United States. The bioscience industry employs 1.7 million people in the U.S. with fewer than half of the scientists being native-born citizens. Scrapping the program would lead to a crisis in the bioscience industry. The same is true in most of the high-tech industry especially those using huge STEM skills. A recent report by Bloomberg claimed that employers in the technology and agricultural sector claimed that American universities were not producing enough people to take the jobs.
The report stated that universities were not producing enough scientists and mathematicians to take the 150,000 jobs created every year. Therefore, while Trump has the power to issue an executive order repealing the program, I believe that doing so would do Americans more harm than good.
The chart below shows the number of skilled visas which were granted by occupation in the US in 2014.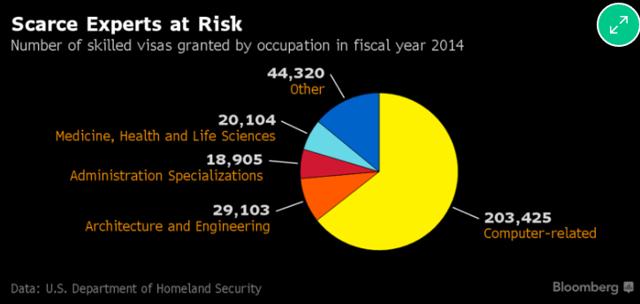 Source. Bloomberg
There is consensus that the H1-B program has been misused by American companies. The impacts to this has been improved profits at the expense of American workers. Since America does not produce enough skills to take all the jobs, a complete repeal of the program will not be viable. Instead, it will create chaos in corporate America that Trump wants to avoid. He has credited the market rally to his policies. Repealing the visa program would cause disruptions to the economy, which Trump wants to avoid in his tenure.
In addition, a thorough reform to the program to reduce cheating will be beneficial to American citizens and the companies involved. This is because only people who bring in skills will be granted the visa privileges. They will also be admitted to work meaning they will be earning and staying away from welfare services.
Finally, these companies are already increasing the hiring of local American talent. In the last quarter's conference call, the CEO of Infosys said this:
Our focus is to hire local and supplement skills, which are not available with the visa program. Otherwise, the focus is to hire local, both in terms of experienced hires as well as fresher from campus. We are going to step it out with more enablement and training locally, so that we could start hiring adjacent capabilities, wherever we think those specialized crews are not available.
Other Indian companies have also been preparing for a time when the visa program is reformed. Recently, N Chandrasekaran, the CEO of Tata Consultancy (OTCPK:TTNQY), said the following about the program.
There is a lot of commentary (recently) about the increase in the visa fee… (AND) the number of visas one will get. We are addressing both very proactively. In terms of the number of visas that we will get, we decided more than a year ago that we have to operate in a visa-constraint regime.
In hiring local American citizens, INFY's margins will be hurt. There have also been proposals for a wage increase. In a report by Indian paper, Live Mint, Apurva Prasad, a research analyst at HDFC securities estimated that if the minimum (H1-B) wage is fixed at $100K, operating margins of companies such as INFY would be affected from anywhere between 150 and 300 bps. In the same report, Investec Securities estimated that an increase in minimum wage for H1-B visa recipients to $110k, Infosys's margins would be affected by around 170 bps.
However, the company has slightly higher margins than its American competitors such as Accenture (NYSE: ACN) and Cognizant Technologies which would partly offset these impacts. The table below compares INFY's margins with that of its closest competitors.

Source. YCharts
Final Thoughts - Short-term concerns
While I'm long INFY, I expect that the company will be a bit volatile until it sees a clear path forward. INFY serves some of the largest companies in the United States such as Apple (NASDAQ: AAPL), Nike (NYSE:NKE), and Cisco (NASDAQ: CSCO). While I expect the company to keep these customers and the existing deals, it will face a challenge attracting new customers and new deals this quarter. This is because potential customers might be worried about the future of the new projects and the potential cost increments if the visas are revoked.
In the long term, however, as a new normal is reached, the company will be able to negotiate deals and get new customers. As I mentioned in my previous article on the company, the IT consulting industry is expected to grow as companies enjoy a low tax and a low regulated environment.
Disclosure: I am/we are long INFY.
I wrote this article myself, and it expresses my own opinions. I am not receiving compensation for it (other than from Seeking Alpha). I have no business relationship with any company whose stock is mentioned in this article.
Additional disclosure: Crispus Nyaga is a Wall Street writer focusing on companies in different sectors. While most of my recommendations have turned out well, some have not been quite successful. Therefore, before you buy or short a company, I recommend that you do your own independent research. Also, I am not a native English Speaker so kindly excuse any grammar and spelling mistakes. I do my best to publish on a regular basis. So, kindly follow me to receive instant updates when I publish.