It was only 8 weeks ago today that the sky was falling, and most gold bugs were scampering to find higher ground. The tsunami of sell orders between mid November and the Fed meeting left the yellow metal barely clinging to life, as it dropped from $1,340/oz to $1,120/oz in a span of 25 trading days. A massive sea change was evident in investor sentiment, as several of the comments in my articles unveiling my long positions were met with "good luck". This did not surprise me at all, as we were at the lowest reading for gold (NYSEARCA:GLD) sentiment in over 30 years. Fast forward 2 months and this correction was merely a blip on the radar. A couple of the stocks I highlighted in my Q4 articles have now doubled off their December lows, and gold has reclaimed more than half of its post-election losses. Unfortunately for the bears, they don't seem able to accept this fact. When the facts change in a market so should one's positioning, but the remaining bears seem to be more concerned about being right than making money.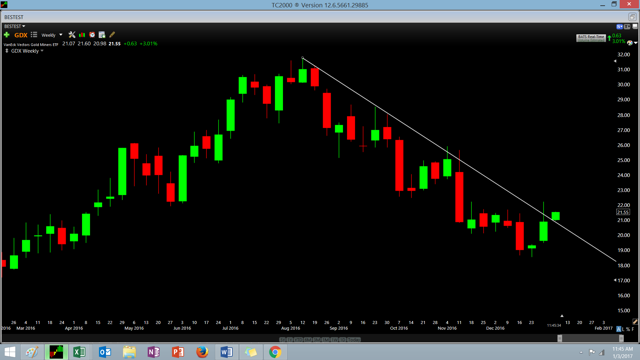 In early January I shared this chart of the Gold Miners Index (NYSEARCA:GDX) breaking out of a weekly downtrend that had been in place for months. This was an extremely bullish development and opened up the door for a test of the 200-day moving average. While I would have not considered the gold miners in a bull market at the time, there was certainly lots of air above for a room higher. Fast forward 6 weeks and we've now recorded the first 8 week winning streak for the GDX since its inception. The index has defied gravity all year, and pullbacks have been shallow and very brief. This is evidenced by the fact that the index made a higher low 8 straight weeks in a row. We are currently on track for what looks like it could be a red week, but it's not looking like a significant one. The GDX is currently down 0.2% for the week which is extremely impressive given its 30% move over the past 2 months. This is not what the bears want to see at all, as thus far this week GDX is correcting through time, and not price.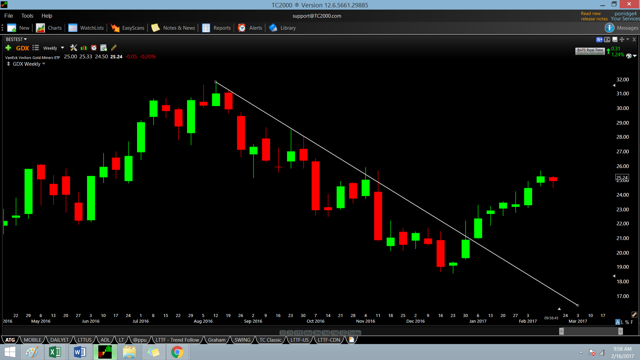 (Source: TC2000.com)
Zooming into a daily chart, we can see that the GDX has spent the past week battling at its 200-day moving average (yellow line). We have regained it as of this morning's trading, and this is certainly a plus for the bull camp. The 200-day moving average is my line in the sand for bull and bear markets so this is a big level for me. With the GDX above its 200-day moving average, 4/4 of my time-frames are now in bullish alignment. For the past 3 weeks we've only had 3 time frames in bullish territory, so the longer we can hold above $25.05 the better. Taking a look at the 50-day moving average, this is another exciting development. The 50-day moving average (blue line) has now caught up to support at $22.50 and should be a trampoline for price on any dips. This means that the worst correction I expect to see going forward is a 10% as the 50-day should catch us.
With the gold miners 30% off their lows and gold 10% off its lows, the consensus seems to be that sentiment is frothy in gold. Despite what many may think, this could not be further from the truth. Bullish sentiment has only just moved into bullish territory last week and is sitting near the 60% level. This is nowhere near exuberant, and actually supports a move higher. As we can see from the below chart, bullish sentiment broke out of its Q3/Q4 downtrend in early January and has not looked back since. This is the same downtrend that put a screeching halt to the election night rally therefore this was quite a positive development.
As we can see bullish sentiment (white line) is making higher highs and trending above all of its key moving averages. This is exactly what the bulls want to see from an asset class as it means more neutral participants and bears are steadily being converted to bulls. The fact that the moving averages are trending higher below sentiment means that we can expect support at these moving averages on any dips. In summary, until the uptrend in bullish sentiment for gold dissipates, we can expect gold to be a buy on any dips.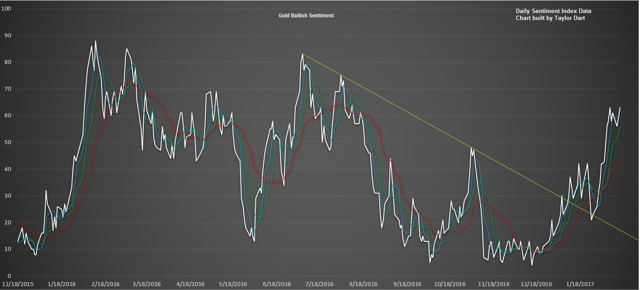 (Source: Daily Sentiment Index, Author's Chart)
Moving onto the technicals for gold, things are also looking very positive. As we can see from the 4-hour chart of gold, $1,220/oz resistance from January continues to act as support. This is very impressive as the metal is not even allowing a 3% dip thus far from the highs to let traders in. As is evident from the below 4-hour chart, the uptrend is still very intact and provided support yesterday at $1,217/oz.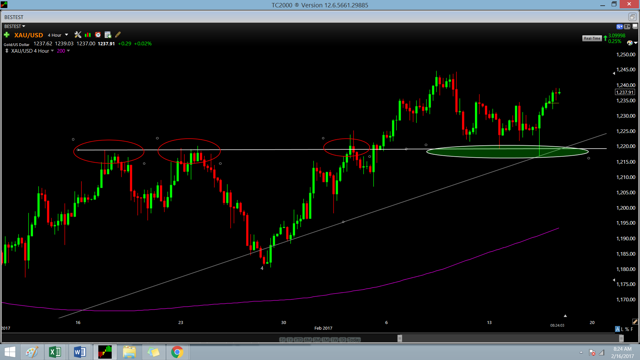 (Source: TC2000.com
Zooming out to a daily chart, we can see that gold continues to base above $1,220/oz and below its 200-day moving average. The 200-day moving average is a very important level for the metal, and I am not allowed to double my position in the metal until it closes above here. Currently I'm sitting on a half position in gold from $1,176/oz that I unveiled to my readers in early December. Thus far every test of the uptrend line has been met with buyers immediately and this bodes well for the bull thesis here. When assets sit on their trendline and don't show an elastic band reaction this can be an ominous sign, but this is completely contrary to how gold is acting.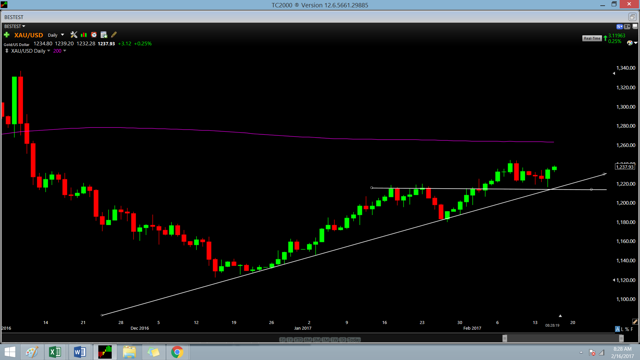 (Source: TC2000.com)
Taking another look at the daily chart from purely a trend following perspective, the 50-day moving average continues to climb and should be support on any dips. The 50-day moving average is currently just below the $1,200/oz level, and I believe the first test of this would provide a welcome buying opportunity. Typically the first test of a key moving average like this attracts buyers that have been sitting on the sidelines trying to get in this move. Just as the 50-day moving average acted as resistance from August 2016 to 2017, it should now flip to become support. A close below this level would be the first sign of a red flag in this rally.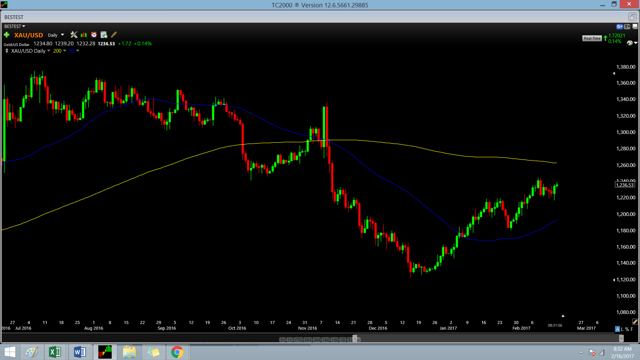 (Source: TC2000.com)
Finally looking at a weekly chart we can see that gold is back above its important $1,200/oz level. This is a very important level for the metal as it acted as support for all of 2016. The move back above $1,200/oz was the nail in the coffin for the short thesis, as it proved that the move under $1,200/oz was simply a bear trap. The last line of defense for the bears is the 200-day moving average and they are going to need to guard it with their life.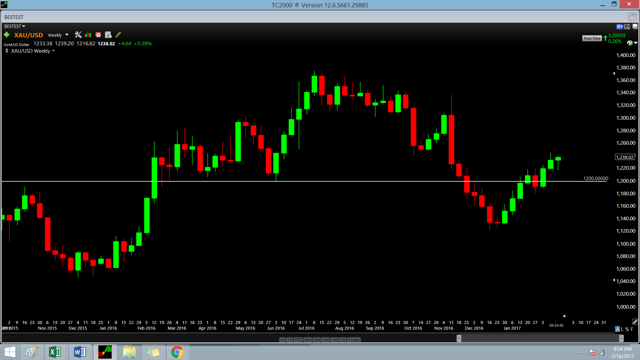 (Source: TC2000.com)
So how am I positioned?
Given that I am slightly more bullish on the miners than gold, I have an aggressive weighting of 64% miners across my portfolios. This is the heaviest weighting I have had since 2010, and I am only this aggressive as I was lucky enough to catch the exact December lows. During the dip the past week I took the opportunity to build new positions in Coral Gold (OTCQX:CLHRF), First Mining Finance (OTCQX:FFMGF), and Pure Gold Mining (OTCPK:LRTNF).
Despite the perma-bears trying to protect their ego, they are currently short one of the most volatile asset classes in the world. The majority of them are using gold stocks and the GDX as their vehicle for profiting from this short move, and the trade has thus far blown up in their face. I have no interest in fighting the market and learned a long time ago that price is the final arbiter. As Iron Mike said "Everyone has a plan until they get punched in the mouth", and the perma-bears have been delivered an uppercut the past month from the mining index. Their plan was to short the index against $22.50 but some vocal bears did not cover as the move came too quickly. Rather than sticking to their plan, due to being blindsided they tried to get cute and wait for a dip. There has been no dip provided and these same perma-bears are now scrambling to cover on any down day on the index.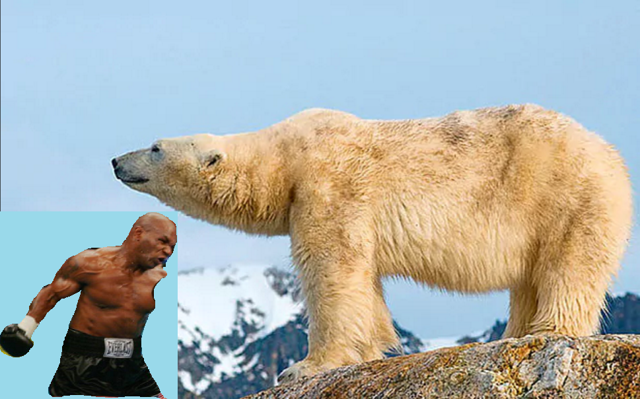 Fighting the trend does not pay, and the trend has very clearly been up all year. As long as the GDX remains above $22.50 and gold above $1,190/oz I see no reason to waver from my bullish stance. If these levels are breached, these would be the first red flags in this rally and I would monitor both closely. I continue to believe gold is in "buy the dip mode", and a close above $1,270/oz would move me to my maximum bullish position in the metal.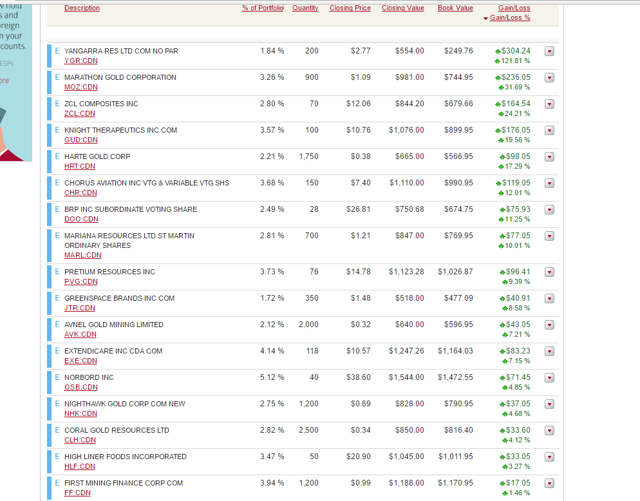 (Source: CIBC Investors Edge)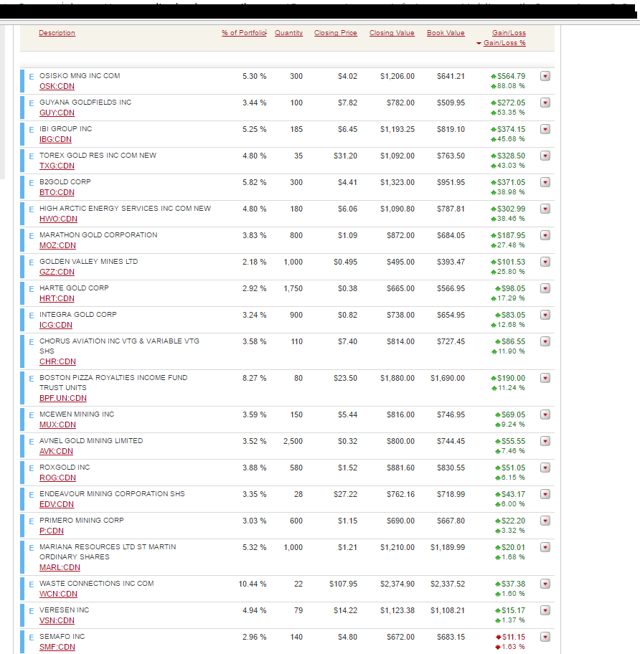 (Source: CIBC Investors Edge Account)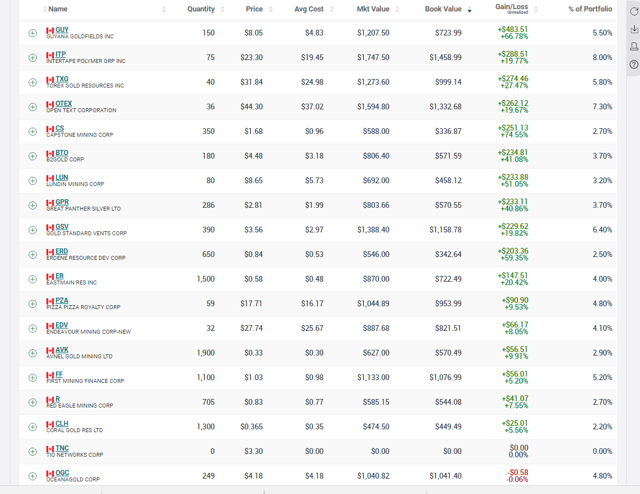 (Source: TD WebBroker Account)
For full transparency I have shown my main 3 accounts above to show my money is where my mouth is. Despite the massive run many of the gold juniors have had, I have not taken profits and continue to hold for higher prices.
Disclosure: I am/we are long GLD, FFMGF, LRTNF, CLHRF.
I wrote this article myself, and it expresses my own opinions. I am not receiving compensation for it (other than from Seeking Alpha). I have no business relationship with any company whose stock is mentioned in this article.
Additional disclosure: If you liked this article and found it useful, please feel free to follow me by clicking on my name next to my avatar at the top of this article. I also invite you to follow me at www.Taylordart.ca where I showcase my top 10 takeover targets in the gold space, as well as my top 10 gold producers to play this bull market with.
Editor's Note: This article covers one or more stocks trading at less than $1 per share and/or with less than a $100 million market cap. Please be aware of the risks associated with these stocks.