Since my name came up in Brad Thomas' "Show Me The Money" covering Realty Income (NYSE:O) yesterday, let me respond with a couple points.
First things first, let's be clear: I think we agree on as much as we disagree. It's easy to get lost in the short-term excitement and drama surrounding immediate market moves. However, for investors focused on the longer-term, not much has changed over the past 4-6 months with Realty Income's story. As such, let's look at Thomas' latest article discussing what we agree on along with a few minor quibbles.
Thomas begins by mentioning a previous article of mine from December of last year, when I turned from bearish to neutral on Realty Income. Thomas wrote:
Specifically, I want to point to an article written on December 15th (60 days ago), in which Bezek argued that Realty Income has "been punished enough for its interest exposure", and his argument was centered on O's modest dividend growth, or lack thereof.-

Bezek added that the "most probable outcome for Realty Income from a starting $54 price would be that it generates a low-single digit annual return over the next four years".

To be perfectly clear, Bezek is clearly a bargain shopper, and I do not blame him at all for seeking out a blue-chip REIT that can be acquired at a margin of safety. While we may disagree with O's dividend growth rate, I have no quip as it relates to investing in high-quality REITs when they are on sale.
What Thomas seems to overlook here is that I had previously called O stock a sell. The December article was me upgrading the stock to neutral, since it had been "punished enough." My first article, Realty Income Will Keep Dropping, came out in October at $59/share. Here's how O stock has traded since then: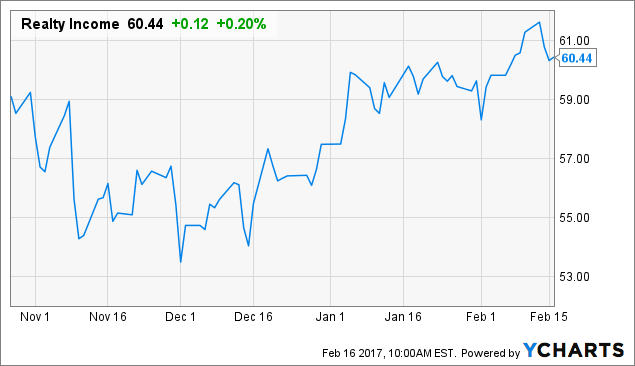 As can be seen, it proceeded to drop from $59 to $53. At $54, I switched to neutral, which if I say so myself, wasn't a badly-time move. At this point, you can argue: Hey Ian, why didn't you buy Realty Income then instead of just calling neutral? Thomas in fact makes this point: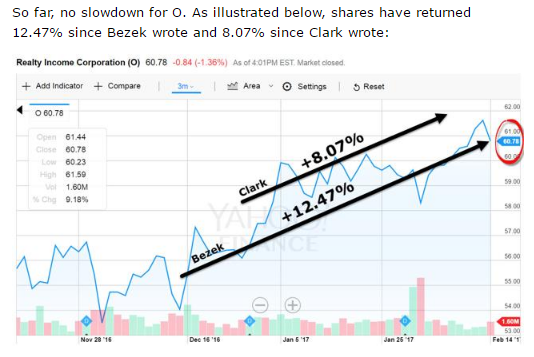 To which I'd answer, I didn't expect the stock market to think Donald Trump was the greatest thing since sliced bread. Despite being a real estate investment, Realty Income is an equity, and particularly with the recent S&P 500 indexing changes, a large portion of Realty Income's day-to-day gyrations will come with the market itself going up and down.
Thus, if you'd told me in December that the stock market would be up huge over the next two months, I'd have said to get long Realty Income (and everything else) to profit off the general market melt-up. As an individual equity, Realty Income has performed poorly since my original October sell call came out. Realty Income is up just 2%, while the REIT index (NYSEARCA:VNQ) has produced twice that, the S&P is up more than 10%, and US financials (NYSEARCA:XLF) are up 23%.

Given what I saw in December, it made sense to remove my "sell" call on Realty Income and bump it to neutral. However, the math, which I've presented several times, was still fairly skeptical of significant long-term gains on Realty Income from that $54 price. Here's a refresher (not updated since December):

Over the next four years, one could expect a flat stock price if O maintained its dividend and had a terminal yield of 4.5%, grew its dividend at 4%/year and had a terminal yield of 5%, or had 6% dividend growth and a terminal yield of 5.5%.
Something along that order of outcome seems plausible, suggesting if you paid $54/share in December, you were likely to earn the dividend yield with fairly minimal capital gains or losses over the coming four years.
For a significant capital gain - say a $72 stock price - you had to assume 6% dividend growth going forward and O stock only yielding 4% in 2020. That could certainly happen - the Fed interest rate hiking plan could backfire and set off a recession that sends interest rates back to zero thus lowering REIT yields and sending stocks up; but I wouldn't make that my highest probability scenario.
To justify the recent 10% rally in O stock, you now need to move one box to the left on the table. Thus, if you paid $55 and assumed 4% dividend growth, your terminal yield would need to be 5% to get a flat stock price between now and 2020. The recent rally in O stock cuts your margin of safety a bit, as a terminal yield of 4.5% is now required.
We Both Agree, O's Valuation Is Stretched
Thomas does note the current valuation issue is his most recent article, writing that:
Now let me clarify, I know Realty Income shares are expensive today (we have a HOLD now) in valuation terms, and the multiple (21.4x) is above historical norms (18.7x using the chart below), but maybe this is the "new norm"?
Using the 18.7x historical level that Thomas suggests, the correct O stock price today would be $53.29. While we arrived at our targets by different means, I'd note that I upgraded O stock to neutral at $54, which is just a hair off its normal historical price.
At that $53-$54 level, O stock would trade in line with its usual traditional valuation. I still wouldn't be keen on buying the stock there, since I see rising interest rates and a slowdown in Realty Income's tenants as issues. Look at their top 20 tenants and ask yourself: Do I shop at/use these companies' locations more, less, or the same as I did 10 years ago? And ask the same for your children or younger friends.
Thomas suggested that perhaps this higher O stock valuation is the "new norm"? And it could be. But the alternate hypothesis is that O stock is simply overvalued along with the rest of the market. If the market hadn't continued to surge following Trump's inauguration, O stock would likely be back at 55 rather than here at 60. Buying a stock at a higher price due to permanently higher valuation ratios is risky business.
Obviously though, there's plenty of room for disagreement on how much to pay for a growth stock. I frequently make the case that usual "overvalued" suspects such as Hormel (NYSE:HRL) and McCormick (NYSE:MKC) are cheaper than they appear. So I'm willing to keep an open mind here. We both peg a neutral historically average price for O stock as around $54 - but is it worth paying up beyond that today?
Thomas makes the case for O's hidden alpha:
If you think about it, Realty Income has an enviable balance sheet with a cost of capital of ~4.1%. In Q2-16, the company said it was acquiring properties at cap rates of ~6.5%. This spread of 240 basis points is one of the widest in its history.
That's true, though you have to consider the longer-term prospects for the properties the company is acquiring. The company's cost of capital is likely to rise in the future, simply due to interest rates eventually normalizing. Yes, Realty Income earns a solid profit margin now; but what happens when lease renewals come up and Realty Income can't raise rates much because Amazon is cannibalizing the location operators' businesses?
Ultimately, 6.5% is a pretty lousy cap rate for the sorts of properties Realty Income buys, particularly with the Amazon threat looming. Yes, there's a wide margin to be made today, but don't assume the sellers of these properties are total buffoons either. They may be looking at the longer-term picture and deciding to sell while the market is hot and central bank money is still flowing to prop up prices.
What To Do With O Stock Today?
Thomas ultimately concludes that:
However, we are recommending a pullback (as Bezek wrote) for newbies, given the modest rate reaction we forecast in March.
Thus, it seems we are in agreement that O stock has gotten ahead of itself. I remain neutral on O stock at $55 (and thus somewhat pessimistic at times when it is trading at north of $60). One commenter on Thomas' article summed it up nicely:

As demonstrated above, O stock would go for around $54 if it were trading at a normal premium to its FFO. $54 also places it squarely in the middle of the range where we'd expect that would produce modest total returns in line with what the S&P 500 should offer given its starting overvaluation.
The question of long-term desirability depends on how much you weight various factors going forward. Some people value the company's past performance and brand name more heavily. In doing so, it's easier to justify paying more than $54. Or if you think interest rates stay low for an extended period of time, Realty Income's purchases at low cap rates will look better.
If, like me, you find higher interest rates and fading desirability of the sorts of locations that Realty Income owns to be troubling, you'd probably want a modest discount to that $54 price. Regardless, I'd take a long look at buying O stock if the price fell to the $48-50 range; I wouldn't require a huge discount to the neutral price to get involved.
As Thomas wrote in the comments: "I'm still holding with a BUY price of $55.00." And I'd add that hold is a fine position; I own quite a few stocks I view as overvalued that I continue to hold, both because I'm a buy and hold mentality investor in general and particularly because I don't like capital gains taxes.
I'd be wary of the "new norm" talk for O stock though. Most of the time valuation cases built on new era sorts of talk don't work out in the end. My analysis was and continues to be based on where O stock will be in 2020 - four years out from now. I continue to think there's a good chance you'll see the stock trading between $50-$60/share at that date; and should plan your purchases and return assumptions accordingly.
Seeing investors become more bullish on a stock due to short-term rallies makes me concerned. It reminds me of the reaction we saw in Falcons' fans at halftime of the Super Bowl. It's great to get excited that your team is off to a hot start, but don't drink the champagne prematurely.
Disclosure: I am/we are long HRL, MKC.
I wrote this article myself, and it expresses my own opinions. I am not receiving compensation for it (other than from Seeking Alpha). I have no business relationship with any company whose stock is mentioned in this article.