PIMCO has released UNII and distribution coverage results for its closed-end funds for January. The report covers through January distributions, so the cuts recently announced for three municipal-bond funds and two taxable-income funds are not reflected in this report.
The Funds
Tax-Free Municipal Bonds
Taxable Income
Tax-Free, Municipal Bond CEFs
I'll cover the municipal-bond funds only briefly. These entered a new fiscal year on January 1, so fiscal year to date coverage only covers the single month. All the muni-bond funds had negative coverage for that first month, ranging from 77.56% to 92.22% of distributions. The three national muni bond funds had near 90% coverage: 90.1% for PML, 89.6% for PMF, and 89.4% for PMX. Recall that PMF and PMX cut their distributions for February, so the impacts from those cuts are not seen here.
On the positive side, the rolling three-month distribution coverage improved for all nine of the municipal bond funds. For the three national funds, PMF remains in negative territory for this metric at 98.18% coverage, but that is up from the December report's 95.82%. PML and PMX are over 100% coverage for the past three months, 106.35% for PML and 107.15% for PMX.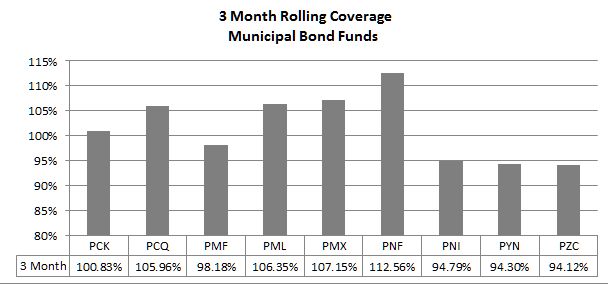 Taxable CEFs
For the taxable funds distribution coverage is over 100% for the fiscal year to date (six or seven months) for seven of the funds. PFL,. PHK, PTY and RCS have FYTD shortfalls. Three month rolling distribution coverage has fallen below 100% for the last three months for PCI and PKO.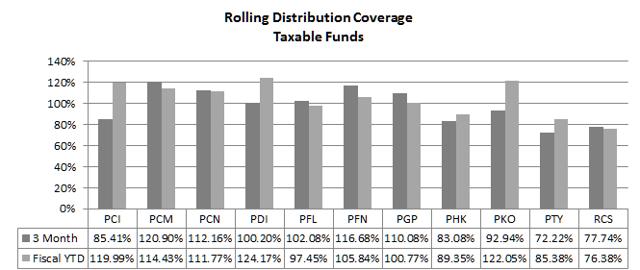 What is noteworthy, however, is that all but PGP saw their fiscal year to date (covering six or seven months) distribution coverage drop. The drop for the past three months was precipitous for PCI, PDI and PKO with each dropping more than 30 points for this metric since December's results.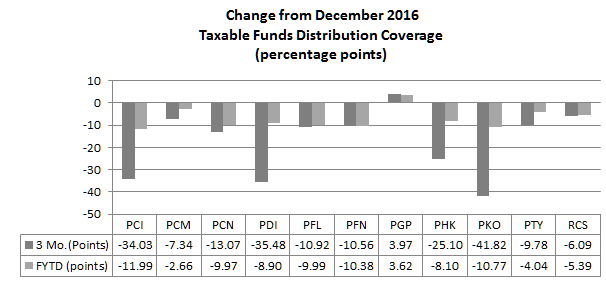 The difference between the December and January three-month coverage ratios is, of course, the October and January results. It seems unlikely that October was such a good month for coverage or that January was so bad to account for the sharp declines we see in PCI, PDI and PKO this last month. Each of these is heavily invested in credit swaps and derivatives, so a more likely explanation may involve exchanges of these securities generating potential capital gains but leading to a decline in income coverage.
Despite the drop in coverage ratios, investment income was up from December for each of the taxable funds.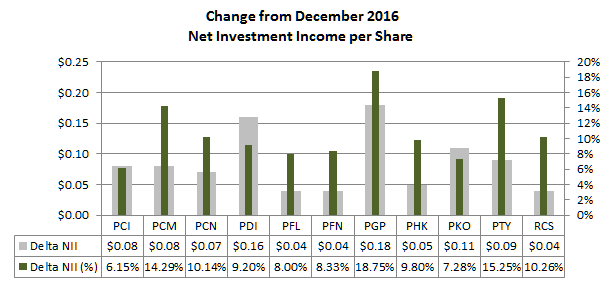 Undistributed Net Investment Income for January was positive for each of the funds except for the two funds that will see distributions cuts, PHK and RCS. However for all but one fund (NYSE:PGP) UNII did decline from December.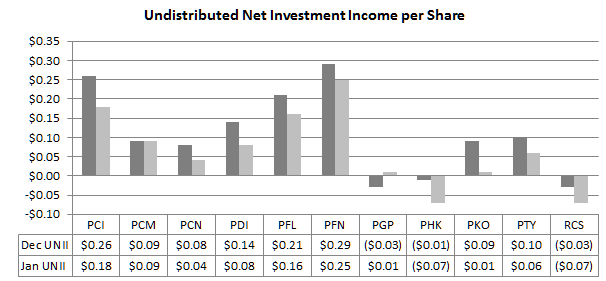 I find it more useful to see UNII in terms of the monthly distribution. Here is the ratio of UNII to the monthly distribution per share.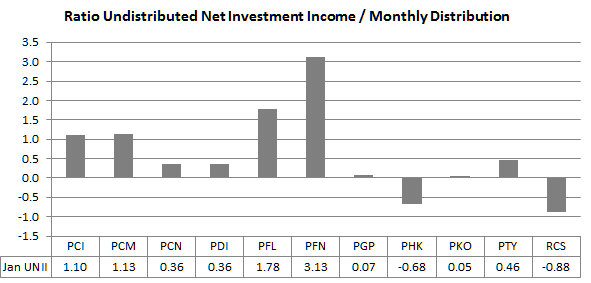 PFN has over three months' worth of distributions accumulated. Even the two funds that are negative here are less than a month's distribution to the negative side.
Finally, to compare where the funds stand today, here are current distribution yields (market) and discount/premium status for each of the funds.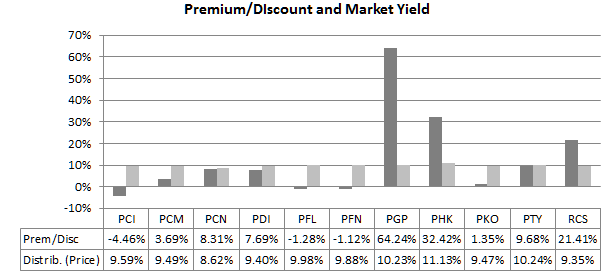 Summary
The most significant message to be taken from this report has to be the sharp decline in the distribution coverage ratios for the taxable funds, especially for PCI, PDI and PKO. This is potentially a matter of concern if we see the trend continuing in coming months, although at this point I'm not inclined to make too much of it. UNII remains strong across the board, and even where it is negative, it is only slightly so.
I continue to consider RCS as the most at-risk fund for further distribution cuts. It has the most negative UNII on a monthly distribution basis and the fiscal year to date distribution coverage is the lowest of the taxable-income funds. If I own RCS I would strongly consider looking for an alternative. Its 21% premium and poor prospects for avoiding still further distribution cuts would not seem to justify the fund's 9.35% income yield, the second lowest in the PIMCO taxable-income CEF lineup.
Three funds retain discounts, PCI, PFL and PFN. PFL and PFN turned in stronger distribution coverage ratios this month and merit watching. PFL is paying 10% and PFN is paying 9.9% market yields.
As regular readers know, I have been adding to my holdings in PCI over the past several months. With this report I will hold off on adding any more until there is more clarity on distribution coverage. As I noted, I am not unduly concerned at this time, certainly not to the extent that I'm considering exiting the fund, but a greater than 34 point decline in the three-month rolling distribution coverage has to get my attention. And it has.
On the basis of the numbers presented in this report PFN may be the strongest fund for a current purchase. There are, of course, many other considerations that would go into such a decision, but a 9.9% yield, modest discount, and highly positive indicators of distribution stability would certainly justify taking a close look at the fund. I plan to do so.
Disclosure: I am/we are long PCI PDI. I wrote this article myself, and it expresses my own opinions. I am not receiving compensation for it (other than from Seeking Alpha). I have no business relationship with any company whose stock is mentioned in this article.
Additional disclosure: I am not an investment professional and this article does not constitute investment advice. I am passing along the results of my research on the subject. Any investor who finds these results intriguing will certainly want to do all due diligence to determine if any security mentioned here is suitable for his or her portfolio.