When it comes to judging the state of the world's economy, we were taught to use six key indicators. At present, these six indicators are all reading positively, giving us the belief that markets around the world can continue their good run despite reaching or nearing all-time highs.
The first indicator we like to take a look at is the Institute for Supply Management Manufacturing Index, also known as the ISM Manufacturing index. This index is based on surveys by the Institute of Supply Management of over 300 manufacturing firms. It monitors conditions in manufacturing and provides a reasonably solid preview of the U.S. economy for the next couple of quarters.
As Investopedia explains:
"Manufacturers need to respond quickly to changes in demand, and they ramp up or scale back purchases of inputs to match demand. As a result of their position in the company, they are perhaps better positioned than anyone to speak to the ebb and flow of business conditions."
In January, the ISM Manufacturing index hit 56 compared to expectations for 55. Readings over 50 show that manufacturing is expanding, and readings under 50 show manufacturing to be contracting. Clearly, manufacturing was strong last month, painting a bright picture for the months ahead in our opinion.
The next indicator we look for is a subcomponent of the ISM survey. The data we look for here are new orders and inventories. During January new orders were growing fast at 60.4, whereas inventories were contracting at 48.5. This is the type of contraction we want. With new orders increasing and inventories lower, we expect to see businesses needing to manufacture more goods in the next few months to keep up with demand.
The third piece of data we look for is a simple one: U.S. weekly jobless claims. Although regarded as a lagging indicator, we like to use the data to forecast the near future. Being a weekly release, we feel we can use it to gauge the overall strength of the U.S. economy on a weekly basis, rather than wait for monthly or quarterly reports. A booming economy with low unemployment should result in wage growth and higher levels of disposable income.
Last week jobless claims came in at a seasonally adjusted 234,000 for the week ended February 4. Not only was this below economist expectations of 250,000, but is also just 1,000 claims away from a 43-year low of 233,000. Impressive statistics.
The fourth indicator we look at is South Korean trade data. A key reason for this is that the data is released on the first day of each new month for the preceding one and shows the different levels of trade between different nations. From this data, we believe we can get a fair picture of the state of global trade.
January's data was strong, particularly with trade between Europe and China where shipments rose 13.4 percent and 13.5 percent, respectively.
The fifth indicator we feel is an important part of the puzzle is Chinese retail sales data. With the Chinese economy in the midst of a transition into a consumer-driven economy, this data could be one of the most important moving forward. Whilst Chinese data is not trusted by all, we have to use the data we have available to us.
The most recent data reveals that Chinese retail sales finished the year strongly, climbing 10.9 percent year-on-year in December. This was an increase from November's impressive reading of 10.8 percent.
The final indicator we look for is Germany's monthly Ifo Business Climate index. The European Union may be going through hard times, but it certainly is an important part of the global economy. The Ifo index is a leading indicator for economic activity in Germany, which we see as the engine of Europe.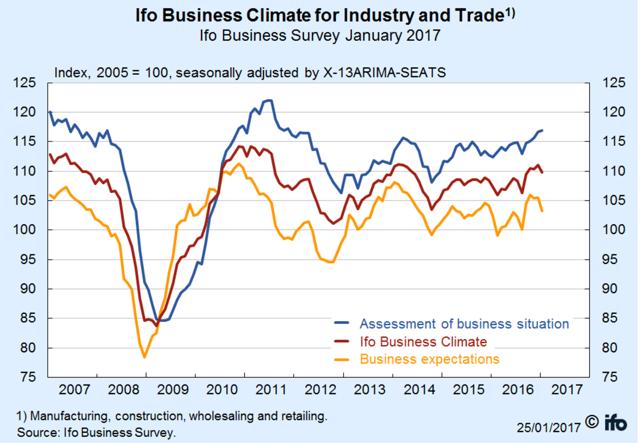 This is the only piece of data which disappointed in January. The index fell to 109.8 in January, whereas economists had expected it to rise from 111.0 to 111.3. But considering the political uncertainty weighing heavily on Europe, we don't find the miss too surprising. Furthermore, confidence may have fallen, but it is still at a relatively high level, as can be seen above.
So what does this all add up to?
With all indicators looking positive we have confidence that the global economy is growing strongly. With that in mind we think that global equity markets (NASDAQ:ACWI) are poised to climb higher in the next six months as the global economy strengthens. That goes for U.S. markets as well. Although they are at all-time highs, we still believe the S&P 500 (NYSEARCA:SPY) and the Nasdaq 100 (NASDAQ:QQQ) have further room for growth. So despite some market observers predicting that a sharp correction is on the way, we remain bullish on the market as a whole.
Disclosure: I/we have no positions in any stocks mentioned, and no plans to initiate any positions within the next 72 hours.
I wrote this article myself, and it expresses my own opinions. I am not receiving compensation for it (other than from Seeking Alpha). I have no business relationship with any company whose stock is mentioned in this article.