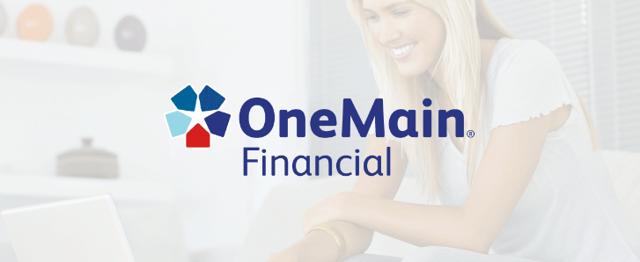 OneMain Financial (NYSE:OMF) has had a rocky road to traverse for, well, its entire life as a public company. The space OMF operates in is vilified by those that don't understand the need for its services to under-banked consumers and that leads to some pretty wild swings in sentiment. The stock hit just $16 last fall, but the Trump Bump has sent shares all the way back to $28 following a bumpy but well-received Q4 report. I've been pounding the table on OMF for a while now and although my bullishness is being validated, I think there's still some room left in the tank.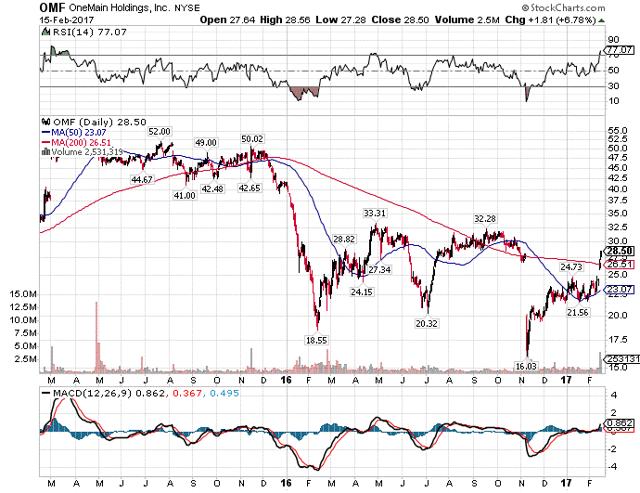 Total interest income was up 11% Y/Y as OMF continues to grow its receivables base. This has been and will be a growth story as OMF has the capital base and borrowing capacity to continue to ramp its lending efforts. OMF's SpringLeaf merger has proven to be a tremendously powerful consumer lending company and now that some of the noise of the acquisition is worked out, we are able to see just how good OMF can be.
Receivables were up to $13.5B at the end of Q4, representing roughly 4% loan growth. That's certainly good enough but I still think there is some upside potential to that number going forward as well given OMF's dominant market position and ability to lever up if it wants to.
Risk-adjusted yield was nearly 17% in Q4, and if the fall Q/Q in 30 to 89 day delinquencies is to be believed, we could see that number move in excess of 17% this year and potentially more. Charge-offs are obviously huge in this business as OMF makes the riskiest of loans and lots of them go wrong. But with gross yields in the mid-20s, OMF can also afford to charge off 7% or more of its loans and still be wildly profitable.
OMF doesn't necessarily need higher yields; it just needs its charge-offs to settle down, and we saw some progress on that front in Q4. The Q1 read on charge-offs will be key in determining how high OMF can go in 2017, but for now, things are looking up.
Interest expense also fell markedly and provisions were down from $483M in last year's Q4 to just $258M this year. That, combined with higher insurance revenue and expenses that were held in check, allowed OMF to improve its EBT by $331M over last year's Q4. OMF's net income margins are very thin and likely always will be; it is a necessary evil of the model it employs. But if charge-offs continue in the right direction, leverage could build very rapidly. Of course, that leverage goes both ways and that is why OMF always looks so cheap - investors are compensating for risk - but for now, I still think it looks like a buy.
At 7.5 times this year's earnings, OMF is still very cheap. There are few stocks in this market with P/Es as low as OMF and in particular, among the financials. But OMF is different, and while it will likely never trade at 14 or 16 like the banks, that doesn't mean upside is capped at these levels. OMF was much cheaper a couple of weeks ago, but it rallied hard off of the Q4 report and momentum looks very strong here. The stock just cleared the 200DMA, and if it can stay above that line and turn its slope upward, that would be hugely bullish. For now, we need to make sure the move sticks, but on a fundamental basis, it is cheap regardless.
OMF is going to produce moderate EPS growth this year but analysts expect that profit growth will continue to ramp in the coming years. That means the 7.5 times earnings it is going for now turns into just 6.5 next year and even less after that. There is a long way to go between here and there but the point stands; OMF is cheap and has a very bright future ahead of it with lots of growth opportunities.
So that's really it for me; OMF's model is challenging to get right but all the pieces are in place. I do think we're going to see huge EPS growth in the coming years as OMF continues to grow revenue and the stock simply isn't priced for it right now. That leaves lots of potential upside for not only the growth that is coming, but further multiple expansion as well. OMF is up big, but there is more room left in the tank and this is a long-term story, so be patient.
Disclosure: I am/we are long OMF.
I wrote this article myself, and it expresses my own opinions. I am not receiving compensation for it (other than from Seeking Alpha). I have no business relationship with any company whose stock is mentioned in this article.