Dividend growth investors, such as myself, look for quality companies that have a history of raising their dividends on a regular basis. Although not as comprehensive as the U.S. Dividend Champions list, Canada's dividend-paying companies also present investors with dividend growth opportunities and have thus far received limited coverage on SA. This will be the first of a monthly series that identifies the most recent dividend increases of the Canadian Dividend All-Stars, companies that have raised their dividends for at least 5 consecutive years.
Of note, U.S.-based investors should be aware that they are subject to a 15% withholding tax on dividends paid within a taxable account. On the other hand, should U.S.-based investors hold their Canadian dividend-paying stocks in their retirement accounts, there are no withholding taxes on dividends paid due to our mutual tax treaty.
JANUARY'S UPDATES
Two of the companies that raised their dividends in January are dual-listed, which means they can be found on both the major U.S. and Canadian stock exchanges, while the other can be purchased by U.S. investors either on the TSX or through the OTC market.
Enbridge Inc. (NYSE:ENB) (ENB.TO) - Sector: Energy, Industry: Oil & Gas Midstream
(Streak: 21 Years)
New Quarterly Rate: C$0.583
Increase: 10%
Enbridge, one of Canada's premier oil & gas companies, raised its dividend by a hefty 10% in January. Despite the nice bump, it certainly looks as though DG may be slowing as their 3 & 5 YR DG rates were 18.9% and 16.7% respectively. Likewise, their dividend payout ratio now sits at 115% when compared with current EPS of C$2.03. The picture is also not that great when compared to FCF, although the situation does appear to be improving as after years of negative FCF, estimates have them back into positive territory. If ENB was able to maintain a rising dividend through years of negative cash flow, I see no reason for them to not to be able to maintain their streak.
From a valuation perspective, ENG currently trades at a P/E above their historical average (see F.A.S.T. Graph below) and are trading at a 121% premium to their Graham Value of C$25.26 per share. As such, Enbridge currently appears to be overvalued.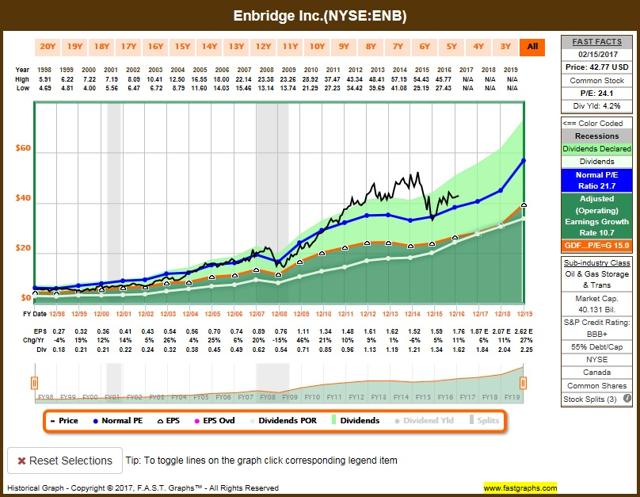 Canadian National Railway Company (NYSE:CNI) (CNR.TO) - Sector: Industrials: Industry: Railroads
(Streak: 21 Years)
New Quarterly Rate: C$0.4125
Increase: 10%
CNI is one of Canada's largest railroad companies (the other being Canadian Pacific) and the second largest North American based railroad by market cap, with a network of approximately 20,0000 route miles of track that spans Canada and mid-America. Exactly like their Enbridge counterparts, CNI has raised their dividend 10% a streak that also spans 21 years. Also similar to Enbridge, their rate has been slowing as compared to their 3 & 5 YR DG rates which were 20.4% and 18.2% respectively. The good news for investors is that their dividend payout ratio sits at 35% which will enable them to raise dividends comfortably for years to come.
Trading at a P/E above their historical average (see F.A.S.T. Graph below), they are also trading at a very high premium (106%) to their Graham Value of C$45.28 per share. The parallels between ENB and CNI continue as they both appear to be currently trading at a premium valuation.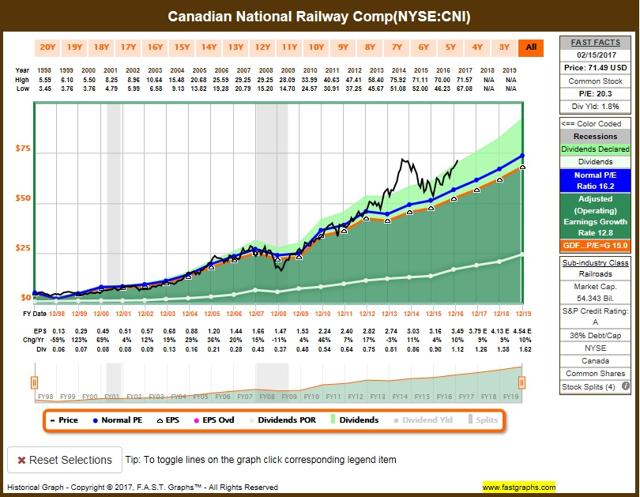 Richelieu Hardware (OTC:RHUHF) (RCH.TO) - Sector: Consumer Cyclical: Industry: Home Furnishings & Fixtures
(Streak: 7 Years)
New Quarterly Rate: C$0.0567
Increase: 6.7%
Richelieu is a little-known North America distributor, importer and manufacturer of specialty hardware and complementary products importer and manufacturer of specialty hardware and complementary products. They offer over 110,000 different items with over 80,000 customers and 69 distribution centres of which 36 are in Canada and 31 in the U.S. Richelieu has grown EPS over the past 5YR by an average of 11.8% while their average dividend growth over the same period was approximately 8%. Their dividend is well covered with a payout ratio of 63% as compared to EPS and a payout ratio of 18% as compared to operating cash flow. With growing income and growing cash flows, Richelieu seems well-positioned to support a rising dividend.
Richelieu's valuation does appear to be stretched at the moment. When looking at the F.A.S.T. Graph below, you can see that beginning in 2012, their valuation has skyrocketed. Trading at 4.0x book value, and with a PEG ratio of 2.1, the stock is not cheap. A PEG ratio of greater than 1.0 typically signifies that the company's earnings growth are not keeping up with the company's share price and as such can be considered overvalued.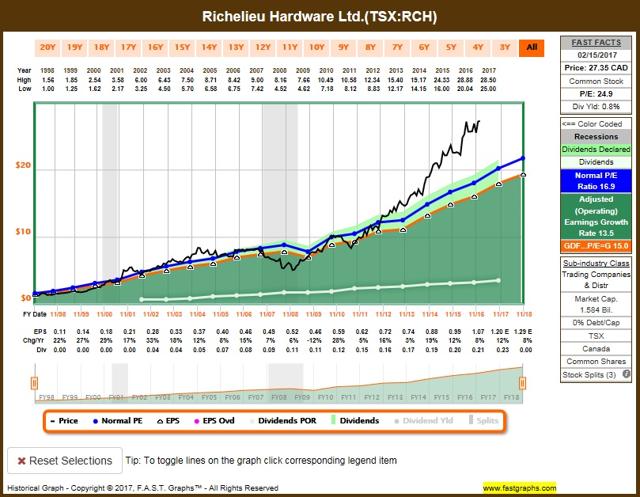 If you would like to receive further articles related to this series, please click the "Follow" text at the top of this page next to my profile.
Disclosure: I/we have no positions in any stocks mentioned, and no plans to initiate any positions within the next 72 hours.
I wrote this article myself, and it expresses my own opinions. I am not receiving compensation for it (other than from Seeking Alpha). I have no business relationship with any company whose stock is mentioned in this article.
Editor's Note: This article discusses one or more securities that do not trade on a major U.S. exchange. Please be aware of the risks associated with these stocks.