As I mentioned yesterday, Cisco Systems (NASDAQ:CSCO) reported a decent F2Q17 that, while not impressive enough to cause excitement, marginally beat revenue and earnings expectations. The stock is up today nearly 3% intraday, but concerns over the company's service provider and network equipment (routing and switching) businesses are understandably causing the more cautious investors to scratch their heads.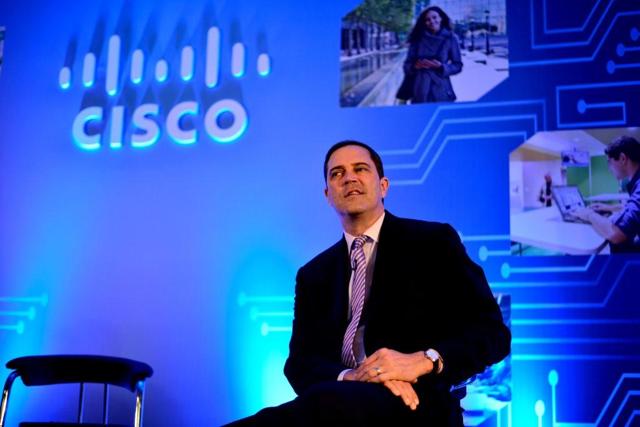 Credit: Fortune
Revenue contraction in the quarter reached nearly 3%, worse than the 2% YOY decline observed in the trailing twelve-month period. Bears and skeptics now question: where's the top-line growth? With Cisco's legacy business continuing to unwind, few are willing to bet on significant improvement any time soon.
But as I have also argued in the past, Cisco is betting on a couple of initiatives that may very well offset, largely if not totally, the softness in traditional routing and switching. Security revenues, currently at a $2 billion-per-year run rate that still looks small from a total company perspective, have been up double digits each quarter since F2Q16. Over the same period, Services have been up an average of +6.4% YOY vs. Products' -4.1%.
Most importantly, recurring revenues have become the company's main tool to combat quickly declining equipment sales. I estimate that recurring revs, which include subscriptions on both the product and service sides, were up an encouraging 12% YOY last quarter, in a steadily increasing trend from 5% in F3Q16. Per my calculations, a whopping 89% of Cisco's Services revenues are now recurring.
Using information provided during last evening's earnings call, I was able to plot the following graph that illustrates how product and service recurring revs have evolved over the past eight quarters.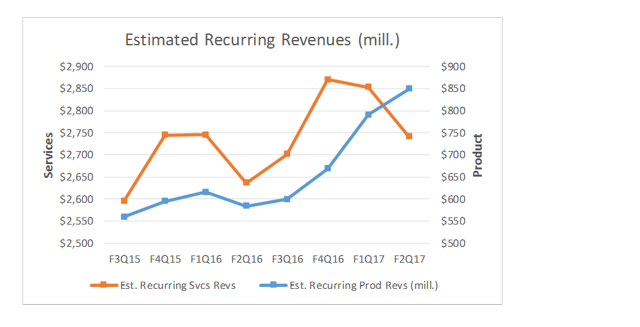 Source: DM Martins Research, using information shared by Cisco's management team
These metrics look great, but all they do is reflect past performance. Looking forward, what level of confidence do I have that recurring revenues will continue to do well in the several quarters to come and possibly help Cisco drive positive top-line growth after five consecutive quarters of decline?
(For this next section, my premium subscribers can download the back-up Excel sheet and get access to all the underlying data.)
Turning to the balance sheet: a look at deferred revenues
The answer to this question is hiding in plain sight. The often-forgotten short-term and long-term deferred revenue lines on Cisco's balance sheet is the revenue pipeline for a number of transactions, including:
Services sold (including technical support), invoiced, but not yet performed
Products (including software) sold, invoiced, but not yet delivered
Subscription services sold, invoiced, but not yet fully utilized
As recurring revs as a percentage of total company sales go up (CEO Chuck Robbins disclosed during the call that this number has gone from about 26% six quarters ago to 31% last quarter, in an accelerating trend over the past six months), deferred revenues should increase as well. And the higher the deferred revenue balance, the higher my confidence that subscription-based and multi-period product and service revenues will remain healthy in the future.
So, let's see how deferred revenues have evolved since F1Q12 (the quarter ended November 2011):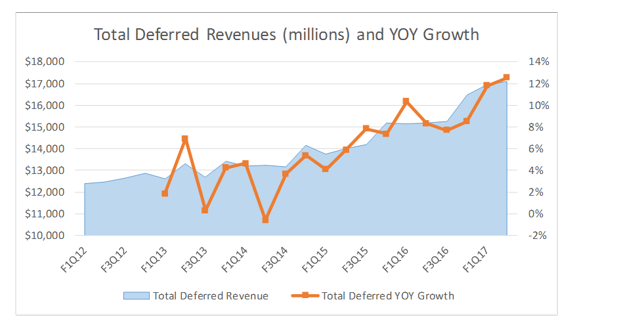 Source: DM Martins Research, using data from SEC filings
Notice that deferred revenue growth has shot up from an average of about 3% in FY13 to over 12% in F2Q17 in a clearly positive trend. The following two graphs dig deeper into the data and provide further color into what has been going on over the past 22 quarters.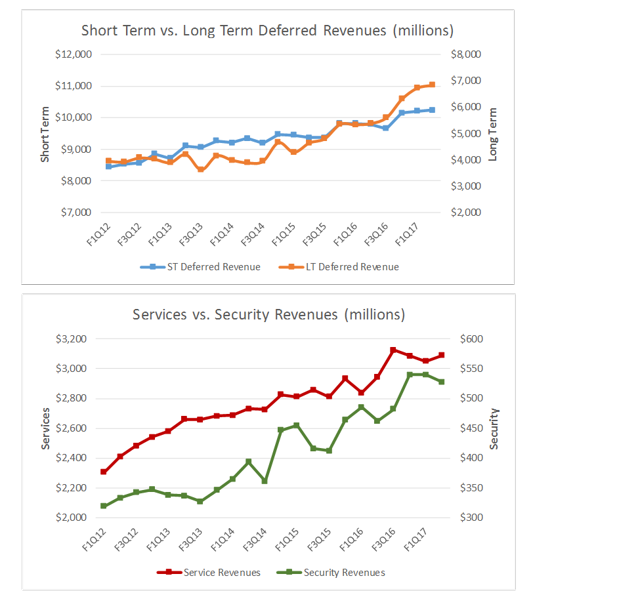 Source: DM Martins Research, using data from SEC filings
As the first chart suggests, most of the steep increase in deferred revenues took place (1) after the start of fiscal 2015, and (2) primarily in long-term deferred revs. These two observations point to a couple of key conclusions: (1) Cisco's "sticky" revenues have been increasing fast, and (2) much of the future top-line upside from the increase in deferred revenues is likely to extend well beyond the short term.
The second graph illustrates how both Security and Service revenues have experienced growth over time that is both robust and consistent (i.e. with little volatility).
What the data above does not address
The discussion around deferred revenues pertains mostly to about one-third of the business - the recurring side of it. But it says very little about the other part of the equation - the lumpy and more unpredictable equipment sales. In fact, I estimate that non-recurring revenues dropped -8.2% YOY in F2Q17, worse than the trailing twelve-month average of -5.5%.
But keep in mind a couple of things. First, while non-recurring revenues can be choppy and the softness in this business has been uncomfortable to say the least, I believe the market is fully aware of the challenges and has already discounted the stock properly to compensate for the added risk - at least this is how I interpret the stock's industry-low 10.5x net cash-adjusted forward P/E multiple.
Second, if recurring revenues (again, currently 31% of total revs) continue to rise at a low double-digit rate while non-recurring revs continue to drop at a high single-digit pace, Cisco will eventually (and possibly sooner than many expect) become much less vulnerable to the ups-and-downs typical of one-time sales. This is not to mention the margin improvement that the software, service and subscription businesses are likely to drive.
Last thoughts
By no means do I believe that Cisco is an investment without significant risks. The company began its business model transition away from expensive, branded boxed equipment sales to service providers only about 2-3 years ago. Some results have started to show, but steering such a large ship takes time.
I will argue, however, that Cisco seems to be in a better position - from the business model to fundamentals - than its stock price suggests. Shares may bounce around in the near term, especially after the 15% run of the past 10 weeks. But I continue to bet that further upside is likely in the long run.
Note from the author: Follow me as I build a risk-diversified portfolio designed and back-tested to generate market-like returns with lower risk. I call it the Storm-Resistant Growth portfolio. The very early results have already exceeded my expectations. Take advantage of the 14-day free trial, and get immediate access to the content and the community.
Supporting Documents
Disclosure: I am/we are long CSCO.
I wrote this article myself, and it expresses my own opinions. I am not receiving compensation for it (other than from Seeking Alpha). I have no business relationship with any company whose stock is mentioned in this article.