The strong coal, copper and zinc prices are providing a massive tailwind for Teck Resources which will continue in the current quarter. Teck should continue to post massive free cash flows throughout 2017.
Introduction
Teck Resources (NYSE:TECK) is one of the largest base metal companies out there as the senior producer offers exposure to copper, zinc and steelmaking coal. Those three commodities actually are very popular right now as the bear market seems to be over. The copper price increased by approximately 30% in the past six months, whilst zinc virtually doubled. But the real star is the coking coal price which increased from $81/t in Q4 2015 to $207/t in Q4 2016.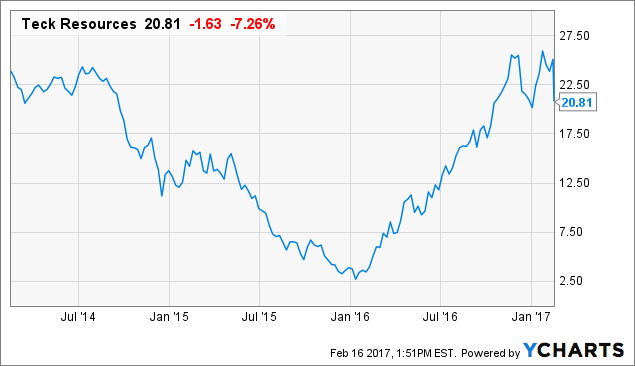 TECK data by YCharts
A massive cash windfall in Q4 beats most expectations
In the fourth quarter of last year, Teck Resources produced 7.3 million tonnes of coal, 72,000 tonnes of copper (160 million pounds) and 81,000 tonnes of zinc (180 million pounds). It's perfectly understandable why the company's future was absolutely uncertain just 12-15 months ago as the market prices for all three commodities were absurdly low.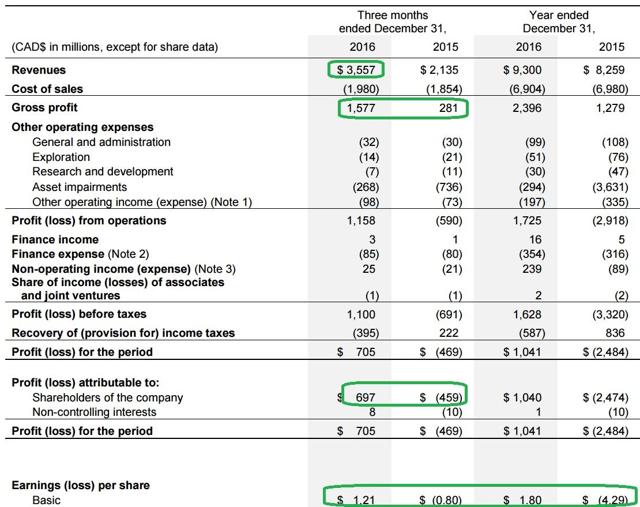 Source: press release
We saw a huge revival of these commodity prices in the fourth quarter of this year, and this resulted in a massive revenue increase for Teck, as its Q4 revenue increased by more than 60% to C$3.56B ($2.7B). As the cost of sales increased by just 5%, the gross profit increased by almost 500% to C$1.56B ($1.2B). Due to the stronger commodity prices, Teck was also able to reduce the total amount of impairment charges in the final quarter, resulting in an operating income of C$1.16B ($870M), much better than the C$590M operating loss in the same quarter of the previous financial year.
Looking at the bottom line, Teck generated a net income of C$697M attributable to its shareholders, resulting in an EPS of C$1.21 per share, or approximately US$0.90 per share. That's fantastic, and the importance of this fourth quarter cannot be underestimated as Teck generated 67% of its full-year net income in just the final quarter, boosted by the high commodity prices.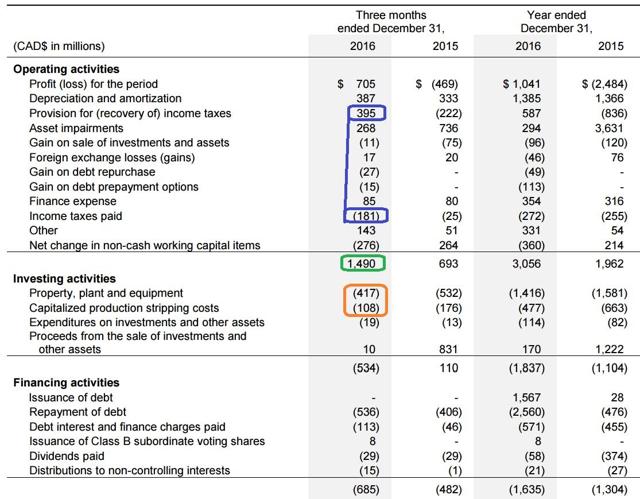 Source: press release
That's also clearly visible in the company's cash flow statements, as Teck generated an adjusted operating cash flow of C$1.6B (this includes the entire tax bill as a part of the Q4 tax bill has been deferred to the current financial year). With a total capex of just C$525M, Teck generated a free cash flow of C$1.1B ($830M) in the fourth quarter of 2016, and half of the cash has been used to repay debt which should reduce the US$250M in interest expenditures it incurred in 2016.
Just to emphasize the importance of this fourth quarter; Teck generated a total free cash flow of C$1.6B ($1.2B) in the entire financial year. So, once again, Teck generated 2/3rd of its full-year free cash flow in just one quarter.
Teck's balance sheet looks so much better now - and will continue to improve
Teck is now back on track to substantially reduce its net debt. The company started 2016 with a net debt position of C$7.7B, which has now been reduced to C$6.9B ($5.2B) (and would be even lower as the total value of the accounts receivable increased by almost C$500M (US$375M). Once the purchasers of Teck's commodities will pay their bills, the net debt will decrease by several hundreds of millions of dollars overnight.
And Q1 is shaping up to become an even better quarter. Let's just have a look at the average realized prices in Q4, and the current prices for coal, copper and zinc.
| | | | |
| --- | --- | --- | --- |
| | Price Q4 2016 | Current Price | Change |
| Coal | 207/t | 285/t | $77/t |
| Copper | 2.39/lbs | 2.75/lbs | 0.36/lbs |
| Zinc | 1.14/lbs | 1.3/lbs | 0.16/lbs |
This sounds great, but I do think the revenue and cash flow increases will have to come from the copper and zinc production. Teck confirmed the spot coking coal price is currently trading at $155/t, which is almost 50% below the benchmark price. As such, the company has been guiding for a production of 6 million tonnes of coal, and will realize 75% of the $285/t benchmark price. This means the received coal price will increase, but as the production and transportation costs will also increase, the impact of the slightly higher coal price will be neutralized.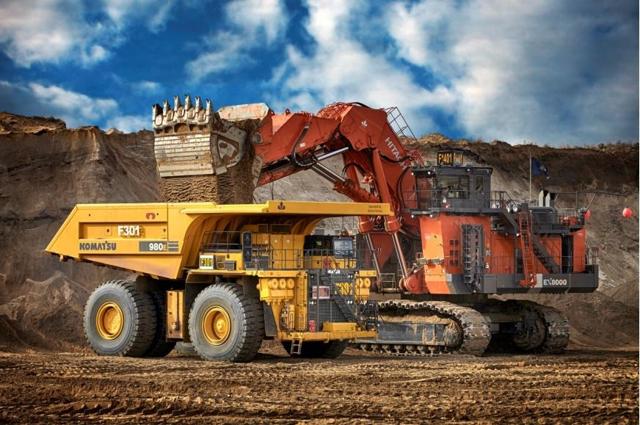 Source: company presentation
That being said, according to my back of the envelope calculations, the higher copper price should boost the revenue by $50M, whilst the zinc price should add an additional $75M to the equation in the current quarter.
This should allow Teck to generate once again C$1B+ in free cash flow, even though the total capex bill will come in higher as Teck Resources plans to spend C$675M on Quebrada Blanca and Fort Hills. The latter will produce its first oil at the end of this year, and will change from a net cash outflow position into a net cash inflow position in 2018.
Investment thesis
Teck Resources generated a ton of free cash flow in the fourth quarter of last year and seems to be on track for an increasing operating cash flow and free cash flow in the current quarter and financial year. The coal prices have gone down again and I guess that's why the market sent Teck's share price lower, but even at the lower coal prices, Teck will be able to perform much better than in 2015.
I do think this is a golden opportunity for Teck to reduce the net debt on its balance sheet, and I think the company will be able to end the year with a net debt position of less than C$5B. As the net debt decreases and the EBITDA will be increasing, Teck's net debt/EBITDA ratio should fall from almost 4 in 2015, to less than 1 by the end of this year. This will help the company to refinance the remaining debt and save tens of millions of dollars on interest expenses.
If you think zinc and copper won't fall below $1.10 and $2.50 per pound, Teck might be a very interesting addition to your portfolio after the recent correction which saw the company lose almost $3B in market value.
Disclosure: I/we have no positions in any stocks mentioned, and no plans to initiate any positions within the next 72 hours.
I wrote this article myself, and it expresses my own opinions. I am not receiving compensation for it (other than from Seeking Alpha). I have no business relationship with any company whose stock is mentioned in this article.