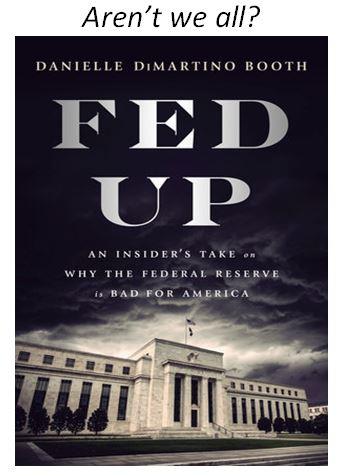 It may be instructive to frame the perspective, of the new problem facing the Fed, in light of a recently published book by a Fed insider, which throws some light on how the institution functions or rather dysfunctions. The new book called Fed Up has been written by the former adviser to Dallas Fed President Richard Fisher, Danielle DiMartino Booth. The book explains the disdain with which actors from the real economy and capital markets are held in by Fed academics. The Fed's adherence to economic theory has prevailed from one crisis to the next, without any Fed policymakers questioning their dogmatic rigidity in the light of said policy failures. It is highly likely that this new critique of the Fed will be devoured by its critics within the Trump Administration. Indeed, the contrast between the academics at the Fed and the billionaire cabinet logically leads to the assumption that the latter will question the credibility of the former given the former's clear lack of experience in the real business world.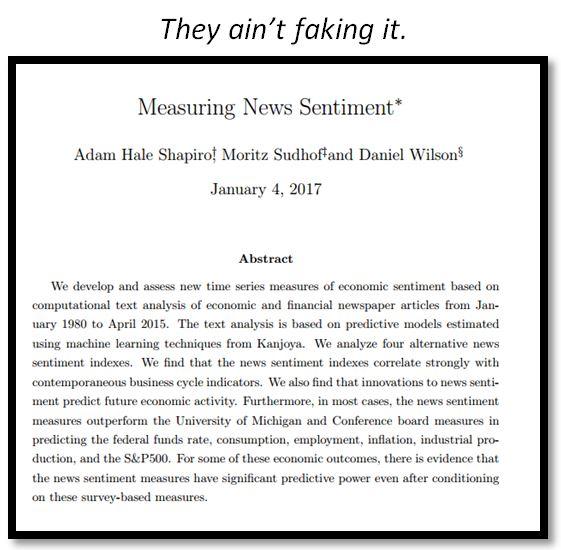 (Source: San Francisco Fed)
DiMartino Booth's thesis has recently received an embarrassing if admittedly inadvertent endorsement from the Fed itself. Evidently, there are pockets of excellence within the Fed's analytical departments despite the anachronisms in the policy-making process. The latest piece of excellent output comes from the San Francisco Fed, which is all the more embarrassing since it is where Janet Yellen hails from. According to a recent study, the economic narrative in the media is a more accurate forecaster than either the Fed's own forecasting techniques or its verbal guidance. The behavioral economics discipline finally seems to be percolating through the dogma at the Fed. After all, a capital marketplace is as much an exchange of stories as it is the assets that are wrapped up in them. Going forward, it will be instructive to observe if and how the Fed tries to seize and control the economic narrative.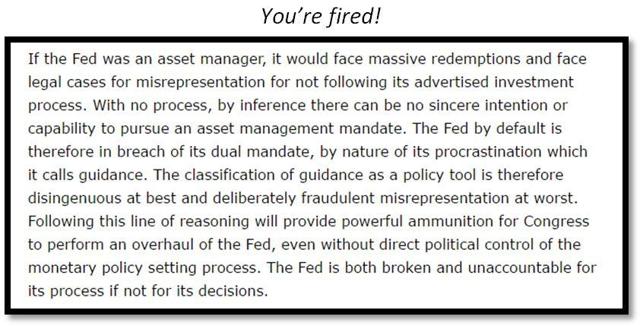 (Source: Seeking Alpha)
The poor governance of the Fed in relation to economic forecasting and monetary policy setting has been addressed in a previous report, which highlighted the subjective hand of the "rate setters" and the Fed Chairman in relation to process and execution of the dual mandate. Ms. DiMartino Booth's book attests to the validity of this perception. The elevated risk of the Fed's next policy mistake, through tightening overkill, was then brought into the focus of this dysfunctional monetary policy governance process in the last report. The probability of overkill by the FOMC tightening into a softening economy was judged to be rising. Recently, PIMCO's chief economist Joachim Fells has also begun to focus on the risk of Fed overkill and the lack of expectations for this currently being discounted in markets.
In the last report, economic softening was observed in Q4/2016, combined with inflation costs rising above wages in early 2017. The lagging behavior of wages was observed to be masked in a general rise in labour costs, driven by some component other than salaries themselves. This dichotomy is evidently something that has been vexing the Fed for quite some time. This issue has now been wrapped up into the productivity debate that is unfolding and may be guiding the Fed's attitude and positioning towards President Trump's fiscal policy stimulus.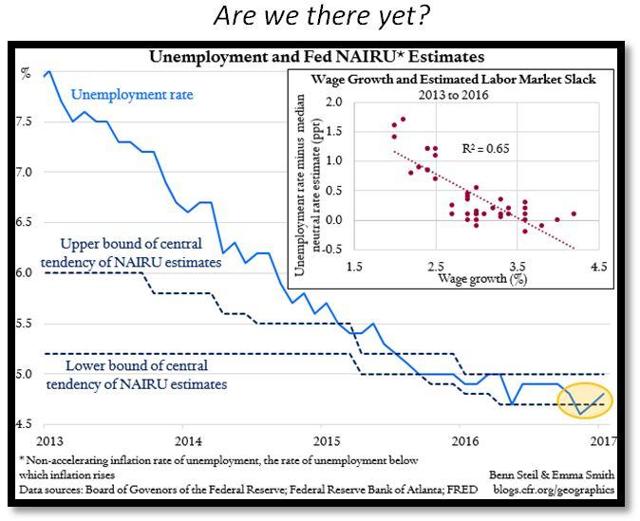 (Source: Council on Foreign Relations)
Every time that the unemployment rate has threatened to penetrate the floor of the Fed's NAIRU interest rate trigger, the Fed has lowered this floor rather than responded by tightening monetary policy as expected. This game of cat and mouse has been going on since about 2015, which has contributed to the angst and volatility, which have come to be known as "Taper Tantrums". To compound the chaos, rising yields in anticipation of the Taper have acted as an economic headwind that has Fed back into lower wages and subdued inflation. For some commentators, the persuasive narrative that the American economy has become leveraged to the current monetary conditions by flat-lining in what some have called a "New Normal" and the Fed has called a "New Neutral" has served to explain the observed behavior of the economy and the Fed. The hope for some is now that President Trump will shake things up and shift the economy onto a new trajectory that has higher growth and inflation characteristics. Billions of words and Dollars have been wagered in the capital markets on this belief since his victory.
The Fed must, therefore, be aware of the problem of the rising labour costs and diverging lagging wages. Rising labour costs are a headwind for employers and hence to job creation and pay increases. It would appear that workers have been forced to subsidize their own rising labour costs as employers have passed this cost onto them rather than onto consumers.
President Trump's promise to bring jobs back to America and to protect American producers from global competition may now throw a new dynamic into this relationship between salaries and total employment costs. Intuitively, one may think that his policies should lead to higher salaries and lower employment costs through the rollback of regulations. It is, however, far too early for the Fed to act upon any assumptions. The benefits may end up in corporate shareholders' accounts rather than the accounts of employees. Until now, therefore, the Fed has been sitting on its hands and watching for the impact of the President's fiscal stimulus and regulation changes on the economic data. Just to add to the Fed's complications, the unemployment rate has risen even as job creation has accelerated. The unemployment rate is now above the NAIRU floor that the Fed has been systematically lowering. To justify tightening policy, the Fed would now have to raise this floor.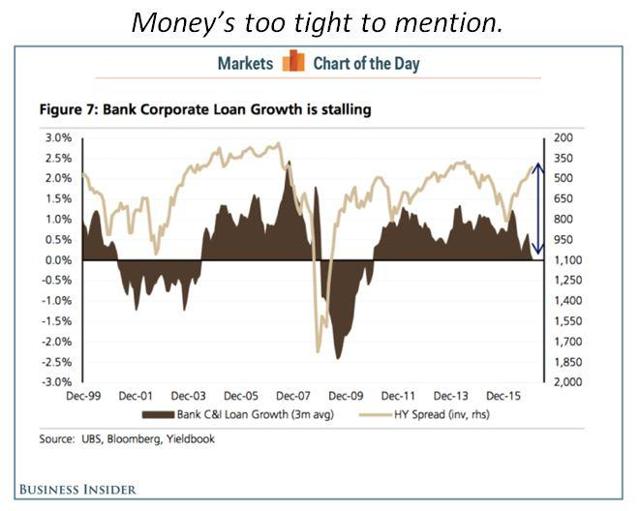 (Source: Business Insider)
Further evidence of the tightness in monetary conditions, observed in the last report, was recently revealed in the Fed's latest quarterly loan officer survey. Revolving consumer debt experienced attrition. Alarmingly, bank corporate loan growth showed stagnation. Rising yields and widening credit spreads are clearly taking their toll on corporations, whilst consumers refuse to chase the inflated prices of goods and services by going deeper into debt to finance the chase.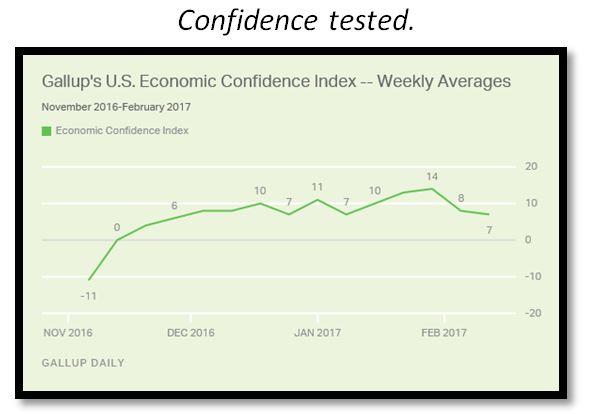 (Source: Gallup)
It now remains to be seen if the positive impact of President Trump on consumer and corporate sentiment will translate into improving demand for credit at these higher associated borrowing costs. It also remains to be seen if this euphoria can be sustained, through all the negative headlines about pushback on President Trump from all sides and even within his team. Gallup's recent consumer sentiment indicator shows confidence just starting to roll over. Although elevated since the Trump victory and with strong current conditions feelings, the future outlook has dropped precipitously. If the researchers at the San Francisco Fed are watching this picture, they must be getting alarmed by what they see.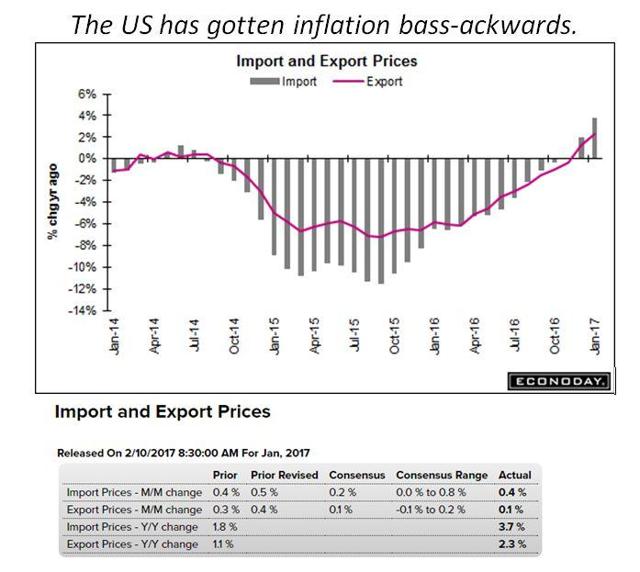 (Source: Econoday)
The latest import/export price data perfectly illustrates the complicated price signals and their mixed messages that the FOMC has to contend with. Import and export prices are rising, which may lead some FOMC members to conclude that the inflation target is now close to being hit. This assumption may be overhasty and incorrect, however. Import prices are now rising faster than export prices. America is, therefore, importing inflation, sucking it up and not passing it back on globally. American corporate margins are under pressure and global pricing power is eroding. America is joining and/or replacing China as the source of global disinflation. The global economy is thus benefiting from these American inflation-import deflation-export terms of trade. The imported inflation is a headwind for the domestic economy and the deflated exports are a tailwind for the global economy. The fashion amongst central bankers is to attribute the current rise of imported inflation to what is alleged to be a transitory period of rising energy prices that will not last long. It will be interesting to see just how long this transitory period lasts.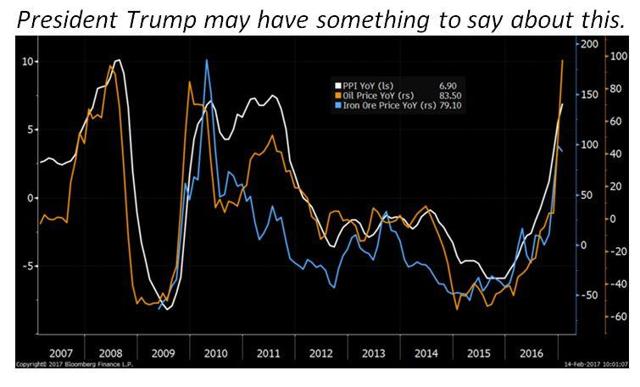 (Source: Bloomberg)
China has also been importing inflation in basic commodities, but has been able to pass this along to America via its exports and the cheap Yuan. Chinese producer inflation is now at a six-year high. The American reflation is, therefore, enabling the Chinese reflation. America is driving the global economy, but not in the way that President Trump would like. He will clearly be less than happy with this new inflation import-export dynamic if it persists. The FOMC's enthusiasm to tighten monetary policy further may, therefore, be tempered by this inflation-adjusted trade data until it becomes clear what President Trump has effectively done to reverse these terms of trade. It should be noted that the importing of inflation has come against a backdrop of a rising US Dollar. Normally, imported inflation is associated with a weaker currency. In this case, a stronger US Dollar has literally sucked in inflation that is then hard to re-export because the Dollar is so strong. The strong US Dollar can, therefore, be identified with the problem, even if it is not a causal link. Thus far, the President is behind the import-export inflation curve. The one thing that President Trump will like about this data, however, is that it can be framed to support a weaker US Dollar and gives him greater room to be aggressive with his fiscal policy.
Philadelphia Fed President Patrick T Harker was the first FOMC voting member to speak after last week's framing of perceptions of the Fed through the prisms of the latest FOMC meeting and employment situation report. Harker tracked the consensus view of three rate hikes for the year, opining that if things continue as they are, the March meeting would be the next occasion to raise interest rates.
Harker's view of the same data was then refuted by Minnesota Fed President Neel Kashkari, who felt obliged to explain his reasoning for voting against a rate increase at the last FOMC meeting. Contrary to the consensus FOMC view, Kashkari sees inflation as contained so that the FOMC still has room to wait before increasing interest rates again. It is interesting to see Kashkari does not view the job market strength as pushing the FOMC behind the curve. He judges the FOMC's position relative to inflation fundamentals rather than employment conditions.
Dallas Fed President Robert Kaplan edged over the line into the overkill zone more aggressively with his latest commentary. According to him: "Moving sooner rather than later will make it more likely that future removals of accommodation can be done gradually -that is, reduce the likelihood that the Fed will get 'behind the curve' and feel the need to remove accommodation more rapidly." Kaplan also expressed support for the rolling back of Dodd-Frank, especially for the small and medium-sized banks. The bubble in financial assets, that such a rollback is begetting, will also require remedial treatment with higher interest rates. Ironically, higher interest rates may actually accelerate the moon shot in the prices of financials, leaving Kaplan with an unanticipated dilemma.
Like a reformed alcoholic, Dove turned Hawk Boston Fed President Eric Rosengren has taken his monetary policy sobriety to a new extreme. He is well over the overkill line and potentially sees more hikes than the three median estimate for this year.
Even with the absence of details about the contents of the President's fiscal stimulus package and any data which show how it is impacting the economy, New York Fed President Bill Dudley is still leaning towards tightening. In the absence of these important details, however, he remains a gradualist in approach to the timing and pace of rate hikes.
St Louis Fed President James Bullard continues to distance himself from this three rate hikes in 2017 pack. In his latest distancing remarks, he identified himself strongly as a one rate hike and done for the year guy, by nature of the fact that he believes that it is premature to anticipate the growth and inflation impacts of President Trump this year. Bullard even went as far as to signal that he will vote against a rate hike in March for the same reason.
Fed Vice Chairman Stanley Fischer provided a window on both the Fed's deliberations over monetary policy and its relationship with the President. In relation to monetary policy, he said that the FOMC will focus strictly on the impacts of fiscal policy in the data when making decisions in legal compliance with its dual mandate. His emphasis on legality shows how concerned the Fed is about presidential and Congressional interference. Talking with his macro-stability hat on, as the uber-regulator, he warned that the President's crusade to roll back Dodd-Frank will create elevated risks. The recent resignation of Fed Governor Dan Tarullo will now give the President an opportunity to significantly influence the Fed's bank regulatory and monetary policy by naming a replacement who shares his views. Evidently, vice chair Fischer is aware of the threat.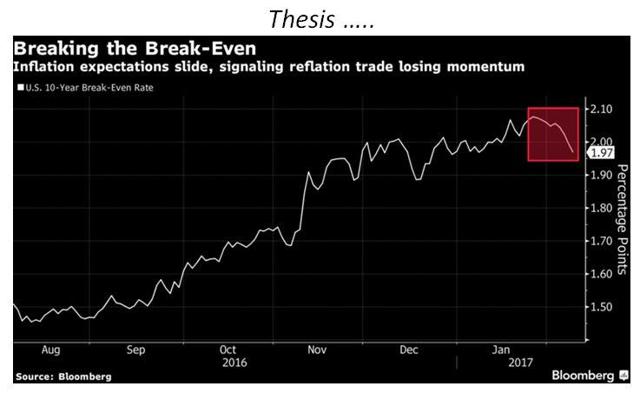 (Source: Bloomberg)
Mr. Market was already starting to question his crowded reflation bet even before Bullard spoke in light of the recent Fed decision and the recent employment situation report. A reappraisal of the relative value offered in US Treasuries in light of the political friction that the President's reflation agenda is experiencing is also challenging Mr. Market's assumptions. The deteriorating global picture further raised doubts in his mind. Suddenly, that elusive bull yield curve flattening that Ben Bernanke has repeatedly strived for has got support.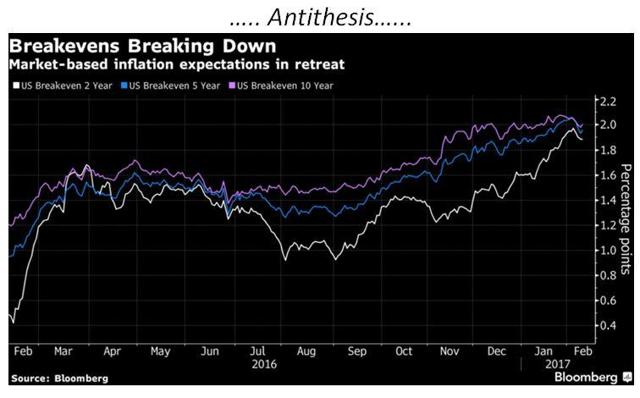 (Source: Bloomberg)
Mr. Market's testing of his convictions about higher interest rates is also mirrored in his reappraisal of inflation break-evens. All of a sudden, the conviction that President Trump will create inflation is weakening. A softening in growth and inflation is now becoming an elevated probability; that may then allow the FOMC to relax even further. Rate increase expectations have been drifting lower since December 2016.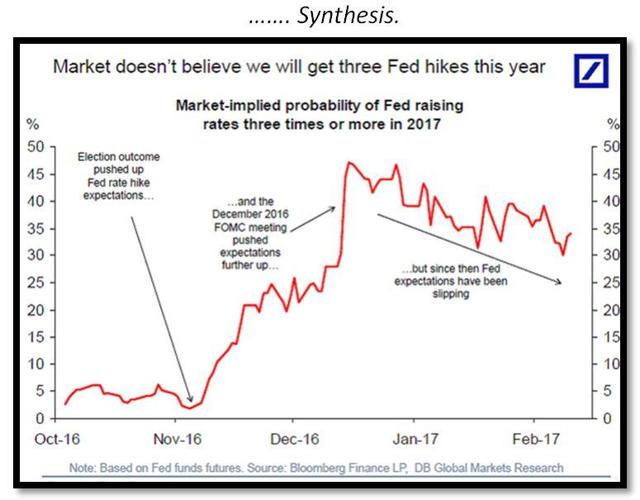 (Source: Bloomberg)
Could it be that Mr. Market is starting to think that the FOMC may be putting the economy at risk with its expected three rate hikes? A strong tweet from President Trump about the arrival of his fiscal stimulus, swiftly banished all notions of an economic softening from Mr. Market's head. Conversely, this tweet may have nudged the FOMC's trigger finger on the rate hike weapon a shade tighter. The probability of an overkill scenario embellished by Mr. Market's exuberance was thus elevated even further.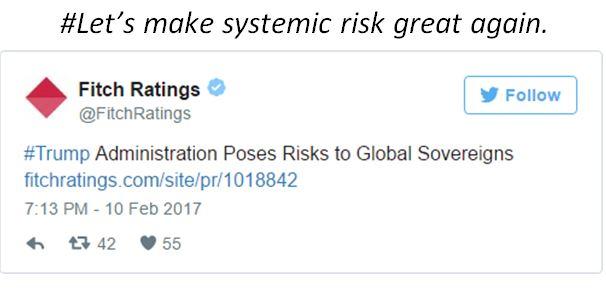 All this punching and counter-punching associated with President Trump has caused Fitch to question its own assumptions about how it should rate the credit of the USA. In a recently strongly worded statement, the rating agency effectively said that it had put President Trump on credit watch for a downgrade, based on his unique behavior and break with traditions. In fact, based on the President's behavior, all global sovereigns are now on credit watch for potential fallout from his policies. If this sentiment becomes prevalent, then risk premia must rise and liquidity conditions must tighten to reflect the level of risk. In such an environment, it is highly unlikely that any central bank will be in a hurry to tighten monetary conditions even further.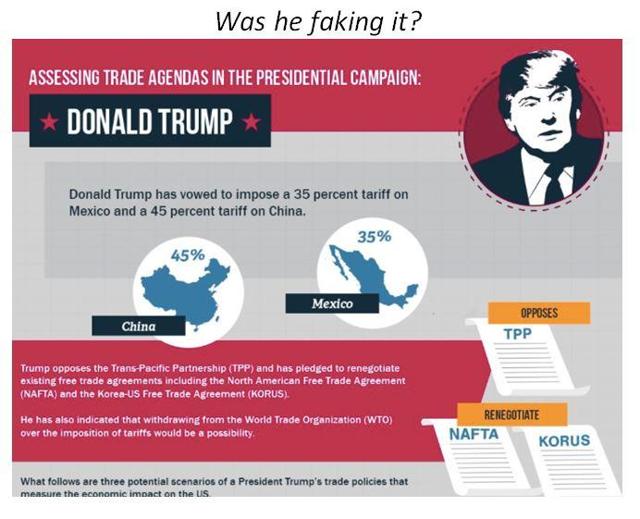 (Source: Business Insider)
Institutional investors have now noted that, within the framework of the Constitution and legislative structure, President Trump's leeway to execute trade policy by fiat is much wider than his ability to tax and spend. This policy-making and executing bias has negative implications for both economic growth from global trade and also for his domestic fiscal stimulus. The current attempts by the CIA to curtail his fiat foreign policy-making only serves to illustrate this executive bias. The Fed's advertised consensus for three rate hikes this year against such a Presidential backdrop looks aggressive, to say the least.
The probability of Fed overkill was elevated further by Chairman Yellen's latest testimony. Consistent with the minutes of the last Fed meeting and ensuing consensus view rhetoric from her colleagues, she affirmed her support for moving swiftly to raise interest rates if the economy maintains its current momentum in order to avoid falling behind the curve. Based on her testimony, March is very much a live meeting. The threat of overkill being compounded, by the Fed starting to sell its balance sheet assets, was however mitigated somewhat by her signal that this process may not occur until interest rates are higher. For now, her focus is on raising interest rates. The commitment to allow run-off through the maturing of balance sheet assets appears to be her preference. Readers of this series of reports will be aware of this writer's view that the Fed has been ignoring Bernanke's advice to attempt a bull flattening of the yield curve. It would now seem that Yellen's focus on raising rates whilst keeping the balance sheet expanded is attempting to flatten the curve by seizing and controlling this narrative.
Speaking post-Yellen, short-timer Atlanta Fed President Dennis Lockhart said that he would still be in no hurry to hike. Since he's retiring soon, nobody cares what he thinks. In fact, people are more interested in whom his replacement will be; and what he or she may do as President Trump begins to influence Fed policy making with his appointments.
Similarly, observers are more interested about Richmond Fed President Jeffrey Lacker's replacement this September rather than his latest message that he will continue to work for swifter rate hikes and a meaningful discussion about balance sheet exit for the remainder of his term.
Disclosure: I/we have no positions in any stocks mentioned, and no plans to initiate any positions within the next 72 hours. I wrote this article myself, and it expresses my own opinions. I am not receiving compensation for it (other than from Seeking Alpha). I have no business relationship with any company whose stock is mentioned in this article.