Freddie Mac (OTCQB:FMCC) reported earnings Thursday. First, Freddie Mac changed back to FAS 133 which prevents the recognition of massive hedge gains and losses. Under the previous administration, this likely would not have happened thereby forcing Freddie Mac to borrow to pay the non-cash hedge to US Treasury. Second, Freddie Mac added 'Scheduled' language to the dividend payment. These are changes are not insignificant.
Investment Thesis: The government has, without FAS 133, been able to enrich itself by means of an accounting statement agreement that was subsequently amended to become a net worth sweep agreement. FAS 133 is a major step in solving the outstanding capital requirements issue as it literally prevents the discretionary enrichment of Treasury by FHFA. If Fannie Mae (OTCQB:FNMA) or Freddie Mac are able to lower their dividend obligations to Treasury by making changes in accounting policy it's not beyond reason for them to find other ways to do so. I am a preferred shareholder and am betting on a recapitalization.
Freddie Mac: Return To FAS 133 Accounting
The return to FAS 133 makes the payments to Treasury smaller in a raising interest rate environment. $10B+ of payment to Treasury will now be avoided by reinstating FAS 133:

During conservatorship, Freddie Mac was able to write mortgage backed securities to whatever they wanted to. The return to FAS 133 will make it really easy to determine the value of the equity going forward and was really the first step towards getting out of conservatorship as a going concern. Prior CFO Timothy Howard of Fannie Mae weighed in: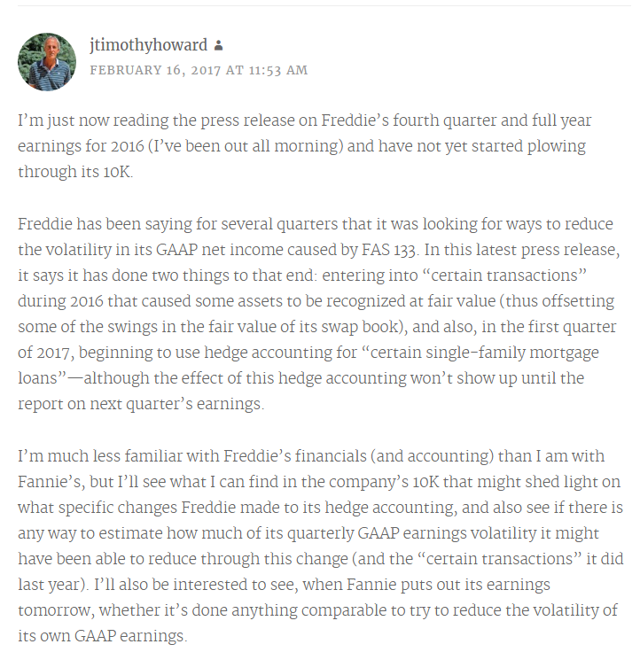 In the early years of conservatorship where the goal was to nationalize the two companies, dropping FAS 133 was the best route to take along with discretionary accounting write downs. Treasury told Fannie and Freddie that they would not use FAS 133 and all the accounting was controlled and reviewed by FHFA which was run by prior Treasury officials. As such, the discontinuation of FAS 133 permitted showing massive derivative losses while ignoring the offsetting portfolio valuation gains which created the illusion of needing capital all at the government's discretion:

In a recap and release scenario a return to FAS 133 is the first step because it shows operational behavior is changing away from maximizing the payment to US Treasury. This is a 180 on direction. The second step would be to take care of the net worth sweep.
As we learned during the Susan McFarland deposition, FHFA had to sign off on any accounting change prior to release of the 10-Q's: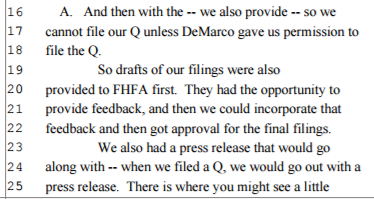 It will be interesting to see how quickly Mnuchin and Watt make changes if that's what they are going to do.
'Scheduled' Net Worth Sweep Dividend Language Change
The change is significant. Prior CFO Timothy J Howard picked up on this: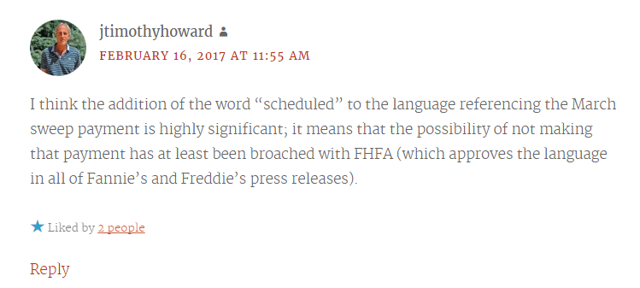 The language surrounding the net worth sweep that changed is shown below: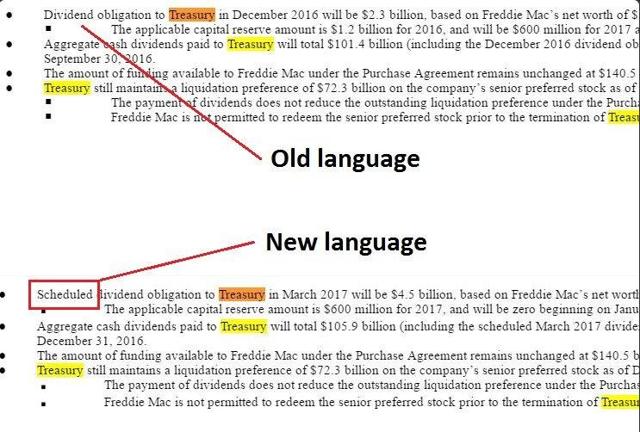 It makes you wonder if the schedule is going to change. During the call Freddie Mac employees stuck to the scheduled language. As a casual observer this gives me hope that maybe something between then and now things will change drawing into question this cash payment. Realistically, backing off FAS 133 lowers this payment so I'm not entirely sure that it would be unreasonable to suggest that something might come up that eliminates it entirely. Are Mnuchin and Watt able to work out an agreement? Does Fannie Mae also switch language and return to FAS 133? We'll see Friday.
New Documents Released To Public
New documents regarding the actual events leading up to and surrounding the implementation of the net worth sweep have been released and support plaintiffs claims that the government arranged the net worth sweep to benefit itself:

In addition, contrary to earlier points made by the now infamous Ugoletti, it appears that the deferred tax assets were discussed before the implementation of the net worth sweep: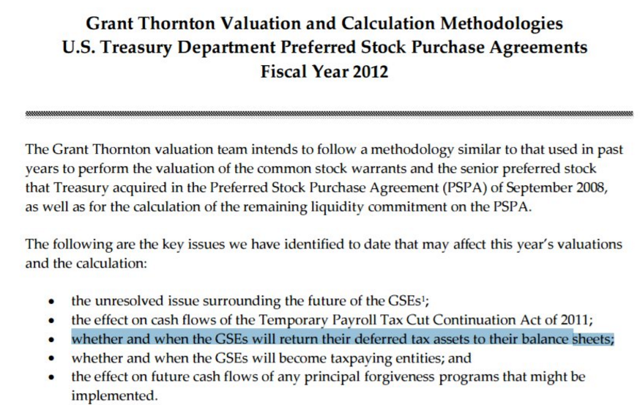 For example this email comes before the net worth sweep: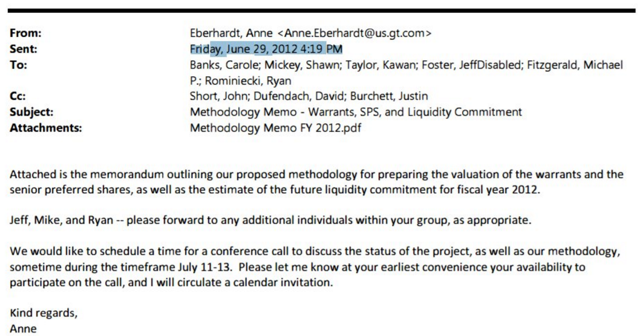 Summary and Conclusion
It appears that the incoming administration is working with Freddie Mac to return them to the public markets as a going concern. This is diametrically opposed to the previous administration's policies which were to cover things up and take as much out of Freddie Mac as possible. I own preferred shares as an investment that they will be recapitalized and released. I own 4050 FMCCH, 23088 FMCCP, 7370 FMCCT, 1341 FMCKO, 13485 FMCKP, 12788 FNMFN and 5 FNMFO.
These changes today are not insignificant. In a recapitalization I expect the dividends to resume and the preferred shares to trade closer to par.
Disclosure: I am/we are long FMCCH,FMCCP,FMCCT,FMCKO,FMCKP,FNMFN,FNMFO.
I wrote this article myself, and it expresses my own opinions. I am not receiving compensation for it (other than from Seeking Alpha). I have no business relationship with any company whose stock is mentioned in this article.
Editor's Note: This article discusses one or more securities that do not trade on a major U.S. exchange. Please be aware of the risks associated with these stocks.