I hate the Toronto-Dominion Bank (NYSE:TD) the company, but I love TD the stock.
The other day I got dinged by a $30 fee. Apparently, my account balance dropped three bucks below the minimum threshold. I was stewing in my seat with a red face and veins so swollen, they looked like they were going to burst.
Will I switch banks? Probably not.
Sure, I could save a few dollars. Moving accounts, though, is just not worth the hassle. So I'll just stay put and keep paying fees to the bank.
Of course, I can't be the only one tired of fees. How can we fight back? Well, if you can't beat them, you might as well join them.
1 Stock to Own Forever
As regular readers know, I'm a big advocate for a group of stocks I like to call my Legacy Assets.
These are wonderful businesses that crank out oversized profits year after year. Many of them have been paying dividends to shareholders for generations.
If you look at the market's best performers, they're often Legacy Assets. I'm talking about companies like Pepsi (NYSE:PEP), Exxon Mobil (NYSE:XOM), and Johnson & Johnson (NYSE:JNJ). These businesses provide a timeless product or service, and they're not going to disappear tomorrow.
One of my little-known favorites: The Toronto-Dominion Bank.
If you've ever been north of the border or live along the eastern seaboard, you're probably familiar with TD Bank. The company owns a sprawling financial empire, including retail, commercial, and wholesale banking. But in addition to being a profit-making machine, the Canadian giant is also a favorite of dividend investors for a couple of reasons.
Firstly, the company has a long growth runway.
Legacy Assets are almost always a good investment as long as you don't overpay. The best time to buy one, however, is at the beginning of a big expansion into a new market. Think Home Depot (NYSE:HD) as it expanded nationally, Coca-Cola (NYSE:KO) before it moved into China, or Nike (NYSE:NKE) before it conquered the world.
TD is in the middle of one such expansion. After saturating the Canadian market, the company has acquired a number of regional banks over the past few years. Management has built an impressive business along the eastern seaboard, including nearly 1,300 branches and 2,000 ATMs.
This is just the beginning.
With a presence in only four of the ten largest U.S. cities, TD still has a long growth runway. The company's wholesale division is eyeing a major expansion in Houston. This could signal the next move.
Management is driving organic growth, too. In addition to banks, the company has acquired a diverse range of insurance, brokerages, and other financial operations. This allows TD to cross-sell clients a growing range of products.
The formula has worked. The company grew consumer loans an astounding 12% quarter over quarter in Q4, driven by big gains in auto loans and credit cards. U.S. retail net income soared 19% year over year last quarter, reflecting good volumes, higher credit quality, and operating leverage.
With such a big market to expand into, this expansion could drive earnings (and by extension dividends) for a decade or longer.
Second, all Legacy Assets have a big wide moat.
Earnings growth is great and all. But when you're talking about a holding period over generations, we don't want to see our profits disappear overnight.
TD's Canadian operations have long been a cash cow. High barriers shut new competitors from out of the market. And as I mentioned above, switching costs keep customers in place. As a result, the division is one of the few businesses I can think of that have generated double-digit returns on equity for decades.
The U.S. has been tougher. More competition means thinner margins. TD might be the big fish in Canada, but it's swimming with whales stateside. For this reason, ROEs have barely hit the low-teens.
The company, though, has been working hard to widen its economic moat. Recently, TD purchased stock brokers Scottrade and Albert Fried & Co. And as mentioned above, management has made big moves into auto loans and credit cards.
It's the same way Apple (NASDAQ:AAPL) keeps you trapped with iTunes and the App store. TD is trying to do the same thing. Each time a teller sells a new product, the time it takes customers to switch banks grows that much longer. If executives can improve that U.S. ROE number, it would be a big hidden catalyst for TD's stock.
Finally, true Legacy Assets have a long history of paying dividends.
You can't do much better than TD Bank here. The company has been paying shareholders dividends since 1857 - back when Canada was a colony of the British Empire.
Today, shares yield a modest 3.2%. That might not be enough to knock your socks off, but that payout has been growing at an impressive clip. Over the past two decades, the green machine has raised its payout at an inflation-busting 11% annual rate.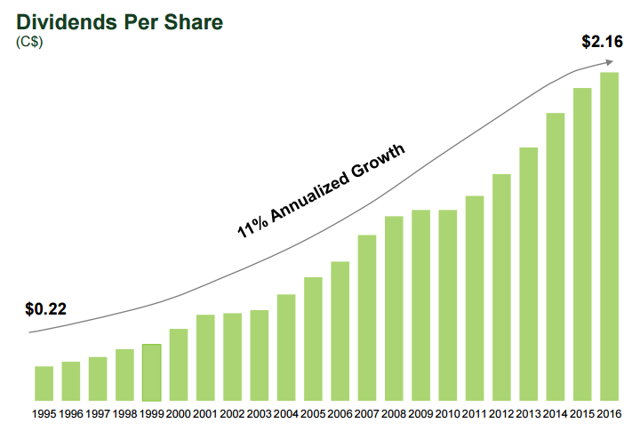 Source: TD Investor Presentation
I expect that to continue. TD is in the habit of raising its dividend roughly every other quarter. That growing payout puts a bit of a floor underneath the stock. And as that dividend ticks higher, the share price tends to grow in kind.
If you look out over the next decade, you can see how this dividend growth can pay off. If TD can continue to grow its dividend at a 7% clip, the company will pay out an annual dividend of $4.33 per share by 2027. That would represent a yield of cost of nearly 7% based on the current stock price. Not a bad income stream for a retiree.
So, is TD a sure thing? Hardly.
TD stock is hardly a bargain. Shares have surged over the past year, recently hitting a new all-time high.
The Canadian economy is a big worry for investors. Toronto, the nation's biggest real estate market, is looking bubbly. Vancouver is a mess. Consumers are up to their eyeballs in debt, surpassing levels seen in the United States before the credit crisis.
I'm not super worried, though.
TD currently trades at about 13 times forward earnings, which is in line with its historical average and peers. You're not getting an once-in-a-lifetime bargain. But given the company's faster growth profile and cleaner balance sheet, I think this stock should trade at a premium to rivals.
TD has also been aware of the debt problems in Canada for years. Management has done a great job at tightening credit quality and moving into more fee-based businesses. The company's booming business south of the border also means it has less exposure compared to other banks.
You can see this in TD's financial statements. Under the Basel III requirements, a bank is considered well capitalized if its Tier 1 capital ratio is above 6%. TD's Tier-1 capital ratio is 15.2%, up nearly a full percentage point year over year.
For this reason, Global Finance Magazine named TD as one of the safest banks in North America. TD has plenty of cushion if business turns sour.
Earn Growing Dividends From This Legacy Asset
Bottom line, if you can't beat em', join em'.
Everyone hates dealing with certain businesses; banks, cable companies, cellphone providers. The fact that we keep dealing with them is sometimes the sign of a great investment.
That's definitely the case at TD Bank. You're looking at a wonderful business with a wide competitive moat and a long history of rewarding shareholders. This is one dividend stock I want to own forever.
Disclosure: I/we have no positions in any stocks mentioned, and no plans to initiate any positions within the next 72 hours.
I wrote this article myself, and it expresses my own opinions. I am not receiving compensation for it (other than from Seeking Alpha). I have no business relationship with any company whose stock is mentioned in this article.