Devon Energy (NYSE:DVN) had another solid quarter and wrapped up what was a very challenging 2016 because of commodity price pressure. However, the company performed quite well as they increased production to a record amount, had a tremendous amount of cost savings, and boosted reserves 3% YOY. The one negative part of this end of the year report is that there was a decline in operating cash flow and, subsequently, a decline in free cash flow. This goes countertrend to what we are currently seeing in the O&G E&P industry, which is why it is concerning.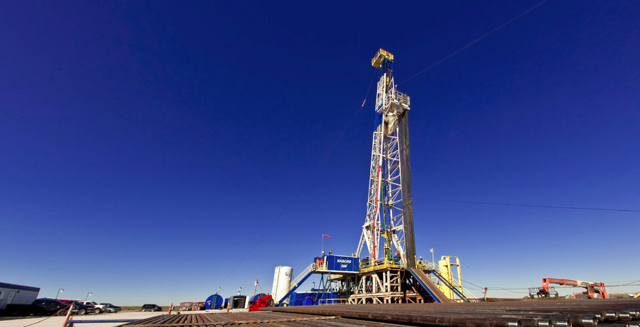 Source: NewsOK
Key Takeaways
The close of 2016 teaches prospective and currently investors many a lesson as to the direction of Devon in 2017. Below are my key takeaways from the report:
Devon achieved record production in 2016, a trend that should likely continue in 2017
Cost savings totaled $1.3 billion, bumping up margins
Cash flow from operations was actually a massive disappointment and the company posted negative FCF in Q4, a reversal from Q3
There is absolutely no room for a dividend increase at this time
Devon's ability to produce cannot be questioned. Devon edged up to the top end of its previous production guidance and produced 537k boe per day on average in Q4. On top of this, 90-day production rates increased again, which marks a 300% improvement in the last four years. Because of the heavy production, Devon's reserves have improved. The addition is 275 MMBoe, a 175% replacement, but perhaps the more impressive figure is that Devon's proved reserves are now at 2.1 billion Boe, which is up 3% YOY. That's remarkable and as soon as pricing strength (that is sustainable) enters the crude oil and natural gas markets, then Devon can really start to take advantage of their assets.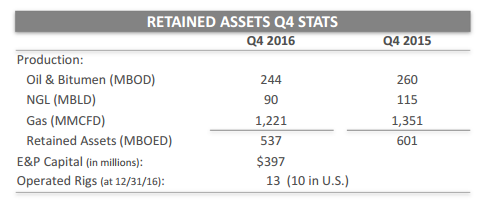 Source: Investor Presentation
Moving forward, I am rather impressed with the continued cost improvements the company is making. While margins and cost cuts are not the most exciting things to read about, the extent to which Devon has implemented cost cuts is impressive and investors should take note. A 42% reduction in lease operating costs, on top of two-year cost savings of nearly $1.3 billion is one of the core reasons that this company is even generating positive operating cash flow right now.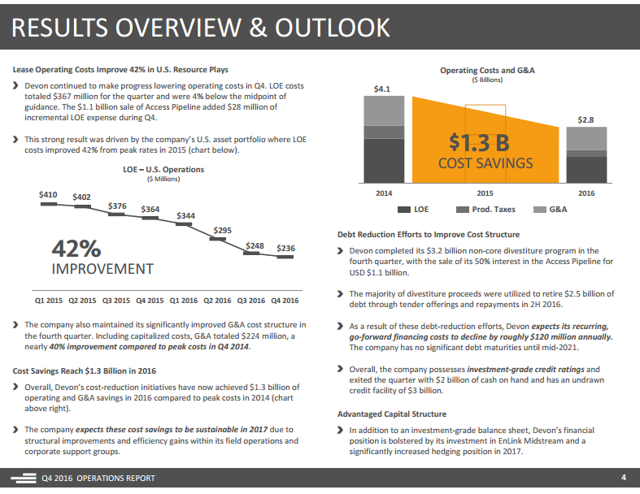 Source: Investor Presentation
The real concern here is the decrease QOQ in operating cash flow. This is not a development I expected, so I'll break this down. First, net income slid heavily QOQ from $993 million to $331 million. Granted, Devon's net income in 1H 2016 was a loss of nearly $4.5 billion, so these figures are obviously better, but the nearly $660 million slide from Q3 to Q4 is concerning. Operating cash flow actually only edge up because of the decrease in non-cash working capital (-$189 million). Let's keep in mind that this was a quarter that Devon had relatively minimal asset impairments (just $124 million, which is nothing compared to the asset impairments they've had in previous quarters and impairments are added back to OCF anyway). The only real item that is to blame for the lower amount of operating cash flow is a $534 million loss on an asset sale.
If we jump to the 10-K that was recently released, we obtain an interesting statement from the company:
Net cash provided by operating activities continued to be a significant source of capital and liquidity in 2016. Our operating cash flow decreased $3.6 billion, or 68%, during 2016. Throughout 2015, our commodity hedges provided us with $2.4 billion of additional operating cash flow...The remainder of the decrease is primarily related to the continued decrease in commodity prices, partially offset by our focused cost initiative.
An operating cash flow decline for the full year when viewed from a YOY perspective was to be expected. Average prices from commodity futures were simply lower in 2016 than 2015. However, it's interesting to see that the company is saying operating cash flow fell mostly due to a lack of hedging. They stated that the hedges rolled off in 2016 and, as a result, operating cash flow declined, with another factor in the decline being commodity price decreases. However, ineffective hedging essentially led this company to see such a decline in operating cash flow in 2016, which is abnormal. It's also interesting to note that the decline really couldn't have come from commodity prices decreasing because they actually received a higher realized price in Q4 than they did all year, seen below.


Source: Investor Presentation
It's because of this strong slide in cash flow that I firmly believe there is no room for a dividend increase at this time. That comes as a massive disappointment because the massive jump in cash flow from Q2 to Q3 indicated that future results would show continued increases in cash flow, but that clearly isn't the case. Thus, the timeline to dividend restoration is heavily delayed. The current yield is disappointing, to say the least, but it is better than nothing. However, I wouldn't be jumping up and down, enticed to purchase a 0.93% yield for an energy company. If you're prospective and looking for a current income investment in this space, take your money elsewhere, especially now that cash flow is thinner.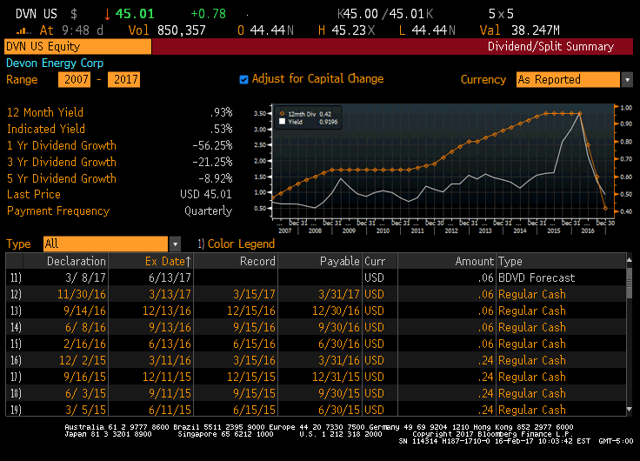 Source: Bloomberg
Examining Risk/Reward
The slide in cash flow really makes me wonder what the market is thinking with this name. On the one hand, I clearly recognize that this stock has active correlations to commodities, namely crude oil, based upon its production mix, but on the other hand, it would be justified it started to underperform peers on the basis that it's cash flow decline when prices actually remained near some of the best levels in a few quarters, such as $50/barrel and $3/MMBtu. There has been a slight downtrend in the stock, but the slope is very low, with DVN declining just about $3-4 per share over the last three months.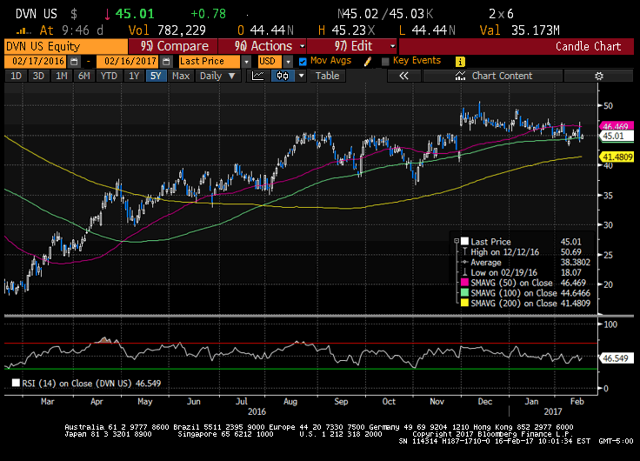 Source: Bloomberg
The risk/reward on this stock is actually quite decent, too, which makes it all the more upsetting that the financials are creating a mixed story. The stock has the long-term potential to put up gains of over 80%, provided it would return to its pre-crash high of $80.63. If it even took four years to achieve, it's still annualized gains of 20% plus the benefit of a dividend. That's more than adequate by most investing standards.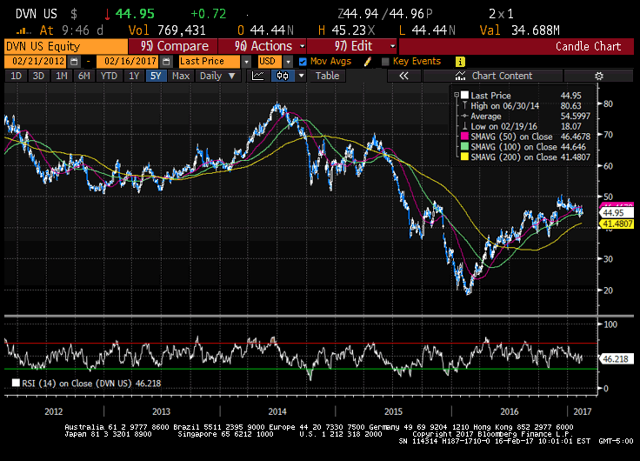 Source: Bloomberg
Conclusion
This end of the year report was not what I was expecting. The company seemed to have done everything right, like boosting output while cutting costs substantially. However, the slide in operating cash flow, by a rather large amount relatively speaking, is concerning because their average realized price per boe was above the full year 2016 average, but the lower level of net income and the loss on the asset sale hurt their OCF for the quarter. Going forward, I still expect operating cash flow to improved and a repeat of this quarterly change would be a rather negative development for what has been such a positive turnaround.
Disclosure: I/we have no positions in any stocks mentioned, and no plans to initiate any positions within the next 72 hours.
I wrote this article myself, and it expresses my own opinions. I am not receiving compensation for it (other than from Seeking Alpha). I have no business relationship with any company whose stock is mentioned in this article.