One of the best ways to invest in biotech stocks is to select multiple stocks or a basket to diversify risk in the high beta sector. A couple of interesting stocks in the depression area might provide for an interesting pair.
Sage Therapeutics (NASDAQ:SAGE) announced positive Phase 2 results for a major depressive disorder (MDD) drug. The company has a sizable $2 billion market cap and a solid balance sheet that help offset the higher risks of VistaGen Therapeutics (NASDAQ:VTGN) that only has a market cap of $20 million. The smaller biotech has an impressive partnership along with a drug in Phase 2 trials for depression and offers a bigger return profile, though with substantial risks.
Huge Depression Issues
The sector is promising due to an unfortunately growing amount of people diagnosed with troubling depression issues. The National Alliance on Mental Illness estimates that 16 million American adults had at least 3 major depressive episodes last year.
Depression affects all forms of people, but women are 70% more likely than men to experience depression. As well, young adults 18-25 are much more likely than older adults to have depression issues.
The Centers for Disease Control and Prevention suggests that 7.6% of the population aged 12 or older suffers from depression. The number of ambulatory care visits to physician offices and emergency departments reaches 8 million annually due to MDD.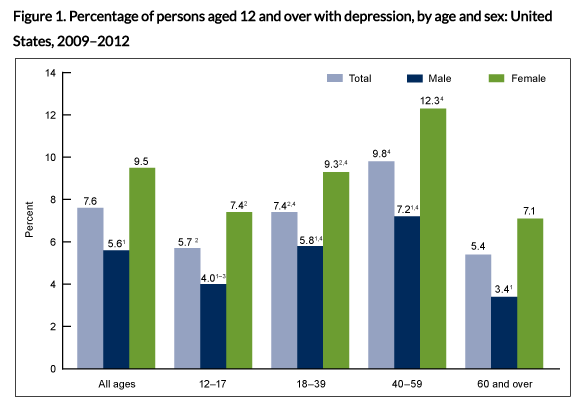 While depression has a lot of treatments, a lot of the medicines called antidepressants have negative side effects. Both Sage Therapeutics and VistaGen Therapeutics offer drug candidates with the potential to solve unmet needs in depression.
Sage Therapeutics
Sage Therapeutics is a clinical-stage biotech focused on novel medicines to transform the lives of patients with life-altering central nervous system (CNS) disorders. Most importantly, the company has multiple drugs in Phase 2 or beyond studies.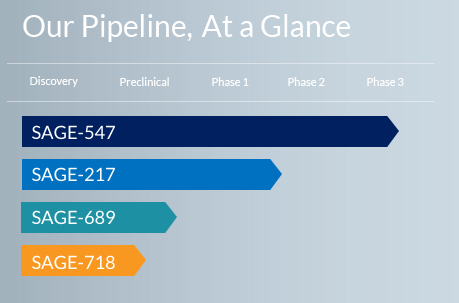 As mentioned above, Sage reported this week that the MDD drug candidate called SAGE-217 showed encouraging efficacy. The top-line data from the Phase 2a study showed the drug was generally well-tolerated with no serious side effects.
SAGE-217 achieved a reduction from baseline depression ratings, meeting the criteria to advance into a double-blind, placebo-controlled Part B study. A remission from depression was seen in 62% of the 13 patients in the study.
As well, Sage has another prominent drug candidate in SAGE-547 focused on the unmet need with postpartum depression (PPD). The biotech expects to file an NDA with the FDA sometime in 2018 with an expedited development plan that allows the company to expand the current Phase 2 trials into a Phase 3 trial and reduce the time to market by at least a year or more.
Sage achieved the regulatory designation after positive results from the placebo-controlled 202a study in patients with severe PPD. The small study of 21 patients met the primary endpoint of significant reduction in the Hamilton Rating Scale for depression.
The biotech expects to have top line data from the PPD trials in 2H17. The disorder impacts up to 750,000 mothers each year in the U.S. alone providing a substantial market opportunity.
Despite all the positives on the pipeline in the last year, the stock still trades far below the highs of 2015. The recent trading action suggests Sage is about to break out of tough resistance above $55.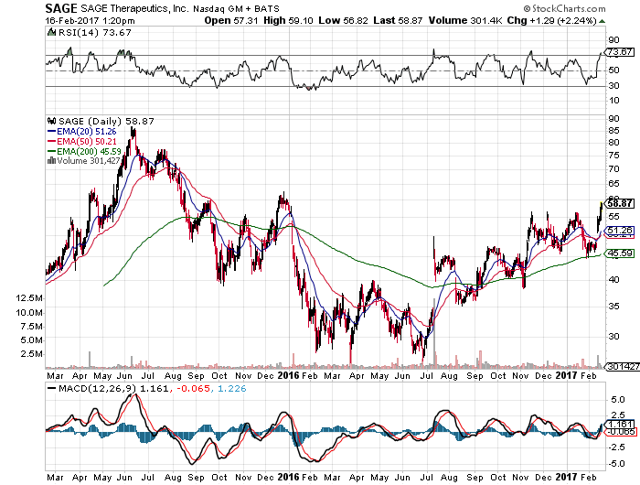 Back in December, Canaccord Genuity set a price target of $110 on the stock while Cowen & Co. reaffirmed a Buy rating with a $95 price target. The average analyst target is $79 suggesting significant upside from here.
At the end of Q3, Sage had $431 million of cash on the balance sheet. The company had a net loss of $37.8 million for the quarter and analysts forecast a loss in excess of $150 million for 2017 still leaving plenty of cash to develop the pipeline well into 2018.
VistaGen Therapeutics
Partly due to the success of Sage Therapeutics, VistaGen Therapeutics is a very interesting play. Off the successful Phase 2 results for the MDD drug candidate, Sage gained over $200 million in market cap to a valuation of $2 billion or roughly 10x the current valuation of VistaGen.
Similar to Sage, VistaGen is developing medicines for depression and CNS disorders including MDD. The company doesn't have the same pipeline as Sage, but VistaGen offers other interesting venues including the VistaStem subsidiary.
When last covering VistaGen, my main focus was on the major partnership between Bayer AG (OTCPK:BAYZF)(OTCPK:BAYRY) and Versant Ventures. The large pharma and venture fund formed BlueRock Therapeutics and licensed proprietary technologies related to the production of cardiac stem cells for the treatment of heart disease from VistaGen.
While that was a big event for VistaGen, the small biotech as well has a promising pipeline including AV-101 in Phase 2a/2b trials. The drug is an orally available drug candidate for the adjunctive treatment of MDD in patients with an inadequate response to standard antidepressants.
The drug candidate has the potential for expansion into neuropsychiatric disorders, neurological disorders and neurodegenerative disorders that have potential blockbuster opportunities. AV-101 has demonstrated robust antidepressant properties without the typical negative side effects.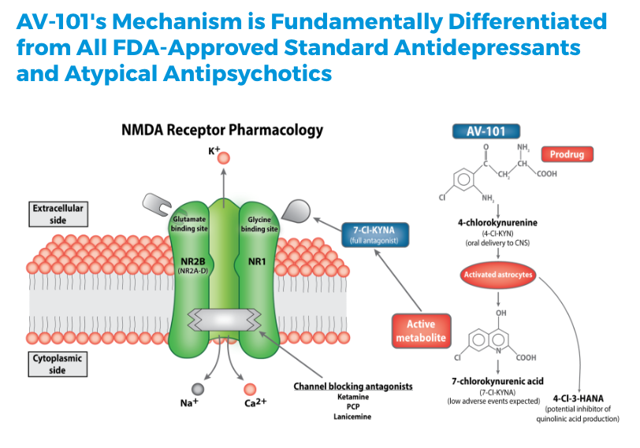 The U.S. National Institute of Mental Health (NIMH) is currently conducting and funding the Phase 2a trial. The expected results from this study are being delayed by a couple of quarters and are completely out of the control of VistaGen, but the stock is selling off nonetheless.
The study of up to 25 patients is being run by Dr. Carlos Zarate Jr. who is a leading clinical expert on the use of ketamine for treatment-resistant MDD. The study provides a potential catalyst for the stock when the results are released prior to the end of 2017.
The key clinical trial is the Phase 2b study the small biotech is preparing to launch. The 280-patient, multi-center, double-blind, placebo-controlled efficacy and safety study evaluating AV-101 as a new generation adjunctive treatment for MDD patients that don't respond to standard antidepressant therapies is expected to start in Q2.
Biotech analyst BioNap has a very detailed analysis of the potential market opportunity for AV-101. Investors should do their own due diligence on these numbers.
VistaStem is a whole different opportunity the company is pursuing. Besides the stem cell technology platform licensed by BlueRock Therapeutics, VistaGen has the CardioSafe 3D that offers a product designed to change the landscape of preclinical drug development by providing a more complete and accurate assessment of potential drug effects on cardiac risk. BioNap makes the case that the product is similar to what Organovo Holdings (NASDAQ:ONVO) offers with their ExVive 3D human liver and kidney tissue products and that stock is worth over $300 million.
With the release of FQ3 results for the period ending December 31, 2016, VistaGen burned about $2.1 million in cash from a loss of $2.6 million. The company ended the quarter with cash around $5.6 million, including the receivable for the $1.25 million sub-license fee from BlueRock paid in January.
With any small biotech, funding is always a big concern. VistaGen made the following statement on this subject in the earnings release:
...currently believes it has sufficient financial resources to fund its expected operations at least through the first half of 2017, including preparation for and launch of its planned AV-101 Phase 2b Study in MDD.
The company has clearly outlined the short-term funding needs and investors will need to adjust risks accordingly.
Takeaway
The risks are high with any small biotech whether one with over $400 million on the balance sheet or one admitting to the need to raise funds within the next couple of quarters. These stocks face biopharmas with deeper pockets and drug approval rates that are small.
The key investor takeaway is that investing in these depression stocks as a pair helps reduce the risk of biotech investing. Even buying both Sage and VistaGen doesn't guarantee success, but the potential breakout of Sage and the valuation equation of VistaGen offer compelling opportunities individually and together an investor gets a diversified depression play with multiple catalysts.
As always, any investment in a small biotech is only recommended for a diversified portfolio willing to accept a capital loss.
Disclosure: I/we have no positions in any stocks mentioned, and no plans to initiate any positions within the next 72 hours.
I wrote this article myself, and it expresses my own opinions. I am not receiving compensation for it (other than from Seeking Alpha). I have no business relationship with any company whose stock is mentioned in this article.
Additional disclosure: The information contained herein is for informational purposes only. Nothing in this article should be taken as a solicitation to purchase or sell securities. Before buying or selling any stock you should do your own research and reach your own conclusion or consult a financial advisor. Investing includes risks, including loss of principal.
Editor's Note: This article covers one or more stocks trading at less than $1 per share and/or with less than a $100 million market cap. Please be aware of the risks associated with these stocks.