Although there has been much concern about emerging markets since Donald Trump was elected president of the U.S., Brazilian equities look to continue higher. Brazil's equity market has relatively underperformed global markets for the past seven years. The country's economy however, looks to be turning higher now. Within the country, there are many attractive companies tied to underlying economic strength.
The chart below is of iShares MSCI Brazil Capped (NYSEARCA:EWZ) over Vanguard Total World Stock ETF (NYSEARCA:VT), which signals the relative of Brazilian equities to the rest of the world. The underperformance correlates with a number of different factors. First, the macro environment declined, weighing on Brazil. As the global economy slowed, alongside falling trade/commodity prices, Brazil found it difficult to generate significant revenues.
Additionally, weakness in energy prices the last few years have greatly weighed on Brazil, who exports the commodity. Although the trend has been steadily lower for the indicator below, from 2014-2016, the decline quickened, which is due to the collapse in oil prices.
Lastly, geopolitical issues in Brazil weighed on the country's economy. For example, President Dilma Rousseff was not a pro-business leader, which led to policies that put the government in a large fiscal hole. She was impeached last year, which was seen as a good thing for business.
As of mid-2016-early 2017, it seems as if Brazil is righting its ship, looking like one of the stronger emerging markets currently.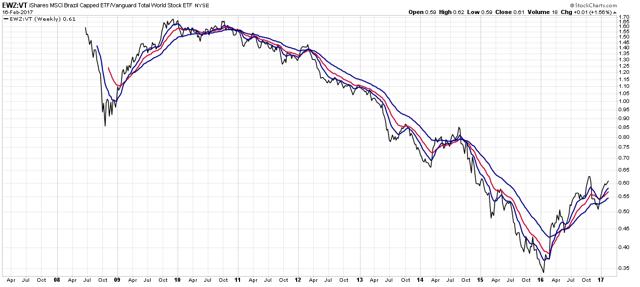 The chart below is of Brazil's economic growth metric. As is expected, the last 5 years saw economic growth in the country dip as low as -5% annual contraction. This is due to the reasons listed above, but the positive note is that growth looks to have stabilized.
On top of that, inflation in the country is declining, benefiting both business and consumers. As Brazil's economy weakened the last few years, its currency was massively devalued. This fueled the spiking inflation, as well as government policy looking to balance its budget. Currently, these issues are abating, making Brazil an attractive investment destination.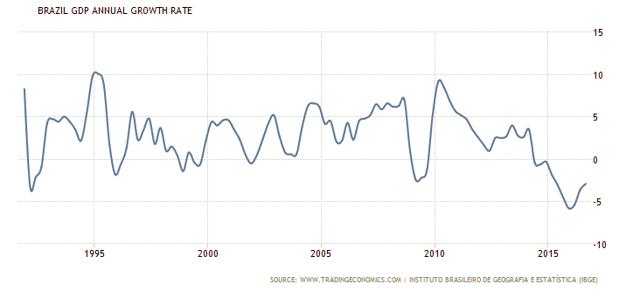 The final chart is of actual Latin American companies benefiting from Brazilian strength. LATAM Airlines (NYSE:LFL) is the region's largest airline, and is tied to the health of the South American consumer. Both falling inflation and increasing economic growth is leading to a stronger consumer, more willing to travel. This also applies to the business traveler, who is on the road more often in the stronger economy.
Things aren't perfect in Brazil, or Latin America as a whole, but conditions are improving. This is causing the severely depressed valuations of Brazilian assets to look attractive. A way to play this new trend is to either buy the EWZ ETF, allowing you to not make specific sector bets. Additionally, you can target economically sensitive companies, such as LATAM Airlines. Although there is a lot of concern globally over potential U.S. trade policies, Brazil has been very much a problem in and of itself. These idiosyncratic concerns are abating, making Brazilian equities an attractive value play currently.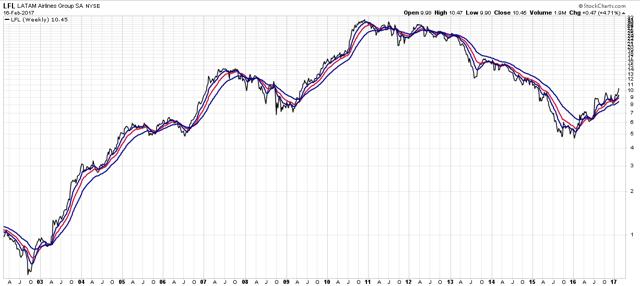 Disclosure: I am/we are long EWZ, LFL.
I wrote this article myself, and it expresses my own opinions. I am not receiving compensation for it (other than from Seeking Alpha). I have no business relationship with any company whose stock is mentioned in this article.