General Dynamics (NYSE:GD) experienced a disconnect in value prior to the rally in defensive names, but has recovered a lot of lost ground since I last covered it in an article entitled General Dynamics: Why So Cheap?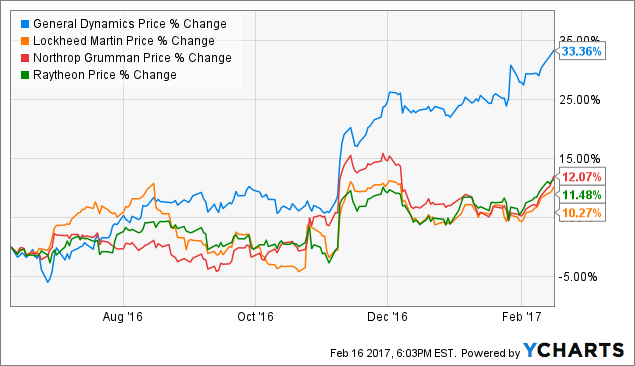 Now that it's wrapped up its fiscal 2016, I'd like to check in on the company's performance.
Revisiting return on invested capital
I'm a big fan of General Dynamics' management, who were kind enough to include ROIC in the firm's 2016 10-K. This is a practice I wish all companies put in place.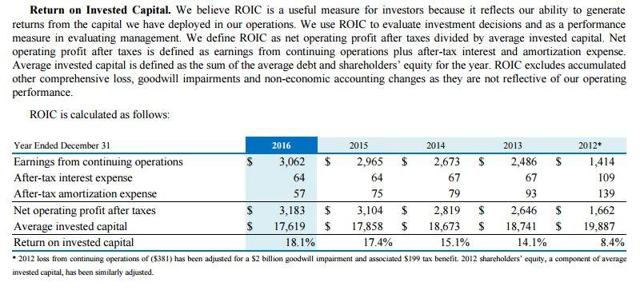 Management excludes things like charges and AOCI (and its eroding effects on equity) from its calculations.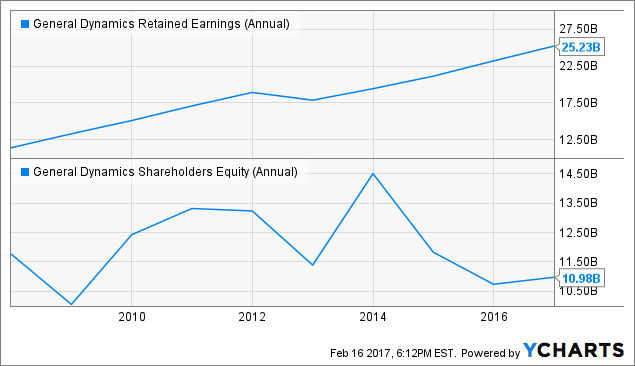 GD Retained Earnings (Annual) data by YCharts
Looking at the above chart, we can see that this makes logical sense, as negative forex issues (along with buybacks) have trimmed overall equity over the years, despite increasing retained earnings.
For the sake of consistency, I also decided to run my own numbers the same way I do it for every other company, by taking after-tax GAAP EBIT and dividing it by average invested capital (including AOCI).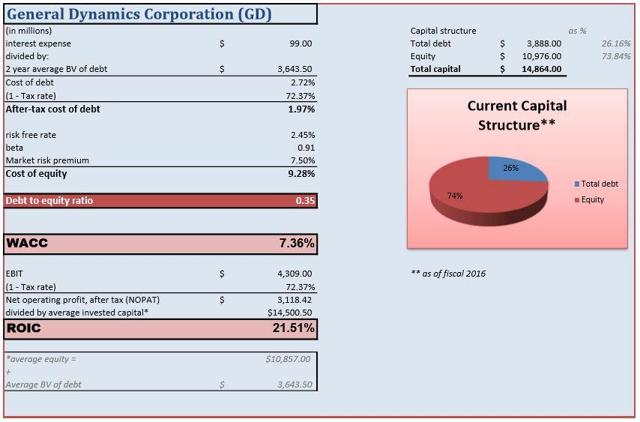 This led to slightly different figures. I'd also like to adjust for off-balance sheet operating leases next.
Adding operating leases to the mix
First, we need to figure out an estimate for General Dynamics' operating leases. I discounted them using the firm's pretax cost of debt below.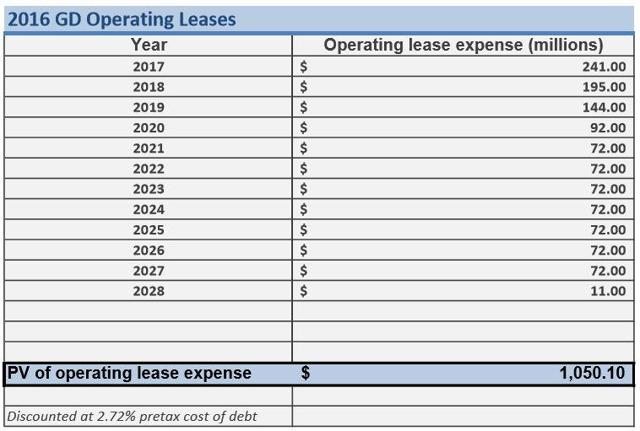 Now that we have this estimate, we can insert them into the capital structure.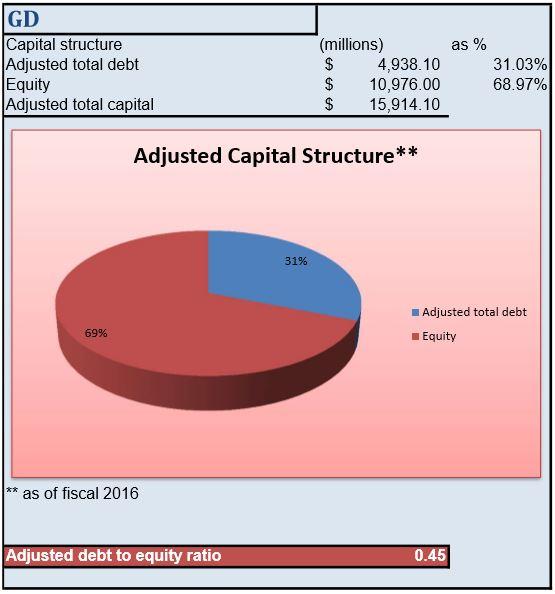 This adjusted capital base is the denominator in the ROIC equation. Next we need to adjust net operating profit after-tax, or NOPAT. This step involves adjusting EBIT, aka operating profit, first.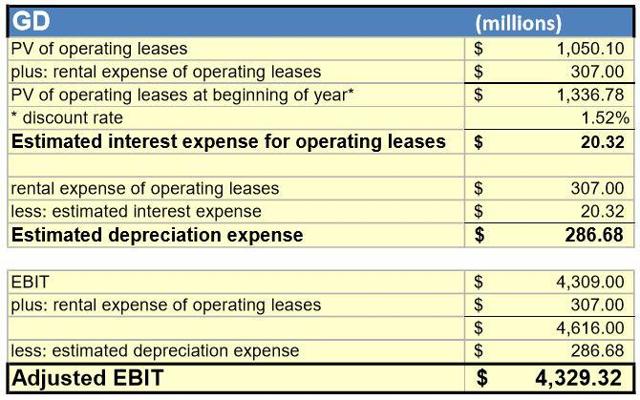 Now that we have an EBIT figure that accounts for interest and depreciation expenses related to the off-balance sheet leases, we can account for taxes.

The leases seem to have a small effect on the capital structure, dragging down ROIC a little, but not by a significantly material amount.
What about the equity?
Now I would like to examine return on equity, or ROE. To accomplish this, I broke it apart into five pieces to determine what's driving it.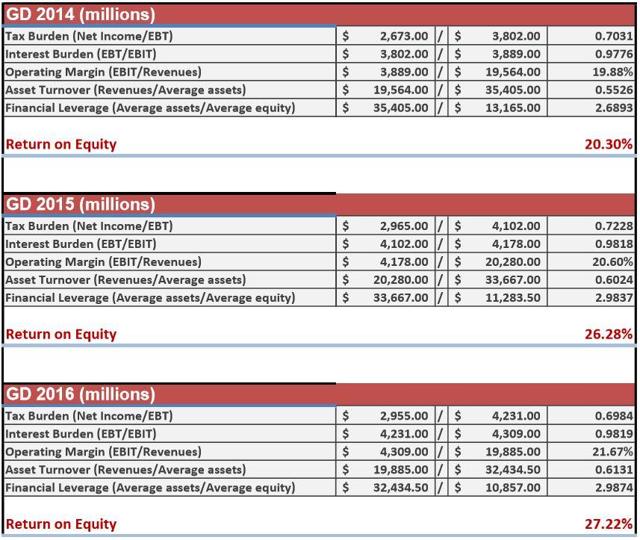 It appears that the sequential increases in ROE have largely been driven by margin expansion coupled with an increasing asset turnover ratio. This is usually what I like to see. Leverage continues to drift higher, but by very modest amounts. I'd say that the underlying business fundamentals appear to be improving, therefore.
Conclusion
General Dynamics' business consistently earns economic profits (ROIC exceeding its weighted average cost of capital, or WACC), and it appears that it's been sharpening its capital allocation skills even more over the last few years. It appears this has been well-recognized by the market, however.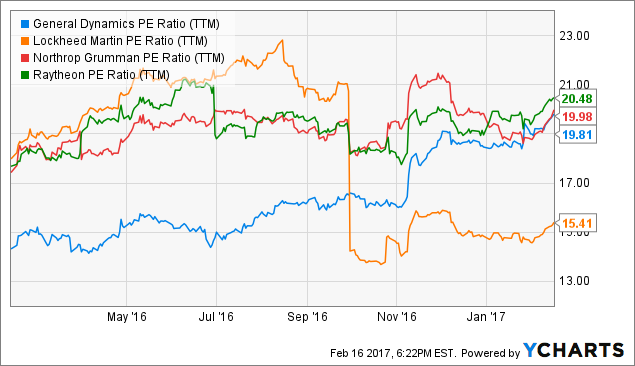 GD PE Ratio (NYSE:TTM) data by YCharts
When I last wrote about the company in June, it was trading at roughly 15 times trailing earnings and only about 14 times forward earnings, but as can be seen above, it's caught up to its peers valuation-wise. I'll continue to hold shares at this point, and will continue to do so as long as the firm continues to churn out above average returns on invested capital.
If you enjoyed this article and would like to receive further updates and articles in the future, please feel free to hit the "Follow" button at the top of the page by the author's name.
Disclosure: I am/we are long GD.
I wrote this article myself, and it expresses my own opinions. I am not receiving compensation for it (other than from Seeking Alpha). I have no business relationship with any company whose stock is mentioned in this article.
Additional disclosure: Articles I write for Seeking Alpha represent my own personal opinion and should not be taken as professional investment advice. I am not a registered financial adviser. Due diligence and/or consultation with your investment adviser should be undertaken before making any financial decisions, as these decisions are an individual's personal responsibility.