North Dakota has released December production data for the Bakken and for all North Dakota. They were a little shocking.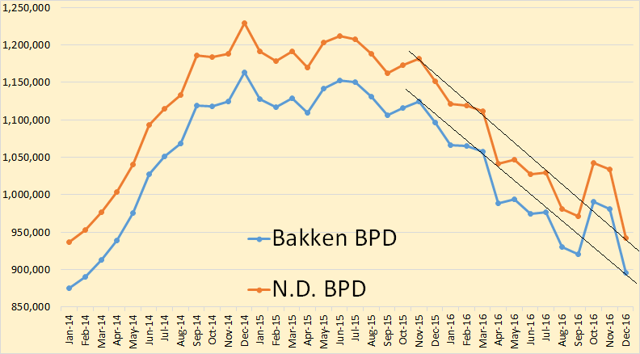 Bakken production down 86,150 barrels per day 895,330 bpd. North Dakota production down 92,029 bpd to 942,455 bpd. It was noted that this the largest decline ever in North Dakota production. But it should not be overlooked that the October increase in production was also the largest ever increase in North Dakota production.
From the Director's Cut
Oil Production
November 31,034,520 barrels = 1,034,484 barrels/day
December 29,216,093 barrels = 942,455 barrels/day (preliminary)
(all-time high was Dec. 2014 at 1,227,483 barrels/day)
Gas Production
November 52,785,707 MCF = 1,759,524 MCF/day
December 47,679,872 MCF = 1,538,060 MCF/day (preliminary)
(all-time high was Nov 2016 at 1,759,524 MCF/day)
Producing Wells
November 13,520
December 13,337 (preliminary)
(all-time high was Nov 2016 at 13,520)
11,449 wells or 86% are now unconventional Bakken - Three forks wells
1,888 wells or 14% produce from legacy conventional pools
Permitting
November 76 drilling and 2 seismic
December 35 drilling and 0 seismic
January 81 drilling and 1 seismic (all-time high was 370 in 10/2012)
ND Sweet Crude Price
November $34.58/barrel
December $39.93/barrel
January $40.75/barrel
Today $42.50/barrel (all-time high was $136.29 7/3/2008)
Rig Count
November 37
December 40
January 38
Today's rig count is 38 (all-time high was 218 on 5/29/2012)
Comments:
The drilling rig count increased three from November to December, then decreased two from December to January, and is currently unchanged from January to today. Operators are shifting from running the minimum number of rigs to incremental increases throughout 2017, as long as oil prices remain between $50/barrel and $60/barrel WTI.
The number of well completions decreased slightly from 84 (final) in November to 81 (preliminary) in December.
Oil price weakness is anticipated to last into the second quarter of 2017.
There were three significant precipitation events, fifteen days with wind speeds in excess of 35 mph (too high for completion work), and nine days with temperatures below -10F. January 2017 will be more of the same.
Over 98% of drilling now targets the Bakken and Three Forks formations. Estimated wells waiting on completion2 is 807, down 32 from the end of November to the end of December. Estimated inactive well count3 is 1,573, up 54 from the end of November to the end of December.
Crude oil takeaway capacity remains dependent on rail deliveries to coastal refineries to remain adequate.
Low oil price associated with lifting of sanctions on Iran, a weak world economy and capital movement to the Permian basin continued to depress drilling rig count.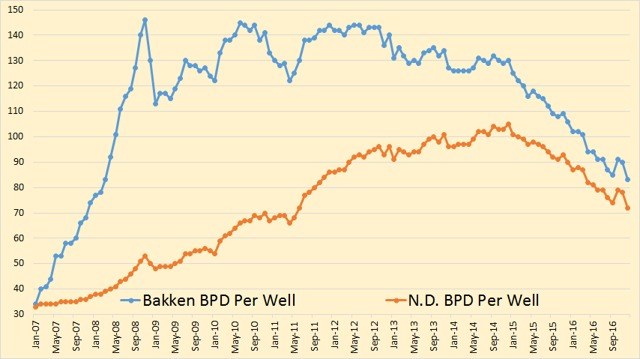 Barrels per day per well continues to drop. In December, it stood an 83 in the Bakken and 72 for all North Dakota.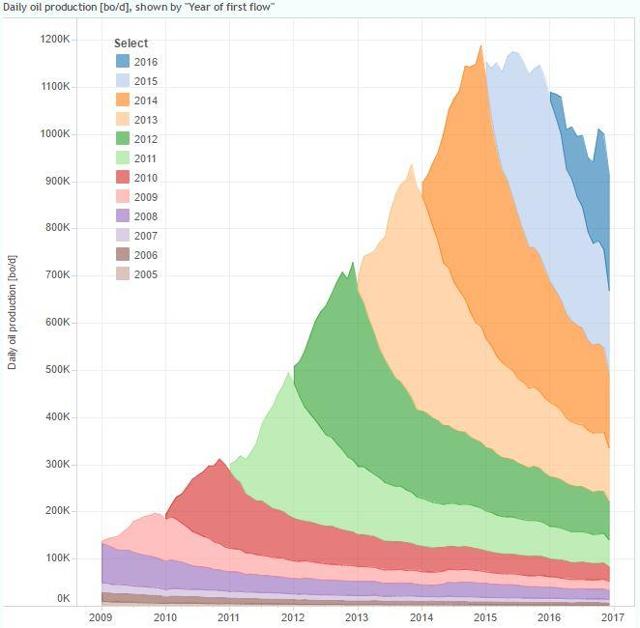 This great chart was produced by Enno Peters. It warrants a closer look. The data is in barrels per day.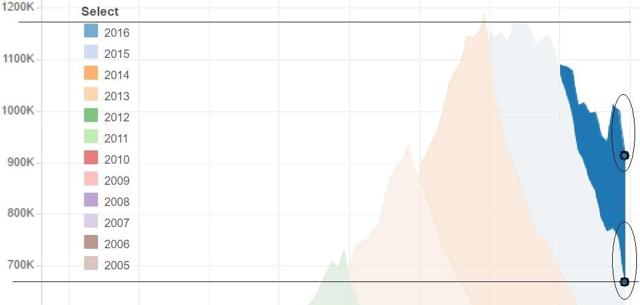 The two horizontal lines represent the 2015 peak and the 2015 peak production at the end of 2016. And the difference is almost exactly one-half million barrels per day.
But more important is the points I have placed in the ovals. Notice that production from 2016 wells in December changed very little from November 2016 wells. The decline was almost entirely from legacy production. That is from wells drilled prior to 2016.
If you look at Enno's first chart you will notice that the decline was shared by a decline in production from every year prior to 2016.
According to the Director's Cut, producing wells dropped by 183, from 13,520 to 13,337. 81 new wells were brought on line so that means 264 wells had to be shut down. The numbers from the North Dakota website were different. They had the well count going from 13,201 to 13,013, a decline of 188. At any rate, between 260 and 270 wells had to be shut down if either number is correct and 81 new wells were brought on line.
So we could conclude that the huge drop in legacy production was due to all those wells being shut down. But why were they shut down? Your first thought would be that they were shut down because of low production. But if that were the case, that they were mostly low producers, then the barrels per day per well should have risen. It did not. Barrels per day per well dropped by 6, from 78 bpd to 72 bpd.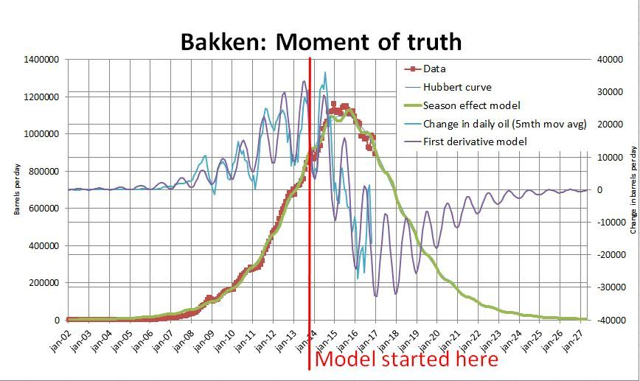 Bruno Verwimp sends us the above chart. The accuracy of his prediction is uncanny.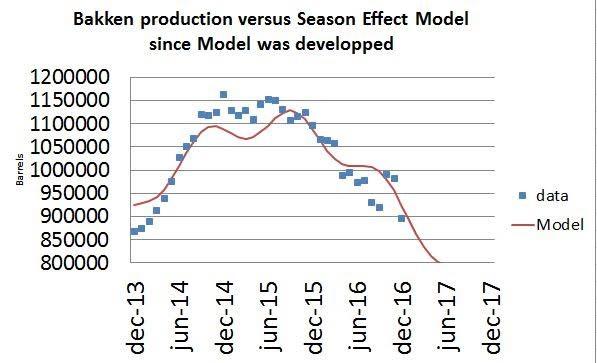 And here is an amplification of his model with the actual data.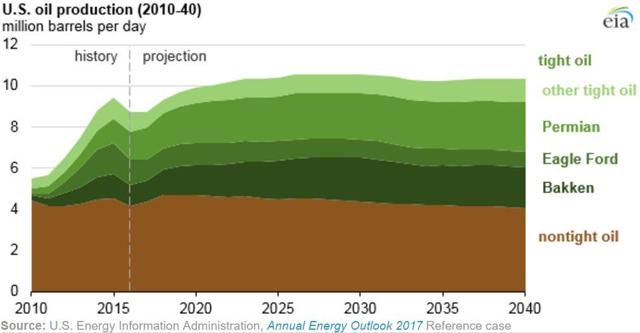 The EIA has a far more optimistic take on Bakken production. That is their reference case.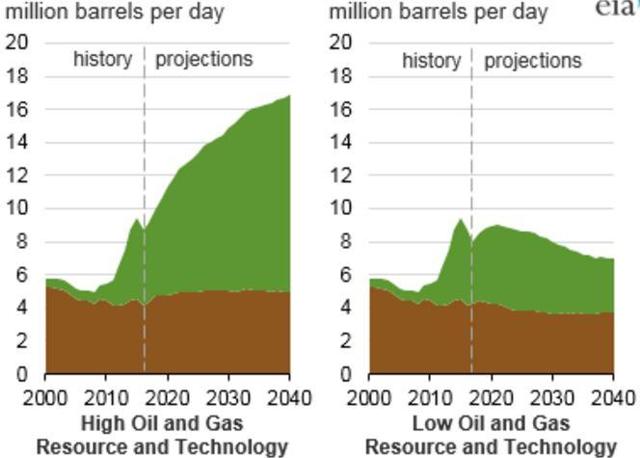 Here is their High Oil case and Low Oil case. The green is tight oil.
It is my opinion that the EIA is wildly overoptimistic. More so concerning the Bakken, but with other plays as well. Tight oil will be a complete bust. The Permian is performing well because it is mostly conventional production. But even the Permian will begin to decline by 2020 or shortly thereafter. All other shale plays are already in decline. But the idea that the Bakken will still be producing two million barrels per day in 2040 is ludicrous beyond belief.