Written by Bob Ciura for Sure Dividend
Wal-Mart Stores (NYSE:WMT) is a legendary dividend stock. It paid its first dividend in 1974, at a rate of $0.05 per share. The company has increased its dividend each year since.
Wal-Mart is a Dividend Aristocrat. These are stocks with over 25 years of consecutive dividend increases that are also members of the S&P 500. You can see the entire list of all 51 Dividend Aristocrats here.
With 43 years of annual dividend increases under its belt, and a highly profitable business model, it's a good bet that Wal-Mart will increase its dividend again.
It has been four full quarters since Wal-Mart last raised its dividend. The company typically announces its annual increase in February, which means it's that time of year again.
This article will assess Wal-Mart's performance over the past year, its outlook up ahead, and what a 2017 dividend increase might look like.
Business Overview
Wal-Mart dominates the retail industry. It generates about $500 billion per year in annual revenue. The company operates three segments:
Wal-Mart U.S. (62% of sales)
Wal-Mart International (26% of sales)
Sam's Club (12% of sales)
The company has a large and growing international presence. Wal-Mart is a global retailing giant.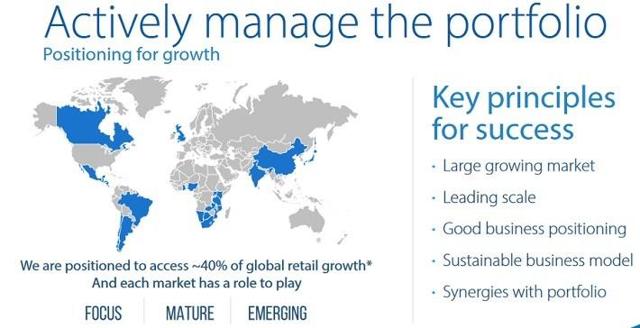 (Source: Investor Meeting presentation)
These are no easy times for the company. Over the past year, it has seen its brand and financial performance deteriorate.
The boom in Internet retail caught Wal-Mart flat-footed. It had relied upon its Supercenters to drive traffic, but consumers are making different choices. The company was slow to realize how well consumers would take to the convenience of at-home shopping and delivery. Plus, Internet retailers like Amazon.com (NASDAQ:AMZN) frequently match Wal-Mart's prices.
At the same time, Wal-Mart's public image worsened because of the poor condition of many of its stores. In response, it has aggressively invested to renovate its stores, increase its employee wages, and compete in e-commerce.
Wal-Mart invested $2.7 billion in fiscal 2016 to improve employee wages and training. Separately, the company plans to invest another $11 billion in capital investments - including $1 billion for e-commerce expansion - in fiscal 2017.
These investments are likely to result in higher growth over the long term. Of course, the downside is that this spending comes at a cost: Wal-Mart's earnings per share fell 9% in fiscal 2016. With $11 billion in capital investment planned for 2017, its earnings per share may decline again this upcoming year.
Growth Catalysts
Fortunately, the benefit of all this spending is that Wal-Mart is reigniting growth. The company saw strong results over the first half of fiscal 2017.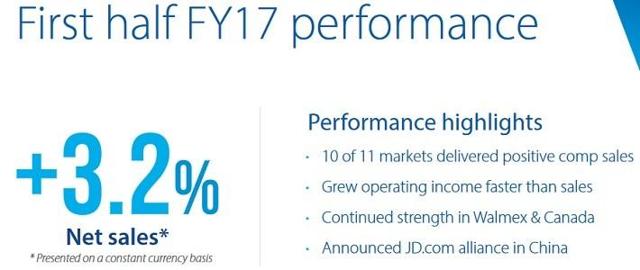 (Source: Investor Meeting presentation, page 4)
Going forward, its key growth catalysts are e-commerce, international growth, and small stores. These two areas are growing at higher rates than the company average. Last quarter, e-commerce sales increased 21%. International growth, excluding the impact of currency fluctuations, rose 2.4%.
Wal-Mart's growth going forward will look much different from how it realized growth in the past. The company's growth historically came from opening new Supercenters. But in the age of the Internet, most of Wal-Mart's growth will come from e-commerce.
And the company intends to improve the performance at existing stores, which is a much easier fix than opening new stores.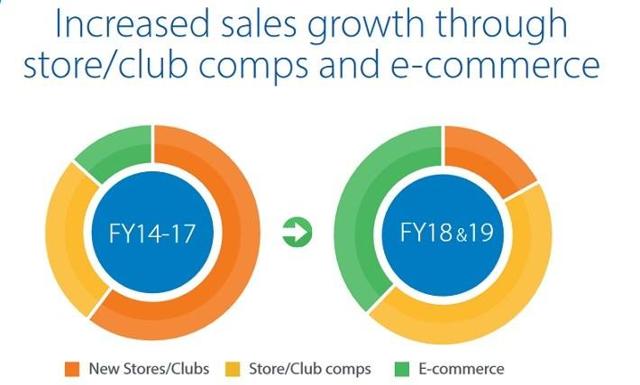 (Source: Investor Meeting presentation)
Wal-Mart intends to undergo 500 store remodels and build 500 new online grocery locations by fiscal 2018.
Lastly, the company is building out its Neighborhood Markets platform. These are smaller stores, perfectly suited for large cities and suburban areas that could not provide the square footage for a Supercenter.
Last quarter, Neighborhood Markets comparable sales increased 5.2%. Wal-Mart plans to open 20 new Neighborhood Markets next fiscal year.
Competitive Advantages
The company's biggest competitive advantage is its scale. As the largest retailer in the world, it has the ability to pressure suppliers for the lowest prices. With its unparalleled distribution network, Wal-Mart is easily able to pass on these savings to its customers.
The scale provides it with much higher profit margins than its competitors. For example, the two-largest retailers that compete with Wal-Mart are Amazon.com and Costco Wholesale (NASDAQ:COST).
Here is how Wal-Mart's profit margin stacked up against the two:
Wal-Mart: 3.0%
Amazon: 1.7%
Costco: 2.0%
This might not seem like a huge difference, but it is. Wal-Mart generates 50% more profit from each dollar of sales than Costco or Amazon.
It consistently earns high returns on capital, which creates sustainable wealth for shareholders. In fiscal 2016, Wal-Mart generated 15.5% return on investment.
The company's higher profit margins mean there is more cash to go around for things like paying a dividend to shareholders.
Dividend Analysis
WMT has been an excellent stock to own for the past several decades, in large part because of its long history of dividend growth.
Even now, when its fundamentals are challenged, the company is still more than profitable enough to return cash to shareholders. Wal-Mart returned $10 billion to investors in fiscal 2016, through combined dividends and share repurchases. The company can do this because it generated $15.9 billion of free cash flow for the fiscal year.
The stock has a current annualized dividend payout of $2.00 per share. In the past 12 months, the company had earnings per share of $4.61. This means it pays out less than half of its earnings per share in dividends. There is plenty of room for Wal-Mart to increase its dividend again in 2017, even if the company does not return to earnings growth until 2018.
But investors should expect a modest increase, probably in line with Wal-Mart's recent increases. Its last three increases to the quarterly dividend were just one penny per share.
Wal-Mart's outlook is getting brighter, and its investments are paying off. But there is still more to be done. Wal-Mart has ambitions to be a force in Internet retail, on par with Amazon. It is also getting into online grocery in a big way.
These investments will keep the company's earnings growth restrained again in fiscal 2017, which means investors should keep their expectations low when it comes to the dividend.
Final Thoughts
As a result, a reasonable forecast for Wal-Mart would be a 3-6% dividend increase. This would raise its forward annual dividend to $2.06-2.12 per share.
With a 3-6% dividend increase, the stock would provide a 3%-3.1% dividend yield. This yield level strikes an appropriate balance between a competitive dividend yield that adequately rewards shareholders, while leaving enough cash flow in the business to support future growth.
Wal-Mart's above-average dividend yield, reasonable valuation, and long history of rising dividends make it a long-time favorite of The 8 Rules of Dividend Investing.