New Phone on the Block
There was much debate on the success of Google Pixel upon the phone's launch this past holiday season. Bears argued that Google (GOOG, GOOGL) has consistently underperformed in non-advertising segments. Projects such as Google Fiber and prior smartphone Google Nexus were scrapped or paused before seeing a shed of profitability. Google Pixel is the tech giant's latest attempt to enter the high-end smartphone market. The Pixel boasted an industry-leading camera, powerful processor, smooth voice assistant as well as other quality features that warranted the phone's fantastic reviews.
Pixel, running on Android OS, launched at a truly opportune time considering Samsung Galaxy (OTC:SSNLF), the other high-end Android smartphone, was literally blowing up and had a product recall. Bulls argued that the Pixel will penetrate a market in which Google has absolutely no presence. Consumers in the high-end Android phone market will now have an alternative to Samsung Galaxy S7. Nearly 4 months have passed since the initial launch, and we believe it is the time to inquire whether the Pixel phone has been a success or failure thus far.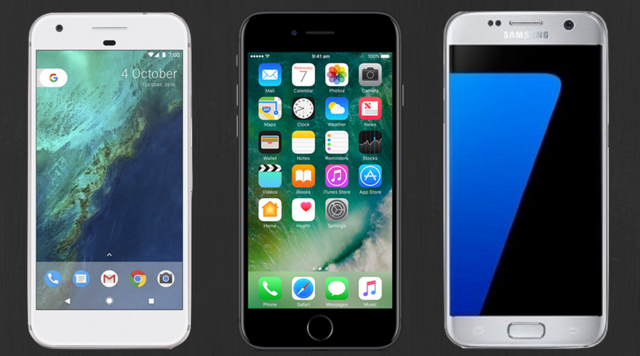 (Source: Finder.com.au)
Is the Pixel selling well?
The Pixel was estimated by Morgan Stanley analysts to sell between 3 million and 5 million units for its launch quarter. Counterpoint Research estimates that the Google Pixel has sold around 2.5 million units globally since October 2016. During the same period, Samsung and Apple (NASDAQ:AAPL) sold around 80 million and 78 million devices respectively. Pixel sales number may seem incredibly low compare to those of its competitor, but this appears to be an issue of limited production rather than low demand. In fact, Google announced that Pixel saw high demand and sold out a majority of its variants. This leads us to believe the phone sales have been inhibited by poor inventory management. According to NowInStock.com, the only Pixel variant in stock as of February 15th is the 32GB Black, from Best Buy. Every other variant is either out of stock or available for pre-order.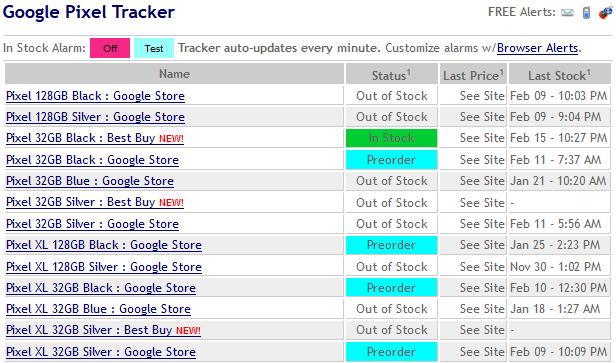 (Source: NowInStock.com)
Faulty Partnership With Verizon
Google signed a deal to make Verizon (NYSE:VZ) the sole carrier dealer of the Pixel, and Verizon has committed $25 million to advertise the phone in return. Subscribers of T-Mobile (NASDAQ:TMUS), AT&T (NYSE:T) and other carriers must buy the device from a retailer at full price and then activate the device on their carrier network. This partnership seems to be paying off to some degree, as demand is currently ahead of supply. According to a study conducted by Wave7 Research from surveying 50 Verizon carrier stores, Pixel accounted for around 9.5% of all Verizon smartphone sales in December.
Despite the moderate success, we see the Pixel's exclusive contract with Verizon as an obstacle to sales growth in the long term. Even though consumers have the option of buying the phone on a monthly plan from the Google Store and activate it with their non-Verizon carrier, the convenience and volume of shopping in the physical stores of their carrier should not be underestimated. Last November, I went into the local T-Mobile store looking to replace my Samsung Galaxy S5 with a Pixel, after reading some favorable reviews. I found out that T-Mobile doesn't carry the phone, so I decided to go with the iPhone 7. My story is no more than an anecdote, but it certainly isn't rare for subscribers to buy whatever phones their carriers are offering.
Additionally, Verizon's involvement with a Google phone did not work out positively in the past. According to USA Today, Verizon previously had a partnership with Google and Samsung to sell the Galaxy Nexus phone back in 2011. The Galaxy Nexus phones sold by Verizon were pre-loaded with Verizon apps, had a non-functional Google Wallet app, and had delayed phone updates.
According to FierceWireless, Verizon is the largest carrier in the US with more than 143 million subscribers. However, the next 3 largest carriers (AT&T, T-Mobile, Sprint) combined had nearly 260 million subscribers. We believe it would be unwise for Google to keep Verizon as the Pixel's sole carrier distributor and neglect the massive number of AT&T/T-Mobile/Sprint subscribers who shop at their respective carriers' physical stores.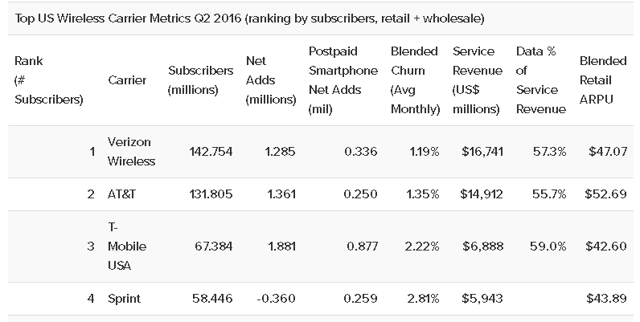 (Source: FierceWireless)
Verdict
Judging from the limited production of the phone, we assume the company's mission with the first Pixel model is to gauge the interest level of a Google phone in the high-end market. Under that assumption, we believe the Pixel's launch has ultimately been a success. Even though it was only available on Google Store, Best Buy, and Verizon, the Pixel phone managed to nearly sell out and is currently facing a supply shortage for many of its variants. According to Bloomberg, Google spokeswoman Iska Saric remarked that "The demand for the Pixel phones has exceeded our expectations, which is exciting to see". Morgan Stanley analysts project the Pixel to sell another 5-6 million units in 2017. Moving forward, we believe Google must take advantage of Samsung's misstep and emerge as the best high-end Android phone in the market (it's hard to look past exploding phones, even if the new products are said to be 100% fine). If Google can increase production, expand carrier distribution, and make meaningful improvements (water-resistance, anyone?) for Pixel 2, it may find grand success in smartphone market.
Disclosure: I/we have no positions in any stocks mentioned, and no plans to initiate any positions within the next 72 hours.
I wrote this article myself, and it expresses my own opinions. I am not receiving compensation for it (other than from Seeking Alpha). I have no business relationship with any company whose stock is mentioned in this article.