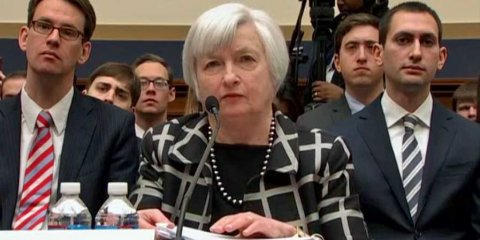 It certainly has been a turbulent time for currencies across the world, and none more so than the Australian dollar (NYSEARCA:FXA). During the holiday period, the currency dropped as low as 71.5 U.S. cents, but here we are in February, and it now fetches a remarkable 77.1 U.S. cents. But following Janet Yellen's hawkish comments this week, we believe the next U.S. rate hike could come as soon as March. If this does occur, we feel it will be the trigger to sending the Australian dollar on a path to 72 U.S. cents.
What's happened to the Australian dollar?

(Source: DailyFX)
As you can see on the chart above, the Australian dollar is rapidly approaching its pre-U.S. election levels after its incredible rise in the last six weeks. We believe the cause for this rally is a combination of President Trump's failure to disclose his infrastructure and corporate tax plans, subdued expectations on Fed rate hikes, and a strong rally in commodities.
As we have mentioned previously, there is a strong correlation between the Australian dollar and the iron ore price, due to Australia being the world's biggest exporter of the steelmaking ingredient.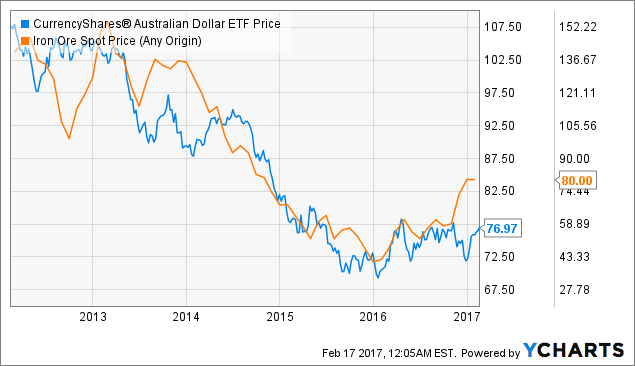 What will cause the Australian dollar to weaken?
Although the much-speculated correction in iron ore prices hasn't materialized, much to the delight of BHP Billiton (NYSE:BHP), Fortescue Metals (OTCQX:FSUGY), and Vale (NYSE:VALE), we feel confident that prices will normalize over the next six months. Our current forecast is for iron ore prices to average around US$65-70 a tonne in 2017 as new supply hits the market. Without the support of a buoyant iron ore price, we feel the Australian dollar will begin to crumble.
We're not the only ones to think that iron ore's rally is coming to an end. Wealth management firm Ord Minnett recently upgraded its forecast for an average iron ore price of US$73 a tonne in 2017. Analysts at Ord Minnett stated: "By the fourth quarter, we expect prices to move back into the mid-high US$60s on supply growth and moderating Chinese property sector demand."
For 2018, the wealth management firm has forecast prices to fall to an average price of $58 a tonne, and then a price of US$59 a tonne in 2019.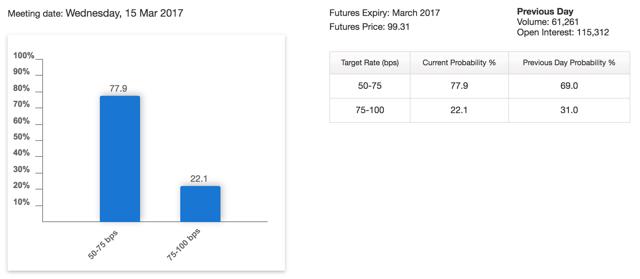 (Source: CME Group)
Furthermore, it may not be the popular opinion, but we wouldn't be too surprised to see the Federal Reserve raise interest rates in March. We feel Yellen's hawkish comments this week could be an indication that the Fed is readying a hike to between 75 and 100 basis points in the very near future. We acknowledge that we are in the minority with this opinion, with just a 22.1 percent chance of a hike being priced in by the market, according to CME Group's FedWatch tool. This rises to 41.2 percent in May, and then 45.8 percent by June. But with U.S. inflation coming in strongly this week, we see no reason why the Fed would choose to wait. Especially as Yellen warned that "waiting too long to remove accommodation would be unwise, potentially requiring the FOMC to eventually raise rates rapidly, which could risk disrupting financial markets and pushing the economy into recession." This could be a hint that the Fed expects the Trump administration's policies to cause inflation to rise rapidly when they are ultimately put into place.
What we are doing
We think the stage is set for the U.S. dollar (NYSEARCA:UUP) to strengthen once again, reversing the recent weakness in the greenback. With the U.S. dollar strengthening and iron ore prices falling, the Australian dollar's recent rally could come to a sudden halt.
Our short-term target for the Australian dollar is a return to the lows of December 2016 at approximately 72 U.S. cents. This equates to a decline in the region of 6.5 percent from the current exchange rate.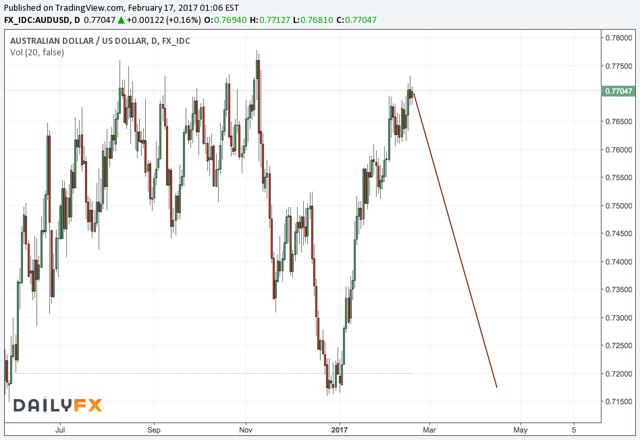 (Source: DailyFX)
But in the medium to long term, we see the Australian dollar falling as low as 65 U.S. cents - a massive 15.6 percent lower than the current exchange rate.
Whilst that may seem a little optimistic, we believe the falling commodity prices, three to four Fed hikes, a strong U.S. dollar, and the divergence in monetary policies means this is a realistic possibility.
Thanks for reading, and best of luck with your trades!
Disclosure: I am/we are long UUP.
I wrote this article myself, and it expresses my own opinions. I am not receiving compensation for it (other than from Seeking Alpha). I have no business relationship with any company whose stock is mentioned in this article.
Additional disclosure: Short FXA