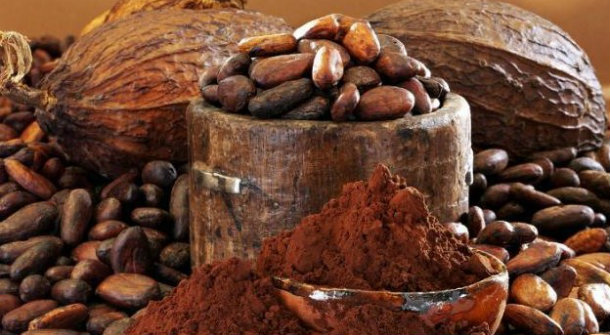 One of the worst performing soft commodities in the last 12 months has been everybody's favorite chocolate making ingredient - cocoa. Suppressed demand and increased production in West Africa have pushed the commodity down to multi-year lows. While some have painted a bleak future for the sweet stuff, we have reason to believe that things might not be as bad as they seem. For this reason, we have taken a long position in the commodity.
What happened to the cocoa price?
As shown below, at present, cocoa futures are down at a lowly $1,984 a tonne.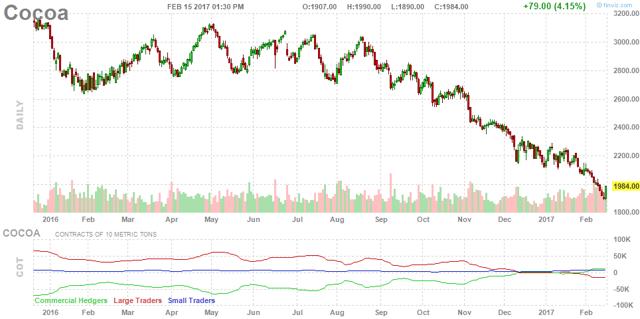 (Source: Finviz)
Unsurprisingly, the reason for the decline in demand for cocoa comes from a drop in chocolate sales. Health-conscious consumers have turned away from chocolates as they count calories and watch their waistlines. According to UBS, as of last year per capita chocolate consumption in the United States had declined by 3 percent per annum since 2005.
Furthermore, consumption in China also took a hit last year. According to research by Euromonitor, retail volumes are predicted to have fallen 4 percent to 122,000 tonnes in 2016. Much like in the United States, this decline has been attributed to Chinese consumers becoming more health conscious. A slowdown in discretionary spending and a lack of product innovation have also been listed as reasons for the decline.
Unfortunately, while consumption was declining, cocoa production was ramping up. The world's two largest producers, Ghana and The Ivory Coast, delivered a fantastic crop last season. As the two West African nations contribute two-thirds of global supply, in many respects a good season there is a good season for the entire industry.
What's next for cocoa prices?
Whilst things don't look great for cocoa, there is hope that a turnaround is on its way. Following weak weather patterns in recent times, there is a concern that El Nino could come back stronger than ever this year and impact production.
Soft Commodity Futures Analyst Judith Ganes-Chase believes that: "the weather may become a concern again with the possibility of El Nino making a resurgence later in the year." She added that there is: "potential for changing weather after a weak La Nina. That may move back towards El Nino, which poses possible production risks later in the year that could impact 2017-18 output."
Along with weather concerns, we believe the current low prices will result in a cut in production. After all, there is little appeal for farmers to produce cocoa at the moment with prices at a three-and-a-half year lows. Especially with some local exporters reportedly unable to pay the state-mandated farm gate prices to farmers.
Furthermore, Carlos Mera from Rabobank believes that cocoa prices should get a lift from a rebound in demand triggered by low prices.
What we are doing
We believe that should the three factors above materialize, there's a strong probability that cocoa prices will finish the year up at $2,450 a tonne. That's a solid 23.4 percent higher than the current spot price.
In light of this, we have taken a long position in the iPath Dow Jones-UBS Cocoa Total Return Sub-Index ETN (NYSEARCA:NIB), with a target price of approximately $29.50. Traders could also use the iPath Pure Beta Cocoa ETN (NYSEARCA:CHOC), but with a target price of approximately $35.88.
Whilst Cocoa may have been one of the worst performing soft commodities in 2016, we feel reasonably confident that 2017 will be a very different story. Only time will tell, but we reason to believe that it could in fact end up being the best performing commodity this year.
Thank you for reading! The world of soft commodities changes very quickly, so we'll aim to keep you updated as and when the situation changes. Until then, best of luck with yours trades!
Disclosure: I am/we are long NIB. I wrote this article myself, and it expresses my own opinions. I am not receiving compensation for it (other than from Seeking Alpha). I have no business relationship with any company whose stock is mentioned in this article.