Welcome to the latest issue of the PRO Weekly Digest. Every Saturday for Seeking Alpha PRO subscribers and Sunday for all other Seeking Alpha users, we publish highlights from our PRO coverage as well as feature interviews and other notable goings-on with SA PRO. Comment below or email us at pro-editors at seekingalpha.com to let us know what you think. Find past editions here.
Feature interview
Ioannis Tsoutsias, CFA, a long-time Seeking Alpha contributor, specializes in short selling and has a phenomenal track record with notable calls including El Pollo Loco (NASDAQ:LOCO) - see here, GoPro (NASDAQ:GPRO) - see here, Sears (NASDAQ:SHLD) - see here, Shake Shack (NYSE:SHAK) - see here, Zoe's Kitchen (NYSE:ZOES) - see here and Twilio (NYSE:TWLO) - see here. We emailed with Ioannis about how he got his start in short selling, a key theme behind many of his successful calls and why the guide to shorting is not found in books.
Seeking Alpha: Why did you decide to specialize in short selling, especially since so few do?
Ioannis Tsoutsias, CFA: It is always a smart strategy to focus on things that very few do, but my specialization was rather an accident. In the first 10 years of my investing career, I focused on the long side as almost anybody else. Then in 2007, I accidentally came across a short selling opportunity that came to define my career.
An unusual investment vehicle named, akin to a start-up conglomerate, was raising $5B through an IPO in order to invest across a range of industries in Southeastern Europe. This IPO was the ultimate sign of market frothiness. At the time, I was part of the investment team of the biggest private equity fund in the region and I knew firsthand how difficult it was to find good buyout targets at reasonable prices. So, I thought that an investment vehicle with zero track record and an untested management team should trade at a huge discount to its Net Asset Value, particularly in the light of the expensive acquisition targets it was aiming at. When I explained to a friend how certain I was that this venture was going to fail, he put forward the idea to sell the stock short. This possibility had never dawned on me before. This was the first and probably easiest short trade in my life: Even before the onset of the financial crisis, the stock had dropped more than 50%.
My subsequent private equity experience amidst the European sovereign debt crisis equipped me with a more relevant skill set. Sitting in the executive committees of several portfolio companies and negotiating distress deals across several industries helped me build the capacity to instantly recognize the behavioral signals of struggling and underperforming companies. Since then, my best investment ideas have been generated by observing management practices.
SA: What are some of the challenges to focusing on the short side? Does it take a certain mindset?
IT: On the surface, the short side is the mirror image of the long side. However, the analytical process, the time horizon, and the risk management practices are markedly different on the short side. Unfortunately, while there are hundreds of books about investing, there are only a few about short selling and almost all of them are written by people who have never practiced it. Predictably, these books are of little if any practical value. The most successful short-selling specialists have developed their expertise through trial and error.
Theory aside, one of the most difficult aspects of short selling is the psychological mindset required to manage the deluge of incoming information. The promotional machine of Wall Street in combination with investor relations professionals, bombard with positive news coverage the investor community on a daily basis. In terms of substance however, this news is mostly noise. Still, the environment of negative reinforcement they create can be quite challenging to manage for someone focusing on the short side.
SA: You've been incredibly successful on the short side with calls on El Pollo Loco, GoPro, Sears, Shake Shack, Zoe's Kitchen and Twilio – what were some of the key underlying themes behind these calls and how does this relate to your general short strategy?
IT: A key theme is that success in a niche doesn't guarantee success in the mass market. In fact, it could become an obstacle. One of the most important corporate strategy decisions is the choice of where and how to compete. When a company chooses to serve a certain market segment, its value chain configuration (production, sales, marketing etc.) often prevents it from expanding successfully into other markets. That's not necessarily a bad thing. You cannot be everything to everyone. Nonetheless, the short term-ism of Wall Street pressures BODs to launch ill-fated expansion plans.
Take GoPro, for example. It initially achieved a huge success with sports enthusiasts, but since it went after the mass market, it has been decimated by the Chinese. The price consideration has been much more important than the value of the brand for the budget-conscious mass customer and GoPro was ill-equipped to compete on this front due to its relative cost disadvantage. As its operating losses have continued to mount, the company belatedly announced a back to basics strategy with the aim to focus again on its core customer base.
Twilio, a cloud communication platform that has been very successful with SME businesses, is a case in progress. It recently announced its expansion plans to enterprise customers, a segment that is much more difficult to serve. Its expansion could complicate operations, put a drag on its margins, and distract the company from its focus on innovation. Still, this strategy may enable the company to exceed Wall Street expectations for a while.
In the restaurant space, the short-term-ism has led several chains to expand their hours of operation, introduce complicated menus, and even enter the extremely competitive catering business. Zoe's Kitchen is a typical case of such a value destroying strategy. Despite several quarters of remarkable comparable sales growth, its restaurant level profitability (contribution margin) has remained suppressed and doesn't seem to justify on a risk adjusted basis Zoe's expansion to even more competitive markets.
In the apparel industry, short-term-ism is a very old story. It manifests itself through the introduction of lower priced items and the thoughtless expansion in budget distribution channels such as outlet centers that pose a risk to the brand value. Coach (NYSE:COH), Michael Kors (NYSE:KORS), L Brands (NYSE:LB), Under Armour (NYSE:UA) and several others have fallen victim to this strategy. Needless to say that in the era of Amazon (NASDAQ:AMZN) omnipotence, such a strategy misstep can be fatal.
I could go on and on detailing how this pervasive short-term mentality manifests itself in various industries. From an investing perspective however, the takeaway is that Wall Street is quick to applaud these expansion plans. This seal of approval incentivizes CEOs to pursue growth even more recklessly. That's a short opportunity.
SA: On your call on Sears, you were critical of the financial engineering and especially the REIT transaction – are these the types of events you look for in shorts where the market is mispricing the impact?
IT: The tax benefit is one of the most significant incentives in a typical sale and leaseback transaction. In Sears' case, there was no such benefit due to its mounting operating losses. In fact, the REIT transaction was a desperate attempt to buy time ahead of the inevitable. Still, two years ago, Sears maintained a $4B market cap, underpinned by rampant speculation about its presumed hidden real estate value. Bruce Berkowitz, acclaimed as Morningstar's manager of the decade in 2000s, was making the case at the time that Sears' real estate value was 2x-3x more than its book value, extrapolating this estimate from previous Sears' transactions. However, his argument failed to take into account that distressed companies often sell their most profitable and marketable assets to anchor market expectations about the remaining portfolio. My Seeking Alpha article detailed how the REIT would defraud Sears of its best real estate properties, while highlighting the associated legal risks of this transaction. Ironically, Lampert agreed to pay $40M a couple of weeks ago to settle a lawsuit on this transaction.
I met the same flawed logic in the case of Valeant recently. Does the divestiture of an asset at 10x-11x EV/EBITDA multiple justify that the company as a whole should trade at the same multiple? It seems that some Wall Street analysts believe so.
SA: What other event driven strategies do you use?
IT: Maybe it sounds surprising, but it is easier to implement event driven strategies on the short side particularly around buyout rumors and earnings announcements.
Buyout rumors attract retail investors that bid up the stocks to the point that even if the rumored acquisition took place the takeover premium would be small. After all, nothing is more exciting than buying a stock just before it pops on the announcement of an acquisition. It is important to understand however, that there is an inverse correlation between the intensity of the rumors and the probability of a deal. I detailed this rationale in my Twitter (NYSE:TWTR) article back in October that was published just two days before the fictitious deal fell apart. Buyout rumors are often a signal of a brewing disagreement. When a deal is about to close, nobody has an interest in leaking anything for fear of upsetting it.
It is easier to play the earnings reports on the short side too. When things go well, the PR department is always quick to break the news and there is no time to trade on this information. However, when things are bad, news emerges with a delay. In these cases, certain management actions often indicate that there is more trouble than meets the eye. Two recent examples may illustrate this point.
In December, major retailers, including Amazon, sold GoPro's newly released Hero 5 camera at a 15% discount to its listed price. Around the same time, GoPro announced further cost cutting measures. Management's next step was to put out a press release announcing the relaunch of the Karma drone just one day before the earnings release date. According to the PR playbook, whenever you have to deliver both good and bad news, you put out the good news first so that the fallout from the bad news is limited. The stock gained on the good news more than 3%, but it dropped by more than 20% in the aftermath of the earnings announcement.
The Twitter story is remarkably similar. Despite the so-called Trump effect, ComScore statistics showed declining engagement metrics in November and December. Moreover, two senior executives, the Chief Operating Officer and the Chief Technology Officer resigned around that time. Finally, consistent with the PR playbook, Twitter announced major changes to make its platform a safe place just one day before the release of the earnings report. Was that announcement an attempt to distract attention? The events that followed have provided the answer. The stock dropped almost 20% in the aftermath of the earnings announcement.
SA: What is your entry point for a short (e.g. deterioration of fundamentals, stock breaking down, etc.)?
IT: That's the million-dollar question. For growth stocks, the ideal entry point is usually close to the time that it becomes evident that growth rate materially slows. It is the point where market expectations are reset. See for example the dramatic effect of growth deceleration on Under Armour's stock price. Forecasting such turning points however, can be tricky given that management may use many levers to sustain top line growth for an extended period of time. Acquisitions, partnerships, product launches, entry in new markets, and other initiatives may keep the growth story intact, even though their actual impact of these initiatives on the bottom line may be controversial.
However, several red flags may indicate that the era of fast growth could soon be over. These include heavy promotional efforts and price reductions on the consumer facing side, and aggressive accounting and insider selling on the financial management side. In addition, the so-called "analyst days," PR events that specifically target the sell-side community, provide another warning signal. Sell side analysts are very promotional by nature, so if you need a special event to convince them to promote your stock, that's a bearish signal. In my experience, these events are often an attempt to anchor expectations on a hypothetical long term opportunity and distract attention from near term challenges. The analyst day event of Twitter in 2014 and Under Armour in 2015 coincided with the peak of their stock prices.
For the so-called value stocks, the considerations are somewhat different. These companies are often going through a long term downward path. However, a buyout rumor, a decent earnings report, the announcement of a restructuring plan, a CEO change, insider buying or even a refinancing agreement may give rise to a major short squeeze. These events provide the optimal entry points for this breed of stocks. For instance, a couple of years ago, the announcement of a refinancing plan that would provide a few weeks' worth of liquidity to Radio Shack gave rise to a major short squeeze, even though it was evident that the company would never manage to avoid filing for chapter 11.
SA: How do you limit risk on the short side? Given the "market can stay irrational longer than you can stay solvent" expression, at what point do you cover and reevaluate from the sidelines if the stock continues to rise, but the thesis appears in tact?
IT: Hedging is an important part of risk management on the short side, particularly in light of the current macroeconomic environment where a rising tide can lift all the boats. From a risk management perspective, no position should be allowed to become an outsized part of your portfolio. Some of the big funds follow the 5% rule; no position should grow to more than 5% of the portfolio. My risk limits are a bit more flexible given that my investment horizon can be short term opportunistically and liquidity is less of a concern for my portfolio.
Importantly, it is somewhat neglected that on the short side you also compete with the rest that follow similar strategies. Consequently, you should avoid putting a stop loss limit at a price level that others have put similar orders too. Such a trading strategy results in poor execution. In my view, position sizing matters more than stop loss limits as a short squeeze is not only a risk but also an opportunity. In support of this argument, the fact many of my Seeking Alpha articles were published in the aftermath of major short squeezes contributed to the outstanding performance of the recommendations. Importantly, small funds have a significant competitive edge in implementing these strategies. Such occurrences happen disproportionately often in small cap companies and are mostly short-lived in nature. As a result, it is difficult for a multibillion-dollar fund to take advantage of them.
SA: You have an MBA and are a CFA charterholder. If you were to give advice to someone who wants a career on the buyside, which one would you recommend and why? How do you use what you learned from your studies in your investment-decision making process?
IT: The ideal candidate for a junior asset management position should possess a capacity for sound analytical reasoning, a demonstrated commitment to the industry and work ethic. In this regard, a CFA charterholder, who has been through a multi-year rigorous exam process, is a very attractive prospect. The MBA degree is nice to have, but there is a wide dispersion in the quality of the MBA graduates, so it is difficult to judge them on the basis of their qualification. Importantly, I would definitely advise someone who considers an MBA to aim for the very best schools. I am not suggesting that a marquee name automatically gives a graduate superior skills, but these schools provide a real value-add; a learning environment rooted in team work with uniquely qualified and diverse participants. Within such an environment, one gets a more holistic understanding of the real world issues. At the end of the day, any business problem is not about production, marketing or finance; it's about balancing all the above in an inclusive and productive way. From an asset management point of view, the capacity to value a business across a diverse set of criteria provides a distinct competitive advantage.
While academic studies have an undisputed "standalone value," fitting the proper educational background with the right working experience early in your career can make a huge difference in progress. That can be often the outcome of unforeseen circumstances, even though I believe that there is some truth to the idea that luck will only come to you if you work towards it. In my case, my early private equity experience taught me the value of conducting exhaustive on-the-ground research and digging into anecdote evidence in the context of the rather non-transparent emerging market environment. The associated know-how has been instrumental to my investing style. Remarkably, I have applied these techniques in the US market quite effectively, even more so because the wealth of information provided by the "official sources" and the confidence in the regulatory framework often gives a false sense of complacency and spares investors from doing a thorough due diligence.
To cut a long story short, I never had a grand master plan about my studies or my career steps. My academic path in particular, was the result of some rather inexplicable intellectual curiosity. Ironically, even my studies at Harvard Kennedy School where I focused on political risk and geopolitical issues have unexpectedly become valuable in the Trump era of heightened political uncertainty. I will never understate how fortunate I was to have Carmen Reinhart, a leading academic authority on macroeconomic issues, as my advisor.
Still, there is an important caveat to the whole discussion about the academic studies: Studying for many years is neither the easiest nor safest route to professional success. In fact, the opposite may be true. As an old saying goes "Those who can, do; those who can't, teach." There is no substitute for real world experience. My sleepless nights thinking about a position that didn't work well and questioning my assumptions have taught me more than any lecture or case study.
SA: What's one of your highest conviction ideas right now?
IT: Warren Buffett famously said that when a management with a reputation for brilliance tackles a business with a reputation for bad economics, it is the reputation of the business that remains intact. To paraphrase his quote, I would say that when incompetent management runs a business with a reputation for bad economics, it is a matter of time for the company to become a train wreck.
A good example is Pandora Media (NYSE:P), which is still in search of a CFO while its COO resigned two months ago. The company is run by a former musician with little executive experience, Tim Westergreen, who has laid out an ambitious plan to enter the hyper-competitive business of on-demand music streaming. To understand the enormity of the project, look no further than the market leader, Spotify. Its most recent convertible debt offering was placed at an effective interest rate of more than 15%. Despite its sizeable customer base of 40M paid subscribers, the company is being squeezed both by the oligopolistic practices of the big three record labels, Sony (NYSE:SNE), Universal and Warner, and the aggressive pricing policies of its direct competitors, Amazon and Apple (NASDAQ:AAPL). Without a powerful distribution network and a weak balance sheet, Pandora is very late in this game. I expect its on-demand effort not only to fail completely, but also to cannibalize its legacy business.
Pandora's stock has been buoyed by persistent takeover rumors on the back of an informal approach made by Sirius XM (NASDAQ:SIRI) one year ago. While the possibility of an acquisition may appear as a risk of the short thesis, remember that takeover rumors encircle all the failing companies at some point. Importantly, the supposed approach by Sirius took place long before Pandora's reckless expansion into the on-demand business that irreversibly changed its risk profile. In light of the recent disclosure by Berkshire Hathaway (NYSE:BRK.A) (NYSE:BRK.B) of its Sirius stake, I don't see how Sirius would even consider such a deal. It makes absolutely no sense.
On traditional valuation metrics, Pandora may not appear to be the most overvalued company of the market, even though at 2x EV/Revenue multiple, it still trades at a 30% premium to the $8B private market value of the market leader, Spotify. Importantly, the story provides clear downside catalysts in a 12-month horizon. In addition, I see a very high probability of bankruptcy risk in a 3-year horizon, if Corvex, the activist investor, fails to timely replace the existing management team.
***
Thanks to Ioannis for the interview. If you'd like to check out or follow his work, you can find the profile here.
PRO idea playing out
C&J Energy Services (OTCPK:CJESQ) dropped 85% less than two months after Alpha Apache said there was 90% downside. The reorg plan represented a hard catalyst as the shares would be cancelled and old equity holders would be granted illiquid warrants. The opportunity existed as shares almost quintupled in the prior three months due to a rebound in oil. In November, Alpha Apache noted that per the settlement with the unsecured creditor committee, equity holders would receive warrants worth 2% of the company instead of 6% and the request for an official equity committee was rejected.
Call from the archive - FII
Although Federated Investors (NYSE:FII) is down ~5% since Michael Boyd shared his bullish thesis (price target of $37; ~40% upside) in mid-December 2016, it may be time to revisit this as several of the catalysts are already playing out. The Fed raised rates as expected (and Fed Chair Janet Yellen said this week that "Waiting too long to remove accommodation would be unwise"), there has been additional movement on regulatory reform (President Trump plans to review Dodd-Frank and halt the fiduciary rule) and FII attributed the 19% revenue increase in the most recent earnings primarily to a decrease in voluntary fee waivers for money market funds.
Noteworthy PRO articles
In addition to the top idea we published this week, we wanted to highlight several of our PRO editors' favorite PRO ideas this week:
SA Editor Jeffrey Fischer, CFA: Brandon Ferro is bullish on Elbit Vision Systems (OTCQB:EVSNF), as despite its micro-cap size, it is an industry leader with ~20%+ EBIT margins and self-funding ability. Growth to be driven by secular adoption of automation in textiles as defect detection and quality assurance is still almost entirely done using manual labor. Multiple catalysts including new business wins, potential up-listing and exhaustion of share overhang.
SA Editor John Leonard, CFA: New Seeking Alpha author Deep Value Analyst highlights CAS Medical Systems (NASDAQ:CASM), an underfollowed medical equipment manufacturer with double-digit top line growth, increasing recurring revenue and a product with significant competitive advantages that should benefit from hospitals focusing on treating patients more efficiently; 100%+ upside in the event of a takeover (CASM trades at a significant discount to peers and industry M&A transactions) or in a standalone scenario as growth ramps up over the next several years.
SA Editor Marc Pentacoff: Daniel R. Moore sees an irrational rally in Chesapeake Granite Wash Trust (NYSE:CHKR) presenting an asymmetric opportunity on the short side. With the nature of trusts being finite and inflexible, the underlying value of the assets is more readily calculable and Daniel R. Moore shows how, even at higher oil and natural gas prices, the security is overvalued.

SA PRO Managing Editor Daniel Shvartsman: Randy Steuart, CFA explains why history might repeat for Titan International's bonds (NYSE:TWI), as the company might look to refinance and call in the bonds at first chance. Even at second call, the returns offer good asymmetry.
Idea screen of the week
Each week we use the PRO Idea Filter to find ideas based on a recent news event. This week, PRO Editor John Leonard, CFA looks at the continuing M&A activity in the healthcare space.
This week Allergan (NYSE:AGN) agreed to acquire ZELTIQ Aesthetics (NASDAQ:ZLTQ) and German pharma company Stada is in takeover discussions with multiple PE firms.
In order to find the next potential takeover target, I ran a search for micro-cap, small cap and mid cap Long ideas in the Healthcare Sector from the past six months. I excluded large caps as they are, in general, less likely to receive a takeover bid. I selected the Takeover Target Investment Opportunity tag. I left the PRO only quality filter on.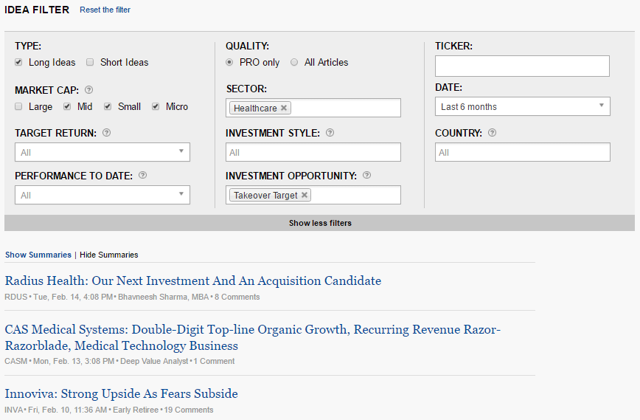 3 ideas turned up in this screen that might be of interest (prices as of February 16 close):
Radius Health (NASDAQ:RDUS) by Bhavneesh Sharma, MBA: Published February 14, 2017, $1.9B market cap, up ~5% since publication, author's price target offers ~40% upside. Shire (NASDAQ:SHPG) may be a potential acquirer; upcoming PDUFA date for lead drug candidate Abaloparatide to treat osteoporosis in March 2017 is a hard catalyst.
CAS Medical Systems (CASM) by Deep Value Analyst: Published February 13, 2017, $41M market cap, unchanged since publication, author's price target offers 100%+ upside. CASM trades at a significant discount to industry M&A transactions despite double-digit top line growth, increasing recurring revenue and a product with significant competitive advantages.
Innoviva (OTC:INVA) by Early Retiree: Published February 10, 2017, $1.3B market cap, up ~10% since publication, author's price target offers ~50% upside. In addition to the possibility of a takeover by partner Glaxo (NYSE:GSK), potential upside driven by debt repayment plan and subsiding uncertainty about the future royalty stream.
About the PRO Weekly Digest
PRO members automatically receive the Weekly Digest and other PRO content in their inbox. If you are not a PRO member and would like to be notified of this, click follow at the top of this article to follow the SA PRO Editors account, or click to subscribe to the free newsletter below to receive these in your inbox. And if you're interested in SA PRO, check out the details here to sign up or learn more.
Disclosure: I/we have no positions in any stocks mentioned, and no plans to initiate any positions within the next 72 hours.
I wrote this article myself, and it expresses my own opinions. I am not receiving compensation for it (other than from Seeking Alpha). I have no business relationship with any company whose stock is mentioned in this article.
Additional disclosure: Check with individual articles or authors mentioned for their positions. Ioannis Tsoutsias, CFA is short P, GPRO, TWTR.