Welcome to the latest issue of the PRO Weekly Digest in which we publish highlights from our PRO coverage. Comment below or email us at pro-editors at seekingalpha.com to let us know what you think. Find past editions here. PRO subscribers can access interviews by following the SA Interviews account and view past interviews under the same account.
Click here to read the interview with Ioannis Tsoutsias, CFA.
PRO idea playing out
C&J Energy Services (OTCPK:CJESQ) dropped 85% less than two months after Alpha Apache said there was 90% downside. The reorg plan represented a hard catalyst as the shares would be cancelled and old equity holders would be granted illiquid warrants. The opportunity existed as shares almost quintupled in the prior three months due to a rebound in oil. In November, Alpha Apache noted that per the settlement with the unsecured creditor committee, equity holders would receive warrants worth 2% of the company instead of 6% and the request for an official equity committee was rejected.
Call from the archive - FII
Although Federated Investors (NYSE:FII) is down ~5% since Michael Boyd shared his bullish thesis (price target of $37; ~40% upside) in mid-December 2016, it may be time to revisit this as several of the catalysts are already playing out. The Fed raised rates as expected (and Fed Chair Janet Yellen said this week that "Waiting too long to remove accommodation would be unwise"), there has been additional movement on regulatory reform (President Trump plans to review Dodd-Frank and halt the fiduciary rule) and FII attributed the 19% revenue increase in the most recent earnings primarily to a decrease in voluntary fee waivers for money market funds.
Noteworthy PRO articles
In addition to the top idea we published this week, we wanted to highlight several of our PRO editors' favorite PRO ideas this week:
SA Editor Jeffrey Fischer, CFA: Brandon Ferro is bullish on Elbit Vision Systems (OTCQB:EVSNF), as despite its micro-cap size, it is an industry leader with ~20%+ EBIT margins and self-funding ability. Growth to be driven by secular adoption of automation in textiles as defect detection and quality assurance is still almost entirely done using manual labor. Multiple catalysts including new business wins, potential up-listing and exhaustion of share overhang.
SA Editor John Leonard, CFA: New Seeking Alpha author Deep Value Analyst highlights CAS Medical Systems (NASDAQ:CASM), an underfollowed medical equipment manufacturer with double-digit top line growth, increasing recurring revenue and a product with significant competitive advantages that should benefit from hospitals focusing on treating patients more efficiently; 100%+ upside in the event of a takeover (CASM trades at a significant discount to peers and industry M&A transactions) or in a standalone scenario as growth ramps up over the next several years.
SA Editor Marc Pentacoff: Daniel R. Moore sees an irrational rally in Chesapeake Granite Wash Trust (NYSE:CHKR) presenting an asymmetric opportunity on the short side. With the nature of trusts being finite and inflexible, the underlying value of the assets is more readily calculable and Daniel R. Moore shows how, even at higher oil and natural gas prices, the security is overvalued.

SA PRO Managing Editor Daniel Shvartsman: Randy Steuart, CFA explains why history might repeat for Titan International's bonds (NYSE:TWI), as the company might look to refinance and call in the bonds at first chance. Even at second call, the returns offer good asymmetry.
Idea screen of the week
Each week we use the PRO Idea Filter to find ideas based on a recent news event. This week, PRO Editor John Leonard, CFA looks at the continuing M&A activity in the healthcare space.
This week Allergan (NYSE:AGN) agreed to acquire ZELTIQ Aesthetics (NASDAQ:ZLTQ) and German pharma company Stada is in takeover discussions with multiple PE firms.
In order to find the next potential takeover target, I ran a search for micro-cap, small cap and mid cap Long ideas in the Healthcare Sector from the past six months. I excluded large caps as they are, in general, less likely to receive a takeover bid. I selected the Takeover Target Investment Opportunity tag. I left the PRO only quality filter on.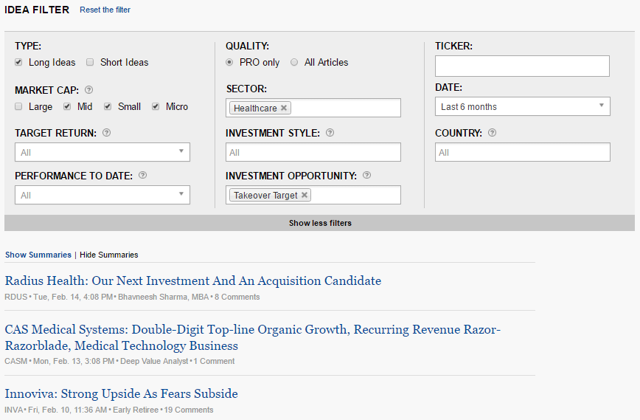 3 ideas turned up in this screen that might be of interest (prices as of February 16 close):
Radius Health (NASDAQ:RDUS) by Bhavneesh Sharma, MBA: Published February 14, 2017, $1.9B market cap, up ~5% since publication, author's price target offers ~40% upside. Shire (NASDAQ:SHPG) may be a potential acquirer; upcoming PDUFA date for lead drug candidate Abaloparatide to treat osteoporosis in March 2017 is a hard catalyst.
CAS Medical Systems (CASM) by Deep Value Analyst: Published February 13, 2017, $41M market cap, unchanged since publication, author's price target offers 100%+ upside. CASM trades at a significant discount to industry M&A transactions despite double-digit top line growth, increasing recurring revenue and a product with significant competitive advantages.
Innoviva (NASDAQ:INVA) by Early Retiree: Published February 10, 2017, $1.3B market cap, up ~10% since publication, author's price target offers ~50% upside. In addition to the possibility of a takeover by partner Glaxo (NYSE:GSK), potential upside driven by debt repayment plan and subsiding uncertainty about the future royalty stream.
About the PRO Weekly Digest
PRO members automatically receive the Weekly Digest and other PRO content in their inbox. If you are not a PRO member and would like to be notified of this, click follow at the top of this article to follow the SA PRO Editors account, or click to subscribe to the free newsletter below to receive these in your inbox. And if you're interested in SA PRO, check out the details here to sign up or learn more.
Disclosure: I/we have no positions in any stocks mentioned, and no plans to initiate any positions within the next 72 hours.
I wrote this article myself, and it expresses my own opinions. I am not receiving compensation for it (other than from Seeking Alpha). I have no business relationship with any company whose stock is mentioned in this article.
Additional disclosure: Check with individual articles or authors mentioned for their positions.