The fund flows data from Lipperweb is a treasure trove of information on where investors are putting their money. Not surprisingly it reflects the well known tendency of investors to chase performance. The data showing flows through mid February show investors selling U.S. stocks and buying bonds. This is a trend that existed through most of 2011.
In the current low interest rate environment it is clear that there is a movement by investors to chase yield as well. The fund flow data can be used in one of two ways. For those interested in piggybacking on momentum…and who consider themselves smart enough to ride the momentum before the music stops, may consider following the crowd…at least for awhile.
For the rest of us... the fund flows might raise a yellow flag of caution to perhaps trim back allocations to the most popular and likely highly valued asset classes and to place new money elsewhere. After all contrary to the way it may seem, the higher the price of the asset the more risky it is.
Fund flow data from Lipper for January shows that money has piled into long-term bond funds and ETFs a total of a bit under $6 billion. That is four times the amount of funds that have gone into short- and medium-term funds. Pension funds and other institutions are extending maturities as well.
Obviously, this money movement is in a search for yield. Investors are choosing to "ride up" the yield curve to capture that higher yield. For example going from the Vanguard Intermediate Term Corporate Bond ETF (NASDAQ:VCIT) to the long-term equivalent (NASDAQ:VCLT) gives a yield pickup of 1.38%
But that increased yield comes at greater risk. The increase in duration from 6.2 to 13.2 years means that the long-term fund will move twice as much in response to a change in interest rates. Research has shown that the optimum spot in the yield curve in terms of risk and return is in the 5 -7 year maturity.
Academic research has found that "beta doesn't line up" in bond maturities. Longer maturities give higher risk and lower long-term return. They certainly don't give additional risk adjusted returns. So caution is advised to those that lengthen maturities. A 1% change in interest rates would mean a 6% change in the value of VCIT and a 13% change for VCLT.
In 2011 that longer duration worked in favor of long-term investors. VCLT outperformed VCIT 17.4% vs. 9%. Investors who have had a target allocation to long-term corporate bonds would be well advised to do some rebalancing by selling long-term bonds and buying intermediate.
As to where the smart money is going one clue might be from those issuing debt. An article in the Feb 27 WSJ might give some insight.
Amid Record-Low Rates, Firms Rush to Refinance
The article notes:
The drop in loans maturing over the next four years has been countered by an increase in loans maturing between 2016 and 2018. Those loans now total $317 billion, LCD says, up from the $152 billion that was expected at the end of 2010.

Given the reasonable expectation that an improving economy will lead the Fed to raise rates, many companies won't want to delay refinancing debt now if they can, says Moody's Mr. Cassidy. That could mean a flurry of bond deals meant to refinance debt that won't come due for four more years.
Corporate CFOs are choosing to increase the maturity of their fixed income liabilities. Looking at the chart below of yields on long-term corporate bonds, it is not hard to see the logic behind their decision.
(Click chart to enlarge)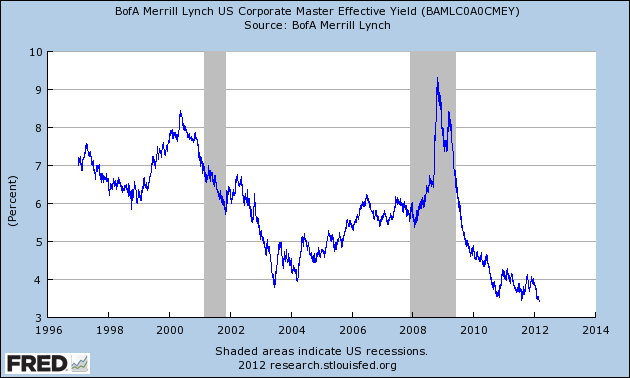 At the same time individual and institutional investors are buying up those longer-term bonds in search of higher yield.
Perhaps it is time for investors to think twice about their purchases of long-term bonds. In fact, perhaps individuals should look to follow the lead of the CFOs by managing the liability side of their balance sheet. They could do this by refinancing their mortgages at record low long term rates, providing their lender is cooperative.
Disclosure: Mr Weinman's clients have positions in VCIT and VCLT