As many of my long-time readers, as well as followers of the oil industry in general are already well aware, the giant nation has long held ambitions of developing its Arctic oil deposits. This makes complete sense as these fields contain billions of barrels of oil and developing these resources would provide a much-needed boon to the nation's economy, which has suffered in recent years. These ambitions have largely been put on hold due to the current oil price environment as Arctic oil fields are difficult to make economical with oil hovering in the $40-$50/barrel range.
Nonetheless, some companies continue to pursue the development of these fields, likely hoping that oil prices will increase in the future or that large scale development of Arctic oil resources will reduce production costs in a similar way that shale oil production costs have been declining. One of these companies is oil giant Gazprom Neft (OTCQX:GZPFY).
Gazprom Neft is a subsidiary of Russia's giant government-controlled gas company Gazprom (OTCPK:OGZPY), which owns approximately 96% of the shares outstanding. The company largely serves as Gazprom's oil production, refining, and transportation arm. As a standalone company, Gazprom Neft is the fourth largest oil producer and third largest refiner in Russia, accounting for approximately 10% of the nation's oil production and 14.6 of refining activity as of the end of 2012.
In late 2013, Gazprom Neft began producing oil at the Prirazlomnoye field, the first production Arctic oil field in Russia.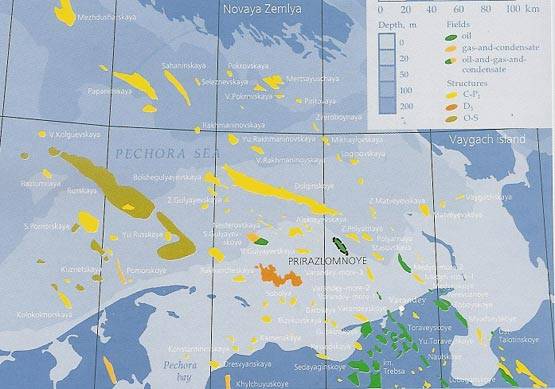 Source: Marine Technology News
Since late 2013, Gazprom Neft has produced and supplied markets with approximately 10 million of the estimated 540 million recoverable barrels located at this site. That makes this one of the largest fields discovered to date, as the industry typically considers any field that contains more than 500 million barrels of recoverable reserves to be a major field.
Interestingly, Gazprom Neft has continued to develop this field over the past few years despite oil prices declining significantly in 2014 and remaining at those much lower prices. On January 20, 2017, Gazprom Neft announced that it has now begun producing from two new wells at the site, bringing the total to six. Further evidence of the company's commitment to the Prirazlomnoye field comes from its production estimate, which stands at 19.06 million barrels in 2017.
This is despite the fact that it will be shutting down one of its platforms at the site over the summer to perform maintenance. (As an aside, this maintenance will be performed by American companies, despite the ongoing sanctions against Russia.) In other words, the company will be extracting almost double the amount of oil from this field than it produced in the past three years combined! So, the question becomes whether or not this commitment is warranted.
Several times in the past, I have shared this chart that shows the costs of producing oil in various environments: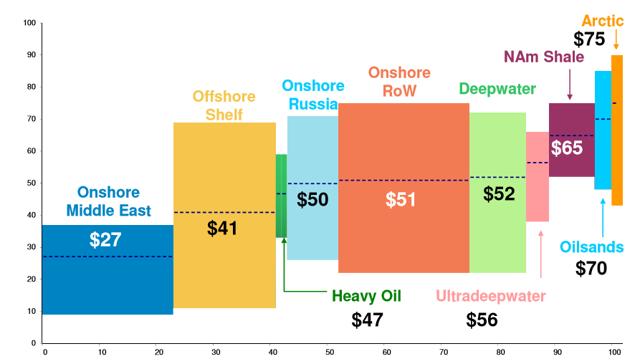 Source: Morgan Stanley Equity Research, Seadrill Ltd.
According to this chart, it costs an average of $75 per barrel to produce oil in the Arctic. As the price of oil at the time of writing is $55.77 per barrel, the company expanding the production of this field would not make economic sense. However, this chart is outdated. For example, shale oil producers have managed to push their costs of production down to as low as $25 per barrel in certain plays. It is certainly conceivable that Arctic oil producers could accomplish the same feat.
Thus far, that does not seem likely. Prior to the middle of 2014, many oil companies had high hopes for Arctic oil development. Chief among them were Royal Dutch Shell (NYSE:RDS.A) (NYSE:RDS.B), Statoil (NYSE:STO), Exxon Mobil (NYSE:XOM), and Rosneft (OTCPK:RNFTF). Since that time however, these companies have suspended their drilling programs citing the high costs involved. For example, Statoil states that the cost of drilling an Arctic well easily exceeds $500 million.
However, this does not necessarily provide sufficient information to allow us to determine a per barrel cost. The fact that only Gazprom Neft is expanding its production in the region indicates that the break-even cost does likely remain above the current price of oil, though.
Arctic oil thus looks to be a poor investment in the current environment. This is likely to be the case even in the medium term as well, given the strides that operators in other resource-heavy environments, such as Canada's oil sands or North America's various tight oil plays, have made over the past few years. However, it may be a good investment over the very long term. This is due to the fact that Arctic drilling will almost certainly expand eventually, but it may take a decade or more for that to happen.
First of all, despite the beliefs of many, it is highly unlikely that our society will ever be powered entirely by renewable energy. Energy researcher Gail Tverberg discusses this in a recent article. The reason is that electricity is a highly inefficient way to produce heat for our homes and businesses for purposes such as cooking, providing hot water, and just general central heating compared to burning the fossil fuels directly.
In addition, renewable energy production is not particularly reliable as it is subject to peaks and troughs in output. Energy storage technologies can at least partially mitigate this on a small scale but mitigating this on a societal scale is a much more difficult problem to overcome. With that said however, we certainly will see renewables' share of our energy mix increase.
Therefore, both oil and natural gas are likely to be around for a long time. So why is Arctic oil drilling likely to expand? The answer lies in the sheer volume of resources to be found in the region. According to a 2008 study by the United States Geologic Survey, there are approximately 90 billion barrels of recoverable oil and 1,670 trillion cubic feet of technically recoverable natural gas located north of the Arctic Circle. This accounts for an estimated 13% of undiscovered oil reserves and 30% of undiscovered natural gas reserves worldwide.
Given this and the fact that worldwide demand for fossil fuels is unlikely to go away any time soon, the world's oil and natural gas producers will inevitably seek to exploit these resources at some point. By seeking to exploit these resources now, Gazprom Neft will have an infrastructure and knowledge advantage over its competitors when the Arctic gold rush ultimately begins.
Investing in Gazprom Neft directly may not be the best way for investors to take advantage of this opportunity, however. A better way to play Arctic oil and obtain some diversification may be to invest in the VanEck Vectors Russia ETF (NYSEARCA:RSX). This ETF includes numerous other Russian oil and gas companies such as Gazprom and Rosneft as well as numerous Russian companies in other industries.
Considering that Russia lays claim to an estimated 58% of Arctic oil and gas, it seems likely that these other companies will also profit from an expansion of Arctic drilling. In addition, this ETF has significantly outperformed the S&P 500 Index over the past year.
RSX Vs. SPX 1 Year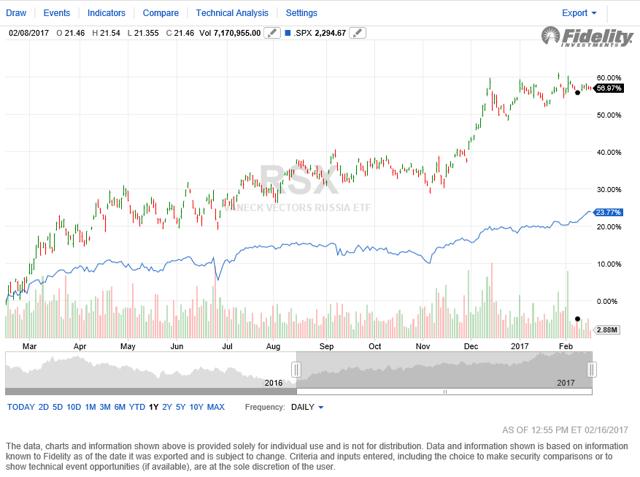 Source: Fidelity Investments
In conclusion, Gazprom Neft, in stark contrast to nearly all other oil and gas companies, continues to invest in the Arctic. This appears to be a costly strategy for now that is unlikely to be profitable for it in the near term, despite the rapid increases in production. However, Arctic drilling is likely to expand worldwide over the very long term and this could very well position Gazprom Neft to be a significant player in this market. However, the best way for investors that are interested in this market to invest is likely in the VanEck Vectors Russia ETF given Russia's oversized share of Arctic resources as well as the more diversified nature of the ETF.
Disclosure: I/we have no positions in any stocks mentioned, and no plans to initiate any positions within the next 72 hours.
I wrote this article myself, and it expresses my own opinions. I am not receiving compensation for it (other than from Seeking Alpha). I have no business relationship with any company whose stock is mentioned in this article.
Editor's Note: This article discusses one or more securities that do not trade on a major U.S. exchange. Please be aware of the risks associated with these stocks.