I was recently introduced to LightPath Technologies, Inc. (NASDAQ:LPTH) after the company announced a 119% increase in its operating income for its fiscal Q2 ended December 2016. I applaud the investors who managed to get into LPTH at less than $2.00 prior to these excellent results being announced, but I believe that someone like me who got in after the fact at around $2.00 will also see high returns on this stock. Larger optical components counterparts like Oclaro, Inc. (NASDAQ:OCLR), Lumentum Holdings Inc. (NASDAQ:LITE), Applied Optoelectronics, Inc. (NASDAQ:AAOI) and II-VI Incorporated (NASDAQ:IIVI) have been on a tear over the past year and trade at robust multiples for hardware companies.
LPTH completed the acquisition of ISP Optics in December that will nearly double steady-state revenue, but I believe it can be an acquisition target in itself if it continues to lag the valuations of bigger industry players. Nothing comes for free and a 7 million share secondary led by Roth Capital at a $1.21 share price to help fund the acquisition played a role in LPTH's stagnant stock price and may still be a driver for today's buying opportunity. The shares offered in the secondary have a 120-day hold period from date of closure in December, so there are still two months before any of those shares become free trading. (EDIT: After speaking with an IR representative for LPTH, the lock-up period was clarified. All institutional shareholders participating in the deal already have freely trading, registered shares. Only the insiders - management and Board members - have the 120-day restriction and would be subject to standard limitations for insiders thereafter.)
The needs of the telecom industry and cost containment drive sales and profit growth
The Q2 2017 10-Q filing gets into the details behind LPTH's 119% growth in operating income for the quarter. Starting with the income statement: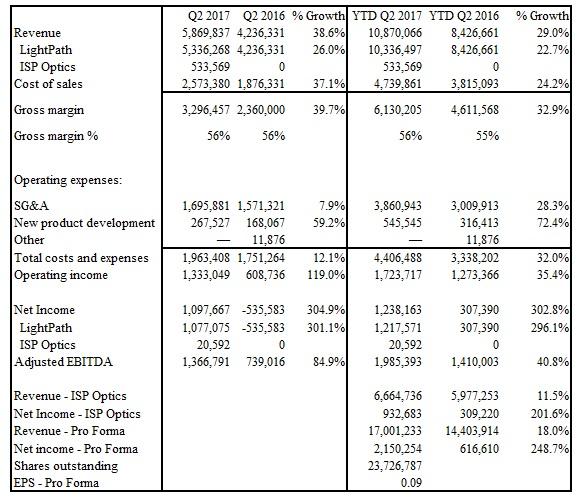 Some of the key highlights:
In the 10 days of the quarter that ISP operated under LightPath, revenue was $534K and net income $21K.
Revenue growth for Q2 2017 was 38.6% with gross margin being steady at 56%. Excluding ISP revenue, growth was 26%.
Total costs were up 12.1% for the quarter with an SG&A expense increase that was only 7.9%. Q1 had $484,000 of costs related to the acquisition. Excluding those costs leads to a Q1 SG&A expense of $1.7 million. Q2 had $125,000 of costs related to the acquisition, so excluding those expenses, SG&A would be completely flat for Q2.
The pro forma combined income statement of LightPath and ISP Optics would have produced $17 million in revenue and $2.2 million in net income over the first six months of fiscal 2017.
ISP's revenue growth was 11.5% for the six-month period, but net income tripled during that time.
Based on 23.7 million shares, EPS would have been 9 cents for this combined company in the six-month period.
While LightPath ex-ISP revenue was up a respectable 26% for Q2 2017, looking at revenue by component paints a much more bullish picture for the future: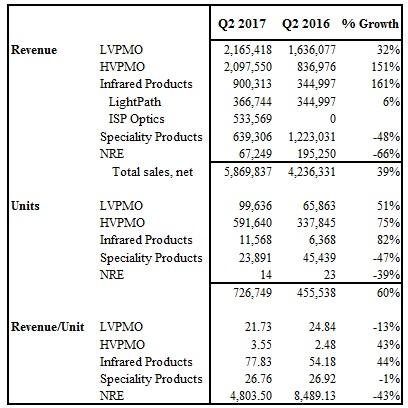 Revenue for the HVPMO product group, which consists of precision molded optics with a sales price of less than $10 per lens, rose a total of 151% due to both price increases and an increase in the units shipped. Like LPTH's larger counterparts mentioned above, the telecom sector is the biggest driver of this growth. Data-intensive tasks such as streaming and cloud-based applications are creating pressures on the bandwidth of wireless communication companies. The optical components needed to increase bandwidth are estimated to be in high demand for the next several years, at least to 2020.
LightPath's 26% growth for Q2 wasn't a complete picture of what revenue growth could be for the rest of 2017. Revenue was actually held down by slow or negative growth in product lines like infrared and specialty products. Ex-ISP infrared growth was only 6%, which would make sense knowing that the company was about to combine with ISP Optics, a company that specializes in infrared. The 10 days of having ISP operations more than doubled that product line's revenue for the company in Q2.
The LVPMO and HVPMO product lines combined for 72% revenue growth in Q2 2017. These two product lines combined for 80% of the company's ex-ISP revenue for the quarter compared to 58% in Q2 2016. The strong shift towards high-growth product lines, driven by the demand of telecom, should help revenue grow above and beyond any expectations of the ISP acquisition on its own. Throwing ISP operations in there along with organic growth will probably have the company showing revenue growth in excess of 100% for the next four quarters.
LPTH will eventually ride the optical supercycle - or get bought before then
This one-year chart of stock price performance from Yahoo Finance for LPTH and the sample of the four aforementioned larger optical components companies should do a pretty good job in summarizing the junior company's lag: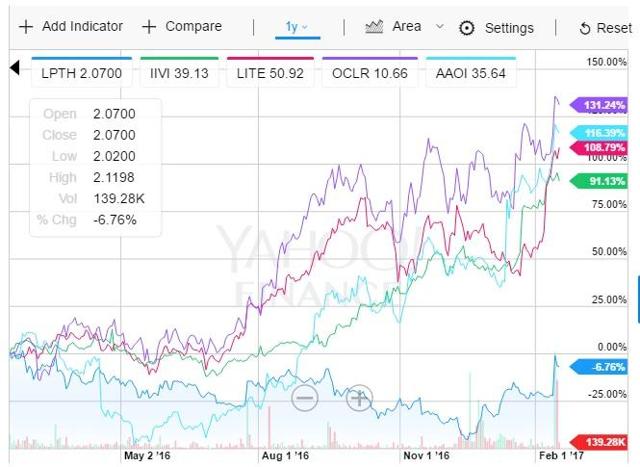 The larger companies have more than doubled on average in the past year while LPTH has been slightly in the red. LPTH trades at around a $50 million market cap, which is at least 10 times smaller than these $500 million or greater companies. However, I still think it is fair to expect it to catch up based on the revenue and profit growth seen in Q2 and the synergies expected to be unleashed with the acquisition. The same factors that are leading these larger players to great success are driving LPTH's growth as well.
With the recent run in stock price, the valuation metrics have become a lot more robust for these four larger players:

Source: Yahoo Finance, taken on February 16th
The EV/EBITDA multiples for these companies range between 15x and 29x. The lowest forward P/E multiple belongs to OCLR at 13x and highest belongs to IIVI at 23x while trailing P/E multiples are all over 30. LPTH compares favorably to these statistics but this doesn't tell the whole story because this historical data is based on ex-ISP operations which won't be the case going forward. The chart below shows the trailing 12-month (adjusted) EBITDA and net income for LightPath, ISP Optics and the combined company:

Note: ISP Optics TTM net income is calculated based on S-1 data for the fiscal year 2016 ended June 2016 plus the variance in YTD Q2 2017 less YTD Q2 2016 in the first chart above. EBITDA is estimated based on S-1 data plus the same variance as net income. This number could be slightly off due to year-to-year changes in tax, depreciation or interest expense. Adjusted EBITDA figures for LPTH were used to exclude the impact of fair value changes in the warrant liability.
The enterprise value and market cap are based on a $2 stock price and 23.7 million shares outstanding. The trailing EBITDA multiple is only 9 and trailing P/E is 12. These numbers are two to three times less than LPTH's senior counterparts. The company's operations are in Latvia and China, so there might be some country-specific risks to consider. For instance, the retained earnings in China must equal to at least 150% of the registered capital in the country before any funds can be repatriated. However, with such a young company, reinvestment of free cash flow into the growing business is the preferred strategy, particularly with such robust demand for optical components over the next few years. With optical components being in high demand across the globe, I do not think the location of the subsidiaries should justify such a large discount to peers.
With all the larger players growing in sales and stock price, I believe that they will be aggressive on the acquisition front. First, because higher stock prices give them incentive to look for cheaper companies for accelerated growth and second, if everyone is growing at a robust pace, eventually they are going to hit manufacturing capacity issues. It may be easier to acquire resources and talent by buying an entire company out than trying to compete on the open market with all other optical hardware companies.
Conclusion: $5.00 is a reasonable target price for 2017
LPTH is one of the rare companies trading at microcap levels that has demonstrated historical and recent profitable operations. Organic revenue growth exists and will be accelerated with the ISP Optics acquisition. Both LightPath and ISP Optics have shown cost containment, with bottom-line profits and (adjusted) EBITDA outpacing revenue growth. LPTH is a microcap in a lightning hot industry and my experience with lightning hot industries is that once the growth in the larger companies is exhausted, money will start flowing into the lagging smaller companies.
There are excellent articles on Seeking Alpha prior to this one that suggested a fair value for LPTH is in the $2s. However, those articles are a couple of months old; before Q2 results were released and before the larger companies ran another 20% or more. Based on my calculations that show that LPTH is two to three times undervalued versus its peers, I think $5.00 is a reasonable target for the stock in 2017. It could go well beyond that if the industry remains extremely robust or if LPTH can demonstrate very successful implementation of expected synergies with the ISP Optics acquisition.
Disclosure: I am/we are long LPTH.
I wrote this article myself, and it expresses my own opinions. I am not receiving compensation for it (other than from Seeking Alpha). I have no business relationship with any company whose stock is mentioned in this article.