This morning, at 7 a.m. EST, Northern Dynasty's (NYSEMKT:NAK) management team issued a vigorous response to Kerrisdale's article alleging that NAK's Pebble Mine wasn't economically feasible. I will review Northern Dynasty's high level commentary, but first I want to report some usual options activity in shares of Northern Dynasty's February 17, 2017 $3 strike price put options.
Per Fidelity, enclosed below, take a look at the open interest in the $3 February 17th puts. There are 20,556 contracts currently outstanding. Earlier in the week, as Fidelity investors have access to fly on the wall alerts, it was reported that most of these puts were acquired a few days before the Kerrisdale report surfaced and at strike price between $0.10 and $0.15.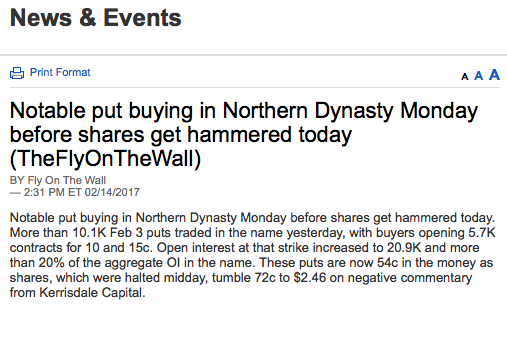 Anything can happen today given Northern Dynasty's response and the expected confirmation of Scott Pruitt by the U.S. Senate, but the mysterious put buyers stand to reap at least a 5X profit if shares closed today at $2.26. In other words, if put buyers paid an average of $0.15 for 20,000 contracts then they paid $300K, meaning they could make nearly $1.2 million. We have no way of knowing who bought the puts, but the timing and amounts are interesting.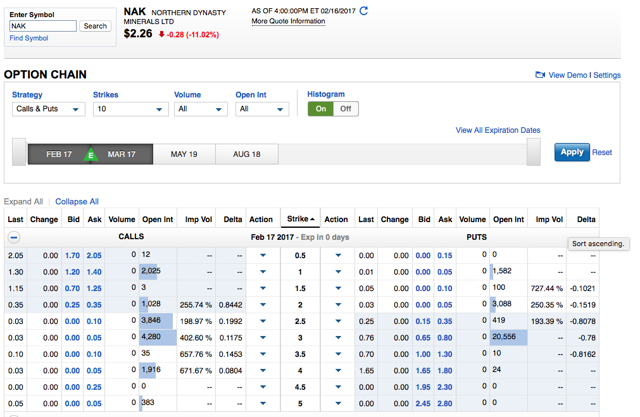 Here are highlights from NAK's response:
1) There is no science in the report detailing the geology of the site. They have never visited the site and have no known scientific/mineral engineering background that can be certified.
2) Kerrisdale and its analysts do not appear to have any formal mining expertise or they don't disclose any specifics.
3) Kerrisdale has a history of writing aggressive short pieces and stands to benefits if its negative report influences the stock price.
4) TD Securities (full disclosure: one of NAK's investment banks) defended the company and reiterated its CAD $5 speculative price target.
5) Northern Dynasty announced its mediation talk with the EPA were public announced well ahead of the U.S. Presidential Elections.
6) Anglo American's cited reasons for exiting the project stem from the mining cycle downturn.
"Our views on Pebble as a mining project are unchanged. … We wish the project well, and express our thanks to those who have supported Pebble…. our decision to withdraw from the project is the result of an internal prioritisation of the many projects that we have in our portfolio," Anglo American spokesperson James Wyatt-Tilby told Bloomberg on September 30, 2013.
In other news, it was reported by the New York Times, that Scott Pruitt has the votes for approval as only one Republican Senator expressed opposition and two Democrats indicated they would vote for Mr. Pruitt.
Takeaway
Given that today is options expiration, Northern Dynasty has issued a strong defense, and since Scott Pruitt should be confirmed, get ready for extreme volatility in shares of NAK today. I have made my prior arguments that Kerrisdale's interpretation of the facts on the ground are different than mine, as I have followed NAK closely since November 2010. We are maintaining our shares we bought at $2.65 and might add more today, depending on the price action.
Disclosure: I am/we are long NAK.
I wrote this article myself, and it expresses my own opinions. I am not receiving compensation for it (other than from Seeking Alpha). I have no business relationship with any company whose stock is mentioned in this article.