Vale S.A. (NYSE:VALE), the Brazilian miner, which is already the world's leading producer of the steelmaking ingredient, aims to become even bigger as it ramps up its largest-ever project.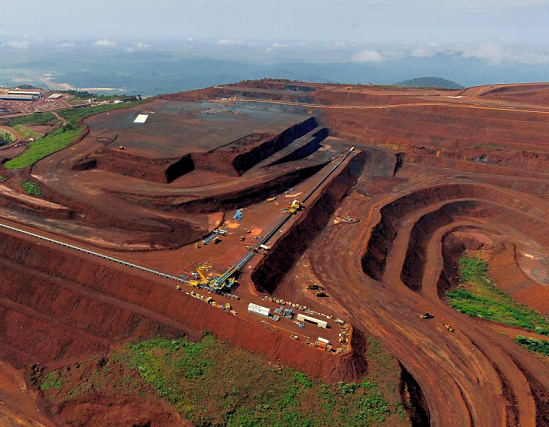 S11D mine. Image: Vale 4Q16 Production report
Vale has recently released its full year and 4Q16 production numbers which show that the company's iron ore output climbed to record levels of 348.8 million tonnes in 2016 from 345.9 million tonnes in 2015, near the top end of the company's guidance of 340 to 350 million tonnes. That came as a surprise because Vale has been saying that its production would be close to the lower end of its guidance. The solid results were driven in large part by a strong performance in the fourth quarter in which the company's produced 92.4 million tonnes of iron ore, up from 88.4 million in 4Q15. Analysts polled by Bloomberg were expecting 89.8 million tonnes of iron ore production.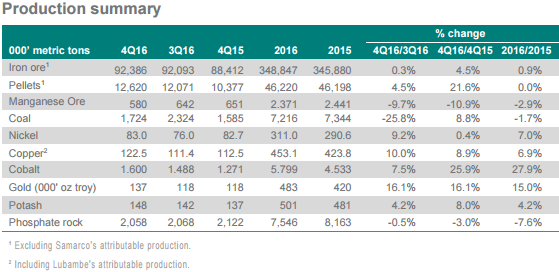 Image: Vale 4Q16 Production report
Vale said that the solid results were driven in large part by strong performance at its facilities in the Northern System, located in Northern Brazil, including the startup of the giant Serra Sul mine, more commonly known as the S11D.
Located in the Amazon in Northern Brazil, the S11D is the most ambitious project that Vale has ever undertaken. With an investment of $14.3 billion and capacity to produce 90 million tonnes of iron ore per year by the end of the decade, it is aptly called the world's largest mining project by the company.
I believe the strong production numbers will have a positive impact on the company's fourth quarter results which will be released next week, on February 23. The company is not only well positioned to benefit from the 4.5% increase in iron ore production in 4Q16, but also from the improvement in price environment. In the final three months of 2016, iron ore price averaged around $70.84 per tonne, up almost 50% from a year earlier when the metal slumped to near decade lows.
Analysts are looking for a profit of $0.32 per share, as per data from FactSet, up from a profit of $0.01 per share a year earlier. But I believe the company will likely beat Wall Street's expectations on the back of better-than-expected iron ore production in 4Q16.
Vale aims to continue growing its output, including by ramping up production from S11D which could account for roughly one-fifth of the company's output by 2020. Production is projected to climb to the range of 360 to 380 million tonnes in 2017 and 400 million tonnes by the end of next year. From then on, it will likely hold production flat at around 400 million tones, which it calls its "long-term base case target."
That's one of the things that I like about Vale. The company is showing supply discipline. It isn't just aggressively growing output. Rather, it is only tapping into its higher-margin/low-cost reserves while gradually reducing the higher-cost tonnes. That's one of the reasons why the company is doubling down on the Northern System, particularly the S11D which produces some of the highest quality and lowest cost iron ore in the world.
In fact, S11D is expected to produce high-grade hematite ore with average iron ore grade of more than 66% and a cash cost of just $7.7 per tonne. That's significantly lower than Vale' current cash cost of around $13 per tonne. At the same time, Vale is reducing its exposure to the high-cost operations in the state of Minas Gerais.
The obvious advantage of this strategy is that Vale will be able to further reduce its costs and increase its margins. This would also put the company in a better position to withstand a potential slump in iron ore prices.
Remember, although prices have risen substantially to more than $92 per tonne by the start of this week after bottoming to $38 per tonne in December 2015, largely driven by the strength in demand from China, but a number of analysts, including those from Liberum Capital, Citigroup and RBC Capital Markets, have warned that the rally might not be sustainable in the long run. If prices actually do drop to $70 to $80 level, then by improving its cost structure, Vale could still continue to report profits and decent levels of cash flows.
Moreover, the focus on higher-margin tonnes will also give Vale a crucial cost advantage, allowing it to compete more effectively with its rivals Rio Tinto (NYSE:RIO) and BHP Billiton (NYSE:BHP) who have the proximity advantage as their Australian operations are located closer to China, the key iron ore buyer. On top of this, by growing output from Northern System and S11D, Vale will also produce greater quantities of high-grade iron ore which commands a premium price and is highly sought after by Chinese buyers. The high grade ore represents around 40% of Vale's output, but the company wants to increase its contribution to total sales to 50% by 2020.
The Brazilian miner's future, therefore, is looking exciting, even if iron ore prices come under pressure.
Disclosure: I/we have no positions in any stocks mentioned, and no plans to initiate any positions within the next 72 hours.
I wrote this article myself, and it expresses my own opinions. I am not receiving compensation for it (other than from Seeking Alpha). I have no business relationship with any company whose stock is mentioned in this article.