Acadia Pharmaceuticals (NASDAQ:ACAD) has been on a tear lately. The stock had a strong post-election rally and has outperformed the industry over the last two months, mostly due to buyout rumors and rising expectations about Nuplazid's ramp up. The promising phase 2 data in ADP in late December helped too, though there was some confusion and some misconceptions around the actual data and what was the primary endpoint (my take on the issues is available here, only to Growth Stock Forum subscribers). The recent buyout rumors helped additionally improve investor sentiment and Acadia is now sitting near 52-week highs. In this article, I examine the recent changes, buyout rumors and Nuplazid's growth expectations in Q4 2016 and 2017.
Buyout rumors
Acadia was subject of buyout rumors three times already in 2017. Pfizer (NYSE:PFE) was mentioned in January, AstraZeneca (NYSE:AZN) and Pfizer again in early February. And now, Johnson & Johnson (NYSE:JNJ) appears to be in the mix as well, according to DealReporter. Allergan (NYSE:AGN) and Biogen (NASDAQ:BIIB) were rumored to be suitors last year. Acadia seems like a good fit for the latest suitors. Pfizer's CNS business is one of the largest in the industry. AstraZeneca's Seroquel is going off patent this year and Nuplazid could be a good blockbuster replacement (and it will eat some of Seroquel's market share too). JNJ might be looking to fill its CNS segment as well. Granted, Street Insider is not the most credible source for buyout rumors, but there are now two sources, making the rumors more credible.
So, there are a lot of potential acquirers and the rumored interest has helped push the stock higher this year. Acadia is up more than 30% this year, outpacing XBI's (NYSEARCA:XBI) 13% gain. Whether or not these rumors are true, they are about offer(s), not about an actual deal occurring, so we may have to wait a while longer to see the outcome of negotiations, if there are any. The rumors themselves are sometimes important as they can lead to a deal even if they are not true. Relypsa is a clear example. There were no negotiations at the time of the first rumor and Galenica saw the rumors and reached out to Relypsa and the two companies eventually made a deal. I continue to believe that Acadia is an attractive takeover target and that its attractiveness may increase with a couple of quarters of strong Nuplazid sales.
Nuplazid - the Street cites good KOL feedback; anecdotal evidence of off-label prescribing for Lewy Body Dementia
Aside from buyout rumors, the stock is probably trending higher due to analyst reports about good KOL feedback and anecdotal evidence of off-label use in Lewy Body Dementia. BAML's survey of 50 doctors who treat PDP showed that almost all prescribe Nuplazid which the firm believes validates Acadia's recent decision to hire more sales reps for the segment.
On a separate note, I've heard that there is anecdotal evidence of physicians prescribing Nuplazid for off-label treatment of Lewy Body Dementia, or LBD. There are approximately 1.4 million patients with LBD in the U.S. and no FDA approved treatment options.
Cowen held an expert call on LBD where it was noted that there is significant overlap of LBD and PDP. The KOL said that PDP is "driven primarily by delusions and is more similar in presentation to schizophrenia, whereas LBD is dominated by fluctuations in cognitive function as well as visual hallucinations." The KOL noted anecdotes of successful off-label use of Nuplazid in LBD. Cowen's note provides further confirmation of Nuplazid's potential in LBD. BNL Finance notes that "physicians can get Nuplazid approved for use by documenting failure with other treatments as an accepted alternative to obtain insurance approval."
And since LBD is a roughly three times larger market than Nuplazid's approved indication - PDP, one could argue that this is a significant market opportunity. However, it should be noted that Acadia cannot actively promote off-label use in LBD and that reimbursement will be a hurdle. If the sources above are correct about Nuplazid being reimbursed for LBD, patients would probably need to go through alternative, cheaper treatments before being able to use Nuplazid. So, my guess here is that off-label use will be limited to no more than 20-30% of PDP prescriptions (which translates to mid- to high-single digit off-label market share in LBD). But this by itself would give a significant boost to Nuplazid's annual sales - $200-450 million based on $1-1.5 billion peak sales in PDP. More meaningful off-label use would likely drive the valuation substantially higher.
However, it should be noted that Axovant's (NYSE:AXON) nelotanserin demonstrated a positive effect in LBD in a small phase 2 study, though the market did not exactly cheer the news. The announcement was shy on details and nelotanserin did miss secondary endpoints. If approved, nelotanserin would substantially reduce Nuplazid's off-label prescriptions in LBD, but this candidate is still at least two years away from reaching the market (unless we see changes in how products are approved, which was one of the promises President Trump made after the meeting with pharma executives). Off-label LBD sales are not in my model, but present potential upside to annual sales estimates.
Q4 2016 and 2017 estimates
Acadia gave unofficial guidance for the fourth quarter on the Q3 earnings call:
When we look at the sell side revenue estimates for 2016, it seems like consensus estimates for the fourth quarter center in the high 8 million to low 9 million range, which is consistent with how we see the reminder of the year shaping up, and is consistent with our expectations regarding the early stage dynamics of the paradigm shift that NUPLAZID represents.
The Street consensus is still at $9 million and I believe that the company has set the bar low in order to easily beat expectations. My opinion is based on:
Q3 sales were $5.3 million and blew past the $2.9 million consensus.
Street surveys show that most physicians are already prescribing Nuplazid.
Nuplazid was launched in June and the company offers a free 30-day supply. Reimbursement takes time and the company noted that there are cases where the free supply is extended to catch up with reimbursement. Patients are also likely to stretch the supply themselves by skipping doses. So, assuming it takes 40-45 days on average for the patient to go from the free supply to the commercial product, at least 30-40% patients were yet to switch to commercial supply from Q3 to Q4, which translates into a significant bump in sales in the fourth quarter. I believe that the combined free/commercial run rate in Q2 was probably in the $7-8 million range, which is probably the run rate at which Acadia entered Q4.
Additional ramp of new patients in early Q4 probably added $3-5 million to the initial run rate. Early adopting physicians have probably started to increase the number of patients on Nuplazid in Q4.
Based on these rough estimates, I think that Nuplazid sales will be in the $10-13 million range in Q4, which is probably what the market is already discounting at this point. I think Q4 sales need to be at least $12 million to move the stock slightly higher or for it to remain flat as I believe expectations are high heading into the Q4 report, especially considering the recent buyout rumors.
I also think there is potential for Nuplazid to exceed the Street consensus for 2017, which currently stands at $82 million. Assuming Q4 sales are in the $10-13 range, I expect 2017 sales to be in the $90-105 million range. Quarterly sales estimates are provided in the table below.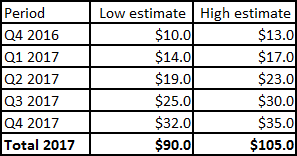 Source: author's estimates and calculations
I believe we will see a steady and meaningful quarterly ramp up throughout 2017. Additional upside to my estimates could come from the expanded sales force. The company expanded the sales force from 133 reps to 155 reps to push deeper into the long-term care market, which was not the focus at launch because it is more complex and requires more work and feet on the ground.
Conclusion
2017 should be an interesting year for Acadia. Nuplazid seems well positioned for strong growth throughout the year with the help of the sales force expansion and, perhaps, with off-label prescriptions in LBD. I believe Nuplazid sales will exceed the Q4 2016 consensus and that there is room for upside surprises for this year's revenue estimates. My price target remains unchanged at $46, but I believe the company could fetch more in a buyout. I should note that my price target is based on the U.S. market alone and that ex-U.S. sales could drive additional upside to my model. It is worth noting that Acadia delayed the MAA filings the EU as it wants to extend the exclusivity period with more indications than just PDP. However, I think that one of the reasons for the delay is the fact that Acadia doesn't have the international infrastructure to fully support an international launch. It would be costly for Acadia to do it by itself and I believe that they want to keep the worldwide rights for themselves which strengthens the company's position at the negotiating table with potential buyers.
Author's note: Growth Stock Forum subscribers had an early look at this article, and have access to regular exclusive updates on every stock I am covering. Readers are invited to take a two-week free trial in the Seeking Alpha Marketplace.
Disclosure: I am/we are long ACAD.
I wrote this article myself, and it expresses my own opinions. I am not receiving compensation for it (other than from Seeking Alpha). I have no business relationship with any company whose stock is mentioned in this article.
Additional disclosure: This article reflects the author's personal opinion and should not be regarded as a buy or sell recommendation or investment advice in any way.