Hopefully this article will help you grow your assets.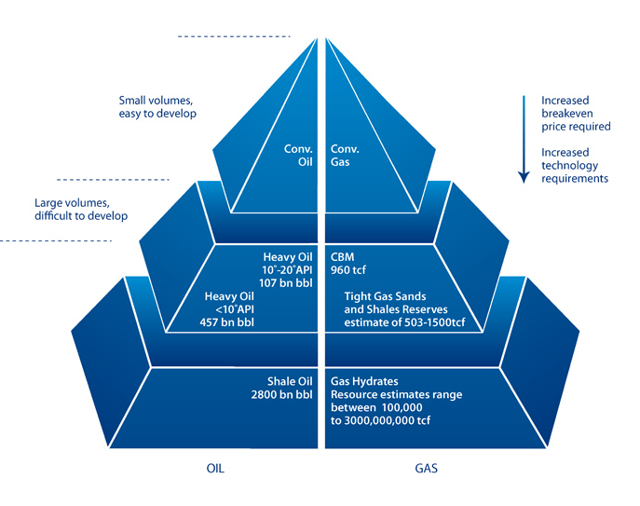 Chesapeake Energy Corp. (NYSE:CHK) is an oil & natural gas exploration and production company. It is one of the larger unconventional oil & natural gas drillers in the US, with 8,171,000 net acres of prolific oil & natural gas fields as of December 31, 2015. 4,128,000 net acres of the above 8,171,000 net acres are "developed" net acres. In other words, the leases are held by production. The actual numbers have changed in 2016, but the 2015E numbers should still be grossly accurate. CHK claims to have 11.3 BBoe in recoverable resources; and this number is likely to grow dramatically with further development.
In recent weeks the stock price for CHK has fallen from a near term peak of $7.72/share on December 9, 2016 to its recent low of $6.08/share on February 8, 2017 (-21.2%). The near term closing high for Nymex natural gas futures was $3.83/mmbtu on December 28, 2016. This price has fallen to a near term closing low of $2.85/mmbtu on February 16, 2017 (-25.6%). It is probably more than a coincidence that these two moves roughly parallel each other. The following questions then present themselves:
How much of CHK's production is natural gas?
How hedged is CHK's natural gas production for FY2017?
Where is the price of natural gas likely to go from here?
The answers to these questions will likely determine whether or not now is a good time to invest in CHK.
CHK's production guidance as of Q3E 2016 for FY2017 was:
Oil production of 33-35 million barrels

NGLs production of 18-20 million barrels
Natural Gas production of 860-900 bcf
Using the midpoint of 880 bcf of natural gas production and the conversion factor of 6 mcf = 1 boe, then 880 bcf amounts to about 146.7 million boe. This is about 4.3 times the amount of oil production in terms of boe. Hence if natural gas prices go down, it is a big deal to Chesapeake Energy. As stated above natural gas prices have been trending downward since December 28, 2016.
CHK's hedges as of January 15, 2017 for FY2017 are displayed below: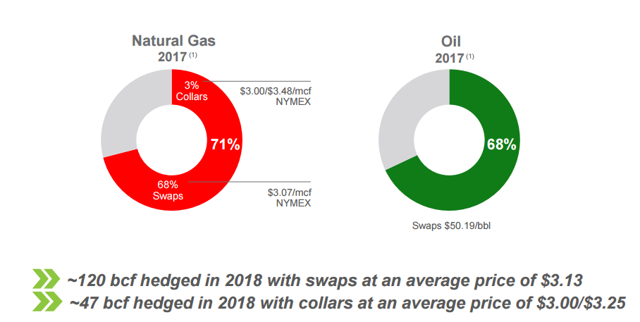 As readers can see natural gas prices may continue to fall (or not). However, they have already past the point where a further fall will do extra harm to CHK's earnings. Natural gas prices are 68% hedged at $3.07/mcf and 3% hedged with collars at $3.00-$3.48 per mcf. At the close on February 16, 2017, Nymex natural gas prices were at $2.85/mmbtu (1 mcf = 1 mmbtu approximately). It is only the 29% of unhedged production which is at risk to a further fall.
This leaves the final question of where natural gas prices are likely to go from here? The estimates of the EIA are probably as accurate as any. The EIA short term forecast is below.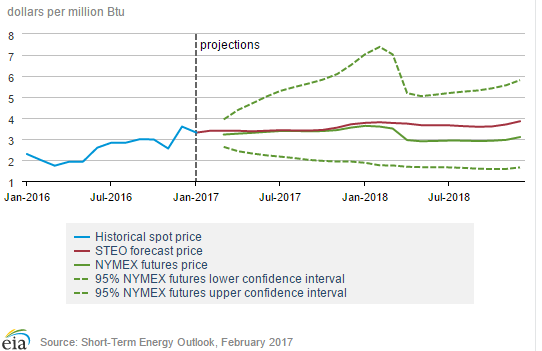 As readers can see the EIA's Short Term Energy Outlook estimate for natural gas prices is for prices of about $3.50/mcf - $4.00/mcf from early 2017 through 2018E (the red line). What is more worrisome is that the Nymex futures are in contango. This means that the current futures price is above the expected spot price at maturity (the green line). If the futures indicate that the price of natural gas is expected to be lower by the beginning of Q2 2018, that expectation has to worry investors today with regard to CHK's future earnings potential. Fortunately even this relatively negative expectation only expects US natural gas prices to fall to about $3.00/mcf. This level should be adequate for CHK to profit nicely from natural gas. Further EIA does still expect an average natural gas Henry Hub Spot Price of $3.54/mcf in FY2017 and $3.81/mcf in FY2018. The EIA probably has as good a chance of being correct as anyone.
The EIA chart below of natural gas prices and amount in US storage elucidates the natural gas story further.
US Lower 48 inventories fell below the five-year average in the week ending December 23, 2016 and remained below the five-year average until January 27, 2017. Even after a relatively warm January 2017, they are hardly robust. We will have to see what the rest of the winter season holds.
The EIA chart below depicts the natural gas US market fundamentals.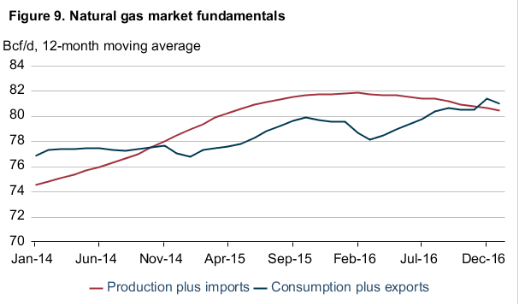 Consumption plus exports exceeded Production plus imports in December 2016 for the first time since September 2014. The EIA expects this trend to continue through June 2018. This should put upward pressure on natural gas prices between now and then. This argues that the rapid drop in Nymex natural gas prices recently may be over done.
Recent CHK News:
Credit Default Swaps for CHK's debt hit a near term high on February 10, 2017.
The lawsuit with Aubrey McClendon (his estate) for alleged theft of maps and data is apparently over. CHK agreed to drop the claim; and it also agreed to pay $3.25 million in legal fees. It is overall probably good news for CHK that the Aubrey McClendon fiasco is finally over.
On February 14, 2017 CHK guided for FY2017 CapEx of $1.9B-$2.5B. This is 29% higher than the CapEx for FY2016 at the midpoint. This tends to indicate that the company does not have the same worries about its debt that the CDS have recently indicated. In other words it is good news. Further CHK is now targeting FY2017 production of 194-205 million boe. This amounts to average daily production of 532K-562K boepd. This will lead to -3% to +2% production growth for FY2017 after accounting for asset sales. 2017E oil production is seen as +10%, while 2017E natural gas production is seen as flat. CHK plans to spud and place on production about 400 and 450 gross operated wells versus 213 and 428 wells in FY2016. About 195 of the 400 spudded wells are expected to be in the Eagle Ford (56% oil).
CHK also plans to do significant work in its Mid-Continent Oswego play. Some of the great metrics are in the charts below.
This "Wedge" play has about 870,000 net acres with 94% held by production. It has about 500 identified drilling locations with a 50% ROR at $60/barrel WTI oil. There is an upside of about another 1400 locations. Plus the recent results have been improving.
I could go on about CHK's drilling and production plans; but that is not the big issue in whether to buy CHK now or not. The FPE is 7.9x, which is good. The WTI price of oil is hovering around $53/barrel in mid February 2017. The EIA forecast average price of WTI for FY2017 is $53.46/barrel; and the forecast average price for FY2018 is $56.18/barrel. These numbers should allow CHK to be nicely profitable. There should be no problem with CHK's debt. Unless you feel that the US economy is about to go into a recession, it appears that CHK is likely a good buy here.
The two year chart of CHK provides some technical direction for a trade/investment.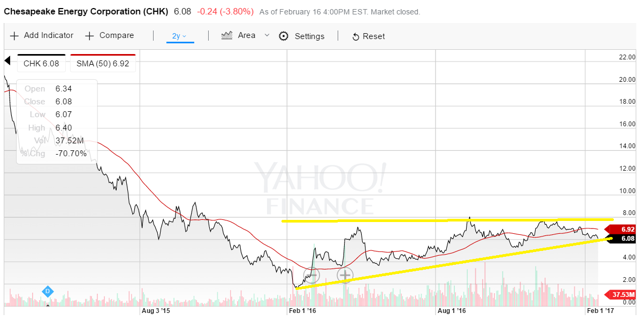 The rough pennant formation may be an indication that CHK is likely to move significantly up or downward in the near future. A move upward in the very near term seems more likely. The fundamentals are supporting oil prices at this time. CHK's oil production is expected to grow in 2017. Saudi Arabia meanwhile has cut production even more than it promised to. The prospects of a favorable price environment for oil worldwide are rising. This is even more true if you believe the positive world economic data of late. Further OPEC recently raised its consumption growth forecast for 2017 in OECD (Organization for Economic Co-operation and Development) economies from +1.8% to +1.9%. This too should buoy oil prices. It makes CHK a better buy.
However, lest investors get too bullish, the recent "recession indicator" - the January 2017 -5.2% year-over-year drop in gasoline demand is bad for oil demand and bad for the US economic outlook. On top of that, the S&P 500 is overpriced on a historical basis. As of the close on February 9, 2017, the forward 12-month PE ratio for the S&P 500 was 17.3. This is above the five-year average of 15.2 and the 10-year average of 14.4. The S&P 500 would have to drop about -12% to get to the five-year average forward 12-month PE level. Under these conditions I would rate CHK a low buy. It has a Beta of 2.48. If the overall market moves downward, CHK will likely move downward too. In addition the Factset data is a week old; and the S&P500 has moved up in that week. It is even more overpriced as of the close on February 16, 2017 than it was a week ago. It may be time to dip your toe in the water; but I might not jump in from a running start.
NOTE: Some of the fundamental fiscal data above is from Yahoo Finance.
Good Luck Trading/Investing.
Disclosure: I/we have no positions in any stocks mentioned, but may initiate a long position in CHK over the next 72 hours.
I wrote this article myself, and it expresses my own opinions. I am not receiving compensation for it (other than from Seeking Alpha). I have no business relationship with any company whose stock is mentioned in this article.