A 60:40 allocation to passive long-only equities and bonds has been a great proposition for the last 35 years. …We are profoundly worried that this could be a risky allocation over the next 10.
—Sanford C. Bernstein & Company Analysts, January 2017

If I had to relive my life I would be even more stubborn and uncompromising than I have been. One should never do anything without skin in the game. If you give advice, you need to be exposed to losses from it. —Nassim Taleb

Bull markets are born on pessimism, grow on skepticism, mature on optimism, and die on euphoria. —Sir John Templeton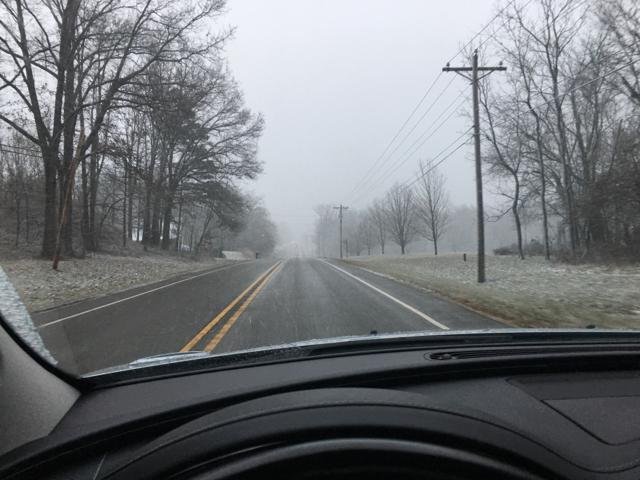 (Source: Author's photo)
Introduction
Malcolm Gladwell is one of my favorite writers, orators and philosophical thinkers. He also has participated in a series of sports-themed podcasts with Bill Simmons over the years that I have found these podcasts highly enjoyable, educational and entertaining.
One of my favorite Gladwell pieces and short stories in general, was Gladwell's "Blowing Up," published in The New Yorker in April of 2002.
The article examines the comparative investment styles and describes the dichotomy, and similarities, between Nassim Taleb and Victor Niederhoffer, two legendary investors and speculators. Reading Gladwell's article multiple times, as I have done through the years, reveals strengths and weaknesses in my own investment approach and philosophy.
For this reason, dear reader, I encourage you to read it and think of resemblances that you might have in your investment approach to either gentleman.
Even though Gladwell's piece was written in 2002, I think it remains highly informative and applicable today, as most investors drive along their investment highways, content with the returns from the bull market that has been ongoing since 2009, conveniently forgetting the tumult of 2007/2008/2009, and some of the issues that caused that historic meltdown, which are arguably in a more compromising situation today.
From my perspective, investors are generally oblivious to the heightened historical valuations of the broader U.S. stock and bond markets, and corresponding risks, while these same investors continue to ignore undervalued sectors because of their perceived risks, including commodity stocks, which went through a historic bear market from early 2011 to early 2016, emerging market equities, and international equities, particularly international financial equities, which all remain undervalued today, from my perspective.
Thesis
Historically high stock and bond market valuations make today an ideal time to be a contrarian investor.
Stocks and Bonds Continue To Remain Overvalued
Whatever metric you use, from price-to-earnings ratios, to cyclically adjusted price-to-earnings ratios, to market-capitalization-to-GDP ratios, the conclusion is the same, and that is the stock market, particularly the U.S. stock market, is overvalued.
S&P 500 P/E Ratio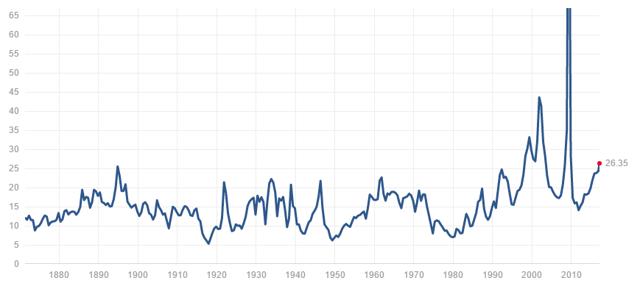 Schiller P/E Ratio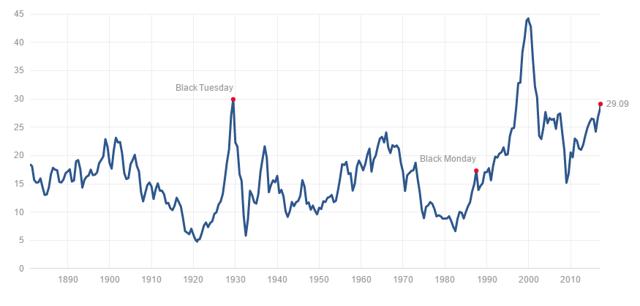 (Source www.multpl.com)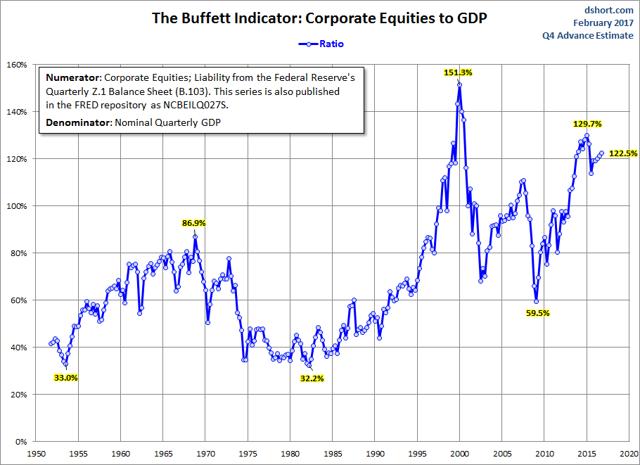 (Sources: www.advisorperspectives.com, www.dshort.com)
My favorite indicator of expected future returns is the following table that I put together using data from GMO that highlights expected future "real" returns on an annual basis for the next seven years.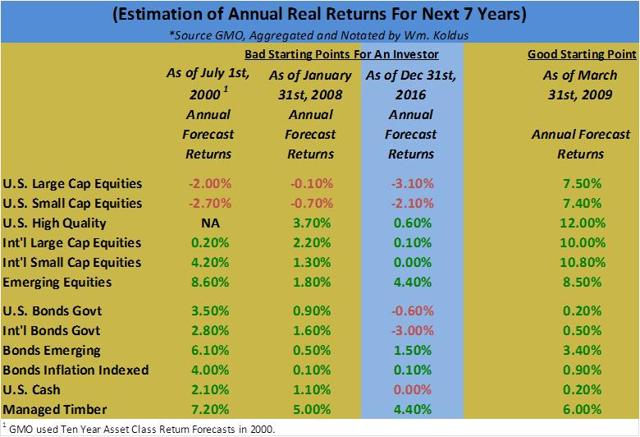 (Sources: William Travis Koldus, GMO)
To summarize this section, from a variety of valuation measures, stocks, particularly U.S. stocks, are trading at some of their richest valuations in history.
While many scoff at comparisons to the late 1990s, which was the epicenter of bubble valuations in U.S. equities, the attitude of investors today is similar. An example of this is that GMO, a pre-eminent value institutional money manager, who lost roughly 2/3 of their client assets in the NASDAQ bubble from 1996-2000, is once again losing clients, roughly 1/3 of their assets under management this time, as investors lose patience in active, value-focused investment managers.
Where Should A Contrarian Investor Look Today?
A starting place, at least in my opinion, would be any assets that materially underperformed from 2011-2015. This was a time frame when U.S. stocks became safe-haven assets in a world that was preoccupied with deflationary fears.
For perspective of asset classes that have underperformed, I have put together five-year performance graphs of the VanEck Vectors Gold Miners ETF (NYSEARCA:GDX), the SPDR S&P Metals & Mining ETF (NYSEARCA:XME), the iShares MSCI EAFE ETF (NYSEARCA:EFA), the iShares MSCI Emerging Markets ETF (NYSEARCA:EEM) and the iShares MSCI Europe Financials ETF (NASDAQ:EUFN), all relative to the S&P 500 Index, as measured by SPDR S&P 500 ETF (NYSEARCA:SPY). This time frame captures a majority of the bear market in these asset classes from early 2011 to early 2016, while also showing the rebound in these securities over the past year.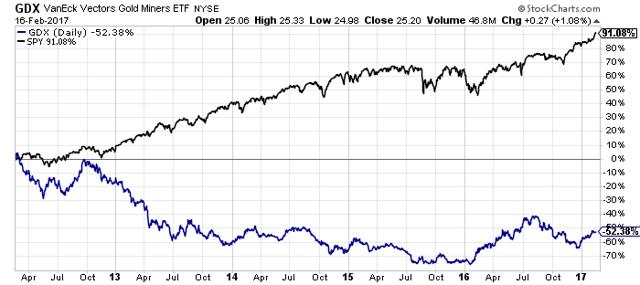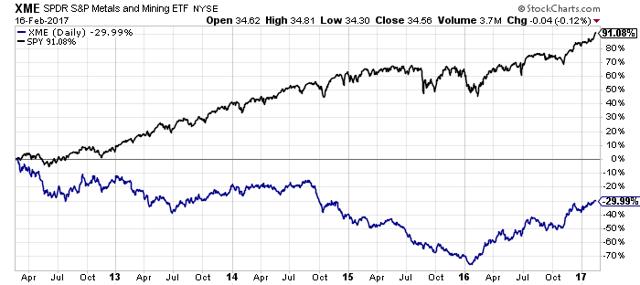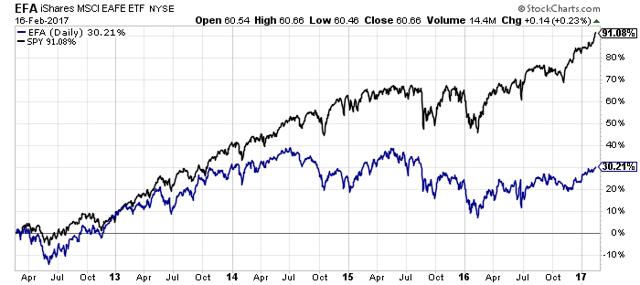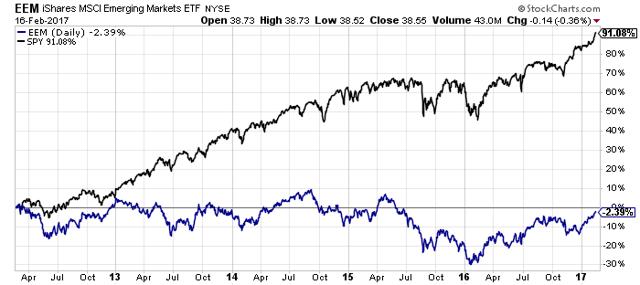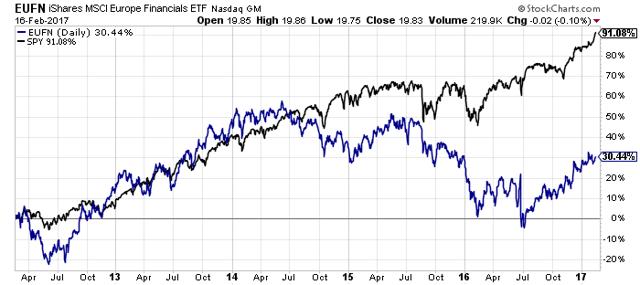 (Sources: WTK, stockcharts.com)
In 2016, there was a historic reversal and rebound in out-of-favor securities, and in this rally, for calendar 2016, GDX gained 52.9%, led higher by precious metals miners like Barrick Gold (NYSE:ABX) and Newmont Mining (NYSE:NEM), whose shares rose 117.6%, and 90.1%, respectively for the year, and XME gained 106.0% led by steel stocks like U.S. Steel (NYSE:X), which was up 319.3% in 2016, and Cliffs Natural Resources (NYSE:CLF), which was up 432.3% for the year.
International equities, which were similarly out-of-favor from 2011-2015 had more modest gains in 2016. EFA gained 1.4%, EEM gained 10.9%, though certain emerging markets like Brazil, where the iShares MSCI Brazil Capped ETF (NYSEARCA:EWZ) rocketed higher by 64.5% significantly outperformed, and EUFN lost -2.7%, after being down over -24.0% in July of 2016.
The S&P 500 Index gained a healthy 12.0% in 2016, but there was a noticeable shift in market leadership to out-of-favor securities, including the above mentioned GDX and XME, and this transition in market leadership has continued in 2017.
Through February 16th, 2017, GDX is up 20.5%, XME is up 13.6%, EFA is up 5.1%, EEM is up 10.1%, EUFN has gained 4.6%, and SPY is up 5.0%. The laggards from 2011-2015 are generally outperforming the broader U.S. stock market, which has had a strong start to 2017, and has been the unquestioned bull market leader since March of 2009.
A Longer Perspective That Includes 2008
Looking at ten years of performance data for GDX, XME, EFA, EEM, EUFN and SPY provides a longer-term perspective that includes the 2007-2009 bear market.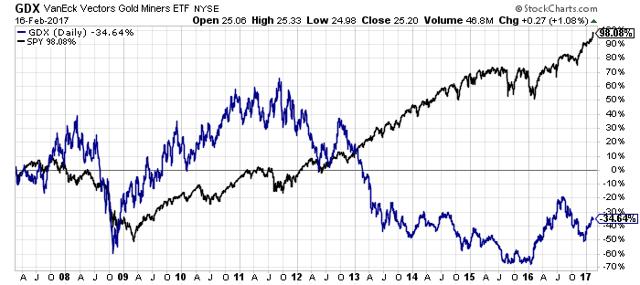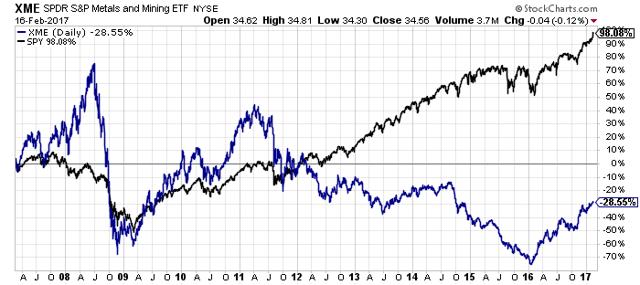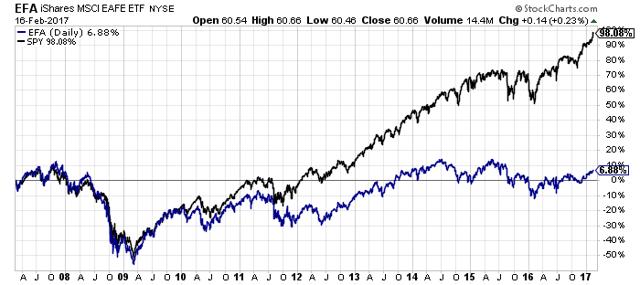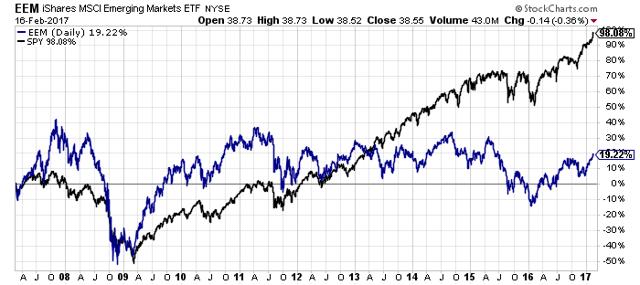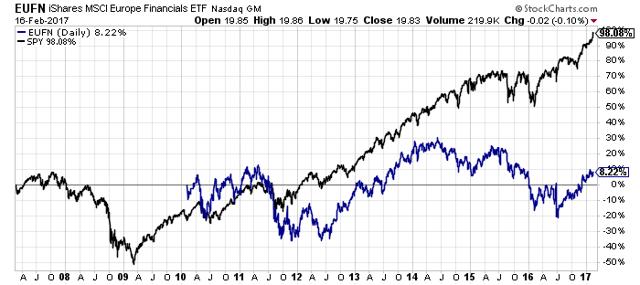 (Sources: WTK and www.stockcharts.com)
The outperformance of the S&P 500 Index ETF over the past ten years relative to the VanEck Vectors Gold Miners ETF, the SPDR S&P Metals & Mining ETF, the iShares MSCI EAFE ETF, the iShares MSCI Emerging Markets ETF and the iShares MSCI Europe Financials ETF is stunning when viewed in visual form.
Building on this narrative, given the central bank infused melt-up in global equities, it is surprising, to me, that the S&P 500 Index has outperformed the iShares MSCI EAFE Index by such a large margin.
Looking at the performance of the top-ten current holdings in SPY, which was up 98% over the past ten years, and EFA, which was up 7% over the past ten years, provides some clues.
Top Ten Holdings and Their 10-Year Performances - SPY
The top ten largest market capitalization companies in the S&P 500 Index today, and their respective 10-year performance shows a lot of interesting data. Technology companies dominate the list, and they have been the dominant drivers of performance, with Amazon.com and Apple leading the way, gaining 2007%, and 1126%, respectively. In contrast, energy and industrial companies, including Exxon Mobil and General Electric, which are more tied to global economic growth, have struggled.
Top Ten Holdings and Their 10-Year Performances - EFA
The top ten holdings and respective performance of the iShares MSCI EAFE Index ETF is an interesting list. My initial observations are that technology companies, which dominated the S&P 500 Index ETF top-ten list in performance, are notably absent.
The concentration of the iShares MSCI EAFE Index ETF, where the top-ten holdings make up 11.3% of assets, is much less than the concentration of the S&P 500 Index ETF, where the top-ten holdings comprise 18.3% of assets. Additionally, three of the top holdings in EFA posted material losses over the past ten years, including global branded names HSBC Holdings, Toyota Motors and BP Amoco.
On a comparative valuation basis, EFA is cheaper than SPY by any measure as the following tables show.


(Sources: www.ishares.com, www.spdrs.com)
In summary, value investors, who focus on metrics like the price-to-earnings ratio, the price-to-book ratio, the price-to-sales ratio, or the price-to-cash flow ratio, and contrarian investors, who look for out-of-favor, underperforming assets, should both turn their attention to the international equity markets, in my opinion.
British Equities Undervalued
British equities, as measured by the iShares MSCI United Kingdom ETF (NYSEARCA:EWU), have underperformed both the S&P 500 Index ETF and the iShares MSCI EAFE ETF as the following 10-year performance chart illustrates.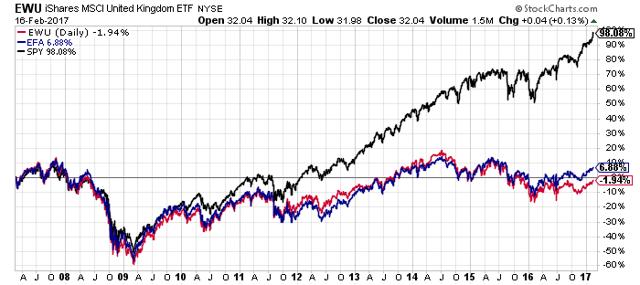 (Sources: WTK, stockcharts.com)
The top four holdings of EWU have already been listed as top holdings in iShares MSCI EAFE ETF, and these are HSBC Holdings, Royal Dutch Shell, British American Tobacco, BP PLC. They are followed, in order, by GlaxoSmithKline PLC (NYSE:GSK), Diageo PLC (NYSE:DEO), AstraZeneca PLC (NYSE:AZN), Vodafone Group PLC (NASDAQ:VOD), and Rio Tinto (NYSE:RIO).
Collectively, the iShares MSCI United Kingdom ETF trades at even lower price-to-earnings and price-to-cash flow ratios than the iShares MSCI EAFE ETF, which was already discounted compared to the valuation ratios of the S&P 500 Index ETF.

(Source: www.ishares.com)
Summarizing this section, British equities, in the aftermath of "Brexit," which has turned out to be a non-event, thus far, appear to be bargains, at least on a relative basis.
European Financial Stocks Are Cheaper Than American Financial Stocks
On May 25th, 2016, I authored an article for Seeking Alpha that focused on the potential for outperformance in the underperforming financial sector, highlighting the components of the Financial Select Sector SPDR ETF (NYSEARCA:XLF).
Faster global growth, increased business optimism, and a reduction of irrational deflationary fears, have all contributed to a rise in interest rates, which has significantly boosted the returns of the financial sector over the past year.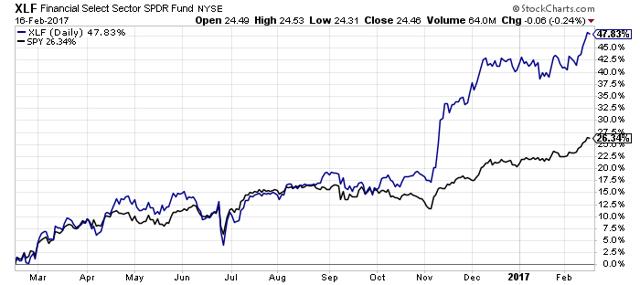 Even with the strong outperformance over the past year as stocks, including Bank of America (NYSE:BAC), Goldman Sachs (NYSE:GS) and Morgan Stanley (NYSE:MS) surged, XLF has still trailed SPY over the past ten years, as stocks like Citigroup (NYSE:C), have materially underperformed.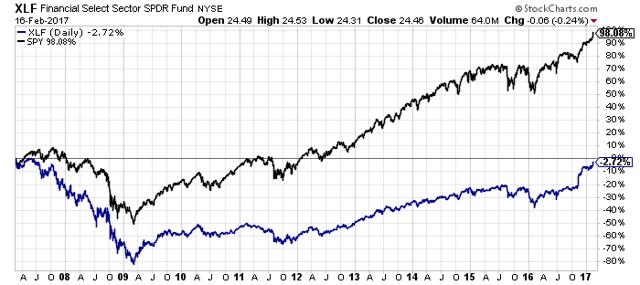 While there is still opportunity in American financial companies, on a company-specific basis, in my opinion, the recent rally has cured a large part of the post-financial crisis chronic undervaluation.
However, international financial stocks, particularly European financial shares, are still trailing in performance by a sizeable margin.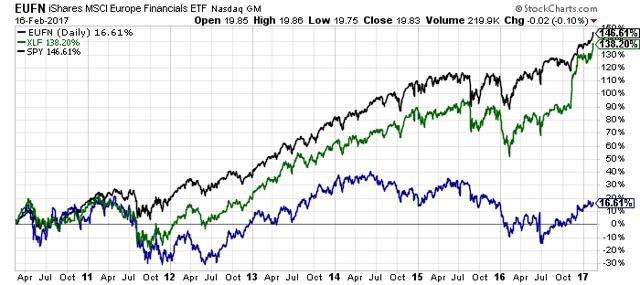 (Sources: WTK, www.stockcharts.com)
The underlying companies that compose the iShares MSCI Europe Financials ETF trade at a wide range of valuations, but enterprising, opportunistic investors can find value in this basket. I have previously written about the value opportunity in Barclays (NYSE:BCS) and the contrarian opportunity in Deutsche Bank (NYSE:DB), and both of these company's shares remain undervalued in my view today, even after appreciating materially from the time I authored my public articles.
Conclusion - Look For Opportunities In Out-Of-Favor Securities
Is the U.S. stock market overvalued? The unequivocal answer is yes, after eight years of a historic bull market, with the caveat that nobody can predict how far a bull market will run.
Are there opportunities in the U.S. market? Yes, in my opinion, particularly in the inflationary/reflationary assets, which became historically out-of-favor from early 2011 to early 2016 as irrational deflationary fears gained widespread traction.
The commodity sector, where a number of out-of-favor companies are exhibiting financial and fundamental turnarounds, including Cliffs Natural Resources, which I profiled in May of 2016, and U.S. Steel, the first company I wrote about in my "Too Cheap To Ignore" series of articles, remains a source of contrarian opportunities, but the volatility in these cyclical areas of the market can be very high, dissuading many investors.
Another area of opportunity is in international equities, which are a better stocked pond at this point compared to the broader U.S. equity market, due to their eye-opening underperformance over the past decade and their lower valuations today. Many companies, across a variety of sectors, trade at significant valuation discounts to their American counterparts.
British stocks look particularly compelling at the moment, from my perspective, and I think these equities could get a boost from a rebounding British pound, which has sold off dramatically over the past decade as the chart of the CurrencyShares British Pound Sterling Trust ETF (NYSEARCA:FXB) illustrates.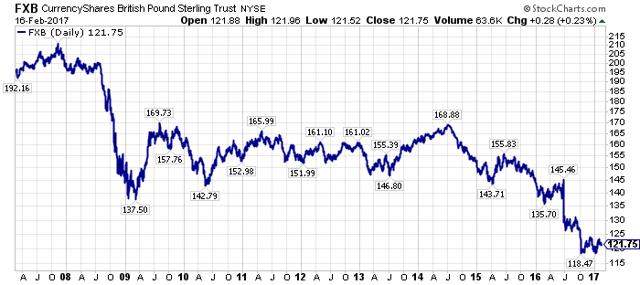 (Sources: WTK, stockcharts.com)
In summary, international stocks are undervalued and they have materially trailed the performance of the S&P 500 Index over the past decade. The same statement is true for commodities, commodity stocks, cyclical companies and financial shares, particularly European financial shares.
When the next major bear market arrives, these aforementioned shares are likely to outperform due to their much lower absolute and relative valuations, and if the bull market continues, they are likely to outperform too, in my opinion, for the same reason.
To close, the investment landscape is changing, and if you are interested in joining a unique, growing community of contrarian, value investors, and would like to see all of the historical trades and current positioning of the "Bet The Farm", and the "Best Ideas" Portfolios, please consider signing up for my premium research service, "The Contrarian." This service has been well-reviewed by its members, and prices are set to increase on March 1st, 2017, but there is still time to get in at founding member's rate, which will be grandfathered.
Author's note: To receive my future public articles on Seeking Alpha, please click the "Follow" button above. Thank you for your readership.
Disclosure: I am/we are long ABX, BAC, BCS, C, CLF, DB, RIO, X, AND SHORT SPY AS A HEDGE IN THE LONG/SHORT CONTRARIAN "ALL WEATHER" PORTFOLIO.
I wrote this article myself, and it expresses my own opinions. I am not receiving compensation for it (other than from Seeking Alpha). I have no business relationship with any company whose stock is mentioned in this article.
Additional disclosure: Every investor's situation is different. Positions can change at any time without warning. Please do your own due diligence and consult with your financial advisor, if you have one, before making any investment decisions. The author is not acting in an investment adviser capacity. The author's opinions expressed herein address only select aspects of potential investment in securities of the companies mentioned and cannot be a substitute for comprehensive investment analysis. The author recommends that potential and existing investors conduct thorough investment research of their own, including detailed review of the companies' SEC filings. Any opinions or estimates constitute the author's best judgment as of the date of publication, and are subject to change without notice.
Editor's Note: This article discusses one or more securities that do not trade on a major U.S. exchange. Please be aware of the risks associated with these stocks.