Analyst: Colby Evans
Company Profile
Reed's, Inc. (NASDAQ:REED) was founded in 1989 by Christopher J. Reed. The company manufactures and sells a variety of products including Kombucha, carbonated soft drinks, candies and ice creams. These products can be found in over 15,000 supermarkets nationwide and are also sold in natural food stores, convenience stores, retail stores as well as restaurants. Reed's is headquartered in Los Angeles, California, and primarily serves the North American market.
Improving Productivity
During the second quarter of 2016, the company raised $2.2mil from an equity transaction for additional working capital which will now be used to complete the enhancements of the Los Angeles plant and to pay down their accounts payable. The plant upgrade will significantly increase the capacity and productivity of manufacturing Reed's products.
Improving Operations and Cutting Costs
Reed's plans to improve operations by lowering cost of goods sold through various methods such as: improving inventory management, reducing waste, closing redundant warehouses, improving shipping efficiency and renegotiating transportation rates. The company has lowered non-production costs by 27% over the past year and plans to increase their gross margin drastically over the near future.
Valuation & Recommendation
Although this company has had negative or near negative operating profit for over two years, we believe this will pick up and allow Reed's to generate consistent positive free cash flow starting in the first quarter of 2017. We determined the implied share value to be $4.10 USD through our DCF Analysis, and have given Reed's, Inc. a hold rating.
Business Overview/Fundamentals
Core Products
Reed's manufactures their products with natural ingredients and their beverages are GMO-free.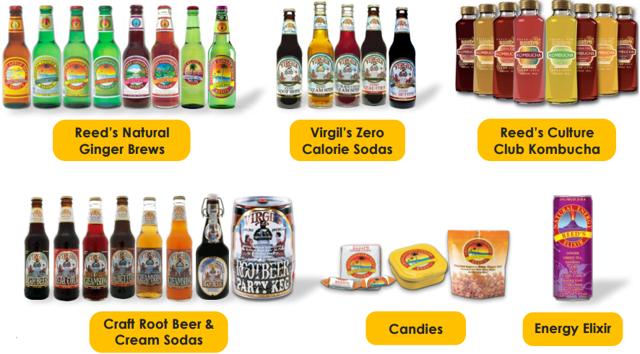 Sourced from Q3 2016 Investor Presentation
Reed's Ginger Products
Includes ginger brews, ginger chews, energy elixir and crystallized ginger. Reed's Original Ginger Brew was the company's first manufactured product, and the ginger brews product line is non-alcoholic and caffeine-free.
Virgil's Sodas
Gourmet root beer that contains natural herbs and spices, imported globally. Products include Virgil's Soda, Virgil's Bavarian Nutmeg, Virgil's Party Kegs, and Virgil's Zero. The Virgil's Zero line contains no carbs or calories and is sweetened with stevia.
Reed's Culture Club Kombucha
Kombucha is produced by fermenting black or green tea, often consumed due to the various health benefits. Reed's sells eight different flavors.
Breakdown by Products

Sourced from company filings
As shown above, the gross sales percentage of Kombucha has halved from 2015 to 2016 which is approximately a 4% decrease in total gross sales. This is due to a supply chain disruption which occurred in the second and third quarter of 2015. The result was out-of-stock issues, with the Kombucha line recovering slower than the other products.
Reed's Beverages refers to the Reed's Natural Ginger Brews and this product line along with Virgil's Sodas are considered the core brands that significantly drive sales for this company. During the most recent quarter, there has been a sales growth of 14% in Reed's ginger products, a 13% increase in Virgil's products, and a 36% increase in private label products.
Kombucha sales have been declining due to being out of stock for four months as a result of the supply chain issues. Reed's plans to relaunch this product line in the near future to include additional flavors and a change in packaging. This product line grew in sales quickly after the release in the second half of 2012, resulting in becoming close to 10% of the company's total net revenues by the end of 2013. The company would like to reposition this brand because within the functional beverage category (including coconut water and fresh juices), kombucha is the fastest growing segment. MarketsandMarkets, a consulting and market research company, has estimated that the kombucha market will grow 25% each year by 2020. We believe that Reed's will be successful in their plan to reposition this brand due to their previous success and their new COO Mark Beaton, who has extensive experience with distribution in the beverage industries.
Reed's products have demand because they don't contain artificial colors, flavors, or ingredients. On top of this, they use a variety of healthy ingredients and don't include preservatives. For example, their ginger ales use fresh raw ginger, pineapple juice, lemons, limes, and pure cane sugar. Consumers purchasing Reed's products are typically looking for a healthier alternative to sugar-filled soda.
Price Comparisons
Compared with Reed's competitors, Jones Soda Co. and True Drinks Holdings, Inc., the company's products are priced competitively. A 12-pack of Reed's 355mL products costs $16, resulting in $3.76 per litre. Jones is selling their sodas at $24 for a 12-pack which equates to $5.63 per litre. True Drinks Holdings, Inc. sells their 1.36 litre products for $4.49 which is $3.30 per litre. Although this is cheaper than Reed's products, we believe that it's less convenient for consumers to purchase a larger sized drink and we do not think that this will hinder the demand for Reed's products.
Business Strategy
Reed's thrives to enlarge their business nationwide through developing relationships with new retailers, and by increasing sales to the supermarkets that carry their products. Some of the retailers carrying Reed's products include Costco, Trader Joe's, Kroger, and Whole Foods. This company plans to grow demand for their products through marketing to distributors and retail stores through the means of trade advertising, solicitation, and trade show exhibition. A well-trained sales force directly contacts various supermarket chains to set up promotion for Reed's products. This company is constantly looking to develop new products and create new product flavors to produce more variety.
Reed's is focusing on lowering their cost of sales through larger purchasing and cutting operational costs through an increase in operational efficiency. The cost of goods sold margin lowered from 83.3% in the third quarter of 2015 to 74.9% in the third quarter of 2016. Although packaging and ingredient costs increased over these periods, the negotiation of vendor contracts had a large impact on the lower cost of goods sold margins. Reed's manufactures their products in a Los Angeles facility as well as in three packing facilities on the East Coast: two in Pennsylvania and another in Indiana. They are currently in the process of upgrading the Los Angeles facility to increase capacity, speed and volume. In addition, this enhancement will decrease shipping costs, reduce idle plant costs and improve inventory management.
Reed's continues to explore international markets and sells their products in locations including Singapore, Saudi Arabia, South Africa, Israel, France, United Kingdom, Spain, Mexico, the Caribbean and Canada. Products sold to these international markets are costly because of the additional transportation costs associated with the glass sodas, but it could benefit a small company like Reed's who could increase market share significantly through the means of global distribution. The company is looking to expand in the United States, as well as Canada which currently represents about 1.3% of their sales. This organic growth strategy seems to be working well with respect to their growth in net sales. The most recent quarter filing for Reed's and its competitors showed the growth of net sales relative to the same quarter of the previous year. The average of the competitors was -13% and Reed's was at 15%.
Reed's began upgrading their Los Angeles plant equipment in 2014 and expect to be completed by the first quarter of 2017. The company expects to reduce idle plant costs by 39% ($971,000), inventory carrying costs by 7%, increase speed and capacity resulting in increased volume and margins, and lower shipping costs internationally.
Development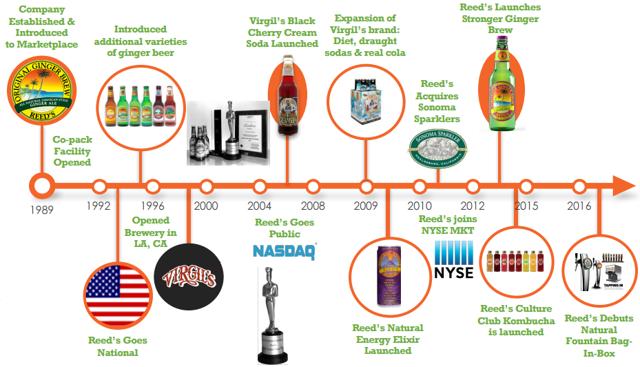 Sourced from Q3 2016 Investor Presentation
On December 12, 2006, Reed's went public and sold two million shares of their common stock at $4.00 per share. Prior to the IPO, their operations were primarily financed through the sale of stock, debt, operating income and from a line of credit. On October 19, 2009, Reed's initiated an agreement with Sonoma Cider Mill, Inc. to acquire some assets from the brand. The purchase price was $252,000; $45,000 was paid initially with the remainder costing $9,000 monthly over 23 months. There is a lack of information regarding the performance of the Sonoma Sparkler products because they are not considered a core product sold by Reed's, Inc.
The company plans to introduce a new low-calorie product line under the Reed's and Virgil's brands. We believe that these lines will become quite popular since consumers who are looking for substitutes to soda containing high amounts of sugar can feel good about drinking an all-natural soda with a low calorie count. In addition, consumers already purchasing Reed's other products will be interested in trying out their new creations under their core brands. Reed's acknowledges the opportunity to have taste challenges in popular grocery stores to advertise and promote the new products.
Macro Environment/Industry Overview
Health Trend
IBISWorld estimates that the revenue of the soda production industry in the United States, which includes energy beverages, soft drinks and artificially carbonated water, will decline 1.3% annually from 2016 to 2021. This is primarily due to the higher awareness for healthier alternatives as consumers become more health conscious. According to a Mintel report, a company that specializes in consumer market analysis, in 2015, 57% of Americans believe artificially sweetened soda is less healthy than naturally sweetened soda. We believe this will help Reed's expand their distribution channels as the demand for all-natural sodas increases in the future.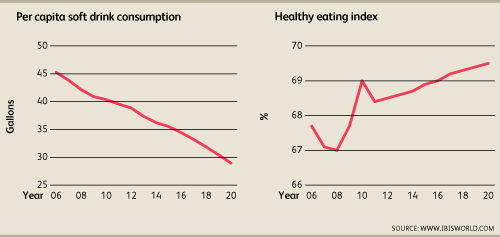 Sourced from ibisworld.com
Disposable Income
Reed's relies heavily on consumers purchasing their products since they operate in the consumer goods industry. As disposable income levels fall, individuals are expected to purchase inexpensive alternatives such as water and cheap pop. IBISWorld estimates that per capita disposable income in the United States will have a compound growth at an annualized rate of 1.8% from 2017 to 2022. This rate is lower than the previous few years due to the anticipated higher tax rates required for the fiscal deficit. We have confidence that this increase of disposable income will result in Reed's selling a higher volume of products annually because consumers will pay a higher price for a healthier product.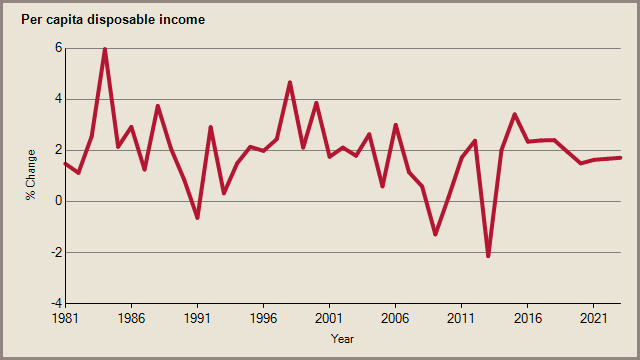 Sourced from ibisworld.com
Competitors in the Soda Production Industry
The Coca-Cola Company (NYSE:KO)
This company was founded in 1886 and is headquartered in Atlanta, Georgia. The Coca-Cola Company manufactures and distributes a large selection of carbonated soft drinks and non-alcoholic beverages. They are the largest company in the soda production industry with roughly 32.4% market share.
PepsiCo, Inc. (NYSE:PEP)
PepsiCo was formed after the merger of Frito-Lay, Inc. and the Pepsi-Cola Company in 1965. This company manufactures and distributes a wide-range of snack foods, beverages and other products. They have an approximate market share of 25.9% in the soda production industry.
Dr Pepper Snapple Group, Inc. (NYSE:DPS)
This company was founded in 2008 after Cadbury Schweppes, which was formed in 1969, acquired multiple companies leading up to the demerger of their beverage holdings in 2008 to form the Dr Pepper Snapple Group. The company is based in Plano, Texas and sells a variety of non-alcoholic beverages. Dr Pepper Snapple Group, Inc. has about 9.4% of the market share in the soda production industry.
Monster Beverage Corp. (NASDAQ:MNST)
Monster Beverage Corporation was founded in 2007 which was a result of renaming Hansen's Natural (founded in 1935). The company manufactures and distributes a wide selection of non-alcoholic beverages with a focus on energy drinks. They have approximately 6.4% of market share in the soda production industry and have their headquarters located in Corona, California.
Henry Weinhards
Founded in 1856, this company sells beer and has a selection of gourmet sodas similar to Virgil's Sodas including root beer, vanilla cream soda, orange cream, and black cherry cream. This firm is currently owned by SABMiller.
Thomas Kemper Soda Company
This firm was founded in 1991 and sells eight flavors of soda which contain pure cane sugar and natural flavoring. Thomas Kemper was sold to Big Red, Inc. in 2011 and is privately owned.
Hansen's Natural
Hansen's was founded in 1935 and developed an assortment of juices and sodas. The natural soda is sold in twelve flavors. The company was renamed to Monster Beverage Corporation in 2012.
Izze Beverage Company
Founded in 2002, this company sells ten flavors of sparkling fruit juice and three flavors of sparkling water. Izze also has a low-calorie line of drinks and an additional line called IZZE Fortified which are sparkling juices with added vitamins. Izze is privately owned and was bought out by PepsiCo, Inc. in 2006.
Boylan Bottling Company
Boylan was founded in 1891 and is a gourmet soft drink manufacturer that uses cane sugar as a sweetener. They sell a variety of products including sodas, diet sodas, seltzers and mixers.
Jones Soda Co
Jones was founded in 1986 and is primarily a beverage company. They sell a wide range of products including energy drinks, candy, soft drinks and non-carbonated beverages.
Leading Brands, Inc.
Leading Brands was founded in 1986 and is headquartered in Vancouver, Canada. They produce private label products and sell bottled and canned beverages.
Long Island Iced Tea Corp.
Long Island was founded in 2011 and is an iced tea producer and distributor. They sell various teas such as all-natural, diet, fruit-flavored, organic and herbal.
True Drinks Holdings, Inc.
True Drinks is a beverage company that focuses on producing natural alternatives to the traditional sugar-filled carbonated soft drinks. Their products lack artificial colors and flavors and do not contain harmful sweeteners. They sell a variety of flavored waters and one kind of energy drink.
Catalysts
Earnings Report
The fiscal year ended December 31, 2016, which means that a 10-K for 2016 will be developed within the next few months. We believe this earnings report will increase the market price for Reed's stock because of the positive changes through enhancing their operational efficiencies and cutting costs significantly which are listed in more depth under the assumptions section below. The company plans to reach a gross margin of 27% by the end of the first quarter in 2017 which is a large jump from their current 23% margin (most recent quarter filing). We believe that this margin will move faster and forecast it to be 30% by the same time. The reasons for this are stated in the gross margin assumptions below, and we believe this will drive the stock price up if Reed's can control their other expenses to improve profitability.
Management Team
Christopher J. Reed
Title: President, CEO, Director
Compensation (2015): Salary $226,583, Total $230,583
Christopher J. Reed has been the President and CEO of Reed's, Inc. since 1991 and has 30 years of industry experience. He has served as the Principal Accounting Officer and CFO in earlier years, and owns 2,371,890 shares which is 17.05% of the company's shares outstanding. In 1980, Mr. Reed graduated from Rensselaer Polytechnic Institute in New York with a B.S. in Chemical Engineering.
Daniel V. Miles
Title: CFO
Compensation (2015): Salary $113,414, Total $119,214
Daniel V. Miles has been the CFO of Reed's, Inc. since 2015 and has 23 years of industry experience. He has extensive experience in the beverage industry and has worked with Coors' largest distributor, Pepsi Bottling Group on facility and production expansion projects, and has been in a variety of financial managerial roles in local businesses as well as the industry. Mr. Miles owns 33,000 shares which is worth $135,300 and is 0.24% of the company's shares outstanding. The low share count may be due to the fact that Mr. Miles has been a part of Reed's for a short period of time. In addition, he is a licensed CPA in California and earned his Master's Degree in taxation from the University of Southern California.
Mark B. Beaton
Title: COO
Compensation (2015): Salary $109,252, Total $151,052
Mark B. Beaton has been the COO of Reed's, Inc. since 2015. He has over 17 years of experience with directing operations for Fortune 500 companies which include Pepsi Bottling Group and Dr. Pepper Snapple Group. Mr. Beaton owns 33,000 shares which is 0.24% of the company's shares outstanding, and is valued at $135,300. This low amount may be attributed to the fact that he has only been a part of Reed's since 2015. Mr. Beaton is a certified Lean Six Sigma Green Belt and has also served in the U.S. Army.
Risks
Competition
There has been a 1.4% annual increase of producers from 2011 to 2016, with currently 253 enterprises in this industry. Many of Reed's competitors in the soda production industry are aware of consumers seeking healthier alternatives for carbonated soft drinks. Other companies are offering low and zero calorie options, as well as sodas that contain all-natural flavoring. Reed's may suffer from this because they targeted a niche which is now being exploited by the major companies with the largest market shares. The Coca-Cola Company, PepsiCo, Inc., Dr Pepper Snapple Group, Inc., and Monster Beverage Corp. share close to 75% market share and have a significant influence on this industry. The Coca-Cola Company, for example, is using stevia extract, a zero-calorie sweetener, in over 45 products that they distribute. It's inevitable that these large companies are looking to grow their product portfolio with new beverages catered towards consumers living a healthy lifestyle. Reed's is trying to differentiate themselves by offering a wide-range of healthier alternatives relative to the products that these large companies sell.
Disruption in Production Facilities
Reed's, Inc. relies heavily on their facility in Los Angeles, California, and their three co-pack facilities on the East Coast. These manufacturers play a major role in ensuring Reed's meets their product demand, and could seriously harm the company if production was delayed. Supply chain management issues happened in the second and third quarter of 2015 because of the East Coast facilities taking on larger orders due to the Los Angeles plant not being able to meet demand requirements from distributers. The production was much lower than anticipated and resulted in demand significantly exceeding the supply on hand. This, in turn, decreased freight efficiencies, and production shortfalls caused over $5 million in orders that could not be filled. In the second quarter of 2016, Reed's, Inc. was at a 99% fulfillment rate with customers which is a large increase relative to approximately 53% during the supply chain issues.
Shareholder Base, Liquidity, Market Depth

Sourced from thomsonone.com

Sourced from thomsonone.com
As of October 24, 2016, Reed's, Inc. has 13,973,726 shares of common stock outstanding with 13% of these shares held by institutions and mutual funds. As shown above, a large portion of shares are owned by Mr. Reeds, the CEO and founder of Reed's, Inc.
Valuation
Weighted Average Cost of Capital
The WACC used in the model was 9.2%. We arrived at this number by using the debt to total capitalization of the company, the cost of debt, the cost of equity, a forecasted tax rate, and a constant perpetuity growth rate. Using the capital asset pricing model (CAPM) to calculate WACC resulted in an artificially low WACC which didn't account for firm size premiums. We've added a 1.0% premium to account for the firms' small market capitalization.
Debt to Total Capitalization
The debt to total capitalization was calculated with Reed's 13.01M debt and 57.29M market capitalization. We arrived at a value of 18.5%.
Cost of Debt
The cost of debt was found by analyzing companies of similar size in the same industry with comparable operations. The yield-to-maturity for these companies was roughly 4.0%, and this was the figure we used.
Cost of Equity
The cost of equity was calculated using the CAPM (Capital Asset Pricing Model) formula. We used a 2.4% risk-free rate which was the value of a 10-year US treasury bond as of February 7, 2017, and used an equity risk premium of 5.0%. The beta was calculated by using a beverage industry beta (soft drinks) from Damodaran. This number was then levered using the capital structure of Reed's to reflect the financial risk, arriving at a beta of 1.42. Our calculated cost of equity was 9.5%.
Tax Rate
Reed's, Inc. has had a low historical tax rate due to negative operating income in previous years. At the end of the 2015 fiscal year, they had a cumulative net operating loss of over $9 million. We made the assumption that Reed's will carry this forward to lower their taxable income in the future years starting after the 2016 fiscal year. The company will not pay tax until 2019, and we forecast that the tax rate used will be constant at the Federal Statutory tax rate of 34%.
Comparable Company Analysis
The companies used in the comparable company analysis were similar in size and operations, and all sell products in a niche of the soda production industry (natural alternatives). Many other companies were excluded from the analysis because they were much greater in size or sold many products that weren't similar to Reed's. We felt that this would result in a skewed observation for the comparison. Many comparable companies were also private, so we did not have access to their financial information. The operating metrics and margins used for comparison include the trailing-twelve-month data for: revenue, gross margin, EBITDA, net income, operating margin, as well as growth in net sales relative to the same quarter of the previous year. We used these metrics and margins as opposed to multiples and ratios such as P/E or EV/EBITDA because Reed's has a negative trailing-twelve-month EBITDA and negative net income.
Reed's has a higher than average gross margin at 25.40% relative to its competitors with an average of 15.75% (lowered significantly by the impact of one competitor at -4.04%), but we expect Reed's to increase this margin in the upcoming periods for the reasons stated in the gross margin assumptions section below. The significant difference between Reed's and Jones with respect to net income is most likely a result of Reed's high interest payments (roughly $400,000 per quarter). This resulted in a much larger discrepancy between their net incomes compared to the difference in EBITDA.
Assumptions
Revenue
We forecasted revenue by using the eight-ounce volume sold of Reed's various beverages. We assumed that the net sales per eight-ounce beverage would remain constant at $11.66, the value stated in the third quarter of 2016, for all forecasted periods.
To calculate total net revenue we multiplied the eight-ounce volume by the net sales per eight-ounce and then added $438,000 to the total which represents the net revenue for Reed's candies, other non-beverages, and other Reed's beverages. We kept these revenues constant because we don't believe they have a large influence on the total net revenue. This is because they aren't considered core products for this company and no future growth initiatives have been mentioned for these segments.
We applied a 2% standard growth rate to the private label segment volume because the company is actively seeking opportunities to increase their distribution channels by producing private label products for retailers.
We forecasted the eight-ounce volume sold for the Reed's beverages and Virgil's segments in the first quarter of 2017 by applying a 2% increase to the previous quarter. Since Reed's, Inc. plans to introduce a new low-calorie product line under each brand, we predict that the sales will increase by a small portion at first because it will take time to raise awareness for the new products. We forecast that the growth rate afterwards will increase to 5% quarterly to account for the increase in demand as a result of marketing and promotional efforts. We believe that this growth will decrease at an incremental rate starting in 2018 until it reaches the constant perpetuity growth rate of 2% by the end of 2018 due to competitors releasing substitute products that will hinder the growth of these core segments.
We forecasted the volume growth of Kombucha to be 20% for the first quarter in 2017, and then increase to 50% quarterly onwards. These increases seem substantial but the volume sold of this brand in the fourth quarter of 2016 was 17,800 which made up 2.42% of the gross sales revenue for the quarter. This shows that there's a lot of room for this brand to grow, and the initial 20% increase would be lower than future forecasts because Reed's needs time to distribute and market the product. The 50% quarterly growth will be possible because the company will have the efficiency to meet demand requirements and the new repositioned brand that includes new flavors and different packaging will intrigue consumers. Kombucha has come close to 10% of the company's net sales in the past so we believe these forecasts are reasonable. We estimate that the quarterly growth will decline incrementally starting in the beginning of 2018 to 10% by the fourth quarter. This is due to competitors competing for market share by releasing similar products, and once Kombucha gains exposure with retailers, demand will settle to the constant perpetuity growth rate of 2% after 2018.
Gross Margin
We believe that Reed's has the potential to increase this margin from their 2016 third quarter value of 25% to as high as 36% by 2019. This company is significantly improving their gross margin by lowering costs through ingredient handling processes, seeking discounts on bulk purchases, negotiating and arranging contracts with vendors, and they are in the process of developing a new process that will remarkably improve yield. This will allow the company to lower their COGS, resulting in higher profitability.
Sales, General & Administrative (SG&A) Margin
Reed's has been making a consistent effort to lower their expenses as a whole. The company had a 31.2% SG&A margin in 2015, and we forecast that the company will cut this 7.2% by 2019. Reed's has lowered non-production costs by 27% over the past year, and they strive to correct and improve operational efficiencies. Some of the costs deductions in the third quarter of 2016 include a 34% drop in delivering and handling expenses and a 26% decrease in selling and marketing expenses, relative to the same quarter of 2015. These expenses were lowered even though Reed's shipped 18% more volume which shows their potential to lower these margins further in the future.
Discounted Cash Flow Analysis Summary
After performing the calculations for the discounted cash flow, we arrived at an implied share value of $4.10 USD per share resulting in 0.0% upside. This estimation seems fair considering we accounted for future taxable income when Reed's starts profiting and we forecasted high capital expenditure relative to their historical values to represent the upgrade of the Los Angeles plant and future expansion. The depreciation and amortization expense is forecasted based off of an increasing net PP&E up until the start of 2017 (to account for the plant upgrade), and then the net PP&E will remain relatively constant in the future periods. We believe we used fair values to calculate the WACC, and the model shows how sensitive the implied share price is to small changes in the growth and discount rates.
Recommendation: Hold
We have decided to recommend a hold rating for Reed's, Inc. The company is striving to improve its operations and increase the company's profitability. With disposable income increasing at a steady rate and health trends becoming more prominent, we believe that Reed's will have troubles competing in this hyper competitive industry with their lack of economic moats. That being said, with the near completion of the upgrades to the current Los Angeles plant, product margins are planned to increase and a variety of costs will be cut due to a rise in productivity and potential capacity. In addition, the new management is very credible with extensive experience in the industry and we believe that Reed's will have a profitable future, assuming the company doesn't deviate from their current plans and strategies.
Appendix 1: Balance Sheet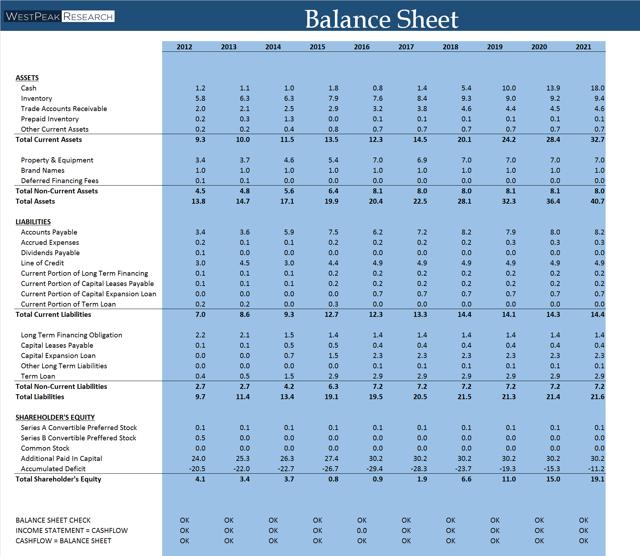 Appendix 2: Income Statement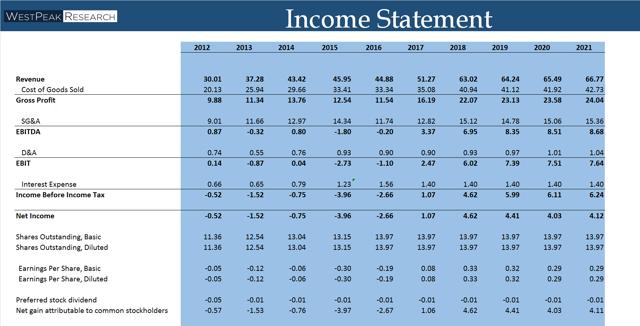 Appendix 3: Cash Flow Statement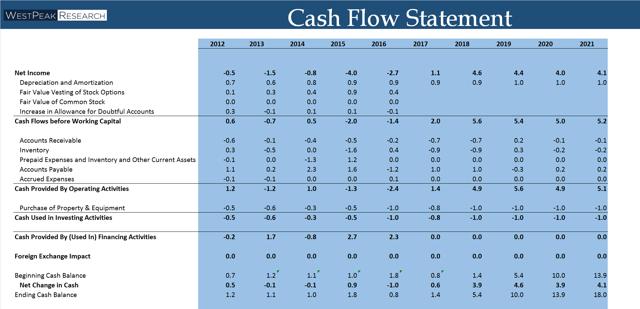 Appendix 4: Discounted Cash Flow Model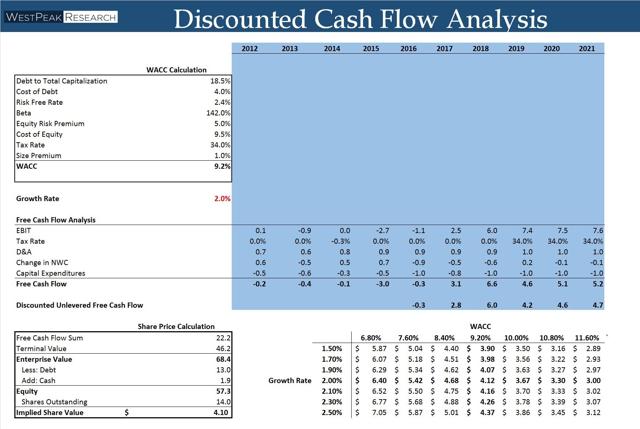 Disclosure: I/we have no positions in any stocks mentioned, and no plans to initiate any positions within the next 72 hours.
I wrote this article myself, and it expresses my own opinions. I am not receiving compensation for it (other than from Seeking Alpha). I have no business relationship with any company whose stock is mentioned in this article.
Additional disclosure: Minor edit with appendix.
Editor's Note: This article covers one or more stocks trading at less than $1 per share and/or with less than a $100 million market cap. Please be aware of the risks associated with these stocks.