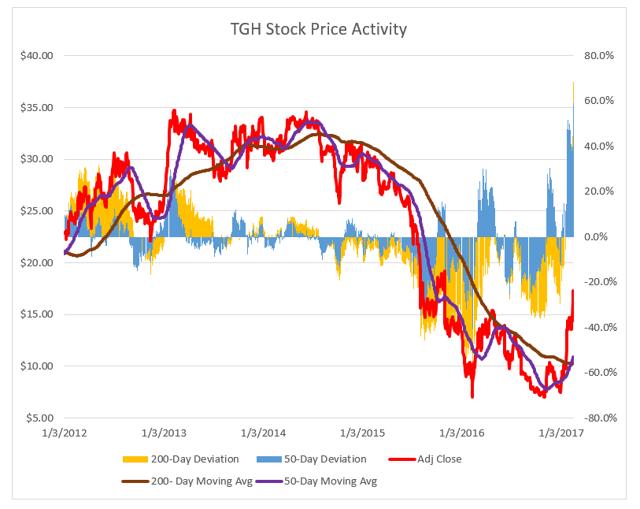 Source: Yahoo! Finance
Textainer Group Holdings (NYSE:TGH) has set some horrific and impressive records as the stock price has fluctuated in a volatile manner over the past four or so years. Depending upon what side of the fence you have been on, it has either been very rough or euphoric. The question regarding whether Textainer Group has another 70 percent to rise is a pertinent one for investors, as Textainer Group traded above the $30 per share level at times during 2013 through 2015.
From a technical perspective, Textainer Group witnessed its most extreme stock price activity during the first quarter of 2016. Contrastingly, the stock price surged from $7 per share to above $10 after President Trump was elected. A brief fall back to $7.50 occurred to end the year, but it has been a straight upward shot to greater than $17 per share since then — a return above 130 percent.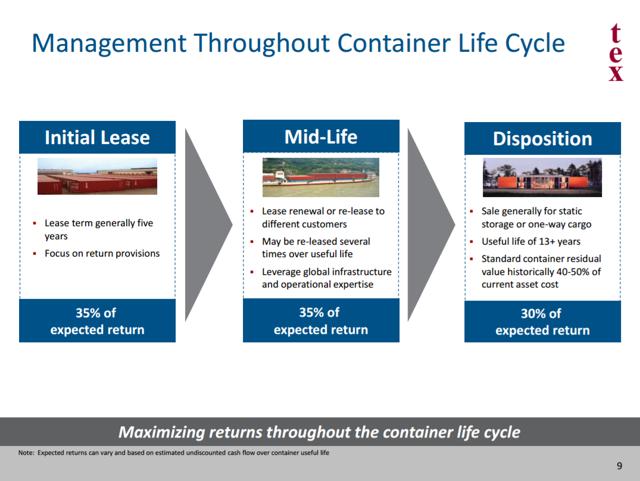 Source: Textainer Group, Investor Presentation, February 2017
For those not familiar with Textainer Group's business, the company specializes in leasing container equipment for major global shipping lines. Over the years, Textainer Group has transitioned from a leasing model to owning the substantial majority of its container equipment for its customers. The company has also graduated towards a more long-term lease structure to better match its operating revenue flows to its long-term debt obligations.
Textainer Group's lease rental income is the company's most important operating revenue segment. This segment reflected 92 percent of total operating revenues in 2016, at $460 million. This segment was down approximately 10 percent from 2015.
In addition to the company's leasing services, Textainer Group also disposes of its container equipment once it has surpassed its mid-life useful life. While not the largest component of operating revenues, as a percentage, this segment has declined from nine percent in 2012 to only two percent in 2016. During 2012, Textainer Group generated $35 million through gains on sales of containers versus only $9.6 million in 2016.
There is a strong connection to Textainer Group's leasing segment and the container shipping industry. But to get a sense of the entire picture for the company, investors need to think about direct metrics for container lessors, container manufacturers and shipping lines.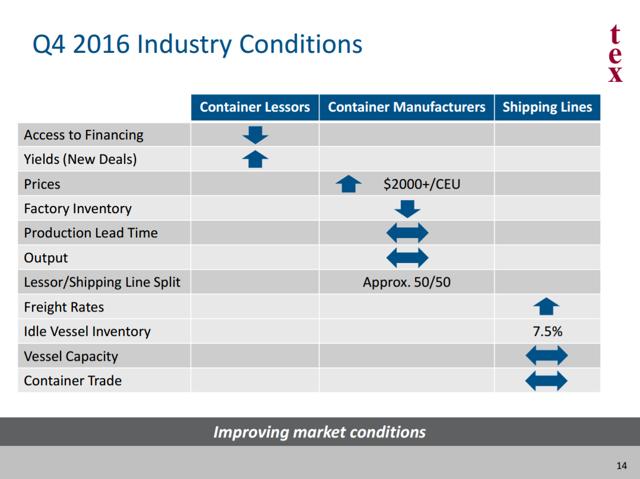 Source: Textainer Group, Investor Presentation, February 2017
My favorite slide that Textainer Group provides is the industry conditions snapshot each quarter. Overall, the indicators for each section have improved strongly from 2016's earlier earnings reports. The only indicator which is negative on this list is container lessors access to financing.
Textainer Group's management provided their assessment for the industry and it was encouraging to say the least. Container yields for new deals were up. Current rates were currently higher than the seven percent of long-term leases up for renewal in 2017. Both new and used container prices were up. New prices being up around $800 per container versus 2016's lows and used prices up between 15 to 25 percent in Asia, Textainer Group's primary disposition region.
Container prices are also expected to get another $100 to $150 per container bump up from the requirement for all manufacturers to switch to waterborne paint. With the dip in container inventories in 2016, the current 300,000 level is the lowest over the past six years.
For the container shipping industry, freight rate pricing is anticipated to be much more rational versus 2016's extreme declines. This is partly attributable to the new vessel sharing alliances which will be taking service this spring. Other factors include the delay of vessel newbuilds, the level of scrapped twenty-foot equivalent container units ((TEUs)), as well as idled capacity. There is also still the possibility of further consolidation for both container shipping lines and lessors. The flip side is that there are no guarantees that pricing will indeed remain rational. Some experts have focused on the Trans-Pacific trade lane as an area where competitive pricing could still arise due to the rebalancing of market share from vessel sharing alliances and new capacity from other competitors.
Collectively, these factors do point to a brighter picture for 2017 versus the previous year. When thinking about access to financing as a last piece to this topic, Textainer Group's debt measures have witnessed some deterioration. Interest coverage has dipped below a ratio of one with operating income below interest expenses. Debt on a gross basis has grown to nearly 9 times EBITDA. The company has provided its debt to equity, which is currently at 2.6 times as an additional measure. This measure has not fluctuated in as volatile a manner, as debt proportionally to the company's assets has remained stable, as has the capital structure.
As investors, we all want to think about the near-term prospects for Textainer Group. I wrote on the company last September with the premonition that fundamentals for Textainer Group were improving, especially as cash flows had become much healthier. I have invested in container shipping industry companies in the past including Textainer Group and Seaspan Corporation (NYSE:SSW), but knowing the volatile nature of the industry, and uncertainties still prevalent, I did not have any appetite this past September.
The prospects for 2017 have turned positive to a degree. After the Hanjin Shipping bankruptcy, the confluence of the peak shipping season, inventory restocking and the Chinese New Year have propelled container shipping demand which has impacted many of Textainer Group's container lessor, manufacturer and shipping line indicators. Whether demand will grow two to three times greater than 2016 will remain to be seen.
A primary risk is that even if demand does pick up, capacity could soon follow. Quite a few major companies in the industry have claimed that they will manage capacity tighter leading to rational pricing. But in a low-growth environment, this will lead to volume losses. A good example of this occurring has been in the less-than-truckload (LTL) industry in North America. Even with pricing discipline, some peers have pursued volume growth.
Today, the stock has displayed phenomenal performance for 2017. But with a current price at $17.30 per share, I've been pondering how investors should be thinking about where the stock goes from here. Over recent years, even when Textainer Group was sporting a dividend yield between five and seven percent, the company rarely traded with a P/E ratio greater than 11 times earnings. At the same token, the stock rarely traded with an enterprise value above 11 times EBITDA. Today the dividend yield is at less than one percent.
At $17.30 per share, Textainer Group is trading 41 times the current adjusted diluted earnings per share (EPS) projection of just less than $0.50. An improving macro environment could lead to higher earnings potential. But the company would need to get its earnings back to around $1.50 per share for the current price to be fairly valued. Textainer Group's volatility remains highly unpredictable.
On the earnings call, it was asked by one of the long-term analysts covering the company if it could ever get back to a return on equity of 20 percent. Management candidly stated that they are not highly optimistic that those sorts of numbers are attainable in the near-term. But that there could be progression back towards that level.
For a company that may have witnessed a structural shift in its profitability due to higher competitiveness, as disclosed by management, paying a premium too far ahead of improving macro trends is not somewhere I would want to be.
While this year's stock price performance has been amazing to watch, Textainer Group is potentially trading closer to fair value for 2018. Earnings projections may improve based on forecasted information, but if things do not work out as anticipated, the stock price may fall hard as it has displayed over the past year and a half.
Even if prospects do improve, the company may still trade at a premium, especially if the price continues to rise. At today's price, investors will be placing their need for further appreciation on increased earnings estimate targets, and actual results meeting or exceeding those targets.
When considering Textainer Group's current stock price and dividend yield, if I were to consider a position in this company, I would be looking to enter at a price with a better margin of safety. For me, this price would be closer to the $10 per share level.
Disclosure: I/we have no positions in any stocks mentioned, and no plans to initiate any positions within the next 72 hours.
I wrote this article myself, and it expresses my own opinions. I am not receiving compensation for it (other than from Seeking Alpha). I have no business relationship with any company whose stock is mentioned in this article.