In the run-up to the 2016 presidential election, healthcare stocks took a beat-down. A combination of the Affordable Care Act (ACA) serving as a plank on both major parties' campaign platforms and several drug-pricing debacles pushed the industry into an unflattering spotlight. As a result, the sector (as represented by the S&P 500 Health Care Index)1 was down about 3.4% for the year through November 30, 2016.
But healthcare stocks may not be DOA just yet. While they underperformed the broad index (the S&P 500 Index)2 for the bulk of 2016, there are likely to be a host of changes over the next few years as a new president and a Republican-controlled Congress take control in Washington. And while the changes to healthcare could undoubtedly lead to volatility, it could also create investment opportunities if you know where to look:
1. Repeal of ACA
While rolling back legislation that's benefited an industry for the last several years might not seem to be a positive, change often creates opportunity. It's probably safe to consider a repeal of the ACA in terms of "when" instead of "if." But it seems as though there's support for a replacement to follow soon after the repeal, which could simply shift the winners and losers from the original iteration of the law to different industry subsectors.
2. Less Boundaries, Better Prices?
President Donald Trump and several Republican lawmakers have expressed support for a national insurance marketplace rather than state-by-state exchanges. Insurance companies have found it difficult to manage pricing in the current state-by-state system. By creating a national insurance marketplace, the system could be more competitive (with simplified regulations and, therefore, less compliance costs) and help keep premiums low while increasing participation.
3. Tax Repatriation
One possible component of promised corporate-tax reform could include a one-time "repatriation" holiday to encourage firms to return cash held overseas back to domestic soil at a lower tax rate. The healthcare industry has been particularly busy acquiring foreign companies as a more cost-effective way to put cash to work than at home. If it's indeed offered, repatriation could especially benefit pharmaceutical and biotech companies.
Beaten Up, So Prices Are Down
Because they performed so poorly in 2016, healthcare stocks may now be a better bargain. They've been trading below their long-term price-to-earnings ratio, a measure of a company's current share price relative to its per-share earnings. The chart below shows that healthcare stocks are currently trading more than 15% lower than their historical long-term average, and at a discount to the broader market.
Healthcare Stocks Are Cheap Compared To Their Long-Term Average
Relative Price/Earnings (P/E) Ratio: S&P Composite 1500 Healthcare Index3 vs. S&P 500 Index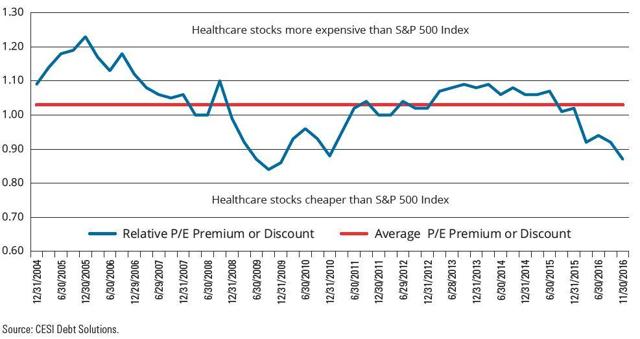 However, it's important to stress the level of uncertainty around this sector as the new administration settles in. For example, immediately following the election, pharmaceutical and biotech stocks rose under the assumption that President Trump would reduce regulation, as opposed to Hillary Clinton's promise to implement pricing controls. But in the days since, he has made comments against combating rising drug prices, which threw a wrench in those stocks' upward progress.
Because of the potential for continued volatility due to uncertainty, healthcare is an area that may be best accessed through professional active managers with experienced stock pickers. While market fluctuations can create entry points to buy bargains, those opportunities could be concentrated in specific companies or subsectors, not in a broad, sector-wide rally.
If you're interested in investing in healthcare stocks for growth, talk to your financial advisor about whether now is the right time for your portfolio. He or she can consider your risk tolerance and help you decide the best way to access healthcare stocks, and their potential for growth, for your unique situation and goals.
1 The S&P 500 Health Care Index comprises those companies included in the S&P 500 that are classified as members of the GICS healthcare sector.
2 The S&P 500 Index is a market capitalization-weighted price index comprised of 500 widely-held common stocks.
3 The S&P Composite 1500 Health Care Index comprises those companies included in the S&P 1500 that are classified as members of the GICS healthcare sector. | Source: S&P Dow Jones Indices
Investors should carefully consider the investment objectives, risks, charges, and expenses of Hartford Funds before investing. This and other information can be found in the prospectus and summary prospectus, which can be obtained by calling 888-843-7824 (retail) or 800-279-1541 (institutional). Investors should read them carefully before they invest.
All investments are subject to risk, including the possible loss of principal. Risks of focusing investments on the healthcare sector include regulatory and legal developments, patent considerations, intense competitive pressures, rapid technological changes and potential product obsolescence, and liquidity risk.
This information should not be considered investment advice or a recommendation to buy/sell any security. In addition, it does not take into account the specific investment objectives, tax and financial condition of any specific person. This information has been prepared from sources believed reliable but the accuracy and completeness of the information cannot be guaranteed. This material and/or its contents are current at the time of writing and are subject to change without notice. This material may not be copied, photocopied or duplicated in any form or distributed in whole or in part, for any purpose, without the express written consent of Hartford Funds.
Hartford Funds are underwritten and distributed by Hartford Funds
Distributors, LLC.
MF7374_1216 121174
Disclosure: I/we have no positions in any stocks mentioned, and no plans to initiate any positions within the next 72 hours.
I wrote this article myself, and it expresses my own opinions. I am not receiving compensation for it. I have no business relationship with any company whose stock is mentioned in this article.