Weekly Review
The REIT ETF indexes (NYSEARCA:VNQ) and (NYSEARCA:IYR) finished the week lower by 0.8%, following a 0.8% gain last week. The S&P 500 (NYSEARCA:SPY) gained 1.15% and finished the week at a record closing high. Construction ETFs were lower on the week despite strong housing data. The commercial construction ETF (NYSEARCA:PKB) fell 0.8% while the homebuilders ETF (NYSEARCA:XHB) fell 0.9%.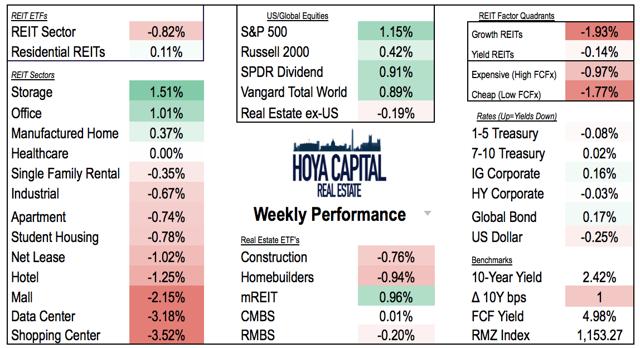 (Hoya Capital Real Estate, Performance as of 12pm Friday)
Across other areas of the real estate sector, mortgage REITs (NYSEARCA:REM) finished the week higher by 1% and the international real estate ETF (NASDAQ:VNQI) fell 0.2%. Through two weeks of 2017, REITs are higher by 1.1%, slightly underperforming the S&P 500. REITs ended 2016 with a total return of roughly 9%, lower than its 20-year average annual return of 12%.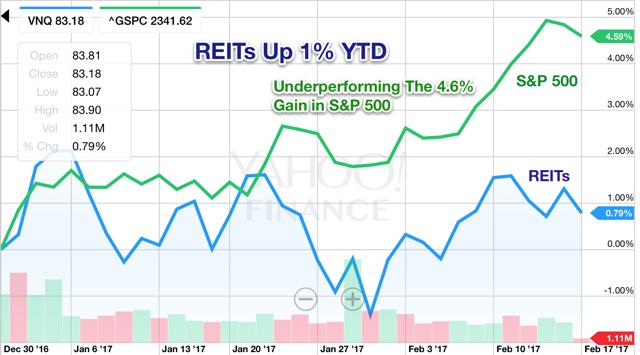 Since real estate has inflation hedging properties, we believe real estate investors should be more focused on the "real" risk-free rate. Uncertainty over European elections, unclear indicators of inflationary pressure in the economic data, and skepticism about Trump's policies have decreased both real yields and inflation expectations in recent weeks. Real yields shot up after the election, but have declined back down to the post-recession average of about 0.5%. The 10-Year Treasury yield (NYSEARCA:IEF) finished the week essentially unchanged from last week.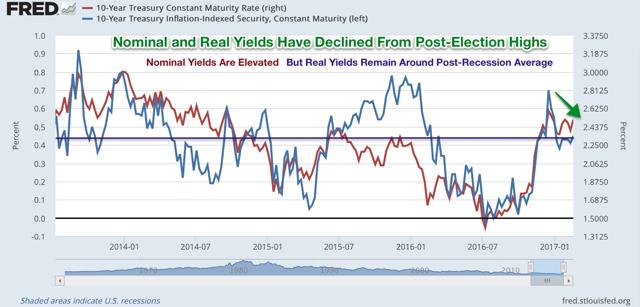 The REIT/Rate correlation that has dominated movements in REIT shares over the past several years continues to remain in-check after peaking over the summer. Historically, REITs had been largely uncorrelated with bonds until the "Taper Tantrum of 2013." Generally, REIT investors would prefer correlations to be low to increase the diversification effects of real estate equities.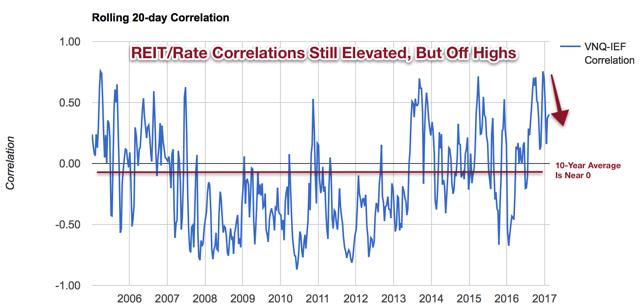 Economic Data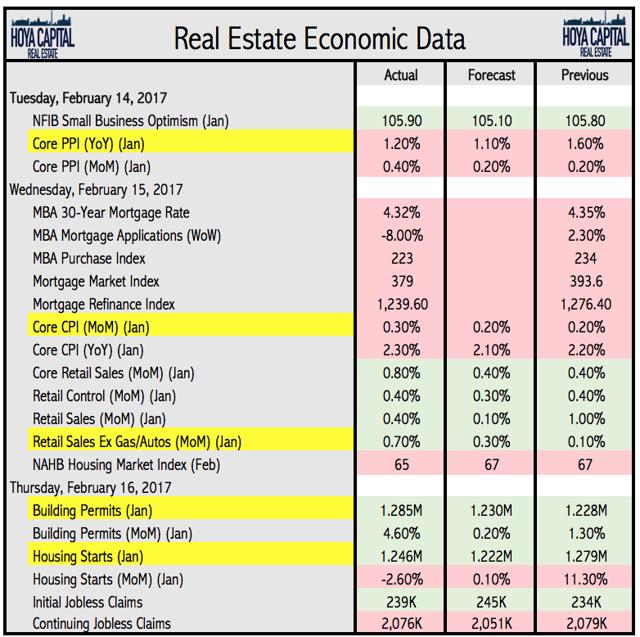 (Hoya Capital Real Estate, HousingWire)
Every week, we like to dive deeper into the economic data that directly impacts real estate. We encourage readers to check out our article "February Construction Report: Early Signs of A Trump Bump," where we discussed recent trends in construction and theorized that we may be seeing hints of a post-election private construction acceleration after a lull in the second half of 2016.
Housing Permits: Multifamily Re-accelerating Despite Headwinds
Total building permits for January beat expectations and prior months were revised higher. 1.285 million (annualized rate) units were authorized in January, the third highest monthly reading since 2008 (only June and November 2015 were higher). We note that multifamily permits still remain rather elevated considering that apartment rents have already showed notable softness and most surveys indicate that the financing environment has tightened considerably. This would seem to support the thesis of a "Trump Bump" in private construction: a re-acceleration supported by economic optimism.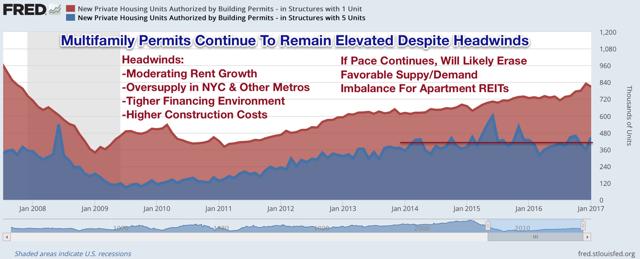 Let's keep it in context, though. When we zoom into only the post-recession period above, it appears that supply is plentiful. When we zoom out back to 1990, we see that total permitting (blue line) is only back to 1994 levels. We also find it interesting how the mix of permits has shifted significantly towards multifamily in recent years. In 2006, only 10% of permits were for multifamily units. In the most recent month, roughly 30% of permits are for multifamily (5+) unit structures.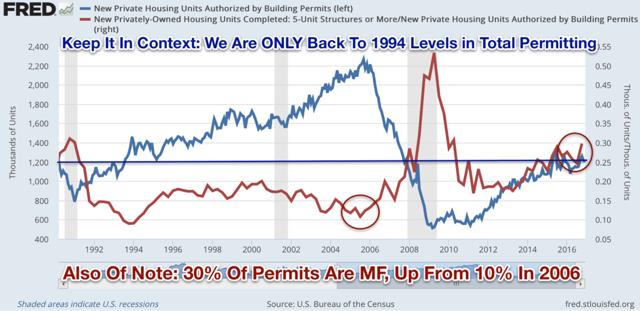 Multifamily completions over the past several months continue to be near their highest level since the late 1980s. The effects of the new supply have already been felt in the national rent growth metrics, which has showed rent growth slowing to the 2-3% YoY range. We expect this to slow further through 2017.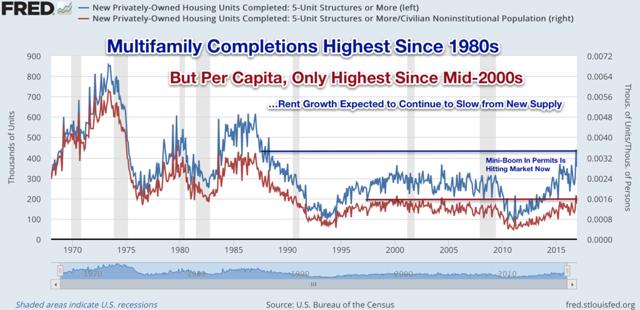 That said, it's important to remember that demographics over the next ten years are highly favorable to apartment demand. Rent growth data will certainly be interesting over the next several years: it will be a battle between high levels of supply and high levels of demand.
Retail Sales: Strong January in Brick and Mortar, Weak Online
January retail sales data from the Commerce Department came in very strong and continue a positive trend that began in late 2015. Retail sales ex auto reached its highest YoY growth rate since 2012. As we projected late last year, as motor vehicles sales slow following banner years in 2015 and 2016, consumers will allocate more disposable income toward traditional retail goods.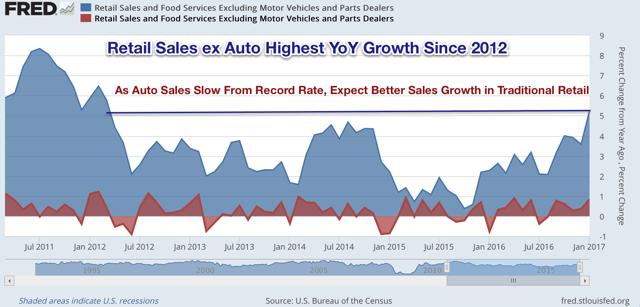 We counted no fewer than four articles in the last month in the Wall Street Journal suggesting the impending death of brick and mortar retail. While we stop short of calling this "fake news," we would say that the data simply doesn't support the anecdotal examples that the writers detail. Online sales growth has moderated in recent months while 'brick and mortar' retail has shown considerable strength. In-store retail grew at nearly a 6% YoY rate in January.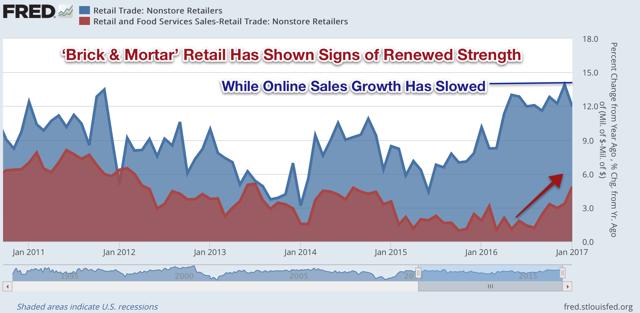 Diving deeper into the data, we note the possible inflection point in motor vehicle and part sales, which has their worst month since March 2016 and the 0% growth in online (nonstore) retail, its worst month since January 2015. Brick and mortar, though, was strong across the board. Even department stores and electronics/appliance stores, the perennial under-performers in the retail space, saw a 1.2% and 1.6% rise in sales, respectively.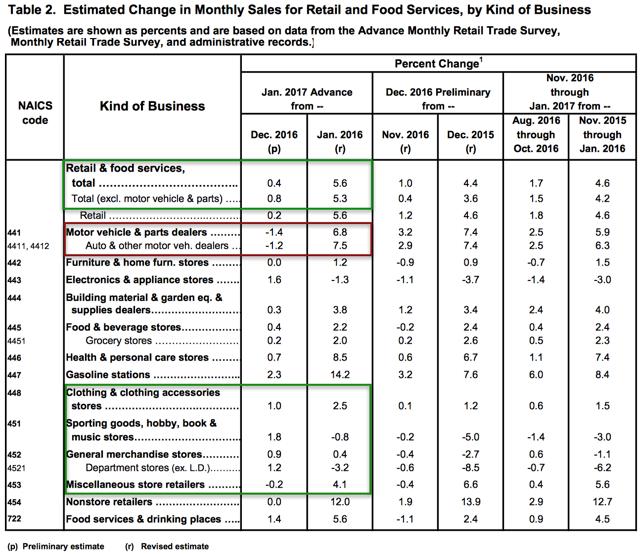 Inflation: Picking Up in Recent Months
Nearly all metrics of inflation have picked up in recent months, catching up to the post-election rise in inflation expectations. Core CPI is at or above 2.3% for just the second time since mid-2012. "Sticky CPI," a measure of slow-to-change prices like rent and medical care, is now at its highest level since 2008.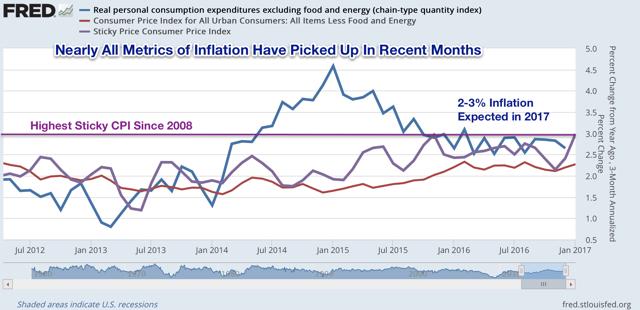 These metrics of inflation have now caught up to the rise in longer-term inflation expectations that we have noted since the middle of last summer. These metrics are consistent with 2-2.75% inflation in 2017, up from the 1-2% levels we were seeing from 2010-15.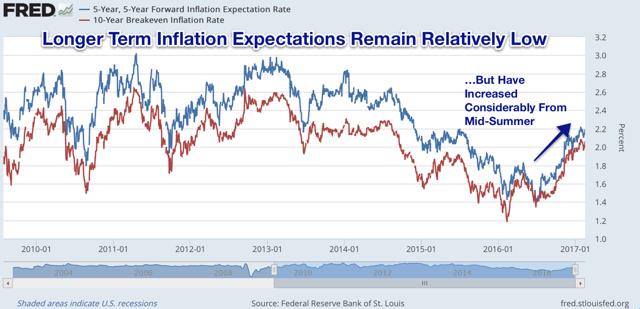 Shelter inflation accounts for nearly 30% of CPI, and the robust growth in rents since 2013 has explained much of the recent rise in inflation. We track the rent growth spread over inflation below, which shows that at its peak, rent inflation was over 3% higher than the overall level of inflation. In fact, in early 2015, rent inflation was the only thing keeping overall inflation in positive territory.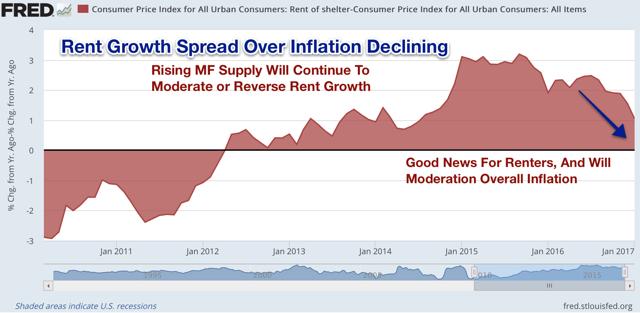 While the consensus is that we are clearly headed for significantly higher inflation levels, we don't think this is necessarily the case. The robust levels of multifamily completions that will sustain through 2017 should bring this rent spread down towards zero, which will have the effect of keeping overall inflation rather low.
Sector Performance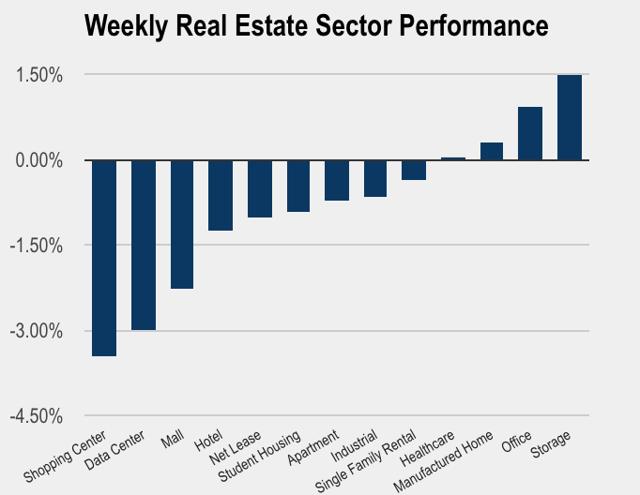 Storage and Office REITs were among the strongest performers of the week. Cubesmart (NYSE:CUBE), Extra Space (NYSE:EXR), and Public Storage (NYSE:PSA) were all up over 1%. In the office space, Vornado (NYSE:VNO) and Boston Properties (NYSE:BXP) were the top performers.
Retail REITs were among the worst performers despite very strong retail sales data, particularly in the 'brick and mortar' categories. Several retail REITs projected softer than expected 2017 guidance. DDR (NYSE:DDR), Kimco (NYSE:KIM), and Federal Realty (NYSE:FRT) were among the worst performers.
The Yield REIT sectors again outperformed for the third straight week after three straight weeks of underperformance. Strength in the healthcare sector explained the outperformance. Healthcare Trust of America (NYSE:HTA), Omega (NYSE:OHI), HCP (NYSE:HCP) and Healthcare Realty (NYSE:HR) were among the best performers.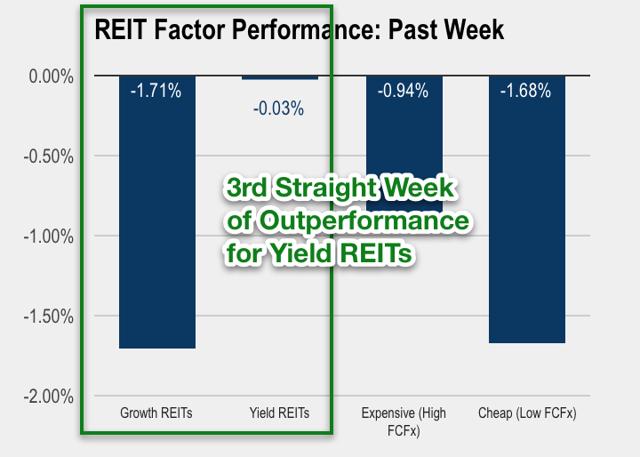 Bottom Line: Q4 Earnings Continues
Earnings season is now past the half-way point, and while Q4 was quite strong across the board, REITs are generally cautious heading into 2017. Over 40% of the REITs we track beat expectations in Q4 while just 10% missed. All else equal, we would say that this was very strong earnings season.
2017 guidance, though, has been weaker than expected. While only about half of REITs provided full-year 2017 guidance, this was one of the more cautious outlooks in recent years. Just 10% of REITs provided better-than-expected guidance while 33% lowered guidance. We suspect many REITs may be more conservative than usual amid the obviously high levels of political uncertainty.
Apartments have generally performed better than expected, led by the non-coastal REITs. Oversupply in coastal markets remains a significant concern for Equity Residential (NYSE:EQR) and Avalonbay (NYSE:AVB) and should be expected to keep rent growth near cyclical lows. We think the diversified and non-coastal REITs such as Mid-American (NYSE:MAA) and Camden (NYSE:CPT) should be trading at a bigger premiums relative to their coastal peers.
Healthcare have been mixed as fundamentals continue to decline, as expected, resulting from higher labor costs and concerns over the future path of healthcare in this country. Significant supply growth has slowed rent growth in the senior housing space, while uncertainly relating to reimbursement policies continues to result in significant discounts applied to the skilled nursing space.
Industrial REITs performed as expected, but that wasn't enough for investors who were expecting another better-than-expected quarter. New concerns over trade policies has resulted in a re-pricing and brought the sector's FCF multiples back in-line with the broader sector.
Office REITs have generally beat expectations and have continued to benefit from the strong jobs market and reported a strong quarter. Office REITs trade at significant premiums to the REIT sector.
Malls performed better than expected, alleviating much of the very negative sentiment in the brick and mortar space. Shopping Centers, though, projected a weaker than expected 2017. We've pointed out that, in recent years, consumers have been spending more than usual on big-ticket items: cars, appliances, and home improvement. We have theorized that we will see more spending directed towards apparel and other miscellaneous in-store goods after these lower-level needs are met.
Please add your comments if you have additional insight or opinions. We encourage readers to follow our Seeking Alpha page (click "Follow" at the top) to continue to stay up to date on our REIT rankings, weekly recaps, and analysis on the REIT and broader real estate sector.
Disclosure: I am/we are long BXP, CPT, CUBE, EXR, OHI, MAA, PSA.
I wrote this article myself, and it expresses my own opinions. I am not receiving compensation for it (other than from Seeking Alpha). I have no business relationship with any company whose stock is mentioned in this article.
Additional disclosure: All of our research is for educational purpose only, always provided free of charge exclusively on Seeking Alpha. Recommendations and commentary are purely theoretical and not intended as investment advice. Information presented is believed to be factual and up-to-date, but we do not guarantee its accuracy and it should not be regarded as a complete analysis of the subjects discussed. For investment advice, consult your financial advisor.