OCC: "Loss Severities in Auto Lending Are Increasing"
The Office of the Comptroller of the Currency identified auto lending as a heightened risk in its recent semi-annual report on risk. The OCC warned bankers:
"Auto lending risk has been increasing for several quarters because of notable and unprecedented growth across all types of lenders. In the last two quarters, delinquencies on auto loans have begun to increase and net losses have also reflected non-seasonal increases. As banks competed for market share, some banks responded with less stringent underwriting standards for direct and indirect auto loans. In addition to the eased underwriting standards, lenders also substantially layered risks (granted longer terms combined with higher advance rates resulting in higher LTV ratios). These factors increased the credit risk in auto loan portfolios…"
Loan Growth for US Banks is 4 Times Faster than GDP Growth
My research into bank profitability combined with my 31 years of industry experience reveal that banks create the most risk to investors when lending grows much faster than the overall economy. This is actually very logical. Unlike companies like Wal-Mart, Coca-Cola, or Duke Power, revenue for banks is not constrained in the short-term by the overall growth rate of GDP. Banks are able to register "cheap" or low quality revenue growth in the short run by booking higher risk loans. However, the benefit of short-term revenue growth is often short-lived.
History proves over and over again that lenders must book risk-adjusted loans that perform well through the business cycle, not just when times are good.
This is a theme that I have addressed repeatedly in the industry's daily newspaper, the American Banker, including most recently January 12, 2017. In 2016 bank loans grew nearly 7% in an economy that grew roughly 2%. This is the formula for future problems if the economy does not kick into a higher gear soon. Historically loan growth has averaged about 1.7 times GDP.
Auto Lending Has Grown Much Faster than GDP Growth
The data for the charts in this post come from www.bankregdata.com which compiles the data from bank call reports submitted quarterly by banks to the FDIC.
Chart 1 shows auto loans for all US banks grew 7.7% in 2015 and 6.5% in 2016.
Loans ($ Billions) All US Banks, Source: Bankregdata.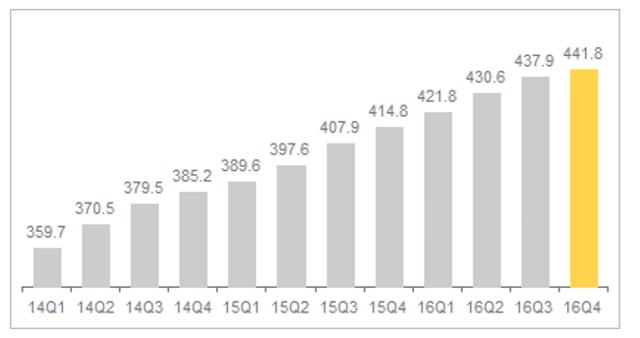 As a percentage of total bank lending, auto loans have remained about 4.75% of total loans since mid-2015. While that number may appear immaterial at the industry level, the percentage is much higher for some banks.
Chart 2 Auto Loans % of All Loans for US Banks, Source: Bankregdata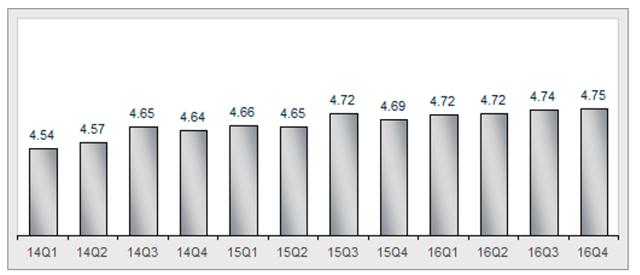 Chart 3 shows that auto loan delinquency rates have consistently gotten worse over the past three years. It also shows borrowers are most likely to not make auto payments at year-end.
Chart 3 Auto Loan Delinquency % Rates for All US Banks, Source: Bankregdata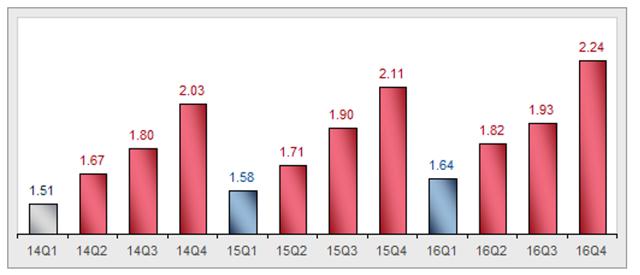 Chart 4 confirms the OCC's observations that auto lending quality has declined as 2016 charge-offs hit the highest level since the Financial Crisis.
Chart 4 Four Quarters Charge-Offs as a % of Total Auto Loans Industry, Source: Bankregdata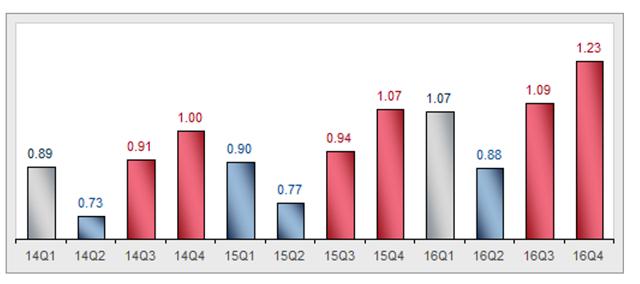 Top 10 Bank Auto Lenders in US
The top 10 auto lenders in the US control 70% of all US auto loans. In order of market share, those 10 banks are Wells Fargo (NYSE:WFC), JPMorgan Chase (NYSE:JPM), Capital One (NYSE:COF), Bank of America (NYSE:BAC), Ally (NYSE:ALLY), TD Bank (NYSE:TD), USBank (NYSE:USB), Citizens Financial Group (NYSE:CFG), PNC (NYSE:PNC), and Huntington Bank (NASDAQ:HBAN). The TD numbers reflect their US-business only. Chart 5 shows each bank's respective market share.
Chart 5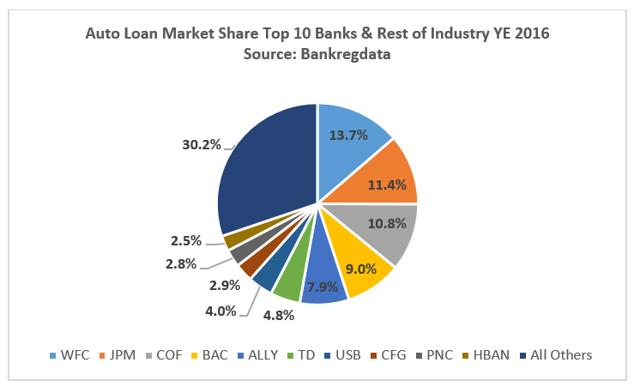 Chart 6 shows auto lending as a percentage of total loans for the 10 banks. No surprise, Ally, the former GM captive, has the highest ratio.
Chart 6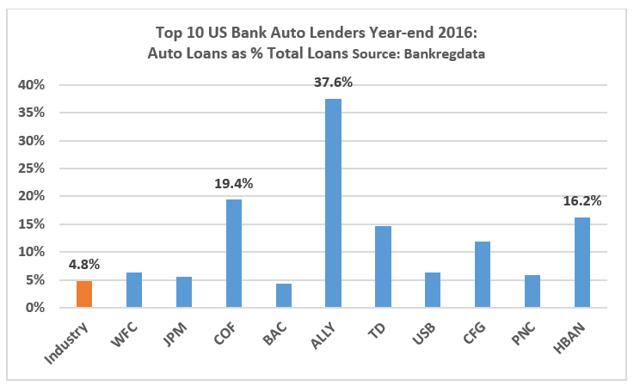 Chart 7 indicates that the industry saw total auto lending increase nearly 23% from early 2014 to year-end 2016. WFC, JPM, and PNC failed to keep pace with the industry's growth rate.
Though not reflected on chart 7, SunTrust (NYSE:STI) and Fifth Third (NASDAQ:FITB) currently hold the 11th and 12th highest auto loan market share in the US. Executives at both banks during fourth quarter earnings calls expressed determination to book high quality loans that are unlikely to suffer when the business cycle slows. Noteworthy, both banks experienced declines in balance sheet auto loans from 2014 to 2016. At FITB auto lending fell 18% and STI saw a 5% drop.
In contrast, as reflected on chart 7, Capital One and Huntington each experienced auto loan growth rates much faster than the industry.
Chart 7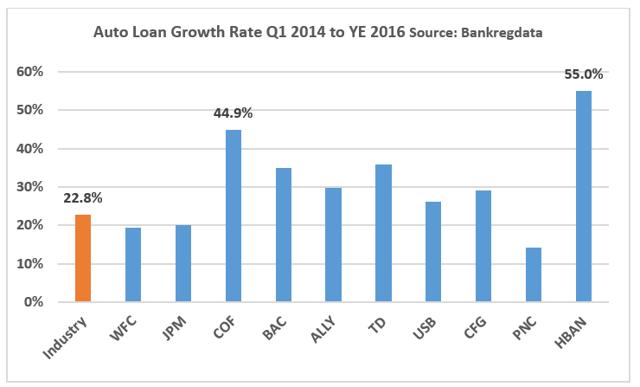 It should be noted that Huntington bought FirstMerit in a transaction that closed in 3Q 2016. FirstMerit held $1.58 billion in auto loans as of June 30, 2016 (source: Bankregdata). Consequently, at the end of the 3rd quarter 2016, HBAN held $12.3 billion in auto loans. During 4Q 2016 HBAN completed a $1.5 billion securitization of auto loans. So just to be clear, the 55% growth at HBAN is not because of the merger as FirstMerit's auto loan exposure was negated by the securitization.
During Huntington's 4th quarter earnings call an analyst asked executives about auto lending trends. The response from Dan Neumeyer, chief credit officer, offers keen insights for bank investors and regulators concerned about auto loans:
"So I would say in terms of the credit trends, we feel very good as we have stated in the past. What goes on in the market isn't completely relevant to what we are doing since we haven't adjusted our origination strategies in terms of FICO, LTV, term, et cetera. So we are still a prime, super prime lender and our results have been quite consistent. A lot of noise in what's going on in the market, but I think that relates more to those who are in the sub prime rate or near prime space.... We think on a risk-adjusted basis, we are in a really -- in a great spot. So trends are good, delinquencies remain well controlled. So on the whole, very solid outlook. We continue to plan for more growth, but very steady origination strategy."
Neumeyer highlighted that a lender's strategy, especially customer/client segmentation, as key to determining risk-adjusted returns.
(Risk-adjusted returns are an important concept in banking as this measure implies "through the cycle" accounting of loan profitability. Fortunately for bank investors, more bank executives are using this term in earnings calls and presumably in managing their banks. See my book, Investing in Banks.)
Chart 8 compares the top 10 lenders on two metrics. The first bar shows share of US total auto loans while the second shows share of industry delinquent auto loans as of year-end 2016. The chart reinforces Neumeyer's comment about client selection as a key determinant of auto lending strategy. Banks with high share of industry delinquencies (especially COF, but also WFC) generally have a client selection that includes a higher percentage of near-prime and sub-prime borrowers. The definition of "prime" borrower can vary by bank, but most banks would define it as a FICO (credit) score of 620+. Note that BAC, USB, PNC, and HBAN show delinquency share much lower than market share, indicating to Neumeyer's point, a focus on prime and super-prime (750+ scores) borrowers.
Chart 8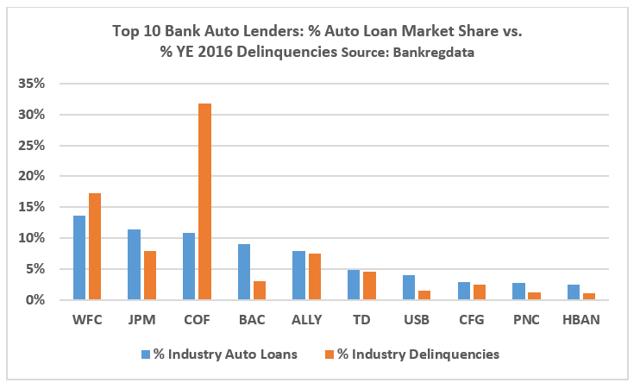 Chart 9 is a near-mirror image of chart 8, but in this case the comparisons are made between auto market share and share of industry auto loan charge-offs.
Chart 9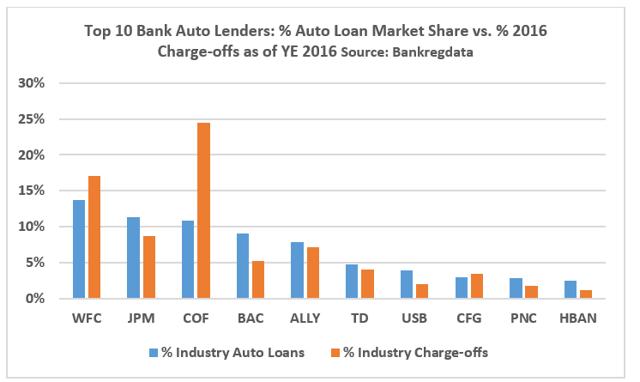 Chart 10 provides a trend view of auto loan charge-off ratios. The trend for all banks except COF is upward. The greatest increase is at CFG where the auto loan charge-off ratio increased from .50% at year-end 2014 to 1.5% in 2016. COF's charge-off ratio is flat; owing to its business model/strategy, its charge-off ratio at this point in the business cycle is more than twice as high as the industry. Likely the gap will widen when the economy weakens.
Chart 10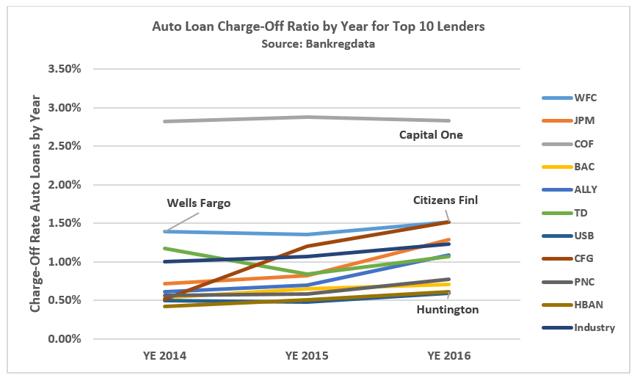 Chart 11 shows the absolute change in auto loan charge-off ratios by bank. As already noted, CFG increased the most. Perhaps a surprise, JPM shows the second greatest absolute change in charge-offs. Perhaps this spike explains why the bank's auto loan growth is modestly slower than the industry.
Chart 11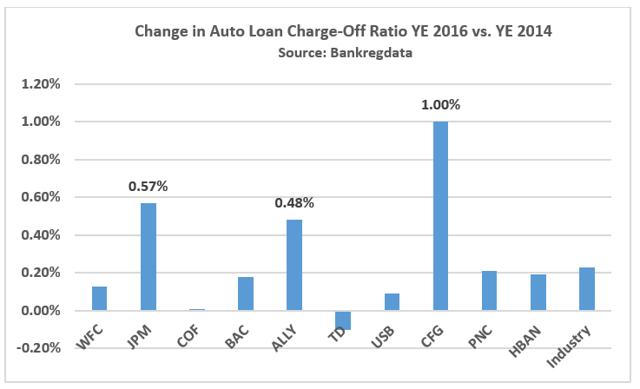 Chart 12 is a first step in analyzing risk-adjusted auto loan returns by bank. The first bar shows the yield of the auto loans for each bank. For example, auto loans at WFC had a yield at year-end 2016 of 6.09% while BAC's yield was just 2.64%. The stark differences in yields provides investors a lot of insight into each bank's overall strategy, not just auto lending. The second bar for each bank shows the charge-off ratio. Ideally, a bank wants a very high yield and a very low charge-off ratio. Unfortunately, in a world where risk and return are highly related, that's not how it works.
Chart 12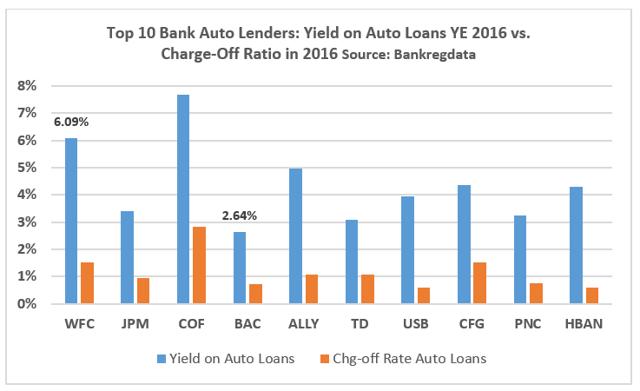 Chart 13 is a back-of-the-envelope view of the gross margin for auto lending for the ten banks. This chart is the same as the prior but a third bar has been added. This bar takes yield and subtracts the charge-off ratio for each bank. This is in my view the most important chart in the post because it provides investors with a point-in-time picture of auto loan profitability and some data for speculating how auto loan profitability might look like through the business cycle.
The highest gross margin is 4.8% at COF, followed closely at 4.6% at WFC. On first blush you might think these two banks have the most profitable auto lending businesses. While that's possible, it's unlikely because both banks are burdened by two substantial expenses associated with their strategies: High loan loss provision (anticipates charge-offs) and high collection costs. We know that because both banks have much higher delinquency and charge-off ratios than large peers.
The most profitable auto lending is likely at HBAN and USB where gross margins (yield minus charge-off rate) are decent (3.7% and 3.3% respectively) and expenses moderate because of strategies focused on clients with better credit scores, lower collection effort, and few charge-offs.
Chart 13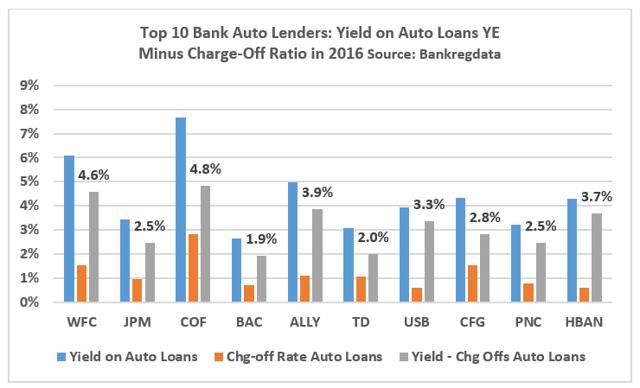 What Else are Bank Execs Saying about Auto Lending?
Huntington Bank is cutting back on auto lending exposure.
HBAN 3Q 2016 transcript Howell McCullough, CFO:
"Let me emphasize that we remain steadfast to our commitment to our auto finance business, including our well-established strategy which is built upon deep, long-term relationships with our core dealer customers and our focus on prime and super-prime indirect lending.
However, we are reducing our indirect auto concentration limit back down to 150% of capital, and we are adopting an operating guideline of 125% of capital. You might remember that in mid-2015, before we had an agreement in place with FirstMerit, we increased our indirect auto concentration limit to 175% of capital…"
COF is seeing "aggressive competitor practices" moderating.
COF 4Q 2016 transcript, Richard Fairbank, Chairman/CEO:
"Fourth quarter auto originations were $6.5 billion with strong growth in prime, near prime and subprime. Some of the aggressive competitor practices have moderated somewhat but we see opportunities for continuing growth the auto market and competitor practices remain dynamic and we will be very vigilant."
CFG is slowing auto lending as risk-adjusted returns are better with other loan categories.
CFG 4Q 2016 transcript, Brad L. Conner, Vice Chairman Consumer Banking:
"… We probably will see slowing growth in auto because we're intentionally taping the brakes on auto. So and we've talked about this in previous quarters which is the pressure continues to be there in terms of the margin returns on that business. So that the growth we're getting in the other asset classes in a little bit better risk adjusted returns were intentionally going back on the growth in auto."
Ally is paying close attention to the impact cars coming off lease have on used car values.
Ally 4Q 2016 transcript, Christopher Halmy, CFO:
"There continues to be a lot of focus on used vehicle prices, so let me provide a quick update … Obviously used car values have the largest impact on our lease portfolio…. let's say instead of going down 5%, used car values went down 6%. The biggest sensitivity obviously on the lease side. So a 1% move would be about 50 million in 2017 that drops to somewhere 25 million to 30 million as you get to 2018, just because the portfolio is significantly reduced.
Ally is also concerned competitors are being too aggressive with dealer floor plan financing.
Ally 4Q Transcript, Jeffery Brown, CEO (Ibid.)
"… the retail component within commercial floor plan still very competitive there, particularly by a large cap that continue to be very aggressive and frankly we have got to maintain our discipline around pricing and ensure we're in appropriate returns, but floor plan is probably where its most competitive today. So we're obviously happy to see what balances continue to be pretty stable to up, but we got to be mindful what that could mean for the longer term.
Final Thoughts
The OCC is right to be concerned about auto lending.
The big jump in charge-offs at CFG is a yellow warning flag. Investors in CFG should interpret the bank's recent decision to slow down auto lending as evidence auto lending concerns are on the rise at not only CFG but other banks.
Similarly, the decision of HBAN to cut back on auto lending, despite evidence of a pristine portfolio, should be viewed by investors as further evidence of more auto lending concerns on the horizon.
Time will tell if COF's very aggressive lending will pay off through the cycle. The bank's stubbornly low valuation suggests informed investors are wary as COF has the widest "buy box" (willingness to make auto loans to the broadest range of credit scores) of any top 10 bank. Should auto lending deteriorate in a material way over the next couple years, COF will clearly be impacted.
Despite having done a solid job diversifying both assets and deposit-gathering, ALLY remains highly concentrated in auto lending. Consequently, any material setback in auto lending in the US will be experienced head-on by investors in ALLY.
Holding the greatest share of auto loans in the US, WFC is certainly at risk if auto lending problems exacerbate across the country. However, at less than 5% of total loans, WFC is diversified adequately and should have the balance sheet to absorb a deterioration in auto lending. Furthermore, having recently lost auto market share, it appears WFC has reduced its loan risk appetite.
Banks focused on prime and especially super prime borrowers (BAC, USB, TD, HBAN) face intense competition. While these banks are highly unlikely to experience a spike in bad auto loans because of their client selection strategy, they still must remained disciplined to get adequate pricing (yield) to justify the capital allocated to the auto business.
Investors in JPM should monitor auto loans closely in the quarters ahead. The recent spike in bad loans is disconcerting. Among the big banks, JPM has been a leader in total loan growth for the past couple years. While auto lending has not kept pace with other loan categories, investors need to be alert to any drop-off in credit performance metrics at the big bank.
Although auto lending is only 4.75% of all bank loans, the big concern for bank investors is that lending patterns experienced in auto lending are symptomatic of broader concerns for the industry. Based on my conversations with bankers across the country in 2014-2015, there is no question many expressed concerns about aggressive lending and low pricing relative to risk. In the second half of 2016 those concerns abated but did not go away completely. Likely, a driving force behind the recent uptick in underwriting standards has been the bank regulators' energetic expression of concern. For the time, bank lending looks okay, but bank investors need to carefully monitor loan performance as nothing will damage bank stock prices more quickly and painfully than credit deterioration.
Disclosure: I am/we are long JPM, HBAN. I wrote this article myself, and it expresses my own opinions. I am not receiving compensation for it (other than from Seeking Alpha). I have no business relationship with any company whose stock is mentioned in this article.
Additional disclosure: As a former BAC employee I continue to have certain financial interests in BAC, although at the time I own no shares.