Over the last week we have gone through a deep dive due diligence process on water related investments. What started out as a look at a newly launched water ETF, turned into a series covering what I believe are all of the publicly traded water related funds available today.
We have covered 5 exchange traded funds, the Summit Global Water Multifactor ETF (NYSEARCA:WTRX), the PowerShares Global Water ETF (NASDAQ:PIO), PowerShares Water Resources ETF (NASDAQ:PHO), First Trust Water ETF (NYSEARCA:FIW), Guggenheim Global Water ETF (NYSEARCA:CGW) and 2 mutual funds, the AllianzGI Global Water (MUTF:AWTAX) (MUTF:AWTIX) (MUTF:AWTCX) and Calvert Global Water Index Fund. (MUTF:CFWAX) (MUTF:CFWIX).
Because of the vast amount of information that we have uncovered, I wanted to finish this project with a concluding article in this series, putting it all together.
In this article I wanted to do a side by side comparison of the 7 water related funds and then do a bullet point summation for what I believe are the key takeaways for investors to take note of. So let's get started.
Fund Facts
I put together a spreadsheet with the key points for each fund.

Source: MaksFS With Data From YCharts
There are a few ways of sorting through these funds, depending on what you are looking for.
The first way you can compare the funds is by their allocation focus, whether you are looking for a US focused fund or a global basket. If you are looking for a domestic fund, your only choices are either FIW or PHO. Below is an asset allocation for the funds. As we can see WTRX has the most non-US exposure, while the Calvert mutual fund has a near 50/50 portfolio. The two domestic funds do have some ADR exposure.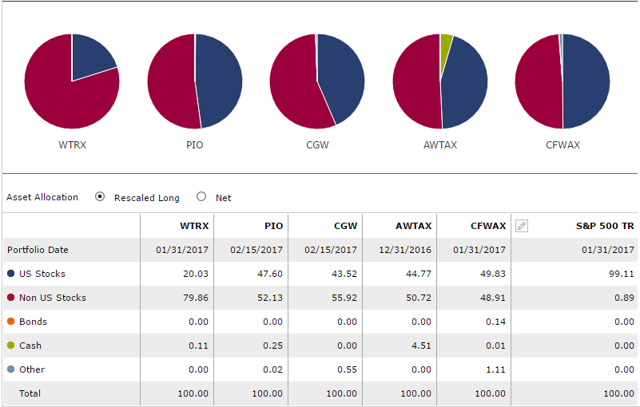 Source: Morningstar Tools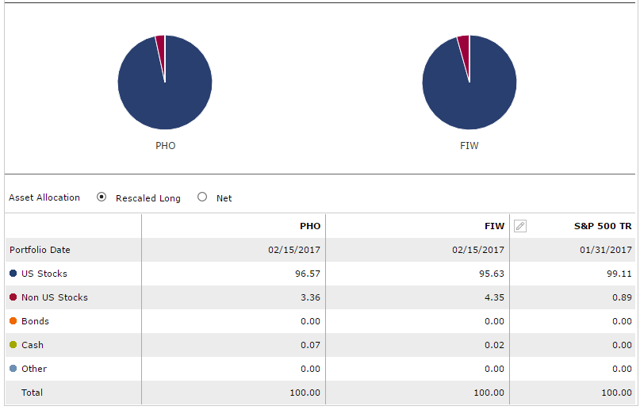 Source: Morningstar Tools
The second way to group the funds is through the fund structure. While the majority of the water related funds are exchange traded funds, there are two mutual funds, one active and one passive.
The third major way of looking at the funds is through their investment methodology and where the fund stands on the active/passive scale. If you believe in active management, then the Allianz mutual fund is likely the only fund you would consider. Slightly behind it is the Summit Water ETF, which is an ETF that selects and weighs companies for its fund based on fundamental analysis metrics.
On the complete opposite side of the active/passive scale you have the Calvert Global Water Fund that is in its core a passive index fund with over 110 investments.
In between, you have the 4 remaining ETFs that are more or less passive; however, they do differ in how they weigh the investments, be it based on market capitalization or the average daily traded balance.
Even though the number water themed funds can be counted on two hands, there is a good variety available and there should be a fund for every type of an investor.
To conclude this due diligence process let me share my thoughts on each of the investments individually and to describe for whom which funds may work best. For readers who have followed me or for clients we have worked with, this will not come as a surprise. Generally speaking, I don't think the majority of investments are either good or bad, but rather they are either appropriate or inappropriate for your situation. What I have found with these water funds is that this mantra holds true, especially for this space.
Our Take & Bottom Line
Summit Water Infrastructure Multifactor ETF
This was the first water ETF that we have looked at in this article.
Key Takeaways: It is a brand new ETF with a limited track record. The main point of differentiation is that it is a "smart beta" ETF that selects investments based on financial metrics such as earnings and valuations, rather than simple market capitalization.
Who Is It For: An investor who believes in fundamental analysis, however, wants to have a portfolio that is tax efficient and low cost.
Best Way To Use: I believe this is a good standalone option for active investors or to be used in conjunction with a passive investment either as a hedge or to generate alpha.
PowerShares Water Resources ETF and PowerShares Global Water ETF
Since these funds only differ in their allocation, global or domestic, we will discuss these together.
Key Takeaways: Lackluster performance over the last 8 or so years. The indexes used have a "green" requirement for inclusion, even though the funds' marketing material omits it. The focus of the index is on providing enhanced liquidity for the underlying investments, not long term growth.
Who Is It For: While PHO was the only game in town, it was a necessary evil. Unfortunately today with the variety of funds and methodologies available, it is tough for me to recommend these funds. PLEASE read the individual articles I have written for both.
Best Way To Use: Primarily as a trading tool. Since these funds select and weigh investments based on dollar trading volumes, they will chase the higher beta investments. I would look at PHO and PIO as short term trades and NOT as long term investments.
Guggenheim S&P Global Water ETF
Key Takeaways: The indexer's choice for investing globally in water. Follows a market cap weight methodology with a sensible screening process. Solid performance over the long term.
Who Is It For: You believe in passive management and want global exposure to the water theme. You are willing to give up some alpha in order to gain tax efficiency.
Best Way To Use: As a standalone investment for passive investors or paired with a more active option.
Key Takeaways: Exceptional performance over all measured time frames. Currently uses the ISE Water Index however ISE was recently acquired by Nasdaq. We do not know if this index will still exist in the future.
Who Is It For: You are an indexer and would like to have domestic exposure to the water crisis.
Best Way To Use: Either as a standalone investment or paired. Active/Passive or Global/Domestic.
Key Takeaways: The only true actively managed mutual fund. Terrific performance over various time frames backed by solid research capabilities.
Who Is It For: You believe in active management being able to generate returns or to reduce risk and volatility.
Best Way To Use: As a standalone investment or paired with a passive choice. Best use in retirement accounts for tax efficiency.
Calvert Global Water Index Fund
Key Takeaways: The most diversified water themed investment. Indexed to Calvert's proprietary in house index. Good performance over various time frames. Has a strict ESG/SRI policy.
Who Is It For: Two places where this fund excels is in diversification and its focus on environmental and social governance. If these are important to you, this should be your first choice. The fund is also good for investors who are dollar cost averaging smaller amounts or retirement plans.
Best Way To Use: As a standalone option or paired with an active fund, such as Calvert/Summit or Calvert/Allianz
In conclusion I want to sincerely thank you for taking interest and participating in our water due diligence process. I hope you have come to appreciate the intricacies of the individual funds including the various index methodologies used. I have personally learned a lot about a number of the funds I have had on my watchlist but have never looked too deeply into. My personal "Aha!" moment was learning more about the PowerShares funds and the Nasdaq index, and I am sure I am not the only one. For me this is an eye opener and will be the reason why I look at every ETF index methodology from now on.
I hope you found this of value and looking forward to continuing the conversation.
More information on this ETF is available at the fund's website. For more information on the index, please visit ISE.
I believe in active management that works, and I am here to help you find those opportunities. Please follow me here on Seeking Alpha as we look for those opportunities and sort out the good managers from the mediocre. Simply click the "Follow" button next to my name at the top of the article or on my profile page.
Disclosure: I/we have no positions in any stocks mentioned, and no plans to initiate any positions within the next 72 hours.
I wrote this article myself, and it expresses my own opinions. I am not receiving compensation for it (other than from Seeking Alpha). I have no business relationship with any company whose stock is mentioned in this article.
Additional disclosure: Maks Financial Services is a registered investment advisor and our Form ADV Part 2 is available upon request. We certify that the opinions and predictions in these articles are our professional beliefs at the time of publication and should not be construed as personal investment advice. Please consult your financial professional to see how anything discussed here applies to you. Furthermore this is not a solicitation to buy or sell any securities. This is not Tax Advice. Please consult your tax professional.