Southern Company (NYSE:SO) had a busy 2016, and investors should expect updates on many different topics on SO's Feb. 22 call. Company guidance for 2016 was a range of $2.76-2.88/share before certain items, and in their November analyst day meeting, management said they expected results to come in at the upper end of the range. SO earnings at the end of Q3 were already $2.60/share, so the company was well on its way to reaching its target. In Q4 2015 they earned $0.44/share adjusted for certain items, so if they can get similar earnings this year they will blow through their guidance numbers.
The 4th quarter is not an extreme weather period for SO, but the weather appears to have given a bigger tailwind than last year. In SO's 2015 Q4 earnings release, the company said that Q4 weather was an 8¢ drag vs. 2014 results. (See p. 7 of release) Based on data from the National Oceanographic and Atmospheric Administration, December 2016 heating degree days in Georgia and Alabama in December were back at 2014 levels after a big drop in 2015. (degree day data can be found here)
Some discussion of 2017 guidance should also be expected. We are obviously early into 2017, so it is unlikely there will be a change to the $2.90-3.02 range that was discussed in their analyst day. It is important to note that guidance excludes some special items, and that's where things get tricky, because SO has some things going on that could create significant one-time events.
The two big items that have a "special" risk to them are the new Kemper County energy facility in Mississippi and the new Vogtle 3 and 4 nuclear plant units under construction in Georgia.
Previously the Kemper County energy facility was going to open in January, but SO has now delayed the starting date to the end of February. When SO made the latest delay announcement they also said that the estimated costs to complete the plant had increased by $51M. SO said these costs would not be borne by customers, but instead by Southern Company and Mississippi Power. (which basically means by shareholders.) In the 8k filing announcing the delay to February (8k available here) SO said that further delays in starting the plant would likely cost $25-35M/month. At this point the project has cost over $7B. The high cost and latest delay caused Moody's to place SO's Mississippi Power subsidiary on review for a possible downgrade. (see here)
The Vogtle plants have similar issues, and construction of these units has been a contributing factor to the billions of dollars of losses recently disclosed by Toshiba. (More info on Toshiba's problems can be found here.) SCANA Corp (SCG) is also working with Toshiba to build a new nuclear plant, and on its conference call this month SCG said it has created contingency plans in case Toshiba decides to walk away from the project. Don't be surprised if SO discusses contingency plans and other details regarding this significant development.
The AGL (now Southern Company Gas) acquisition that was completed last year is another item that could swing performance in 2017. Investors should look for an update on how the integration is going and if there are any unexpected costs or benefits that have come up in the process of bringing the two companies together. The 2017 guidance presented at the last analyst day specifically excludes any merger related expenses.
Besides integration and synergy issues, rate case activity at the new gas utilities could be discussed on the call. Last September their Elizabethtown Gas subsidiary filed for $19M rate increase. Elizabethtown Gas' last rate case took place in 2009 and resulted in a $2.9M rate increase for the utility. In its analyst day presentation SO said that many of the acquired gas utilities expect to file rate cases in the next 18 months, so we may get more information on this topic.
Southern Company made statements about their outlook beyond 2017 during their analyst day. In particular, they said they anticipate 5% EPS growth over the next few years.
EXHIBIT 1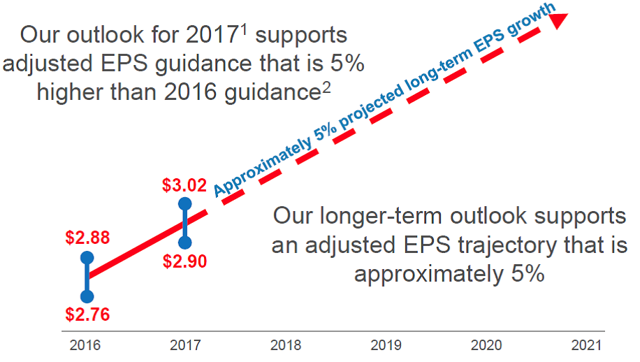 (Source: slide 73 of SO analyst day presentation.)
The company also said they are considering an increase in the size of annual dividend increases from 7¢ to 8¢ per year.
EXHIBIT 2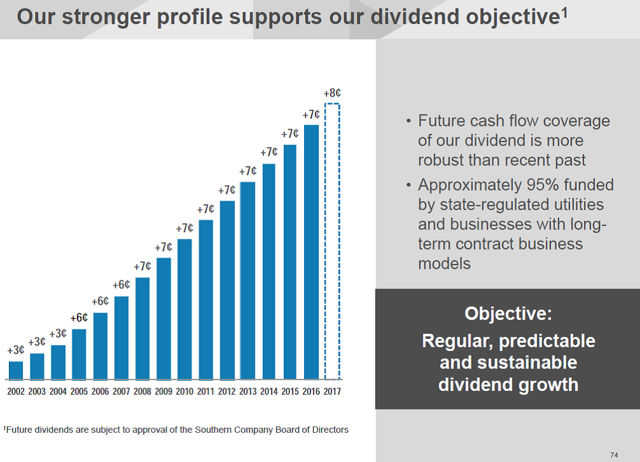 (Source: p.74 of SO analyst day presentation.)
Of course, it takes investment to get all of this growth, and SO has some major financing needs over the next few years.
EXHIBIT 3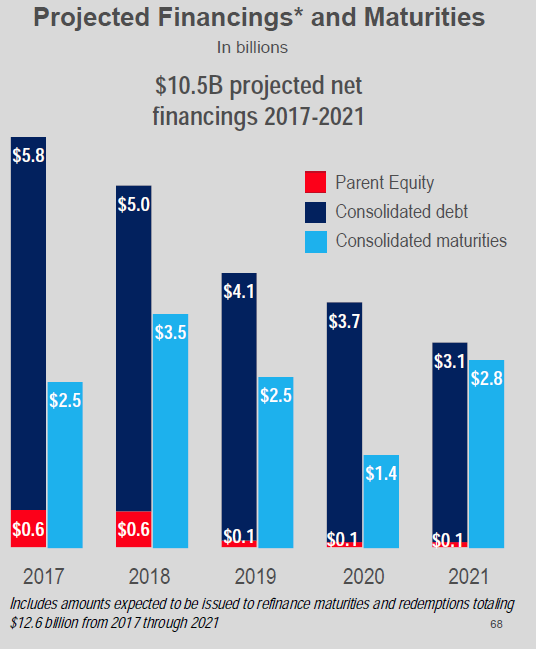 (Source: slide 68 of SO analyst day presentation.)
Based on this chart, over the next five years SO will have to raise $1.5B of equity and $21.7B of debt to fund debt maturities and expected growth. This is more than 25% of the company's current enterprise value. These are very big numbers and they have implications on the large sums SO is spending on the Vogtle and Kemper plants. If anything goes wrong with these plants, whether it is with their construction, operation, or regulatory treatment, there could be serious impacts on the cost of all of these future financings and the value of SO's stock.
Conclusion: The odds seem good that SO will meet it 2016 guidance, but the key thing to be watching for is status of their Kemper and Vogtle projects. Moody's is already reviewing one of SO's subsidiaries because of these cost overruns, and SO's major financing needs over the next few years would greatly magnify any problems.