USCF Restaurant Leaders Fund (NYSEARCA:MENU) is a new entry in the ETF world, launched in November 2016 with the intent of capitalizing on one of the fastest growing segments in the United States, the restaurant industry. The restaurant industry is huge and as stated on USCF's website:
In an industry that employs over 14.4 million people and serves about 50 million people each day (numbers which are expected to increase), it is easy to understand how the restaurant industry represents approximately 4% of U.S. Gross Domestic Product (NYSEMKT:GDP).
NOTE: Due to the short length of time since launch, this ETF still has a modest level of Assets Under Management (AUM) of approximately $2 million. ETFs with low AUM are generally not suitable for newbies and other investors not familiar with ETF liquidity issues.
The Special Sauce
MENU attempts to achieve superior performance by providing a bias towards Quick Service Restaurants (NYSE:QSR). QSRs in total have an initial total weight of 70%. The remaining 30% is equally distributed among securities classified as Full Service Restaurants ((FSRs)).
Market signals are used to eliminate securities with the lowest expected future performance and to increase the weighting of the largest companies in the Index.
Will MENU Break out?
Despite the fact that MENU has not been traded very long, one can do some rudimentary ETF analysis using the Restaurant Leaders INDXX Index provided by Menu ETF Index. As can be seen from the 3-year chart below, MENU recently tested a long-term support level and has since recovered. It appears to be getting very tasty.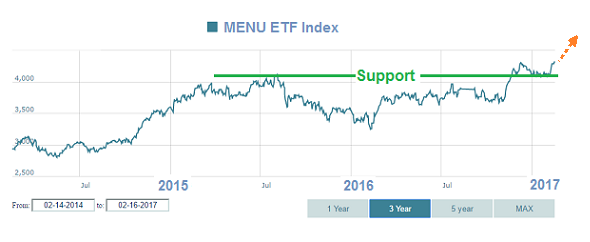 (Source: menuetfindex.com)
How do the Current MENU Stocks Compare to the Generic Restaurant Industry?
Using investment tools provider Portfolio123, I determined the aggregate Return on Equity (ROE) % based on the trailing twelve months (NYSE:TTM) for both the ETF holdings and the GICS restaurant subindustry. Remarkably, the ROE for the current MENU stocks is more than double that of the generic restaurant industry, 20% versus 9%. Note: the aggregate ROE was determined by the median ROE, not the average ROE.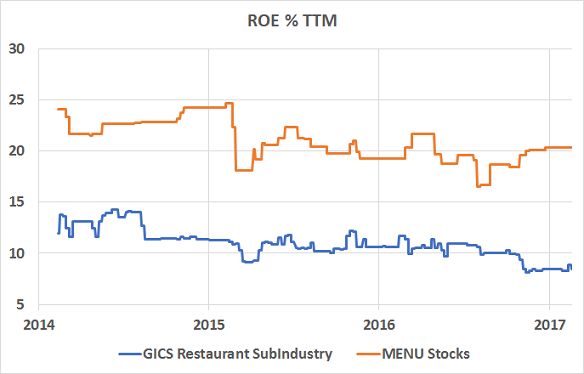 According to the index provider, the index tilts towards QSR which has a superior business model than FSR.
The QSR royalty model is a leverageable and scalable business model. The cash flow growth from this business strategy provides for high return on capital and substantial shareholder capital returns in the form of buybacks and dividend growth.
Rules Based Investment Process
The index has a rules-based investment process that eliminates companies that are relatively weak performers based upon a proprietary quantitative index methodology. To see this in action, I prepared a 3-year performance chart of an equal weight basket of MENU current holdings and the GICS restaurant subindustry. Portfolio123 was used to generate this chart.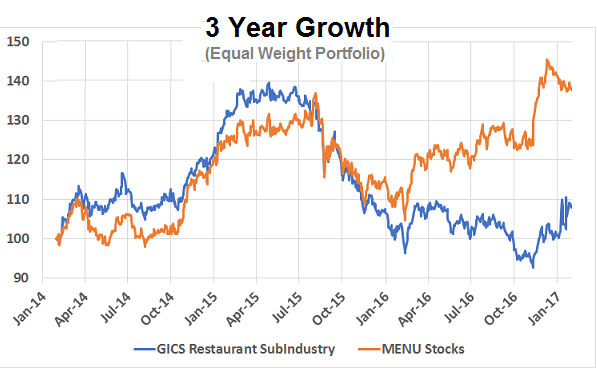 As you can see from the above chart, the performance of the MENU stocks start to deviate from the GICS subindustry starting around the beginning of 2016. My educated guess (but still a guess) is that the quantitative selection is based on stock momentum, likely a combination of 200-day %change and ADX, or similar technical indicators.
Restaurant Industry Growth?
Although the index provider is optimistic about growth of the restaurant industry, I would like to caution the reader about sales growth. Below is a 10-year chart of GICS restaurant % sales growth (year-over-year TTM). I have included the GICS consumer services group for purpose of comparison.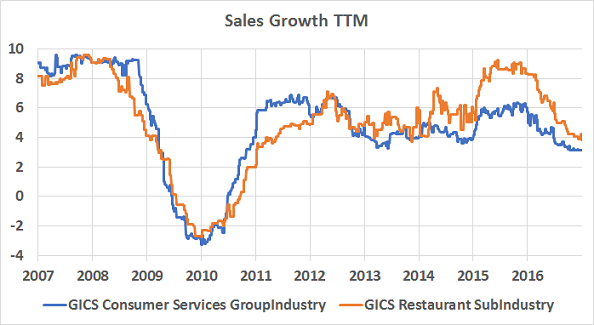 It can be seen from the above chart that restaurants had a great year in 2015, with Y-o-Y sales growth similar to that of 2008, before the great recession took hold. But growth has slowed from 2016 to the present. While sales growth was in the 9% range before, it is now 4%. The consumer services group is even worse. Sales growth never did recover to pre-recession levels and is now sitting at a little more than 3%. I believe this tells us as much about the true state of the economy as it does about restaurants and consumer services. One should really question the statistics we are being fed by our leaders, the economy is not as spicy as they would have us believe.
The Best Restaurant Picks
Before bring this article to a close, I thought I would highlight companies currently held by MENU with the best fundamentals. This may assist investors not comfortable buying the ETF due to low AUM choose some restaurant stocks.
Please note that this list is simply based on best fundamental factors. I recommend that you dig deeper and perform your own due diligence before investing in any of these companies.
3-Year Compound Sales Growth
Listed below are the top 5 stocks sorted by 3-year compound annual sales growth.
| | |
| --- | --- |
| Company | Sales Growth |
| Restaurant Brands International Inc. (QSR) | 53.5% |
| Shake Shack (NYSE:SHAK) | 49.5% |
| Carrols Restaurant Group, Inc. (NASDAQ:TAST) | 16.8% |
| Buffalo Wild Wings, Inc. (BWLD) | 16.2% |
| Wingstop, Inc. (NASDAQ:WING) | 14.8% |
(Source: Portfolio123)
Two stocks, QSR and SHAK, stand out above all others with approximately 50% sales growth. QSR is an indirect holding company for Tim Hortons and Burger King. A good portion of the QSR sales growth has to do with the acquisition of Tim Hortons in 2014. SHAK, on the other hand, is growing organically. With 114 franchises, this company can still grow rapidly for a long time. This is a company to watch!
Return on Equity
Listed below are the top 5 stocks sorted by highest ROE TTM.
| | |
| --- | --- |
| Company | ROE % TTM |
| Papa John's International, Inc. (NASDAQ:PZZA) | 801.2% |
| McDonald's Corporation (NYSE:MCD) | 140.6% |
| Popeyes Louisiana Kitchen, Inc. (PLKI) | 122.4% |
| Starbucks Corporation (NASDAQ:SBUX) | 48.9% |
| Restaurant Brands International Inc. | 40.5% |
(Source: Portfolio123)
I did a double take when I saw these ROE numbers. But I confirmed that PZZA, MCD and PLKI do indeed all have triple digit ROE.
Projected P/E Ratio
Listed below are the top 5 stocks sorted by lowest projected P/E Ratio, with the projection based on analysts' current year earnings estimates.
| | |
| --- | --- |
| Company | P/E Ratio |
| DineEquity, Inc. (NYSE:DIN) | 11.03 |
| Bloomin' Brands (NASDAQ:BLMN) | 13.81 |
| Brinker International, Inc. (NYSE:EAT) | 14.58 |
| Arcos Dorados(NYSE:ARCO) | 17.27 |
| Ruth's Hospitality Group, Inc. (NASDAQ:RUTH) | 18.78 |
(Source: Portfolio123)
I don't recommend either DIN or ARCO. DIN has a high debt load of 1.16 Debt/MktCap and has a 3-year compound sales growth of -7%. ARCO also has a negative 3-year compound sales growth of -7%.
Disclosure: I/we have no positions in any stocks mentioned, and no plans to initiate any positions within the next 72 hours.
I wrote this article myself, and it expresses my own opinions. I am not receiving compensation for it (other than from Seeking Alpha). I have no business relationship with any company whose stock is mentioned in this article.