Welcome to another edition of Elroy's Elliott Wave Weekly. Now in its fourth week, hopefully by now most readers see the value of using Elliott Wave to set expectations of what is possible and probable. I'll leave it up to readers to keep score of what went wrong and what went right. One of my pet hates is when a trader or service calls ten markets each week, then harps on about how one particular trade which went perfectly. What about the other nine?!
Equities
It's been a strong week for equities in general.
The S&P500 (NYSEARCA:SPY) is currently in wave 5 (the last part) of the November rally: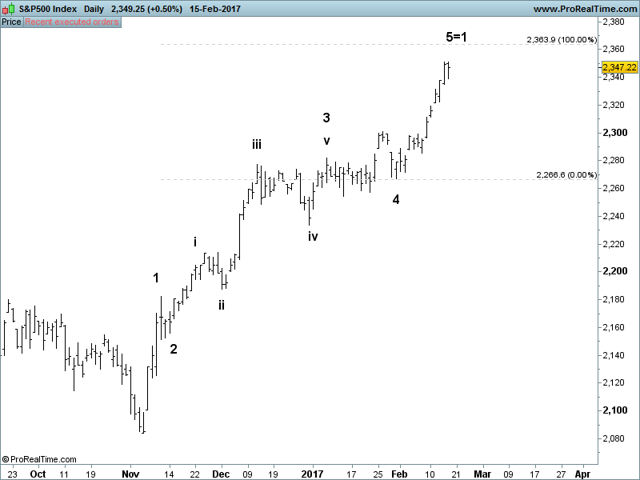 The target is 2363, where waves 5 and 1 would be equal in length. I pointed out this target in my article two weeks ago, but if I'm completely honest, I also said 2335 may be resistance in my article last week. The corrective sequence in January (wave 4 in the chart above) was tricky to count so it was hard to be specific.
At least I hope to have stopped readers from shorting too early.
If I do end up shorting, I will have one eye on the Dow Jones (NYSEARCA:DIA), as it has the cleanest looking near term cycle from the February low. I posted this on Twitter on Friday: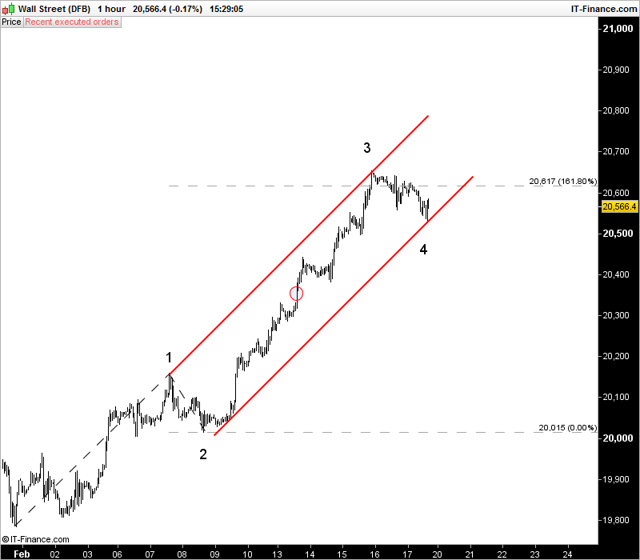 The S&P500 is very similar but is not quite as clear. Both indices are therefore just starting wave 5 in the shorter term cycle (from the February low) and wave 5 from the November low. A reversal is very close, and may start towards the end of next week.
As I said earlier 2363 may be a target for the S&P500, but what I will try and do is look for short signals in this area. A gap up which reverses and trades back into the previous day range is a good signal, as are many of the common candlestick patterns; engulfing, doji star, and shooting star being some of my favorites.
Once a reversal starts, the expectation is for a 23.6% retrace of the November rally. This is only a small amount below 2300 so nothing much to panic about. No doubt the crash callers will emerge after a 50 point drop, but unless the structure of the decline is very bearish, I'll look to buy it.
Gold (NYSEARCA:GLD)
Gold stayed steady last week. This may be a bullish sign of consolidation, but gold often trades sideways before it reverses so I wouldn't read too much into it.
Indeed, there were certain aspects of last week's trading which reminded me of the last corrective sequence in January: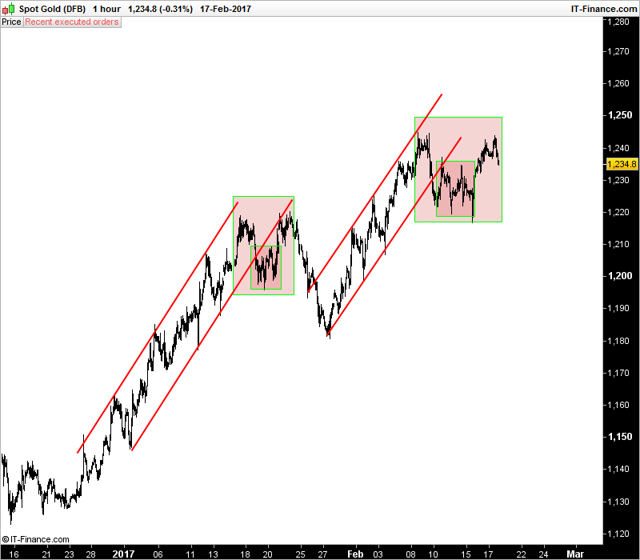 If the pattern continues to repeat there could be a brief sharp move down. At the moment there is nothing to suggest last week's view should be altered and I still think gold revisits $1180.
The gold miners ETF (NYSEARCA:GDX) fractal continues: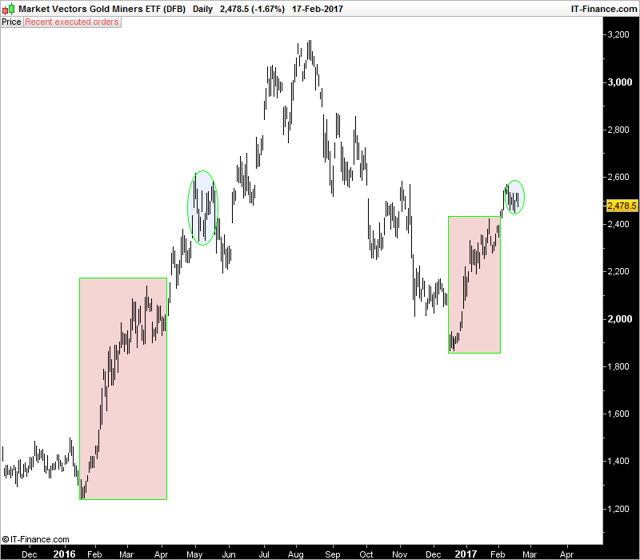 This fractal reconciles with the view in gold. We can expect a small pullback, but medium term longs have nothing to worry about, as the rally should continue.
I remain long gold and will add if the correction gets anywhere near $1180.
The Dollar (NYSEARCA:UUP)
In the medium term, the dollar is in a wave 4 correction in the rally from the 2016 lows: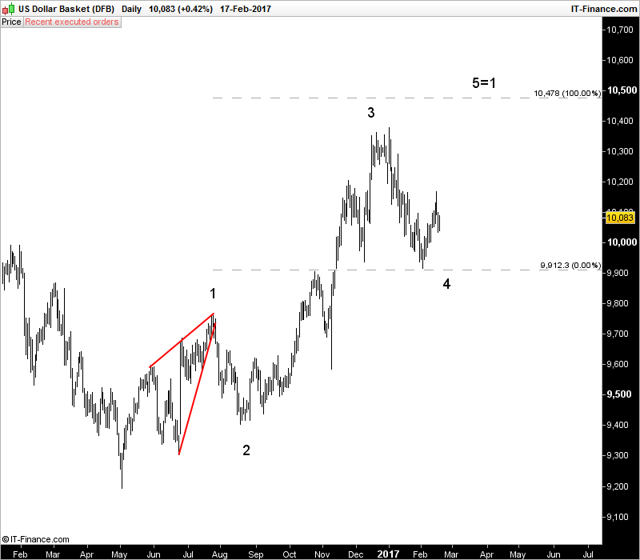 The target is roughly 104.78, where wave 5 = 1.
Shorter term, the moves in both directions look correctional, which suggests wave 4 will persist sideways (perhaps in a triangle) for a time before wave 5 starts.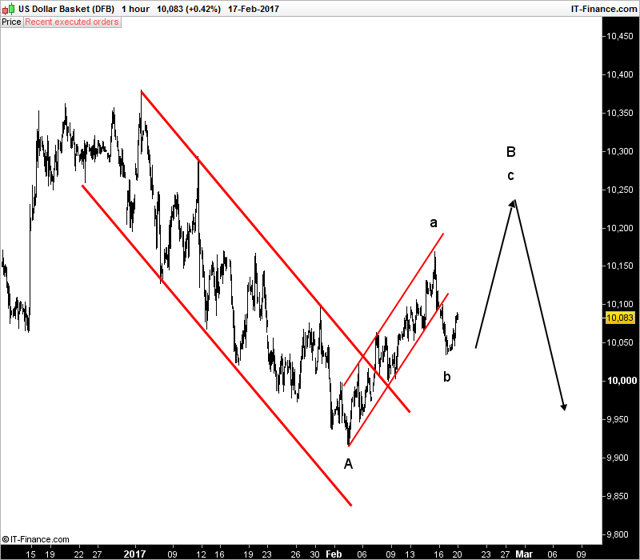 Don't get too focused on the arrows in the above chart. Late bulls and early bears are fighting it out and the price action is often hard to count. This indecisive sideways action is typical of a wave 4.
The main point is there is likely a correctional phase and one more rally to new highs.
Bonds
The cycles in long bonds (NYSEARCA:TLT) are related to the dollar, and may actually be leading. TLT's sideways action is slightly more advanced: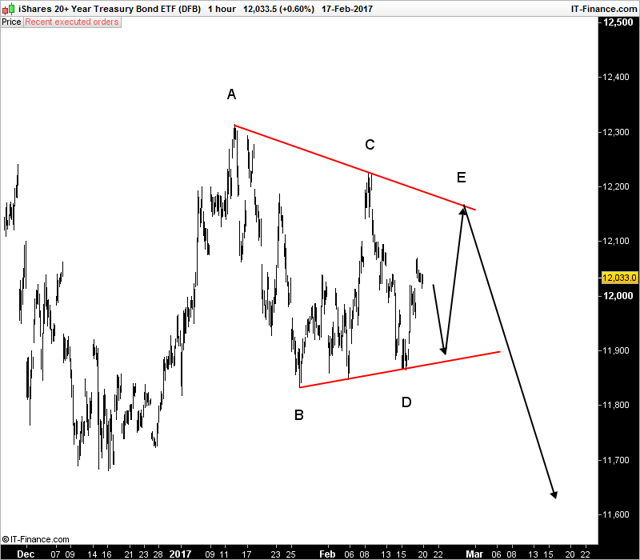 Notice how both rallies in the triangle (waves A and C) and both declines (waves B and D) have similar characters / structures. This is quite typical of triangles.
Once this sideways phase is complete, TLT should make its way down to my long term target of $115 in a wave 5.
Oil
There's no change in view as oil remains in the triangle I pointed out last week, and looks set to break to new highs in the sessions ahead. However, this will likely be the last phase of the rally before a return to the $40s.
Other Markets
Copper (JJC) reversed at the target provided last week and if, as I suspect, wave 5 is complete, there should be a large decline to $2.3 in the next 6 months or so: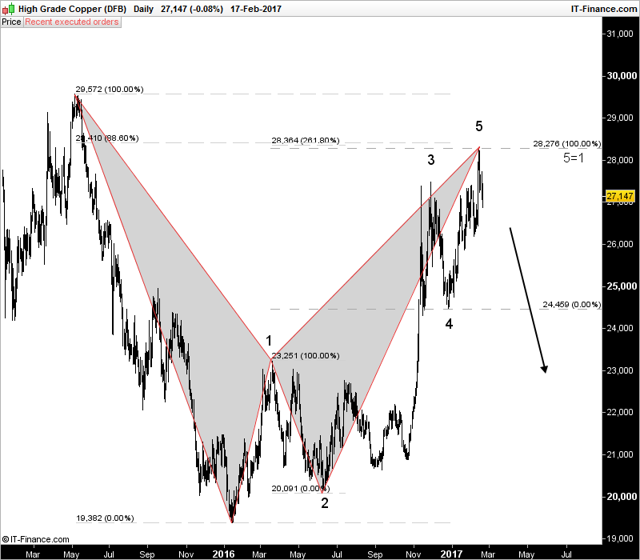 That said, here's a strange comparison I spotted a few weeks back:

The charts of the dollar and copper were so similar I actually labeled them back to front in the chart above. Regardless, when the dollar broke to a new high, it failed and started its current consolidation. Perhaps copper will do the same and now trade sideways?
Last week a reader requested a view on the Nikkei (NYSEARCA:EWJ):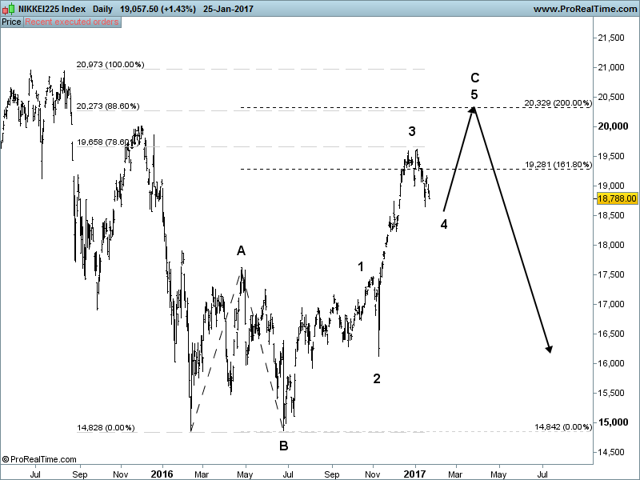 Actually this chart is from my January article on the global indices but is still relevant. The Nikkei is hanging around waiting for USDJPY (NYSE:FXY) to get going again so it can complete its wave 5 rally.
Conclusions
The theme is this week's article seems to be 'triangles' (in TLT, oil and the dollar) which are a continuation pattern and also the penultimate consolidation in a trend sequence. They are also a sign of indecision amongst traders, which makes sense given the political and economic backdrop.
Next week we can expect continued upside in equities, but the next highs will be wave 5 of 5 in the November cycle and a reversal is due. Any dip in gold can be bought, and short term traders can try to play a range in the dollar and TLT. Good luck.
Follow for updates.
Disclosure: I am/we are long GLD.
I wrote this article myself, and it expresses my own opinions. I am not receiving compensation for it (other than from Seeking Alpha). I have no business relationship with any company whose stock is mentioned in this article.
Additional disclosure: I am long oil futures and gold futures and various stocks.