With all the excitement in the recreational marijuana space, it is hard for growth oriented investors to ignore this new market. Society has become more liberal with the idea of legalizing marijuana. Two polls from April 2015, found that the majority of Americans, 53%, were in support of this idea and it can be seen from the map below how the States have slowly began this process. Marijuana stocks in Canada and the USA have been rising since their respective elections.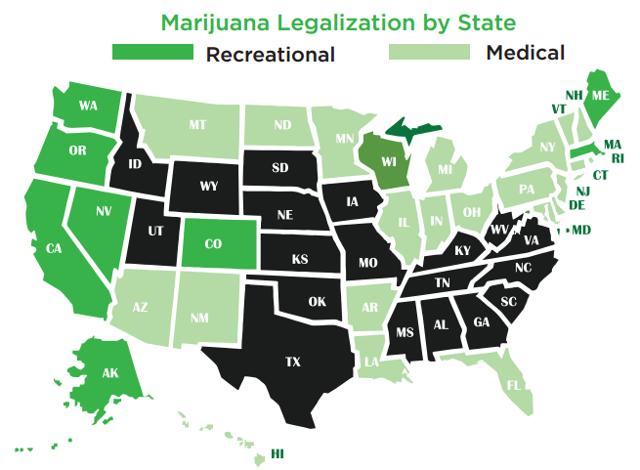 In Canada, one of Justin Trudeau's campaign promises was to legalize marijuana nationally. In early February, Justin made a Facebook post urging Canadians to sign the petition to gather support for this process to begin. Spring 2017 is their predicted date of legislation rollout.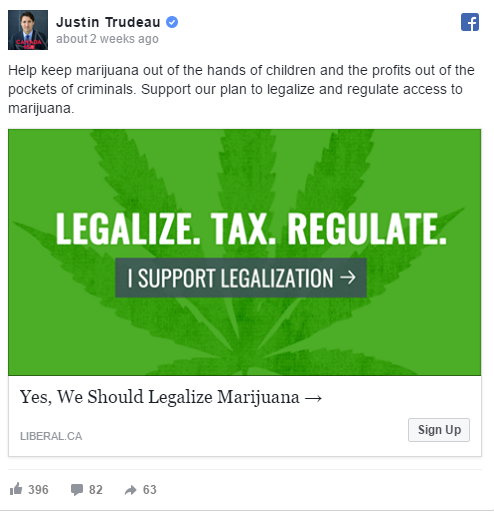 In the United States, Donald Trump was not the only winner on election night. Three states legalized recreational marijuana on that night: California, Nevada and Massachusetts. There is potential in 2017 for 14 more states legalizing this as well.
The most direct way to play this marijuana boom is through the current producers whom serve the medicinal market. These companies are best positioned to transition over to the recreational side as they already have the infrastructure in place. The largest of which is Canopy Growth (TWMJF) with a 2 billion dollar market cap. Whenever there is a big paradigm shift such as the legalization of weed there are usually supporting industries that also benefit from this boom. These supporting companies allow investors other indirect ways to benefit from marijuana without taking all the political or legal risk of being a producer. For those who would like to invest in this space without direct exposure to the actual commodity of the product, here is a list of 3 companies that will benefit from this industry indirectly.
1) Innovative Industrial Properties (IIPR)

As a lot of the companies getting into the Marijuana space right now are startup companies with not a lot of capital, IIPR looks to help serve this market through sales-leaseback financing. The majority of the companies transactions are triple-net leases; leases where the tenant pays for all operational costs during the lease term. These lease terms lowers the exposure of risk that IIPR may have such as modifications to the facility to get it ready for use to grow marijuana and any other future major modifications to the building. Management at IIPR also have a lot of experience in real estate as their chairman, Alan Gold, co-founded the publicly traded company, Biomed Realty Trust which was bought out January 2016.
2) Future Farm Technology (AGSTF)

Vertical farming will be the next frontier in technology leap for crop production. With increasing arable land and declining sources of water due to global warming, vertical farming is seen as a solution. This company holds the worldwide license for a vertical farming patented technology. This technology is currently being constructed in their facility in Rhode Island. In lament terms, the technology is a redesign of a greenhouse to allow for crops to be grown in racks. This technology uses LEDs to replace sunlight that may be blocked and an advanced hydroponics system on each rack for easier access to water each plantation. Marijuana companies can utilize this technology to increase yields especially as zoning regulations will limit how much space production companies can expand. Recently the company has received a license to produce marijuana in Florida. This will serve to be an indicator of how well the technology works with marijuana plants. Future Farm Technology is a micro-cap stock where due diligence is required before investing in due to their size.
3) Potash Corporation of Saskatchewan Inc. (POT)

Potash Corporation is a fertilizer producer producing various primary crop nutrients. The legalization of marijuana will increase the demand for their products especially due to importance of potassium in a marijuana plant. Potassium in a marijuana plant helps its photosynthetic growth process and the durability of the plant. Not only does Potash Corporation have the potential new markets in fertilizer for Marijuana production but also increase demand of their product due to aforementioned vertical farming.
Conclusion:
The stars seem to be aligned for the marijuana industry with the overall population of the US and Canada seeming more open to the idea of mass legalization. It will be interesting to see what announcements are made in spring of 2017 especially since last year it was on April 20 th which was when the Canadian Health Minister told the UN about their plans. For those unfamiliar with April 20 th, it is seen as the unofficial holiday for marijuana activism. With such good prospects for the industry, the three companies listed will indirectly benefit.