Without a doubt, 2016 was a year full of political uncertainty. Brexit, the US Election, and Nationalist movements across Europe took markets by storm last year. Some of these events had positive impacts on markets, and others were negative; the only certainty was that there would be continued uncertainty. For an investor, this creates a barrier standing in the way of generating stable, safe returns on capital. Fixed income investors, known for their less risky investment preferences, saw bonds sell off a total $1 trillion in value in the week following the US Election. Conversely, in the 5 weeks following the Election, the Dow Jones Industrial Average gained 8%, the largest rally in US Election history. The US dollar also reached an 11-month high following the election as expectations of rising rates grew.
(Source: Yahoo Finance)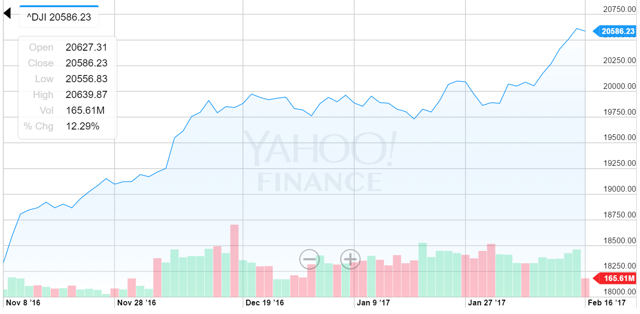 Going into 2017, the markets seemed absolutely unstoppable, and for the most part they have been. The Dow Jones Industrial Average hit 20,000 for the first time on January 25, signaling a continued rally in the markets. But bearish signals arose as well. For one, the US dollar has fallen from its post-election highs amidst fears that the White House may take steps to devalue the currency to make exports more competitive. At the same time, SPDR's Gold Trust ETF (NYSEARCA: GLD) has returned 6.89% since the start of 2017, signaling investors are nervous and looking for a method to hedge.
(Source: Yahoo Finance)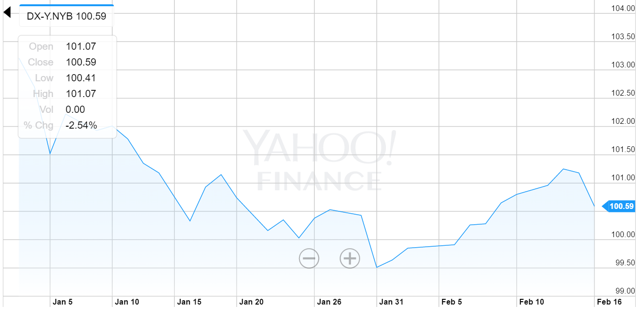 (Source: Yahoo Finance)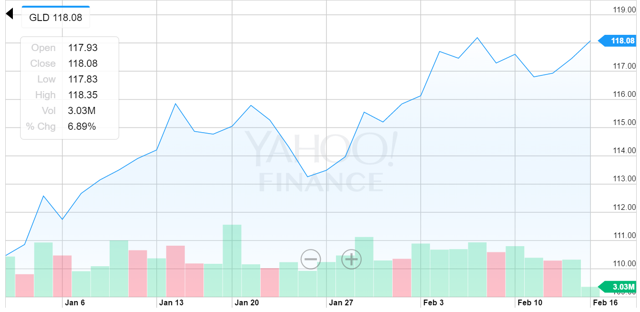 Markets Aren't Adding Up
A number of critical signs point to falling investor confidence in 2017. Gold is up 6.45% since the start of the year. Google searches for the term 'economic uncertainty' from the United States have spiked in the beginning of 2017. Additionally, the Monthly Global Economic Policy Index reached an all-time high at the beginning of 2017. Clearly, when analyzing trends beyond what is reflected in the stock market, investors are bracing for uncertainty and volatility. This is where the VIX (NYSEARCA: VIXY) comes in. The VIX, created by CBOE, is a measure of expected 30-day market volatility. In light of the uncertainty evident based on these other metrics, one might expect the VIX to be rising. However, the exact opposite is true. Since the election, the VIX has fallen 35%, with no rally in sight.
(Source: Google Trends)

(Source: PolicyUncertainty.com)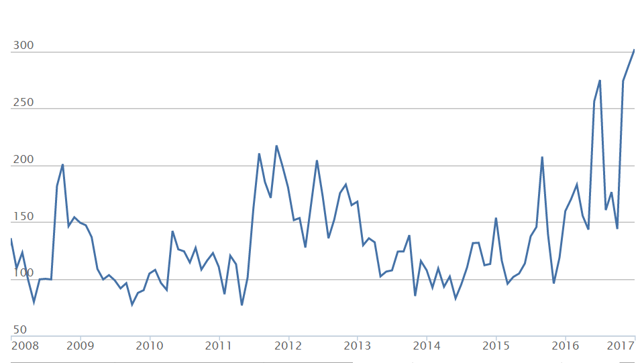 (Source: Yahoo Finance)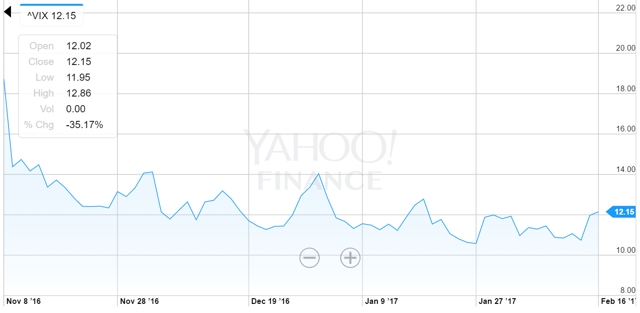 What Should Investors Do?
With increased uncertainty as signaled by online sentiment, a gold rally and rising rates, investors need to prepare themselves for a correction. It appears that equity markets are failing to price in the uncertainty demonstrated by nearly every other indicator. For investors to protect themselves from this correction, there are a few actions that should be taken.
(Source: Yahoo Finance)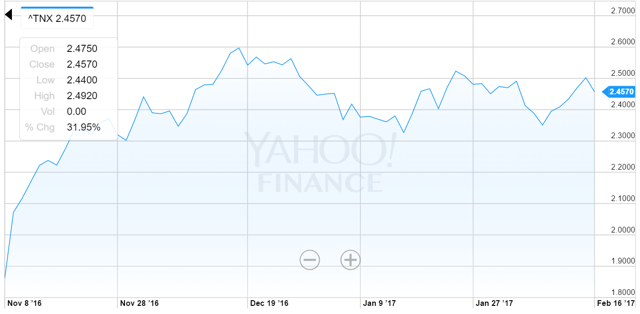 First, consider adding GLD to your portfolio. Despite the 6.45% rally that has occurred since the beginning of the year, buying gold is an effective hedging measure in the event of a market correction. Equity markets appear to be ignoring the inherent political risks present in society for now, but this won't last forever. If a correction occurs this year, adding gold to your portfolio will help to ensure safe, stable returns during a tumultuous year.
Second, now is an excellent time to buy VIX. Evidently, it experienced a significant post-election, but a thorough analysis of the current political and economic reality in the US demonstrates just how undervalued it is. Right now, investors are flocking to gold and expressing their concerns online regarding a significant correction. However, for the time being, they are content with riding the current bull run well into 2017. As major indices continue to hit new intraday highs, these investors will soon decide to sell, and volatility will pick up once again. When it does, a portfolio containing GLD and VIX will be much more resilient than the all-equity portfolios investors are currently relying on.
Disclosure: I/we have no positions in any stocks mentioned, and no plans to initiate any positions within the next 72 hours.
I wrote this article myself, and it expresses my own opinions. I am not receiving compensation for it (other than from Seeking Alpha). I have no business relationship with any company whose stock is mentioned in this article.
Additional disclosure: This article is for educational use only. The information in this article is the opinion of the author and does not constitute investment advice. Perform your own research before making investment decisions.